Why Aren't College Students Using Career Services?
Harnessing the resource could help them achieve the graduate's dream: finding a job.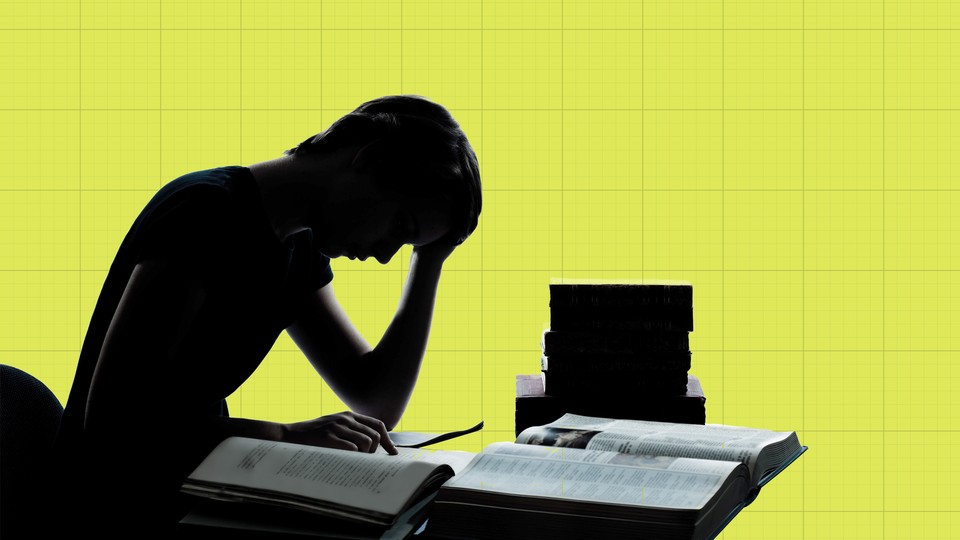 One summer, a group of students with research jobs on campus, including myself, met up at a Thai restaurant in our college's small town. This was our third free dinner of the week. Our school's career center was hiring a new member for its team and wanted each candidate on its short list to meet with actual students. Naturally, the staff enticed us with the promise of free meals.
Armed with questions suggested by the career center, we would grill each candidate, asking the prospective hire questions about topics such as how they'd manage their time and their strategies for keeping professional boundaries with students. As we nibbled on our curry cellophane noodles and chicken pad thai, though, we would invariably loosen up and begin talking about what actually mattered to us: The career center was too far from main campus, and some of the services—including an online database of jobs that was difficult to navigate—didn't always feel especially helpful. During this particular dinner, we asked the candidate how she'd convince students to take advantage of the services while also improving them. She pledged to host events on the main campus and collect feedback electronically from students about what they wanted from the center.
Higher education has been lauded, for better or for worse, as one of the best paths to a career. This makes some sense: A significant percentage of today's jobs require bachelor's degrees, and workers with four-year degrees earn higher wages than those with less education experience. While more than 80 percent of students cite the prospect of a job as a critical factor in their decision to enroll in college, few feel confident once they're enrolled in their ability to participate in the job market and the workplace (34 percent and 36 percent, respectively), according to nationally representative findings outlined in a new report by Gallup and the Strada Education Network.
Gallup and Strada reached out to students currently enrolled across 43 randomly selected colleges and universities, both public and private. The survey found that, after creating or updating a resume, students tend to use some of career centers' least beneficial services—taking a skills test, for example—more than they do the more beneficial ones. Fewer than 20 percent of undergraduate students reach out to their school's career centers for advice on finding jobs or finding and applying to graduate programs, both of which the recent report identifies as some of a center's most valuable services. Often, students instead consult with friends and family members about important decisions that can determine employment, such as choosing a major.
College students' failure to fully capitalize on their career center's services in their pursuit of a job is not a new problem. But this tendency could help explain why so few students are confident they'll graduate with the skills and knowledge they need to be successful in the job market—this at a time when it's especially important for millennials to secure a comfortable income after college, as they're entering a world with fewer robust safety nets, such as social security, and skyrocketing housing prices.
On top of that, droves of college students continue to graduate with crippling debt. And report after report has found that automation, and new technology more broadly, will make it harder and harder for people to find well-paying work. New technologies are already eliminating certain jobs and are predicted to get rid of additional ones; sectors such as commercial driving and retail sales could start seeing job losses due to automation as soon as 2020. College graduates will be better off than their peers who are less educated because the former more often than not land white-collar jobs, which are not immediately threatened by automation. Still, even white-collar employers are poised to start chipping away at the cushioning they historically provided to workers with four-year degrees: Some of those companies are increasingly encouraged to look toward workforce-development programs, such as apprenticeships, rather than colleges for candidates, given bachelor's recipients' lack of work readiness and high salary expectations.
* * *
Career centers at schools with largely affluent student bodies may see few young adults walk through their doors because people from middle- and upper-income backgrounds likely have family members and friends whom they can consult about employment opportunities instead. If a young man has a doctor or a writer in his family, for example, he can talk with that relative and even shadow her on the job to figure out if that's the route he'd like to take. If it is, that family member can open up her professional network to the young man to help him land a job—precisely the kind of support that a career center would aim to provide.
It isn't surprising, then, that blacks and Hispanics, as well as first-generation students and students who are older than the traditional college-going population, rated the help they received from their career-services office and academic advisers more positively than did their white and more affluent counterparts. Especially for first-generation students, a career center might be the first source of job advice they've ever encountered. Obviously, not all black and Hispanic students are low-income, but in the United States they are far more likely than whites to be poor, largely due to the country's legacies of racism and discrimination, which determines how connected they are to the professional workforce.
Despite the existence of career centers, though, a notable number of college students still wind up unemployed (almost 6 percent in 2016) or underemployed (almost 13 percent in 2016) upon graduating. It's hard to say whether these students even took advantage of their campus' career services—or of their personal networks—but the data suggest, regardless, that the job centers could be doing more to shepherd young adults into the workforce.
The fact that many jobs are shared via word of mouth rather than posted online indicates that relationship-building is one area in which the centers could improve. They could, for instance, leverage the people on campus who consistently interact with students rather than relying strictly on staff advisors. "Students will go to their trusted network to get information—that may be a faculty member—before they develop a relationship with someone in student affairs or the career office," said Christine Cruzvergara, the director of Wellesley College's career-education office. Career centers, she continued, could equip those faculty members with basic information about the job-search process so they can adequately answer any questions they get from students before referring them to career services. The Gallup report echoed this suggestion; it found that almost 50 percent of current students speak often or very often with faculty or staff about their future careers. And those who do find the conversations fruitful, reporting higher levels of confidence about having the knowledge and skills needed to be successful in the job market and workplace (42 percent and 45 percent, respectively) than did students who rarely or never spoke with faculty and staff members (27 percent versus 29 percent).
Yet as Anthony Jack, an assistant professor of education, has written, many students, particularly those who are low-income, lack the know-how to consult adults in positions of power. To ensure they're not leaving those students behind, professors can simply focus on "making their coursework and what they're teaching relevant," showing its "connection to what happens out in the work world," said Carol D'Amico, the executive vice president at Strada Education Network. This approach situates career services not as a standalone entity on campus, she told me, but as "an internal consultant to faculty and staff." For D'Amico, the liberal-arts professors who are uninterested in making their instruction more practical are simply out of touch. "Over 80 percent of freshman go to college to get a career and a good professor wants to meet their students where they are," she said.
Of course, the onus to improve students' career preparedness shouldn't only be on professors—career centers themselves ought to focus on enhancing their in-house services. Career advisers "could go out and listen to employers about what their needs are and how well alumni have performed in those jobs previously," D'Amico told me. While employers could be proactive in reaching out to schools, "it's not easy to find the right person at a college," she said—"colleges are big places and … A lot of employers don't know [career] services exist or how to utilize them." The same is often true of students, D'Amico said, which may be why they aren't using the centers' most useful services: They don't know about them.
Ultimately, the scope and quality of a given school's career services largely depends on the resources it has available and its advisor-student ratio. Larger schools struggling financially would be most at risk of failing their students when it comes to connecting them to careers. But limited resources aren't always a deal-breaker: What's most important in determining whether a center will be successful is "the mindset of the director who is leading those services and how forward-thinking they are," Cruzvergara said.