What Trump Didn't Say About Education
Experts aren't surprised by the president's failure to mention it in his State of the Union.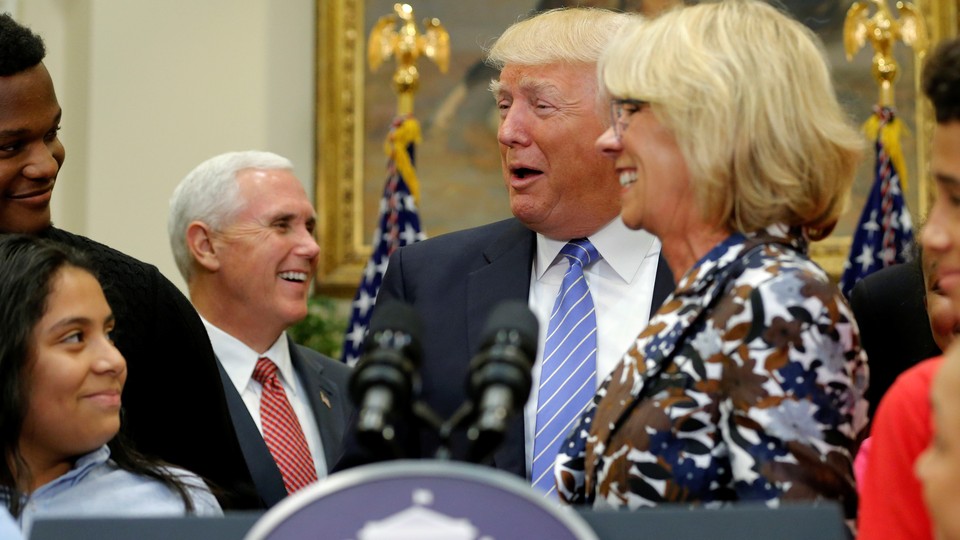 Sometimes what's not said in a State of the Union address is just as relevant as what's said. That's what some in the education world are thinking, at least, about Trump's lack of mention of their topic in last night's address. Despite being the third-longest State of the Union in the past 50 years, Trump's speech barely mentioned schools, students, or learning.
Trump's only clear mention of the subject was a brief comment about vocational education: "Let us open great vocational schools so our future workers can learn a craft and realize their full potential." As my colleague Alia Wong reported last night, this call for more vocational schools isn't entirely consistent with his requested cuts to career and technical education in the 2018 budget.
Representative Joe Kennedy's Democratic response to the address didn't touch all that much on education, either, although it offered more than Trump's address did. Kennedy spoke from Diman Regional Technical School, a vocational school in Fall River, Massachusetts, and noted that Democrats choose "good education [Americans] can afford."
When it comes to mentions of education, how does this year's SOTU stack up historically? An analysis of the States of the Union since 1993 reveals a range of frequencies, but Trump's still stands out as the most lacking. Obama's addresses are notable in their education references; he mentioned the word "education" 15 times in his 2013 address, and spent a significant portion of time in most of his addresses on particular goals, including investing in universal pre-k, improving high-school graduation rates, and expanding college access. George W. Bush's addresses spent a bit less time on schools and education than Obama's tended to, but he was known to mention education-related topics at least several times in an address, and he did often point to particular reform goals; his 2006 address, for example, described his plan to "train 70,000 high-school teachers to lead Advanced Placement courses in math and science, bring 30,000 math and science professionals to teach in classrooms, and give early help to students who struggle with math so they have a better chance at good, high-wage jobs."
Going back a bit further, Clinton's addresses seemed to spend a tad more time on education than Bush's did, and some of his speeches reached—or even surpassed—Obama's number of education mentions. Some of Clinton's remarks might seem dated or irrelevant in today's context: He said in his 1996 address, for example: "I challenge all our schools to teach character education, to teach good values and good citizenship. And if it means that teenagers will stop killing each other over designer jackets, then our public schools should be able to require their students to wear school uniforms." Other parts are as relevant as ever: "I challenge every state to give all parents the right to choose which public school their children will attend and to let teachers form new schools with a charter they can keep only if they do a good job," Clinton said in that same address.
Trump's omission could come down to a tendency to take the education system for granted when there are other, more seemingly pressing concerns such as security and the economy. But education experts emphasize that schools do in fact play a central role in these issues, even if their role is less explicitly clear. In a statement, the education-policy researcher David Attis listed the many goals that Trump did mention in his speech that, he argues, rely upon a strong education system: "finding solutions to the opioid crisis, attracting investment from multinational corporations, revitalizing the nuclear arsenal, attracting skilled immigrants, [and] helping ex-offenders reintegrate into society." He also emphasized federal-government actions that have a clear impact on education, from the potential effect of immigration restrictions on international-student enrollment to the tax-reform bill and its repercussions for colleges and universities.
Meira Levinson, a professor at the Harvard Graduate School of Education, felt that the lack of mention of education fit into the broader patterns of the address. "He didn't really talk about social programs to any degree. I don't feel as if education was given distinctively short shrift," she said. She added that Trump's address seemed to focus on the "individuals can handle it" approach when it came to social issues, and she felt that school choice, which the president neglected to reference, could have fit in well with this individualistic approach. While some of Trump's critics might point to his silence on public education as a sign of his favoring school choice—an effort that education secretary Betsy DeVos openly supports— it's interesting to note that Trump didn't speak about privatization or school choice, either.
"There's no crisis [in education] right now," Levinson said, even though many people tend to use the language of crisis in talking about education issues. And since there isn't a significant education issue to legislate at the federal level at the moment, Levinson said, it makes some sense that Trump wouldn't talk about education very much if at all. She noted that arguably the most pressing and current education issue of the moment would be Title IX and sexual-assault adjudication in the context of the #MeToo movement, but that this was an unlikely theme for Trump to delve into given the sexual-harassment allegations against him.
Martin West, an associate professor of education at the Harvard Graduate School of Education, wasn't surprised by Trump's failure to bring up education. "[Education] was not a priority for Trump as a candidate, nor has it been a priority for him during his first year in office. His one clear policy commitment in the area—expanding school choice—has proven controversial politically, and is very difficult to accomplish through federal policy," he said. West also noted that members of Congress haven't had much "appetite for revisiting the basic questions addressed" by the Every Student Succeeds Act—the federal education law—since it was passed by Congress in 2015; efforts have focused on the smaller-scale questions of implementation.
"In the larger context of U.S. history," West said, "the prominence of [mentions of] education in recent years is the exception rather than the rule." In the late 1990s to the early 2000s, more voters began to identify education as a top concern, and Bush responded to this concern, making No Child Left Behind a cornerstone of his domestic policy, said West. Today's polls, in contrast, don't show that education issues are of primary importance to Americans. West said that Trump's mention of vocational education "reflects that the needs of the economy are a top priority for constituents," adding that he thinks the country is "going to see increased efforts to talk about education in ways that are increasingly tied to the workforce needs of the economy."
It's worth noting that some of Obama's addresses framed education in general as a key step toward economic mobility. "[Americans] agree that real opportunity requires every American to get the education and training they need to land a good-paying job," he said in his 2016 address.
It's also worth noting that Trump did mention education—and school choice—in his address to Congress last February. "Education is the civil-rights issue of our time," he said then. "I am calling upon members of both parties to pass an education bill that funds school choice for disadvantaged youth, including millions of African American and Latino children. These families should be free to choose the public, private, charter, magnet, religious, or home school that is right for them."
DeVos, for her part, responded to Trump's address with a concise statement: "America must do better to prepare our students for success in the 21st century economy. I join the President in calling on Congress to act in the best interest of students and expand access to more education pathways."