The Sex-Abuse Victims America Ignored
It took way too long for the Michigan State University gymnastics scandal to capture the country's attention—and it's easy to see why.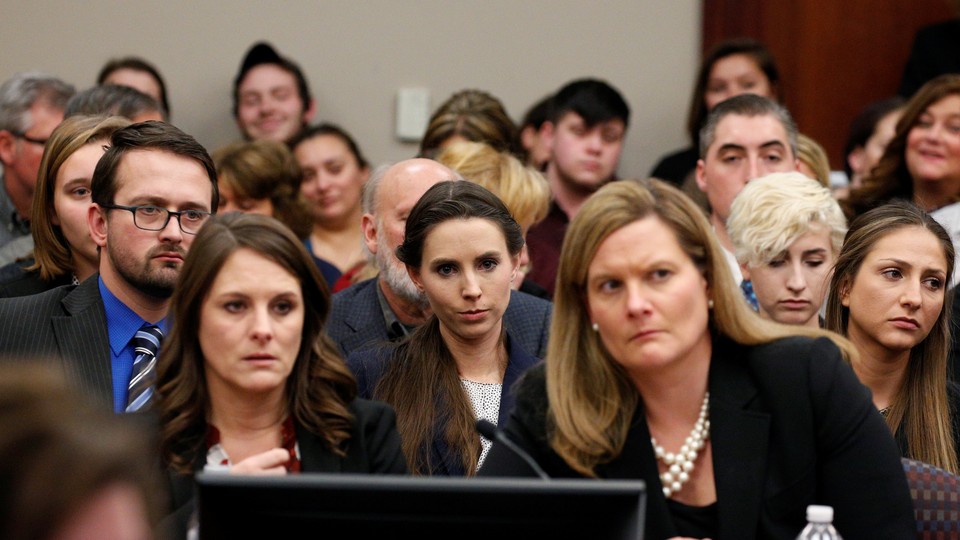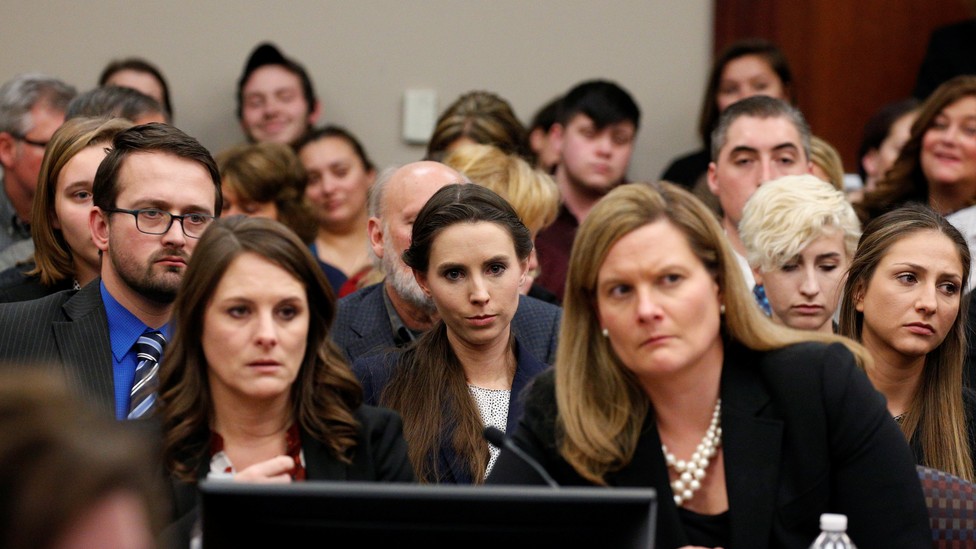 Updated on January 24, 2018, at 9:29 p.m. ET
It was an arresting moment, even on a day full of them. The Olympic gymnast Aly Raisman stood in front of a courtroom last Friday and addressed Larry Nassar, the former Michigan State University doctor who's been accused by upwards of 150 women of sexually abusing them over more than two decades. "Larry," she said from the podium in the Lansing, Michigan, courtroom, "you do realize now that we, this group of women you so heartlessly abused over such a long period of time, are now a force, and you are nothing."
By the time Raisman's 13-minute testimony ended, she had castigated not only Nassar but also everyone who she contended had enabled and protected him, including the leadership at USA Gymnastics. A video clip of Raisman giving her statement was disseminated across social media and aired on television. The New York Times transcribed her words and printed them in full. Finally, more than a year after Nassar was first publicly accused of molesting two young gymnasts, America had woken up to what is being described as the largest sexual-abuse scandal in U.S. sports history.
Until that point, the case had gotten relatively little national attention. After 16 months of near-silence from national news outlets, CNN, MSNBC, and Fox News had devoted fewer than 20 minutes total to the story in the four days prior to Raisman's statement, according to the watchdog organization Media Matters. Meanwhile, USA Gymnastics—the sport's governing body—had largely evaded consequences for its failure to respond quickly and appropriately to Nassar's abuse. Steve Penny, its former president, had resigned last March (and according to The Wall Street Journal walked away with $1 million in severance), but the rest of the organization essentially remained intact. Then, on Monday, as more of Nassar's victims joined the dozens who had already testified at his sentencing hearing, USA Gymnastics (USAG) announced that three board members, including its chairman, had "tendered their resignations," effective immediately. That a reckoning arrived as soon as the story reached the mainstream consciousness did not seem like a coincidence.
For Raisman and the scores of other women gymnasts who say Nassar sexually molested them when they were children, that reckoning was long overdue. The sports medicine "guru"—whose abuse included a "special treatment" that involved him sticking his fingers in his patients' vaginas, sometimes with his bare hands for extended amounts of time—pled guilty to 10 counts of first-degree criminal sexual conduct last November. In December, he was sentenced to 60 years in federal prison for child-pornography charges, and on Wednesday—after seven days of impact statements from survivors—he was sentenced to 40 to 175 years for sexual abuse. These court developments are the culmination of complaints about Nassar that, according to lawsuits, victims and their family members started voicing back in the mid-1990s.
But the women who spoke out in court, along with their supporters, asserted that they were victimized by others, too—that Nassar's abuse, of gymnasts and other young athletes alike, could not have flourished without a network of enablers. According to the women, these enablers were authority figures at USAG, Michigan State University (MSU), the United States Olympic Committee, and the Twistars Gymnastics training center, among other entities, who repeatedly ignored, downplayed, or disregarded allegations against him. Despite Monday's resignations at USAG, very few of these authority figures have faced formal repercussions.
The apparent lack of accountability is particularly stark at Michigan State, where Nassar worked from 1997 through 2016 as a team physician and assistant professor. Numerous women gymnasts contend they reported Nassar's behavior to athletic trainers or coaches, only to be met with skepticism and insistence that they continue seeing him. In the spring of 2014, Nassar was briefly suspended while the school's Title IX department investigated a complaint by a student who alleged he'd sexually abused her, but was reinstated after a panel of medical experts, all of whom had close ties to the sports doctor, said there was nothing sexual about Nassar's treatments. He continued to see—and, according to police reports, continued to abuse—patients at MSU despite remaining under criminal investigation for the same allegation that sparked the Title IX probe.
William Strampel, the former College of Osteopathic Medicine dean who supervised Nassar, told him in an July 2014 email that he was "happy" the Title IX situation had been resolved, according to correspondence published by ESPN—even though the police investigation into Nassar was still active. Yet while Strampel stepped down as dean last month citing "medical reasons," he remains on faculty at the College of Osteopathic Medicine. Kristine Moore, the university administrator who conducted the Title IX investigation, is still at the institution, too, as are Lianna Hadden and Destiny Teachnor-Hauk, trainers whom according to at least two victims were told of Nassar's behavior but failed to report it.
Also still at MSU is President Lou Anna Simon, who has said she never received a copy of the Title IX report and has reasoned that a federal investigation concluded no university employees were liable for Nassar's abuses. Simon, who has served as the university's president since 2004, long withstood widespread calls for her firing, including from Michigan's House of Representatives, which on Wednesday passed a resolution demanding her resignation.

On Wednesday night, Simon announced to the Board of Trustees that she'll be resigning, stressing that there'd been "no cover-up." That she's managed to resist the mounting pressure until now is largely attributable to MSU's trustees, all but one of whom on Sunday reiterated their support for her continued tenure. (Simon said last Friday that the Board of Trustees had asked Michigan's attorney general to review the "events surrounding the Nassar matter." On Tuesday, the NCAA launched its own investigation into the university's handling of the scandal.)
Nassar's abuse has drawn frequent comparisons to that of Jerry Sandusky, the one-time Pennsylvania State University assistant football coach who in 2012 was found guilty on 45 counts related to sexual abuse of young boys. But in that case, many of Sandusky's key enablers were roundly punished, with the university president, vice president, athletic director, and beloved head football coach all ousted. The former three were also jailed over their failure to report Sandusky's crimes.
It's hard to ignore the disparities in media coverage in considering why accountability in the Nassar case looks so different from that in Sandusky's. The latter scandal, involving a storied football team led by the legendary Joe Paterno, instantly became national news in a country that cherishes that sport and the often-macho culture that exists alongside it. The charges against Nassar—centered around a stereotypically "feminine" sport that's rarely in the national spotlight other than during the summer Olympics—were reported diligently by local papers including the Indianapolis Star, Lansing State Journal, and Detroit News but received limited attention from major outlets. "Unlike the firestorm surrounding the Jerry Sandusky scandal at Penn State," the Columbia Journalism Review observed this week, "Nassar's actions and the failure of those in positions of authority to deal with him haven't dominated SportsCenter or led nightly news broadcasts."
Lindsay Gibbs, a sportswriter for ThinkProgress who has written extensively about Nassar over the past year, theorizes that several reasons are to blame for the national news media's apparent disinterest in the case until now. For one, she pointed out in a phone interview, sexual abuse in women's gymnastics is pervasive; perhaps the public and media see it as unremarkable. For another, she argued, the Trump-saturated news cycle sometimes crowds out other subjects worthy of coverage. And it doesn't help that women's athletics in general receive only 4 percent of all sports coverage, according to research published in 2013 by the University of Minnesota.
In the end, sexual-abuse cases simply don't get the airtime they deserve, Gibbs said, suggesting that even the Sandusky scandal made headlines largely for reasons beyond the crime at hand. "In hindsight, most of that attention was about Joe Paterno and Joe  Paterno's legacy," Gibbs told me. "It wasn't so much about the victims themselves." As the sportswriter Jessica Luther and others have pointed out, the scandals at Penn State and Baylor University—where football players have been accused of 52 rapes in a four-year period—drew attention primarily for their effect on famous coaches and hallowed teams. "When [a sexual-assault scandal] happens somewhere less exalted than college football," Luther wrote last week, "it's a different story."
Nassar was eventually brought to justice due in large part to a slow drip of local reporting and the courage of the women he abused. But with generally scant national attention, it took months before the people who facilitated his damage began to face consequences; it's unclear whether the myriad others who allegedly allowed Nassar's abuse to continue ever will. "It should never reach the point where for anyone to care you have upwards of 150 women standing up and facing their accuser," Gibbs said. "It shouldn't take an Olympic gold medalist giving one of the most powerful speeches I've ever read in order for USA Gymnastics to do something."
The Nassar scandal is about more than a single man's unfathomable abuses. It's also about a network of enablers who let him ruin lives with impunity, about a national news media that dedicated little airtime and few headlines to the story, about a university that failed to protect its own students, and about an American public that for too long failed to care. In her statement on Friday, Raisman was speaking directly to Nassar, but she was also speaking to the world beyond those courtroom walls. "If over these many years just one adult listened and had the courage and character to act," she said, "this tragedy could have been avoided. I and so many others would have never, ever met you."