The Nassar Investigation That Never Made Headlines
Looking into a 2014 Title IX complaint, Michigan State University found no evidence of misconduct.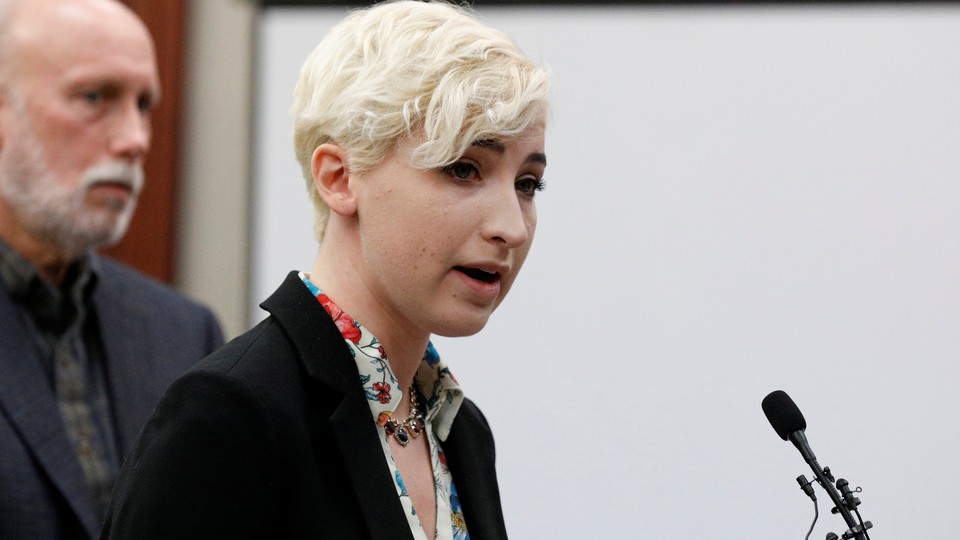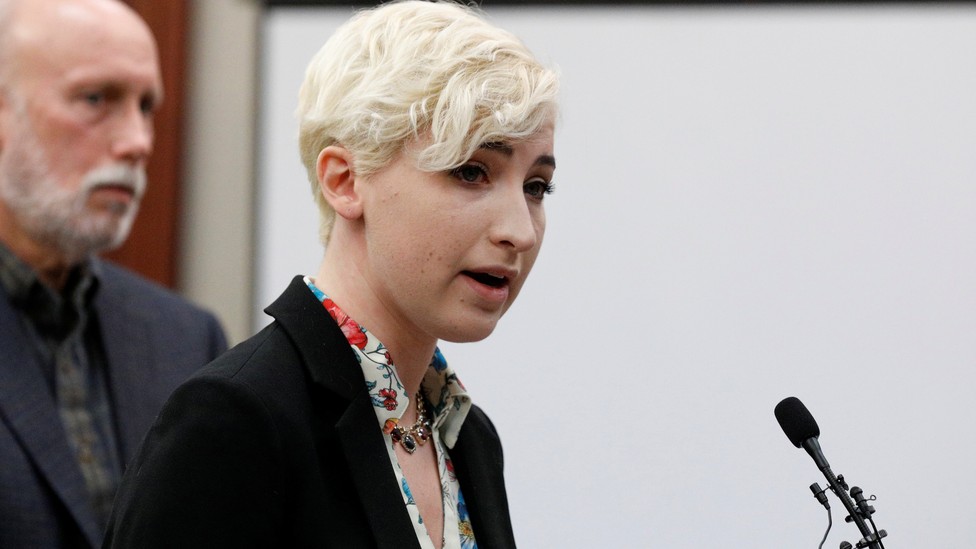 After months of court hearings, Larry Nassar, the former Olympic doctor convicted of molesting dozens of young female athletes, has now been sentenced to up to 175 years in prison. The last time Nassar's abuse came under formal scrutiny, however, incarceration was apparently never considered. When a 2014 Title IX investigation at Michigan State University found no evidence of misconduct, he returned to work at the school, where he continued subjecting students to assault disguised as proper medical treatment.
The Title IX complaint—in which the former MSU student Amanda Thomashow described Nassar massaging her breasts and vaginal area during medical examinations—was handled by Kristine Moore, the school's Title IX coordinator and a full-time MSU employee. Moore, now MSU's Assistant General Counsel, responsible for protecting the school from legal liability, concluded that Nassar's behavior was "medically appropriate," a judgment she reached based on interviews with three medical specialists and an athletic trainer. All four had personal ties to Nassar, and all four were employed by Michigan State.
Over the weekend, The Detroit News revealed that Moore gave Thomashow a different report than the one she delivered to MSU, withholding key information about Nassar's behavior and clearing him of sexual harassment. The report to MSU, which, until now, had remained internal, also cleared Nassar of harassment but included the assessment that his methods were inflicting "unnecessary trauma" on his patients and putting the university at risk. Thomashow never saw that version of the document.
"There should not be two reports. I've never heard of two reports," said Mick Grewal, the attorney representing 65 of Nassar's victims. "If there were two, they should have been released at the same time. Not years later." By making the internal report public in 2014, Jim Graves, Thomashow's attorney, said Michigan State could have prevented further abuse. "They deprived Amanda and all of the survivors from that knowledge they held at the time. Had they disclosed that information, it would have been disseminated so people would know that Nassar was preying on girls."
Because the 2014 investigation was conducted internally, conflict of interests may have influenced the outcome, allowing Nassar to continue his abuse for two more years. That possibility, along with Michigan State's role in the scandal more generally, is now coming into sharp focus. The university's long-time president, Lou Anna K. Simon, resigned late Wednesday. A few hours later, Gary Peters, a U.S. Senator from Michigan, called on Congress to launch a formal investigation into how the school handled the Nassar case.
Title IX, a 1972 federal law prohibiting sex-based discrimination in schools, has long required universities to adjudicate cases of student sexual assault and harassment. After the Education Department issued what later became known as the Dear Colleague letter in 2011, outlining the specific requirements a university must fulfill to comply with the law, colleges rushed to hire Title IX coordinators to handle these cases, or at least assign the role to someone already on staff. (Although the Department has since rescinded the 2011 guidelines under Betsy DeVos, few universities are likely to make cuts to their Title IX departments.)
University employees typically investigate incidents of campus sexual assault, but not always. While the Dear Colleague letter encouraged universities to employ internal teams to adjudicate campus sexual assault, it also warned them against potential conflicts of interest. Particularly if the case involves staff members, as opposed to just students, it can be difficult to hold a fully independent investigation. Colleges are tight-knit communities. And even when a school has 50,000 students, its medical specialists are likely to know one another.
If a case is particularly sensitive or high-profile, universities will often hire outside specialists—law firms that focus on college sexual misconduct—to handle the investigation and publish a public report. Brett Sokolow, a Title IX attorney who runs an independent practice outside of Philadelphia, said 17 colleges call on his team to investigate every single Title IX complaint they receive. That's not economically feasible for most institutions, though, and many additional colleges hire Sokolow on a case-by-case basis. "We must do 400 of these investigations every year," he said. If conducting the investigation internally could potentially hinder the results in any way, Sokolow said, the school has an obligation to hire an outside team. (As a third-party investigator, it bears mentioning, Sokolow would stand to benefit from that).
"They should have realized, part way through the Nassar investigation, the enormity of what they were taking on," Sokolow said. "At some point, the Title IX coordinator should have gone to Lou Anna Simon and said, 'This is beyond our scope. This is bigger than us. We need to go outside.'" While the 2014 Title IX investigation was based around a single complaint, Sokolow said, "You're not a good investigator if you're not looking for a pattern."
Other schools have learned this lesson the hard way. In 2015, in the midst of a long, messy sexual-assault scandal, Baylor University hired a large Philadelphia law firm to investigate its football program, particularly Head Coach Art Briles, who was suspected of covering up for football players accused of sexual assault. Initially, Kenneth Starr, then President of Baylor, moved to conduct the investigation internally, appointing the law professor Jeremy Counseller, Baylor's faculty representative to the NCAA, to draw up the report. It was only after widespread public backlash that Baylor chose to call on outside lawyers. The external report exposed a cover-up within the football program that extended throughout the highest levels of the university. Soon after the report came out, Briles was fired and Starr was removed as president.
Notorious sexual-assault scandals at Baylor and Penn State have sent a clear signal to universities across the country: If the case is likely to get any kind of media attention, outside investigators are essential. "If you're able to say to the press, 'We hired this law firm, they had no reason to lie to us … They told us we're okay, so we are,' it can make the university look less biased," said Erin Buzuvis, a law professor at Western New England University specializing in Title IX litigation. If universities earnestly believe they have nothing to hide, Buzuvis said, it's in their best interest to bring in help from outside.
Michigan State seems to have finally gotten the message. When a different sexual-assault scandal rattled its football team in late 2016 and early 2017, after the first Nassar allegations became public, the administration hired a law firm to "conduct a thorough and independent investigation into football program staff members' compliance with university policy."
It's not clear why the school didn't do the same thing in 2014. The nature of Thomashow's case against Nassar—the accusation against a staff member, Nassar's position at USA Gymnastics, the fact that similar reports had been made by MSU students before—certainly made the complaint a prime candidate for external investigation. "The reason could be something benign, or it could be nefarious," Buzuvis said. The school might have believed the complaint would be easy enough to handle alone—or it might have been trying to protect a nationally recognized Olympic doctor, one of the most prominent members of its athletic staff. A MSU spokesperson did not respond to a request for comment.
Either way, it never should have been the university's decision. There are no government regulations that determine whether a college needs to hire an outside investigator; the choice is left entirely up to the school. When conflicts of interest are as easy to spot as they were in Nassar's Title IX investigation, it's likely there are many more cases like this one, permitted to pass smoothly through the campus adjudication process without sufficient scrutiny. After Thomoshow's complaint, the Nassar allegations were dismissed and nearly forgotten. It took two years for any other victims to publicly come forward.
"My voice didn't matter four years ago," Thomashow said at Nassar's sentencing hearing in Lansing, Michigan, last week. "But maybe this time, at least my voice can be part of a chorus that makes a change."