How Colleges Foretold the #MeToo Movement
The current moment illustrates what many schools have known, and been reckoning with, for years.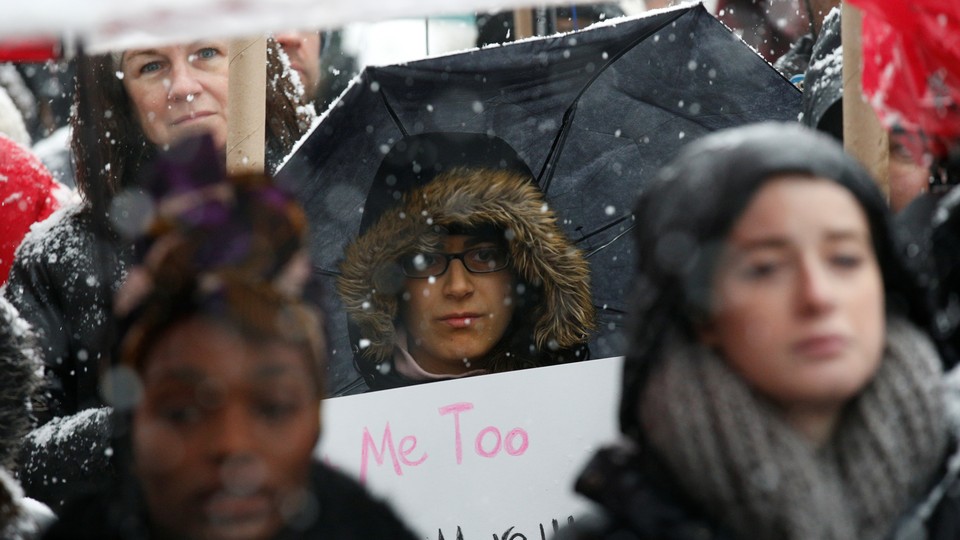 Since the fall, the staggering cascade of sexual-misconduct allegations waged against powerful men—from Hollywood moguls to prominent politicians—has mostly centered on the workplace. But as the nation fixated on the downfalls of Harvey Weinstein, John Conyers, and countless others, what has come to be known as the #MeToo movement has been reverberating on college campuses across the country, too.
Students flooded social-media feeds with their own stories; university leaders condemned sexual harassment in emails and announcements. Amelia Goldberg, a junior at Harvard College and member of the student-run anti-sexual-violence group Our Harvard Can Do Better, described the experience on campus to me as a "collective airing of trauma."
The Harvard Crimson last month reported that the institution has seen a 20 percent increase in sexual-harassment complaints since the allegations against Weinstein surfaced in October. Bill McCants, who oversees the office charged with handling claims of harassment at Harvard, attributed that rise at least in part to the #MeToo movement, citing conversations he had with students. Other schools' Title IX officers, who are tasked with ensuring that colleges are in compliance with the federal law that's used to address sexual harassment, alluded to similar trends on their respective campuses. The officers, who often field sexual-harassment complaints, told me anecdotally that they've seen more students come forward with stories of assault in the post-Weinstein era than they did in the past. Comprehensive empirical data on recent sexual-harassment reporting rates aren't yet available because the institutions generally don't collect and analyze that information until the end of each school year.
This apparent trend is noteworthy. But for Title IX officers and students, the perceived uptick only reaffirms what they already knew about sexual assault; higher-education institutions have for years been aware that such harassment occurs at high rates on their campuses. In a 2015 Association of American Universities survey on sexual assault and misconduct, just over 23 percent of undergraduate female respondents reported having experienced sexual assault or misconduct while in college. It's difficult to say how accurately the AAU's findings reflect reality—the survey relied on voluntary responses from 150,000 students across 27 universities—but they do offer a previously nonexistent window into a very real problem.
"Because of those types of surveys, we had a real gauge of how serious these problems are in a way that I'm not sure the country was necessarily grappling with to the same degree," said Meredith Smith, a Title IX officer at Tulane University. "For us [on college campuses], the #MeToo movement happened a few years ago, and it's like the country is catching up to us."
Amid growing awareness about those problems and a push from the Obama administration to make combating sexual harassment and violence a priority, colleges became much more deliberate about addressing the issue; they expanded their Title IX offices, started conducting their own campus-climate surveys, and launched outreach campaigns. The institutions in turn began to see a steady rise in reporting rates, even though the difficulty of accurately tracking and quantifying the problem's prevalence renders published data controversial.
The current Education Department is now working to overhaul those policies, and it's not yet clear what the landscape will look like once deliberations are over. Just as uncertain, meanwhile, are the lasting institutional consequences of #MeToo. With the myriad complexities surrounding sexual assault—and the vexed arguments over aspects ranging from the definition of consent to the role of alcohol—the next chapters for both Title IX and #MeToo activism will inevitably be convoluted and thorny. Regardless, what the movements have laid bare, first at colleges and now in the workplace, is an underlying desire to reshape culture itself.
* * *
When President Barack Obama took office in 2008, he quickly moved to address the issue of sexual harassment at colleges. Administrations had long been accused of mishandling students' claims; students themselves often had divergent perceptions of certain behaviors, too. A 2015 survey conducted jointly by The Washington Post and the Kaiser Family Foundation found that college men and women largely disagreed about sexual consent—that "men sometimes see a green light when women are signaling yellow or red." According to the 2015 AAU survey, the most common reason students opted not to report an event was that they did not consider the interaction "serious enough." Yet "there were some really serious things happening to people," Teresa Wroe, a deputy Title IX officer at University of Colorado, Boulder, told me. "People were saying, 'I just thought this was something that I had to personally deal with.'" More than 50 percent of respondents who said they were victims of forced penetration didn't consider the encounter serious enough to report.
Some very serious cases of campus sexual assault came into the national spotlight, but less clear-cut episodes were playing out in dorm rooms at the same time—scenarios not unlike those that people have recalled on social media using #MeToo. A boozy holiday office party; a sweaty frat one. A respected boss; a popular varsity athlete. Sloppy kisses and presumptuous grabs, often amid a drunken haze. In both contexts, the stories revealed the extent to which power imbalances can dictate certain interactions. Alleged victims shared their stories as part of a larger aim to change this cultural framework.
It was indeed "culture" that the Obama administration said it wanted to reform on campuses several years ago. The Office of Civil Rights in 2011 issued what eventually became known as the "Dear Colleague" letter, which expanded colleges' oversight in sexual-assault cases and deemed "any unwelcome conduct of a sexual nature," including remarks, worthy of punishment. Sexual harassment could interfere with people's access to education, the OCR argued, and schools should be responsible for creating a culture in which such behavior is unacceptable in the first place.
Support for the new guidelines "was a national moment of students rising up to say enough was enough, that we wouldn't tolerate harassment and violence and institutional indifference anymore, and that we demanded safe and equitable campuses," said Sejal Singh, a Harvard Law student who works with the national advocacy group Know Your IX. Title IX officers and advocates commended those policies as initiating a process of much-needed reform. For the past three years, the number of reported cases on campuses across the country has steadily increased; the number of complaints at Harvard rose by 65 percent between 2013-14 and 2016-17 school years, according to official data.
Similar to the Obama-era Title IX protocols, #MeToo has provided a platform for women to come forward: People are speaking out about all manners of, in the words of the Dear Colleague letter, "unwelcome conduct of a sexual nature" that have affected their ability to do work. Just as the Obama administration had aimed to fundamentally change campus culture by broadening what was punishable, the #MeToo movement has become an opportunity to redefine what's acceptable when it comes to workplace conduct. The actress Emma Thompson, in an October 2017 interview with BBC Newsnight, said that in her mother's time, harassment was likened to "pestering"; women's tolerance for certain behaviors, from lewd jokes to shoulder rubs, is now shifting.
Moreover, alleged perpetrators of those actions are being punished outside of the traditional criminal-justice system (by losing their jobs, for example)—much in the same way that schools can suspend or expel students found guilty of harassment by campus courts. But when murky definitions begin to carry legitimate consequences, they're bound to spark debate.
That's exactly what has been transpiring on campuses since Obama issued the new guidelines. My colleague Emily Yoffe, along with many others, has argued that the "Dear Colleague" letter inspired an exaggerated definition of sexual assault, constituted institutional overreach, and encouraged bias against those accused.
Under the Trump administration, those arguments have been gaining serious momentum. After meeting with both survivors' groups and "men's rights" organizations last July to assess existing policies, Education Secretary Betsy DeVos announced that the administration would revoke the Obama administration's "Dear Colleague" guidelines. DeVos's new interim guidelines allow schools to use a higher burden of proof for harassment cases if they so choose*, which in turn strengthens protections for those accused of sexual assault. "Any perceived offense can become a full-blown Title IX investigation," she said in a September speech at George Mason University ahead of the formal announcement. "But if everything is harassment, then nothing is."
Here, once again, the Title IX saga might serve as a blueprint for #MeToo. France, for example, is already seeing significant backlash (and backlash to the backlash) to the #MeToo movement playing out there; Facebook CEO Sheryl Sandberg has warned of the activism's potential downsides; a legion of people jumped to the actor and filmmaker Aziz Ansari's defense after a woman recently published her account of a date-turned-wrong with him.
In a December 2017 piece for Politico, Yoffe described how former Senator Al Franken's downfall after being accused in November of groping and forcibly kissing women was reflective of the changes that had occurred on campuses years before. His exit from the Senate, she wrote, illustrated the same "erasing of distinctions between the criminal and the loutish" that Title IX incurred. The Harvard Law professor Jeannie Suk recently argued in The New Yorker how Title VII, the workplace anti-discrimination law, could carry similar implications. "We can learn a lot from the campus experience, but we're probably going to see repetition of some of the same errors in addressing such a serious and complex set of problems," Suk wrote in an email.
In other words, there's no straightforward trajectory for the Title IX and #MeToo movements. But the parallels between the two have exposed the need for some sort of collective change—some sort of redefinition of standards, some sort of reshaping of policies, some sort of reassessment of culture.
And for Goldberg, the Our Harvard Can Do Better member, that's why it's important not to place #MeToo in a vacuum: "This didn't happen out of the blue."
---
* This article originally stated that DeVos's new interim guidelines require that colleges use a higher burden of proof for harassment cases. We regret the error.