The Irony of Specialized High Schools
Partaking in an intensive arts education as a teenager can have the unintended effect of pushing some toward a more traditional university path.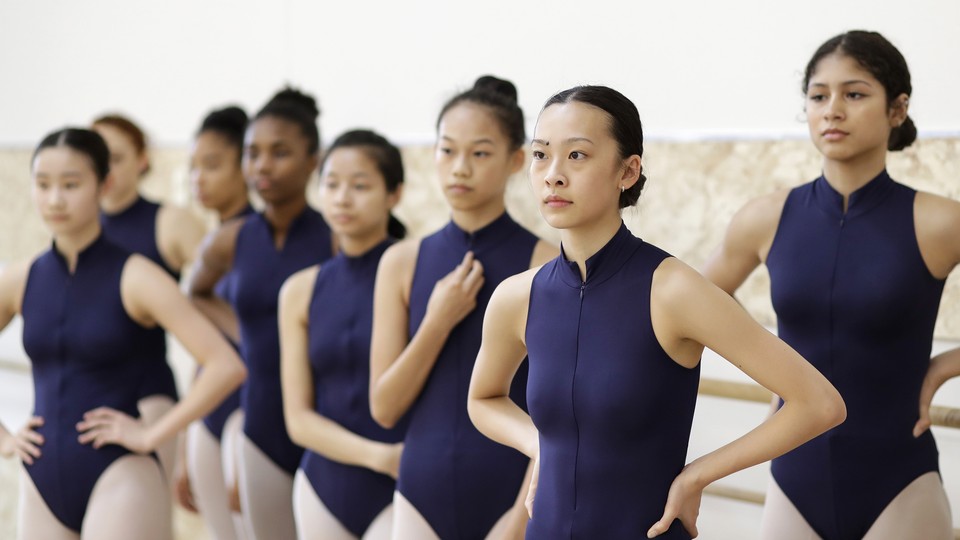 For all four years of high school I spent half of every day dancing. And not just casual, because-I-felt-like-it dancing (although that did happen every now and then), but full-out, pre-professional ballet and modern dancing. Pink or black tights, leotards, and ballet buns were a requirement, not a suggestion.
So, it would make sense to assume that I'm writing this as a dancer. But alas, a dancer I am not. (Unless you include the times I catch myself in another bout of because-I-felt-like-it boogieing.)
The truth is, it isn't uncommon for kids who attend the type of intensive performing-arts high school I did to disavow the field after leaving. I can count on one hand the number of my fellow classmates who actually went to college to pursue a degree in the art form they studied or became a professional in the same field. And while college counselors at other U.S. performing-arts high schools told me that all but 10 percent to 15 percent of their students stay in the arts after graduating, national data indicate that people who attended such schools frequently end up distancing themselves from that focus in the long run. As much as the intensive practice of one's art can encourage her to pursue it after graduation, it can also have the adverse effect of making her sick of something to which she dedicated so much of her time.
A recent analysis conducted by the Strategic National Arts Alumni Project, an organization run out of Indiana University that surveys those who attended arts institutions, found that only about half of the respondents who graduated from arts high schools currently hold a full- or part-time career as an artist. (The project's data does not distinguish between the visual and performing arts, but approximately 80 percent of high-school respondents were focused on the performing arts.) Of those who pursued a degree post-high school, most did study some form of the arts—but a noteworthy number (almost 25 percent) did not.
Sally Gaskill, the director of SNAAP, isn't surprised by this breakdown. While most students will go on to "pursue passions," as she put it, myriad factors lead a substantial portion of the arts-high-school population to turn away from their practice post-graduation. College choice, in general, is an inexact science, with students being influenced by everything from the location of a school to whether it was raining when they visited the campus; it's hard to generalize or pin down why students choose the schools they do.
According to Jillian Kinzie, the associate director of the Indiana University Center for Postsecondary Research and the co-author of the report "Fifty Years of College Choice," the three most pressing factors in a student's decision are those of practicality (can they study what they want where they want?), personal development (can they go far away from home and be independent?), and economics (can they afford the places they're looking?).
Of those, the economics issue is especially relevant to those who graduate from performing-arts high schools, particularly those in urban areas like the one I attended. Located in cities such as Los Angeles (Los Angeles County High School of the Arts), Baltimore (Baltimore School for the Arts), and Dallas (Booker T. Washington High School for the Performing and Visual Arts), they're the most common type of arts high schools in the country. And as public, metropolitan institutions, their student populations are very different from those at private arts boarding schools such as Interlochen Arts Academy: The former are far more likely to enroll students from lower socioeconomic backgrounds. It's extremely challenging "for an underprivileged art high-school student to even think about any colleges, much less an arts [college]," Gaskill said.
Even when these low-income students do consider higher education, the idea of pursuing a college degree in the arts is one that might be met with pushback from their parents or guardians, in part because of the field's reputation as one that lacks a lucrative salary range. And parental support for a student's interests has a big influence on whether she'll stick with a certain activity. In the realm of music, a parent's encouragement has been shown to be one of best predictors of whether a child sticks with a musical instrument. That and the idea that kids tend to pursue things they value and consider themselves good at are "probably the biggest influences for either doing [an arts major] or avoiding it," said Kenneth Elpus, an associate professor of music education at the University of Maryland. Without that parental support, students are less likely to continue their arts education, even if it did play a large part in their high-school experience.
But a relatively small number of students at these urban arts high schools are low-income. According to a review of data from U.S. News & World Report, these schools have significantly fewer percentages of low-income students than do the traditional public schools in their respective city. That suggests that other phenomena, on top of the other "practicality" and "personal development" factors Kinzie highlighted, are at play.
For teenagers who attend intensive performing-arts schools, the promise of the "full college experience" is often even more seductive than it is for traditional high-schoolers. Because of the narrow focus at arts high schools like LACHSA and Booker T. Washington, students often miss out on a lot of opportunities they might find at more standard public schools: Sports teams, big games, party culture, and many other high school touchstones are typically absent from these institutions. To compensate for the lack of those experiences, students may seek them out in college.
Princess Broussard, a college counselor at LACHSA, estimated that one in four students in each of the school's graduating classes says they're looking for that sort of environment; Abby McKelvey, a college counselor at Baltimore School for the Arts, said the number there was about one in 10. Personally, I don't even like sports, but a school with a football team was just about nonnegotiable for me.
"I've met a ton of students over the years who [lived] close enough that they could commute to campus … but they wanted to come on campus to have what in their mind is that full college experience," said Jamie Workman, an assistant professor at Valdosta State University who studies the role of choice in education. "They wanted to live in the residence halls. They wanted to get involved with student organizations or join a fraternity or a sorority. They wanted to go to those Friday night parties and all the crazy things that college students do. I definitely think there is a concept in a lot of students' heads of what going to college means."
Movies, marketing materials, and the like convey college as providing an unlimited number of options for students, and this prospect can be especially appealing to teens whose intensive high-school education has the unintended side effect of feeling slightly suppressive. There really isn't that much time for other activities when one's would-be extracurricular at any other school becomes an all-consuming pseudo-major.
Of course, arts-high-school students can still study the arts at a large public institution in, say, the University of California system (almost 20 percent of LACHSA's 2015 graduating class chose a UC school, according to Broussard)—but they can also choose to study anthropology or history or biology. Elpus's research has found that arts students pursue STEM majors in college at the same rates as students without any arts-education background. His findings weren't specific to performing arts-based high schools, but they show that, in general, students aren't disadvantaged when they elect to take the arts as opposed to another science or math class.
Some academics I spoke with did express concern that intensive arts schools may limit a student's options in terms of the more academic majors they could pursue in college, but Elpus pointed out that students who study the arts aren't disadvantaged in terms of selectivity of college, either: "That to me was a really important finding," he said, "because this notion that you're sort of wasting time taking an arts class, which is to me rather unenlightened, it also turns out to not be supported by the data."
Performing-arts high schools have created lifelong artists in the past and they'll certainly continue to do so. But the fact that approximately a quarter of the students they enroll abandon the activity they spent so much time doing for a huge (and hugely formative) chunk of their life raises questions about their purpose and educational approach.
So the next time you meet an arts-high-school-attending teen who dazzles you with her tales of professional-caliber musicals and concert-hall performances, yes, she might be someone's favorite performer in 10 years. But she also might be the next Nobel-winning chemist or widely cited statistician or National Geographic-featured anthropologist. Or maybe she'll just be the author of the next article you come across online.