The Changing Landscape of Student Protest in Higher Education
The tax-bill overhaul mobilized an unlikely coalition of activists, offering first glimpses of what Republicans may be up against when they tackle financial-aid reform next year.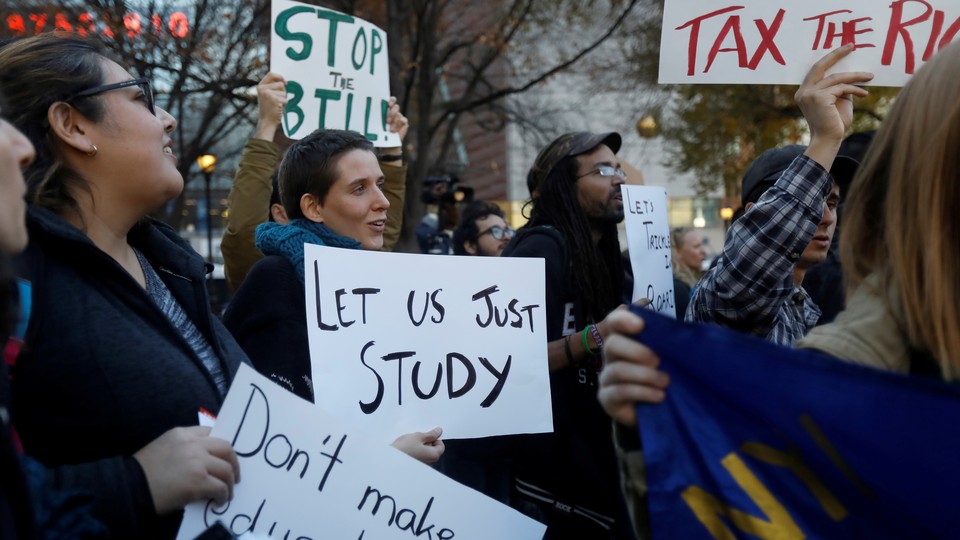 Republicans came within striking distance of making graduate school much more expensive for more than 140,000 students who receive tuition waivers. The provision, which only passed in the House version of the tax bill, sparked a nationally coordinated opposition campaign that accomplished its goals amidst the bigger stories this month. The provision has been scrapped, but the new coalitions that formed in response will likely grow as bigger battles over student debt and other issues affecting college-goers are still to come.
American students have been struggling with steadily rising tuition and record-high debt for some time. Republicans are increasingly showing a willingness to cut spending on higher-education institutions and raise taxes on universities, to the point that some journalists and activists have accused them of waging a "war on college." The GOP's motivations for this are still a matter of debate. Regardless of the reason, though, party leaders' confidence in this strategy also assumes that American students are not politically organized enough to stop them.
This may have been a logical assumption: Student protest in response to the cost of higher-education has yet to force a national reckoning the way it has in other countries such as England, South Africa, and Chile. But House Republicans' proposal to levy an unprecedented tax targeting a low-income segment of graduate students managed to mobilize one of the least likely campus groups for activism. "In the history of student protest it's unusual for graduate students to be politically engaged and involved," said Angus Johnston, a City University of New York history professor who studies campus activism. "Most student protests in the past have been led by undergraduates, and graduate students have played a small role if any at all. The big exception to that has been graduate student unionization pushes." (Graduate students sought to better define their role in universities as employees in need of collective-bargaining powers starting in the late 1960s and have seen new momentum after courts ruled in favor of unionization once more in 2016.)
As both students and employees, graduate students can be busier and less involved in communities outside of their department than undergraduates. But a handful of students decided to coordinate a national campaign called Grad Tax Walkout (or Rally) to Save Higher Education, which encouraged schools across the country to hold protest events on the same day. "It wasn't even on my radar to hold an event until I saw there was that national network of graduate students who were trying to encourage folks across the nation to organize," said John Terbot, a graduate biology student at the University of Kentucky. Campuses that already had unions or active graduate student associations seemed to get the largest crowds on this day of action, and they more often sustained their efforts through lobbying.
Indeed, as Johnston stressed, "graduate-student unionization as a movement is a lot stronger than it was 10, 20, or 30 years ago." The students I spoke with at universities with student-worker unions mentioned they had already been organizing for issues—such as getting their universities to denounce Trump's travel ban or sexual harassment—before the tax bill sprung up. But the bill brought them new members who hadn't engaged in their activism yet. At the University of Pennsylvania (my alma mater), where students had been campaigning for a graduate-student union, the biomedical Ph.D. student Olivia Harding said she'd already been participating in an email chain with the people that were campaigning for a union when the tax issue started making headlines. Unions proved to be a convenient way for schools in the same city to organize with one another and hold joint rallies.
In some schools that did not previously have unions or strong graduate-student associations, the experience of organizing for the tax bill has also reinvigorated a push for more political agency and coordination on the part of students.
Today's cultural climate around campus protest was yet another factor that made the activism noteworthy. The campus free-speech debate continues to evolve, and today campus protesters are frequently criticized in public discourse amid examples of extreme incidents that paint protesters as intolerant leftists who are destructive to democracy. Anti-tax-bill organizers had to grapple with that stigma. At the University of Wisconsin-Madison—where state legislators made national headlines for banning protests that shut down speaking events or presentations—graduate students held a phone bank on the national day of action and later held a rally with other groups in the city. CV Vitolo, a campus activist and Ph.D. candidate in communications, said, "we definitely had concerns about being portrayed as hysterical or irrational … but this is about something much larger than ourselves, and I think most of us here are willing to sacrifice whatever it is that we look like to the public in order to make sure the people are protected."
And their message resonated with far more than "culture warriors" or other stereotypes of the liberal left. "It was important to us that our message be non-partisan," said Nina Jhaveri, one of the core outreach coordinators for the national campaign and a Ph.D. candidate in psychology at the University of Southern California. Of the 68 schools Jhaveri knows participated in the coalition's campaign, 32 were located in states that voted for Trump in the 2016 election. After all, the labor movement is particularly strong in many Red States. While some liberals and conservatives may have different criticisms of higher education, there is growing bipartisan agreement about unacceptable tuition costs and lack of payoff for degrees, which university leaders are starting to address and Republicans worsening student debt will have to confront this as well.
The final tax bill still includes a provision that adds a tax to private universities with endowments larger than $500,000 per student, which could cause tuition raises at a few dozen of the most elite and expensive universities. And as states are forced to pay more for health care they will likely continue the trend of paying less for public universities, causing more tuition hikes.
But as CUNY's Johnston argued, "the connections that people have made, the experience people have had in organizing in recent weeks [aren't] going away. There is a heightened awareness of the specific threat to students represented by the current regime in Washington."
One of the high-profile bills coming up next year will be the rewrite of the Higher Education Act, which affects the entire financial-aid system. The reauthorization proposal, which passed the House Education and Workforce Committee with a party-line vote last Tuesday, includes many sweeping changes. Among them: reversing Obama-era regulations designed to protect students from exploitative practices by for-profit institutions, allowing loan interest to accrue while students are in school instead of after graduation, and eliminating a student-loan forgiveness program for public servants. The bill is expected to go to the House floor for a vote in the new year.
With these big questions still left to be addressed, the graduate-student tax offered a glimpse at the changing landscape of student protest today, and the escalation that is likely to come. "We were just a handful of students who started off with pretty much nothing. No experience. No funds. No visibility," Jhaveri, the national organizer, said. "And from there we became a national movement in two weeks."