Must-Read Education Stories From 2017
A roundup of The Atlantic's coverage on schools, learning, and everything in between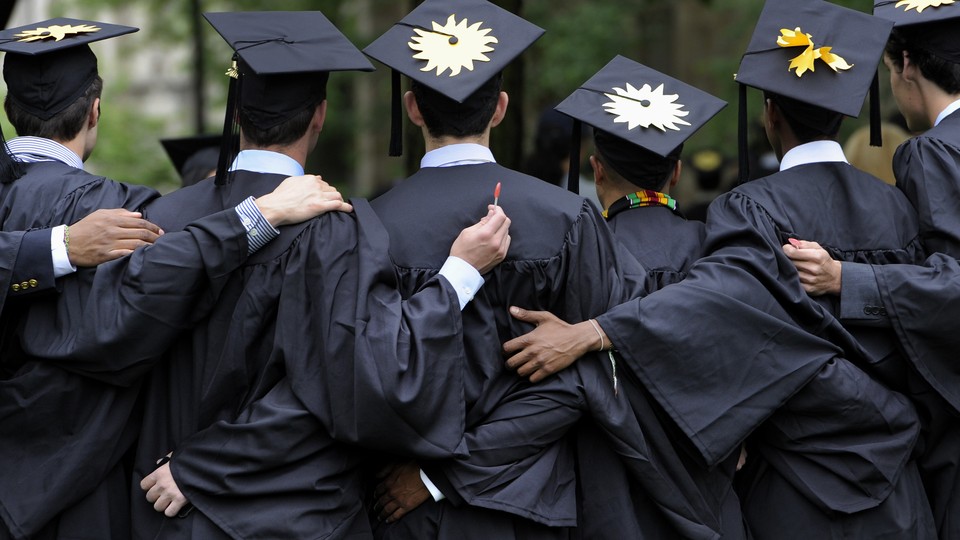 GRAND RAPIDS, Mich.—It would be easy enough to drive past Calvin College without giving Betsy DeVos's alma mater a second thought. Six miles southeast of downtown, the school is a sprawling cluster of nondescript buildings and winding pathways in a quiet suburb. But to bypass Calvin would be to ignore an institution whose approach to education offers clues about how the recently appointed U.S. education secretary might pursue her new job, and about the tug religious institutions feel between maintaining tradition and remaining relevant in a rapidly diversifying world.
CLEMSON, South Carolina—Like many college students pestered by nosy relatives, Sydney Davis, a sophomore, is not exactly forthcoming when her boyfriend comes up in conversation. The couple has been together two years, Davis says with the exasperated tone of a young adult clearly trying to change the subject. Davis's friend, Annsley James, a sophomore wearing a windbreaker with her sorority's letters on it, sits on the opposite side of the room giggling. ...
The women are two students in the ClemsonLIFE program, which offers two- and four-year certificates to young adults with developmental disabilities who may not otherwise have a path to higher education. Students—whose IQs range from the 40s to 70, according to Erica Walters, the program's coordinator—will hopefully leave the rural, hilly South Carolina campus with the ability to live on their own.
Last month, New York Governor Andrew Cuomo signed pathbreaking legislation to provide many of the state's residents with tuition-free enrollment at public community colleges and four-year universities. In the swirl of commentary, which ranged from measured applause to outright skepticism, I could only think about one thing: the life of Travis Hill, a young man I met in the winter of 2000.
Stacy G.'s daughter was having a meltdown. Her daughter, a sophomore at a prestigious private college, wanted an internship at Boston Children's Hospital, a plum job that would look great on her applications to graduate school. After four weeks of frantically waiting for the school to arrange for an interview at the hospital, Stacy called her daughter's adviser at the internships office to complain.
"For $65,000 [in full attendance costs], you can bet your sweet ass that I'm calling that school ... If your children aren't getting what they've been promised, colleges are going to get that phone call from parents," Stacy said.
Under President Trump, the federal role in education is set to be drastically curtailed. Last Thursday, Trump proposed slashing federal spending on schools by $9 billion. His education secretary, Betsy DeVos, has vowed to shrink her agency and return power to local officials, which could mean scaling back civil-rights enforcement. All of these signals may also foreshadow a retreat on school integration. …
Trump and DeVos appear to be single-mindedly focused on expanding access to school choice—particularly private-school tuition vouchers and charter schools, which are often highly segregated. Meanwhile, advocates fear that DeVos might abolish the few incentives created by the Obama administration to spur local integration efforts.
Close to 1 o'clock, when the atmosphere is at its peak, and the two football teams stand on opposing sidelines, the home team's cheerleaders—all smiles—march to the center of the stadium to perform "The Star-Spangled Banner." There is no music, no singing. The crowd watches as the dozen cheerleaders stand in formation, an American flag high but limp in the windless air behind them. ...
The crowd raises their hands and shakes them in the air, applause in American Sign Language, and the Gallaudet University Bison, the country's only college football team for the deaf and hard-of-hearing, takes the field for the opening kickoff.
"It's not our fault," Jacob Rosales said. I had asked the recent high-school graduate what he wants people to know about life on the reservation in Pine Ridge, South Dakota. ...
When Rosales spoke about culpability, he was referring to both present-day realities—the liquor stores in Whiteclay, for example—and historical ones: the legacy of centuries of oppression at the hands of European settlers and their ancestors. It's not our fault that one-third of us drop out of school. That we participate in the labor force at a lower rate than any other racial group. That our men are incarcerated at four times the rate of their white peers.
Those realities help explain why, as Rosales explained, "it's kind of unheard of for Native kids to go far and be successful."
Policy circles tend to predicate the purpose of education singularly on reducing recidivism and increasing post-release employment opportunities. According to that line of logic, then, investing time and resources in individuals who will not be released is a waste. If the purpose of education for incarcerated individuals is instead understood as something that exists beyond social and vocational utility, then prisons take on new meaning. Perhaps prison educators and policymakers would more fully consider how such spaces serve as intellectual communities that restore human dignity within an institution built on the premise of taking that dignity away.
"If you're in an advantaged position in society, believing the system is fair and that everyone could just get ahead if they just tried hard enough doesn't create any conflict for you … [you] can feel good about how [you] made it," said Erin Godfrey, the study's lead author and an assistant professor of applied psychology at New York University's Steinhardt School. But for those marginalized by the system—economically, racially, and ethnically—believing the system is fair puts them in conflict with themselves and can have negative consequences.
Lucky accident or artistic prodigy, acknowledging that young kids aren't as intent on producing a realistic rendering  helps demonstrate what the drawing experience means to them. For many kids, drawing is exhilarating not because of the final product it leads to, but because they can live completely in the world of their drawing for a few minutes (and then promptly forget about it a few minutes later). Adults may find it hard to relate to this sort of full-body, fleeting experience. But the opportunities for self-expression that drawing provide have important, even therapeutic, value for kids.
Concern about the kids' sports frenzy often fixates on the costs to children who do too much: the burnout and physical exhaustion, the bodies battered from overuse, the loss of unscheduled free time. But the children who are excluded from that frenzy, most of them from lower-income families, suffer more enduring losses. These children miss out on the scads of positive outcomes that are linkedto regular exercise, including longer life expectancies, improved mental and physical health, and better grades in school. As important, they are denied lessons in discipline, teamwork, and resilience—the very qualities that most parents want for their children—which are often taught in athletics.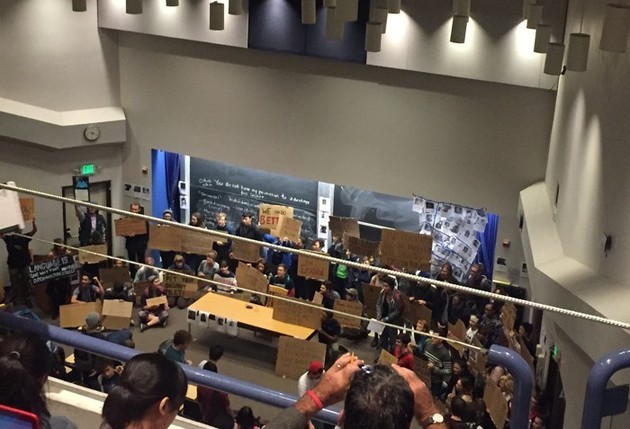 Beginning on boycott day, RAR protested every single Hum lecture that school year. In-class protests are very rare on college campuses. During the nationwide upsurge of student activism tracing back to 2015, protesters have occupied administrative buildings, stormed into libraries, shut down visiting speakers in auditoriums, and walked out of classrooms—but they hardly ever disrupt the classroom itself. RAR has done so more than 60 times.
A Hum protest is visually striking: Up to several dozen RAR supporters position themselves alongside the professor and quietly hold signs reading "We demand space for students of color," "We cannot be erased," "Fuck Hum 110," "Stop silencing black and brown voices; the rest of society is already standing on their necks," and so on.
When students start school in the United States, they tend to proceed along one of two paths. For many, college is the assumed destination from their earliest days in the classroom, reinforced progressively at every step of their education. The only mystery is what higher-education institution they'll attend. But for a vast set of students, there is no assumed destination except adulthood—school will be a fact of life until it simply isn't any longer, and at that point, they'll have to figure out what comes next. …
In April, Chicago Mayor Rahm Emanuel laid down a mandate: Every public-school student in Chicago must have a destination in order to receive their high-school diploma. In other words, all Chicago Public Schools and public-charter-school students must have a postsecondary plan in order to graduate.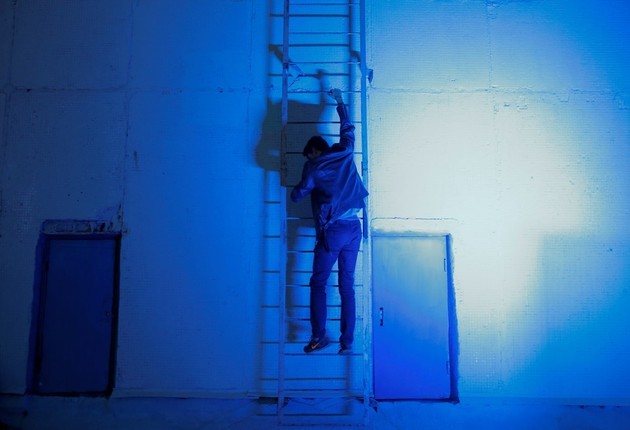 One of the most commonly taught stories American schoolchildren learn is that of Ragged Dick, Horatio Alger's 19th-century tale of a poor, ambitious teenaged boy in New York City who works hard and eventually secures himself a respectable, middle-class life. This "rags to riches" tale embodies one of America's most sacred narratives: that no matter who you are, what your parents do, or where you grow up, with enough education and hard work, you too can rise the economic ladder.
A body of research has since emerged to challenge this national story, casting the United States not as a meritocracy but as a country where castes are reinforced by factors like the race of one's childhood neighbors and how unequally income is distributed throughout society.
There is no doubt that until recently, many women's claims of sexual assault were reflexively and widely disregarded—or that many still are in some quarters. (One need look no further than the many derogatory responses received by the women who came forward last year to accuse then-candidate Donald Trump of sexual violations.) Action to redress that problem was—and is—fully warranted. But many of the remedies that have been pushed on campus in recent years are unjust to men, infantilize women, and ultimately undermine the legitimacy of the fight against sexual violence.
This spring, I went to the Middle East to try to understand why girls are doing so much better in school, despite living in quintessentially patriarchal societies. Or, put another way, why boys are doing so badly.
It's part of a pattern that is creeping across the globe: Wherever girls have access to school, they seem to eventually do better than boys. In 2015, teenage girls outperformed boys on a sophisticated reading test in 69 countries—every place in which the test was administered.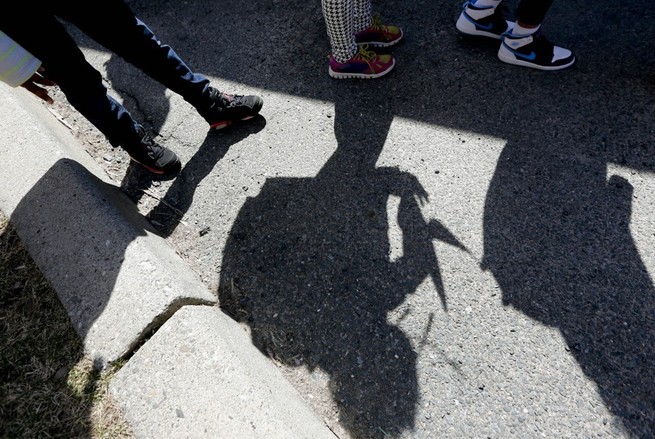 Michelle Kuo is a writer who resists the mythmaking impulse, with its clichés and wishful thinking. In her penetrating, haunting memoir, Reading With Patrick: A Teacher, a Student, and a Life-Changing Friendship, she confronts all of the difficult questions that the teacher-as-savior genre claims to have answered, and especially this one: What difference can a teacher actually make?
During the last big wave of automation in the 1980s and 1990s, technology produced new jobs and made others obsolete. The demand for rote-labor workers had diminished, while that for workers with computer-based skills had gone up. Laborers who didn't have much experience beyond their rote jobs were, in turn, hit the hardest, and those laborers tended to be black: "Even before the economic restructuring of the nation's economy," wrote William Julius Wilson in his 1996 book When Work Disappears, "low-skilled African-Americans were at the end of the employment queue." Who will the biggest victims be in this new age of automation, in which artificial intelligence dominates and tasks such as driving are computerized?
It's not that rural students aren't academically prepared. They score better on the National Assessment of Educational Progress than urban students and graduate from high school at a higher percentage than the national average, the U.S. Department of Education reports. ...
Yet even the highest-income white students from rural areas are less likely to go to college right from high school than their well-off white city and suburban counterparts, according to the National Student Clearinghouse, which tracks this data: 61 percent, compared to 72 percent from urban schools and 74 percent from suburban ones.