How Tech Companies Could Keep the Workforce Alive
Do innovators have a responsibility to help workers whose livelihoods are threatened by machines?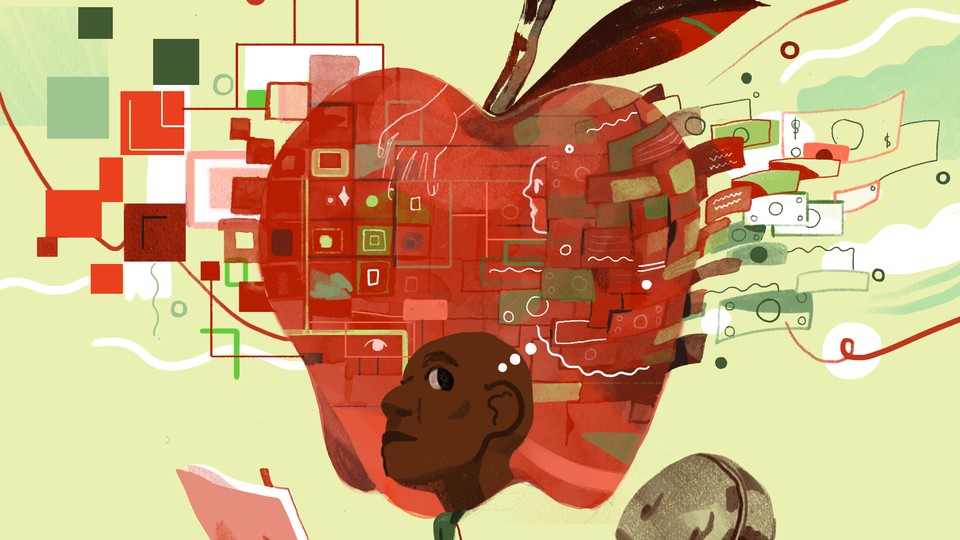 By the time IBM introduced its personal computer in 1981, the company's "Job Training Program" was 13 years old. Secretaries and other administrative professionals across the country—workers whose jobs were affected by IBM's new computer and software—could go to one of the company's 74 job centers and gain skills in areas including computer programming, data entry, and word processing.
Jobs in industries such as food services, transportation, and retail trade are at high risk of being automated, forcing workers to gain new skills to compete for well-paying jobs. From Google's self-driving cars to Apple's communication technology to Amazon's retail model, automation is becoming more and more pervasive. As communities across the U.S. witness growing gaps between the skills that workers have and the ones that employers need, workers will need training.
Debate about how to prepare workers for the future has largely focused on what educators and employers are doing and could do more of. For academics such as Joseph Aoun, the president of Northeastern University, the two entities would ideally create joint-curricula that ensure students have the skills that employers will eventually want. Northeastern's signature co-op program has a network of more than 3,000 employers globally. Such partnerships address educators' concerns that schools should be more than a means to employment and employers' concerns that it is not their sole responsibility to train and educate workers. For some politicians, the federal government ought to take the lead when it comes to workforce-development programs by, for example, funding and creating apprenticeships in which participants are paid modest wages while receiving on-the-job training and classroom instruction.
But what about the technology and e-commerce companies that are changing the nature of work? Some observers argue that these innovators can do more to support American workers whose prospects are undermined by automation, particularly because these companies comprise such a direct threat to their employment. The innovators' technologies affect the job market by making some jobs more valuable than others, "changing the skills needed, and perhaps making more jobs more susceptible to displacement and automation," said Mark Muro, a senior fellow and policy director at the Brookings Institution. These companies best understand the new technologies; they also have the most to gain from the widespread use of their products.
As new research further reveals the effects that automation will have on workers— exacerbating socioeconomic inequality, for instance—some companies are "taking more and more of an interest in labor market problem-solving and the development of regional economies," Muro said. But how much responsibility for job training should these companies take?
* * *
Google announced a new program last year that provides free training online for students and teachers, small-business owners, job seekers, startup founders, and developers to acquaint them with the company's tools. The training for students and teachers is centered on using G-suite, augmented reality, and general computer science; the training for small business owners and startup founders helps them understand how to market their businesses on Google and develop their websites. Apple is similarly helping people get the digital and computer-literacy skills that more and more jobs demand. Through the company's LearnQuest initiative, for example, people pay to participate in programs that teach them how to develop apps, understand Apple products and get Apple-authorized certificates that demonstrate their proficiencies to employers. Amazon for its part started its Career Choice program in 2012. The program pre-pays for 95 percent of an employee's tuition for certificate and associate's degree programs in high-demand occupations, including those outside of Amazon, provided that the employee has been with the company for at least one year and that the cost does not exceed $12,000 over the course of four years. While these programs are not an explicit response to the change they've caused by the technologies they've created, they undoubtedly help people who are affected by technological innovation.
One way for these tech leaders to expand the support they offer to potentially displaced workers would be to fund education programs at postsecondary institutions. Robotics innovators, for example, could subsidize programs at colleges that help students learn how to repair and manage robots. After all, as Carolyn Heinrich, a professor of public policy, education, and economics at Vanderbilt University, pointed out, increasing numbers of jobs will require that such skills as robotics become more pervasive in the workplace.
Another example would be to have the executives in innovative companies serve on, or influence from afar, state and local workforce-development boards to provide information on where the jobs are and what the jobs need. LinkedIn has a team of people that creates partnerships with cities to help them utilize LinkedIn's data in an effort to provide more insight into the labor needs of different communities. Big technology companies could take LinkedIn's lead if they have similar data.
One potential downside to allowing innovative companies to influence workforce development is that the companies might provide workers with narrow training that only relates to their products, such as Apple's iOS. Companies are less likely to hire a prospective employee if she "is too closely associated with one technology," said Nicole Smith, a research professor and the chief economist at Georgetown University's Center on Education and the Workforce. The concern, Smith continued, is that the worker "might not be able to pivot to the next thing because there's too big of a learning curve, which is a potential problem."
Ultimately, some experts, such as Anthony Carnevale, the research professor and director of the Georgetown University Center on Education and the Workforce, don't think that the onus is on technology companies to help those who are hurt by their innovation: "Technology change disrupts labor markets: harms some people greatly, benefits all of us greatly," Carnevale said. "How do you make a bargain between the winners and losers? That is a question for government."