Employers Are Looking for Job Candidates in the Wrong Places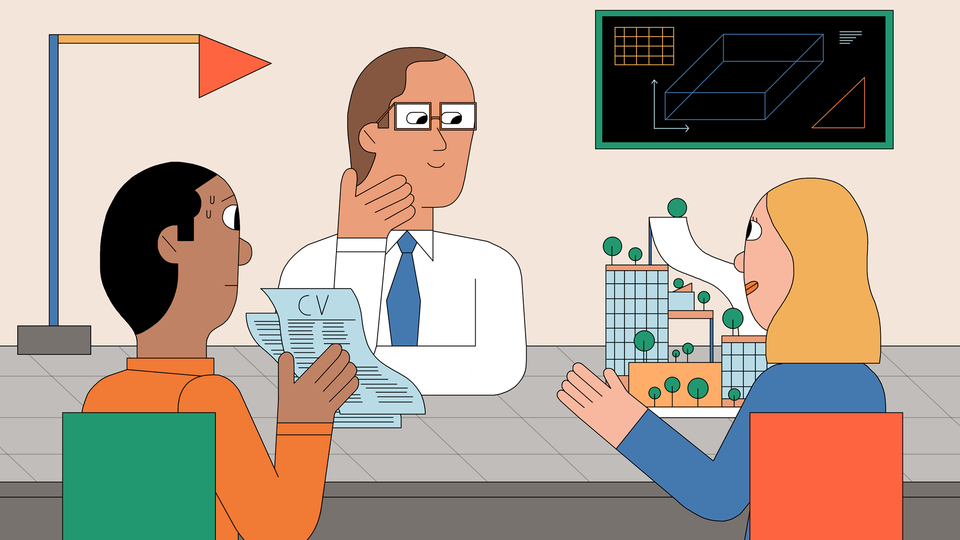 The employers who can't seem to fill the United States's roughly 6 million vacant jobs are at a loss for what to do. Qualified candidates are seemingly nowhere to be found. In Washington, D.C., for example, there aren't enough workers who have the healthcare-management or sales skills to meet the demands of the hospitals and retail stores and banks desperate to hire, according to a report by LinkedIn's Economic Graph Team. Philadelphia has so many job openings that can't be filled because its residents lack skills in areas including politics and retail.
Policymakers such as Education Secretary Betsy DeVos say the solution is to recognize the range of avenues by which someone can become "qualified" for a given job. Nontraditional forms of education, such as apprenticeships—in which students can participate in on-the-job training while earning subsidized salaries—are gaining support among Republicans and Democrats alike. "We need to stop forcing kids into believing a traditional four-year degree is the only pathway to success," Devos said in November at the inaugural meeting of the White House Task Force on Apprenticeship Expansion. "We need to start treating students as individuals ... not boxing them in." But such rhetoric seems to overlook the countless employers that won't change their hiring criteria because they don't view nontraditional education as credible.
Companies hiring for what would traditionally be classified as middle-skill positions (those that economists define as requiring a high-school diploma but not a bachelor's degree, such as bookkeeping or a secretary) today often say they require candidates to have a bachelor's degree. They see such degrees as an indication of whether an applicant has a range of skills they're looking for, like the ability to communicate effectively or program computers. In 2015, almost 70 percent of job postings for production supervisors (people who oversee the production operations in manufacturing or other industrial environments), for example, asked for a bachelor's degree even though only 16 percent of the workers already employed in that occupation had one, according to a report by the Harvard Business School. The report estimates that more than 6 million jobs——interestingly, the same number as those that are vacant— are at risk of degree inflation.
This phenomenon isn't limited to a small sphere of the American workforce: The 15 occupations experiencing the greatest degree inflation, according to the report, span virtually every major industry.
But adults who participated in apprenticeship programs instead of college, for instance, can do certain jobs, such as billing and customer service, just as effectively as graduates with bachelor's degrees, according to a separate 2017 report by the Harvard Business School, this one co-authored with the labor-market analytics firm Burning Glass Technologies. Sometimes apprentices can do those jobs even more effectively than college graduates. Only 42 percent of employers feel that graduates are adequately prepared for the job market, according to a 2013 report by the McKinsey Center for Government.
This suggests that, in focusing their hiring efforts only on college graduates, many employers are overlooking pools of qualified applicants—a habit that's mutually detrimental in that it can both undermine the company's economic health and deprive promising Americans of opportunities in which they'd otherwise thrive. After all, the vast majority of high-achieving, low-income students don't apply to any selective college or university, according to analyses by Stanford University researchers. And just 14 percent of low-income students receive a bachelor's degree within eight years of completing high school, which is roughly half the rate of their middle-income peers.
These discrepancies aren't the result of an imbalance in ability but rather an imbalance in access. And that ought to call into question companies' ever-growing reliance on a bachelor's degree as a barometer of one's eligibility for a given job. Instead of considering whether a candidate has a four-year degree, the employer should be asking, "who can do this job today and continue learning to become a productive member of the team?" said Beth Cobert, the CEO of Skillful. Skillful, a recently launched Colorado-based organization, aims to change the way companies hire by working with employers, job seekers, educators, coaches, and the government, among others, to shift their focus during the job-screening process from degrees to skills. The goal is to have employers look at applicants' competencies—say, their ability to communicate effectively with customers and compile an Excel spreadsheet—rather than just their degrees when screening candidates.
Many companies could benefit from deflating college degrees and in turn giving  more weight to skills-based training like apprenticeships or coding bootcamps. This training, at least in theory, ensures the applicant in question has the abilities that the job requires. In the long run, skills-based job screening could reduce the number of failed hires a company experiences. A candidate who was hired simply because she has a four-year degree could easily end up a dud whether it's because she doesn't actually have the skills, isn't driven to learn and improve, or is simply overqualified and decides to leave. And again, this hiring approach helps those from non-traditional educational backgrounds, many of whom didn't pursue or complete a bachelor's degree because of financial reasons, find fulfilling employment.
Skillful seeks to facilitate a shift toward skills-based screening by mining extensive data on jobs, education experience, and job-seekers gathered by LinkedIn and identifying the needed skills for a given position. It then encourages employers to explicitly ask for those skills in job descriptions—as Leah Johnson, who formerly oversaw public relations at Skillful, explained, job descriptions play a huge role in determining which candidates make it through the hiring process. Skillful, which has been endorsed by Colorado Governor John Hickenlooper, has become quite popular among employers and educators. Since its launch in 2016, 375 employers have engaged with Skillful's network, and 20 employers are working to move toward skills-based hiring practices.
Still, many employers feel that screening based on an assessment of one's skills rather than on whether she can boast a college diploma would be time-consuming, particularly if they don't have resources like the trove of LinkedIn data. Firms such as York Solutions, an IT consulting firm in Illinois, offer to find those candidates for companies. As part of its Barriers to Entry program, York Solutions specialists speak with job-seekers from nontraditional backgrounds including stay-at-home parents, veterans, and people seeking to change careers. The firm then helps them translate their experiences into a set of skills that can be communicated to employers via a "profile"—not a "resume," it emphasizes, because it includes information on a person's narrative that wouldn't be included in a conventional C.V. The semantics strategy, according to Brandi Will, who oversaw the development of Barriers to Entry, "also helps to change the mentality of the hiring manager."
Programs such as Barriers to Entry help reduce the amount of time companies spend on their pivot to skills-based job screening, but they also cost money—companies need to pay the (often pricey) salaries of the specialists who help them find the right candidates. It's an expense many companies can't afford. But it may be the most cost-effective solution to an employer's hiring woes. Consider, for instance, the fact that employers lose about $407 per STEM-position vacancy daily—and that it took an average of 63 days to recruit for one of those roles in 2015, according to findings from Gartner, a research and advisory company.
Certain employers are better equipped than others to move to the skills-based screening model. Take tech companies: Established alternative educational programs such as coding bootcamps make it easier for them to extend their candidate criteria beyond only those who have college degrees. But if employers are "going to be productive in their organization and get the business they want," said Jeff Barratt, the executive director of the Skillful partner Emily Griffith Technical College, "they have to be able to have a skilled workforce to meet that demand." The skilled workforce exists—employers just aren't looking in the right places.