Do Employers Overestimate the Value of a College Degree?
Worker-training programs could bring companies good workers at low costs.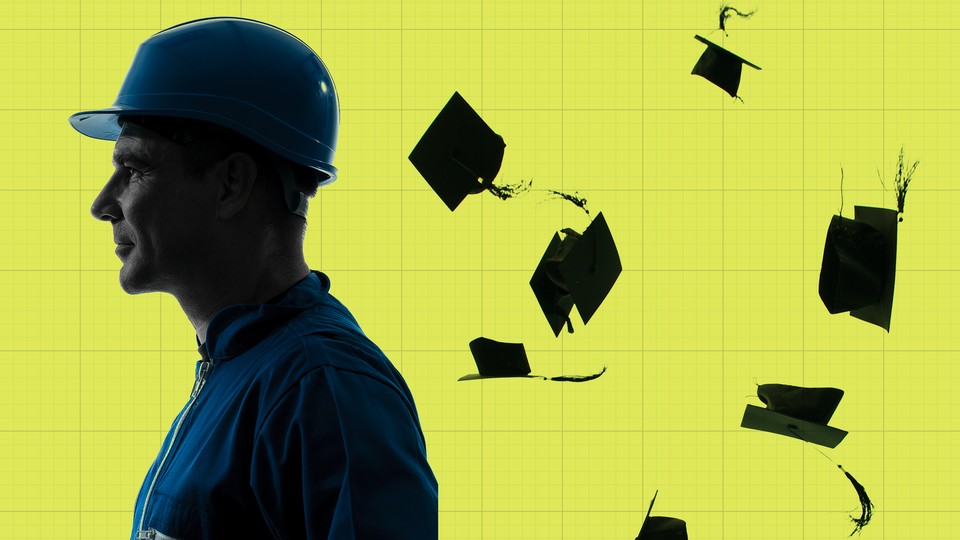 It's dinnertime, and a teenager is seated with her immediate family. She looks around—everyone has at least a college degree and a stable job. What to look for in a college and what to major in and how to become a doctor are the topics of tonight's dinner conversation. Elsewhere, another high-schooler is seated with her younger brother chomping down on the meal she struggled to put together for the two of them. Her parents are away, working their second or third jobs. The girl is mulling over how to make money quickly and contribute to her family's household.
People in that second example typically lack a reliable means for entering the workforce outside of traditional college—and college can't address everyone's needs, especially those who have immediate fiscal obligations. Apprenticeships could be one solution. Apprenticeship programs enjoy bipartisan support, with the Democratic Obama administration investing millions of dollars in them and the Republican Trump administration prioritizing their expansion; Education Secretary Betsy DeVos has expressed support for skills-training programs, too, including apprenticeships.
Apprenticeships are programs that combine on-the-job training with classroom instruction about the job at hand. Participants also make money while they learn new skills, which means that, unlike college graduates, apprentices can learn and gain new skills without going into debt. Additionally, 87 percent of apprentices end up with a job after their program. Yet just 5 percent of Americans participated in apprenticeships in 2014, compared, for example, to 60 percent of Germans.
The United States has plenty of room for more apprenticeship programs, according to a new study co-published by Harvard Business School and the labor-market analytics firm Burning Glass Technologies. While apprenticeships in the country are relatively common in 27 different occupations—mostly concentrated in construction and extraction (i.e., mining)—it is possible to develop them in nearly 50 others, the report, which was co-authored by Harvard's Joe Fuller and Burning Glass's Matthew Sigelman, said.
If apprenticeship programs were expanded to 74 occupations total, they conclude, people without college degrees could've had the opportunity to fill 3.3 million of last year's 23.4 million job openings. Some of the jobs that could be opened up to apprentices include those as billing and shipping clerks, chefs, head cooks, and nuclear medical technologists; the average salary is about $55,000 for college graduates in those positions now, according to the study.
New companies are often discouraged by the initial costs of creating apprenticeship programs, which include those needed to set up a process for identifying and interviewing candidates, to provide the actual training, and to pay the apprentice's salary. Many companies see these new expenditures as unnecessary fees that add on to the money they're already spending on their full-time employees.
Fuller thinks these employers are misguided. They're not taking into account failed hires, he argues, or employees who end up leaving because they aren't a good fit or find a better opportunity. Apprenticeship programs could minimize the number of failed hires because an employer would have had some time to see a laborer work before extending a full-time job offer. According to Fuller, the expansion of apprenticeship opportunities could lessen employers' total labor costs in the long-run: Apprentices' salaries tend to be lower than that for employees with bachelor's degrees.
According to the study,  20 percent to 80 percent of job postings ask for candidates with bachelor's degrees, depending on the occupation, but a lot of those positions don't actually require college experience. In other words, employers use college degrees as a proxy for a range of skills that can in fact be attained without a college degree. This practice is called degree inflation, and the result is that, depending on the occupation, "college graduates [will] find themselves recruited for jobs in which their colleagues don't have degrees," Fuller said, noting that those non-degreed colleagues were hired before such inflation became common practice. This educational-background difference "leads to [the college graduates having] higher turnover and [lower] job engagement than non-college graduates."
What makes an apprentice appealing to employers is that she is likely to be just as "productive and fast as a college graduate," Fuller said. Additionally, because apprentices have fewer overall opportunities than those with bachelor's degrees, their turnover rate is lower. Apprentices also have lower expectations about their starting salary: Employers pay those with bachelor's degrees 11 percent to 30 percent more than non-degree workers with experience to do the same job.
Still, some argue that there are positions for which a college-educated employee is better suited than an apprentice might be. George Anders, the author of You Can Do Anything, which explores the value of a liberal-arts education, said that while some jobs currently requiring a postsecondary degree could be opened up to non-college graduates, many positions do indeed require the "extra poise and promotability that a college student can bring." In other words, college students would not only understand how to do their job, but also have social and communication experiences that enhance their employability. Of course, the idea that a college education is essential to that broader understanding is much-contested. Apprentices, for instance, could acquire those skills on the job by observing how their colleagues conduct themselves.
Vocational education has a reputation for tracking low-income African-Americans and Latinos into low-wage jobs. This study, however, implies that apprenticeships could play a role in increasing that same population's chances of breaking out of poverty. Expanding apprenticeships to occupations that were previously reserved for college graduates would put individuals without degrees in entry-level positions that lead to more advanced careers by giving them in-demand work experience. It's a very "dangerous thing to get [into one's] mid-20s and have no degree and no full time job," Fuller said. "Now you're competing against two pools: those who are experienced or those who are new graduates."