The Significance of Betsy DeVos's Speech in Baltimore
The education secretary, who's been accused of wanting to privatize public education, gave a university commencement speech in a city whose district schools are struggling to stay afloat.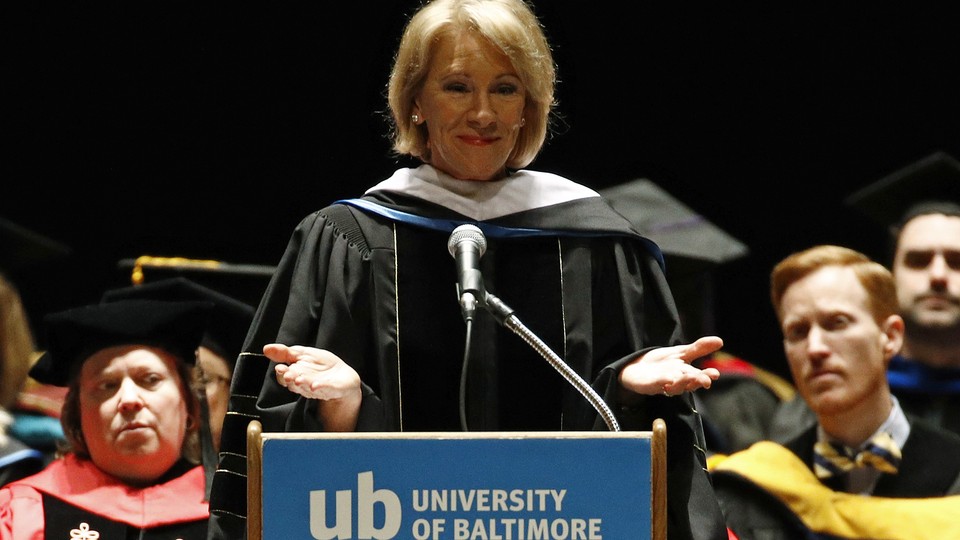 Education Secretary Betsy DeVos was ushered off stage at the University of Baltimore's fall commencement Monday after dozens of students, faculty, and parents staged a protest against her keynote address. With their backs turned as DeVos spoke, some raised their fists in opposition and held signs reading "#Not My Commencement Speaker."
DeVos's visit comes amid growing concern over the future of Baltimore City Schools. Declining enrollment has created a $130 million budget deficit, prompting school officials to propose cutting 1,000 jobs.
A last-minute deal for extra state funding largely averted the crisis. But DeVos protesters, such as the professor and public-school parent Steven Leyva, say the education secretary's support for school-choice models such as vouchers and charter schools would only make a tenuous situation worse. Charter schools are privately run but publicly funded, typically with little or no government oversight. Critics argue that charters and vouchers—which let families use government money to pay for private schools—detract money and social capital from public education, and in some cases are an assault on the separation between church and state given that the schools are often religiously affiliated. "It troubles me she's explicitly trying to undermine our public-school system," Leyva said.
DeVos is no stranger to protest. Even a number of fellow Republicans cited DeVos's lack of professional or personal experience with public schools in opposing her nomination. Limited support within the GOP prompted an unprecedented tie-breaking vote by Vice President Mike Pence to secure her appointment. After just days on the job, DeVos was blocked from entering a Washington, D.C.,  public school by parents and activists who oppose her agenda. A few months later she was booed by graduating students during her commencement speech at the historically black Bethune-Cookman University.
In September, students, faculty and community members held impromptu rallies on the University of Baltimore's campus after DeVos's appearance was announced. More than 3,200 people signed a petition expressing outrage at the choice, urging the school's president, former Baltimore mayor Kurt L. Schmoke, to withdraw the invitation.
Protestors lambasted DeVos's rollbacks of campus sexual-assault guidelines and support of deregulation in higher education in addition to her views on school choice. "One of the primary reasons we stood was to highlight her attempts to cut funding and financial assistance to students," said Keanuu Smith-Brown, 22, the Student Government Association vice president. "The protests reflected opposition to the Trump administration as a whole."
In her speech, DeVos praised the university, a public institution, for providing "flexibility outside of a traditional college environment." She even highlighted several stories of recent graduates who overcame personal challenges, including one who grew up in a foster home and one whose parents grappled with addiction, to earn their degrees.
But the thesis of her speech—that a quality education and selfless perseverance can overcome any adversity—seemed to ignore growing evidence that the dream of economic mobility is out of reach for many Americans. Throughout the roughly 20-minute talk, she also focused on family support as a key to success while ignoring the role community and government play in both bolstering and funding the success stories at hand.
"She tried focusing on problems facing students and families without acknowledging the role she and the Trump administration play in exacerbating those challenges," said Smith-Brown, who's attended public schools his entire life. The Trump administration delayed action on student-loan forgiveness, which was designed to protect students who'd been defrauded by their college, and moved to cut funding for federal aid such as grants and scholarships. (On Wednesday, the Education Department announced that DeVos has taken action on thousands of applications for student-debt forgiveness, the first substantial move she's taken on such claims.
DeVos also highlighted school choice, a model she's spent 30 years promoting, as a way to empower families and uplift communities from poverty. But studies show that education in areas of entrenched poverty like Baltimore has a limited ability to increase social mobility. Many of Baltimore's poorest neighborhoods, according to one study, already contend with less public investment than their more affluent counterparts in the city. "I don't think you can bring a critique to public schools after you defund them for generations," Leyva said.
DeVos and her views on education, of course, have many supporters. They include Maryland Republican Governor Larry Hogan, who has sought to expand charter schools and other forms of school choice in the state. However, Hogan's push has been thwarted in part by the state's tight regulations on charter schools, some of the toughest in the country—for example, all teachers are unionized, and schools are managed by their local school board. It's in many ways the opposite of DeVos's home state of Michigan, which has embraced a free-market approach partly thanks to lobbying efforts by a DeVos-affiliated political action committee, prompting a proliferation of non-union charters with minimal oversight.
Maryland charter schools have avoided the scandal and financial malfeasance that have made headlines elsewhere, supporters argue, because of the stricter laws governing their oversight. In Michigan, multiple studies have found that schools there, both traditional public and chartered ones, are among the worst in the nation when it comes to improving student achievement; some analyses have also shown that charters do no better, or in in some cases worse, than their counterparts.
Still, at least one study has found that Michigan's charter schools have a positive impact on achievement—and it's this kind of evidence that school-choice supporters say speaks to the importance of exploring these more experimental education models. Indeed, DeVos's call for more options as a means of promoting school quality resonates with those who want to shake up the status quo in public education, including many prominent people in the K-12 world. Eva Moskowitz, the founder of the Success Academy charter-school chain in New York City, has in the past praised DeVos for promoting school choice as the "most effective way to improve opportunities for children trapped in decades-old failing schools."
Locally, some acknowledged the merits of this view. "There are some [charter] schools that are doing things we should be learning from," said Rob Helfenbein, the associate dean of Loyola University Maryland's School of Education, who also protested against DeVos. But on the whole, he stressed, vouchers and charter schools are not necessarily better than public schools. "Certainly there's a lot of work to be done in public education, but I'm concerned what DeVos is pushing is to privatize public education."
Critics say school choice doesn't address the underlying reasons for the struggles of school districts like Baltimore, which created the first ordinance in the country to racially segregate a city. The federal government helped '"redline" Baltimore in the 1930s by denying home loans to African Americans and thus concentrating poverty in East and West Baltimore neighborhoods, where residents today can expect to live 20 years less than more affluent neighbors. Meanwhile, government policy subsidized loans for white city residents, and in turn a path for wealth creation in the suburbs.
Today, roughly nine in 10 students in Baltimore's schools are black or Latino, and 86 percent qualify for free or reduced-priced meals, an imprecise measure of poverty. Some worry that charter schools—which some studies suggest increase segregation, though the research is mixed—would lead to further racial and socioeconomic isolation in K-12 education.
Courts in the 1990s and 2000s found the State of Maryland underfunded the Baltimore School system by hundreds of millions of dollars and ordered increased funding to the city's schools. Today, schools receive just under $17,000 per student annually. That's significantly higher than the national average, but it costs more to educate students in Baltimore than in most other districts across the country: In addition to its high percentages of low-income and special-needs students, the city's K-12 buildings are so old that more than two-thirds of their facilities are, according to a comprehensive 2012 report, in very poor condition. A state group known as the Kirwan commission is currently meeting to create a new funding formula for Maryland, the first major overall of education policy in the state in more than 15 years. Advocates are urging commissioners to consider racial equity when determining how resources will be allocated. A 2016 study found that student achievement increases when funding is raised.
A day after DeVos's visit, the Baltimore School Board voted to close five traditional public schools, citing low student achievement and dropping enrollment. But some community members remain defiant. "We will continue to fight for our school, because it's our neighborhood school and my daughter is thriving as a student there," said Nicole Mundell, referring to Friendship Academy of Engineering and Technology in East Baltimore, one of the schools now slated for closure.
Mundell heads Out for Justice, a nonprofit that advocates for criminal-justice reform. She believes the school's problems are rooted in economic disadvantage, historic underfunding, and a lack of student engagement. Friendship Academy "has much to improve on," she said, "but [education] shouldn't be privatized" as a response to failing schools.