9 Charts That Show What Education in America Is Like in 2017
Compelling visuals on the key issues of the past year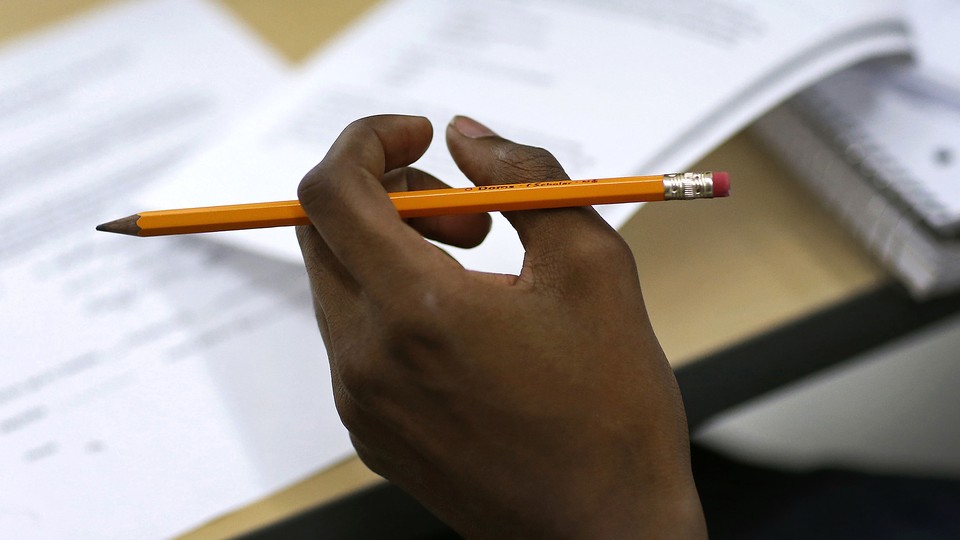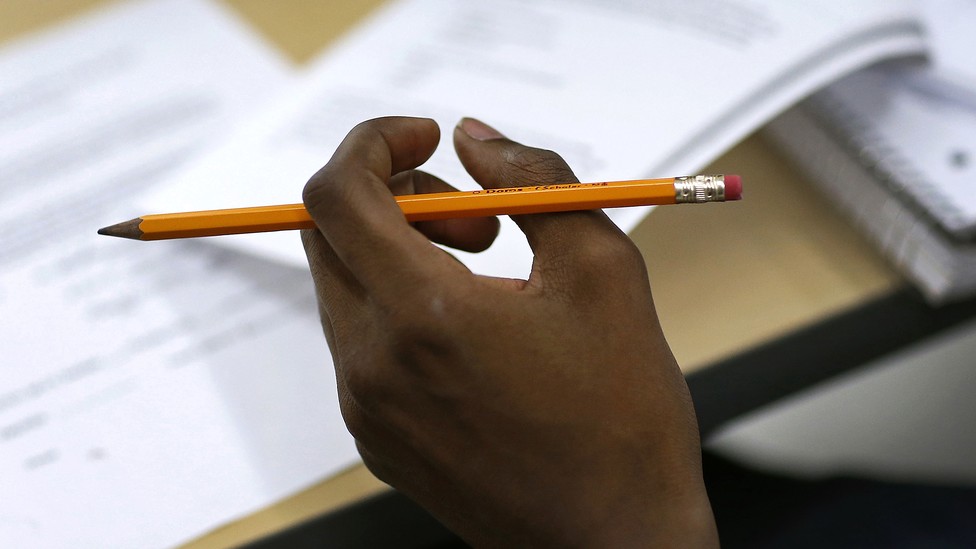 As trends in education ebb and flow, it gets hard to keep track of the current state of things. Visuals can clarify what's changed over the past year and what has stayed the same. As 2017 comes to a close, we've compiled some graphs and charts that help contextualize the year in education issues.
* * *
College Access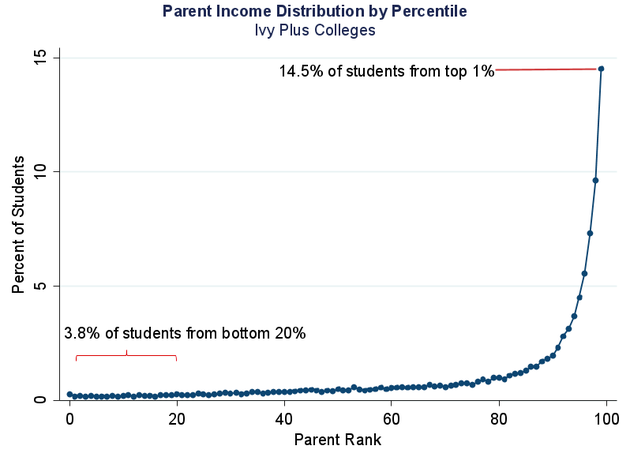 The accessibility of elite colleges to low-income students has long been a topic of concern in higher-education debates. Recent research by Stanford's Raj Chetty, based on data on students born between 1980 and 1991, conveyed the urgency of the problem: Among the cohorts of students at elite colleges that his team studied, just 3.8 percent of students came from the bottom 20 percent of families, while 14.5 percent were raised as 1-percenters.
* * *
Education and Economic Mobility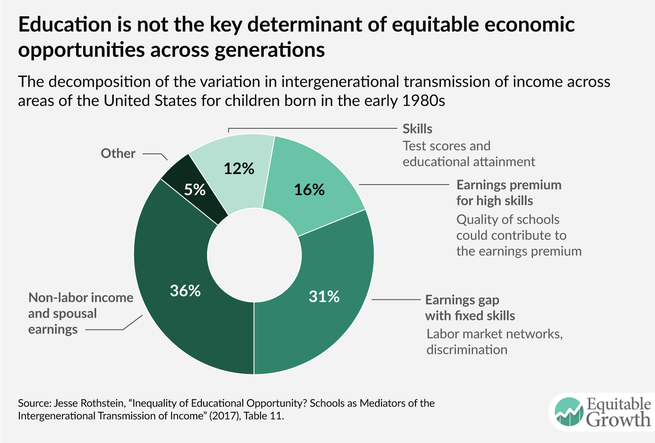 In the American narrative of success, it's often assumed that good schools are the key to climbing the economic ladder. But research this year from the UC Berkeley economist Jesse Rothstein complicated that story, finding that differences in local labor markets and family structures had a larger effect than school quality on a person's chances for economic mobility.
* * *
Fraternity Hazing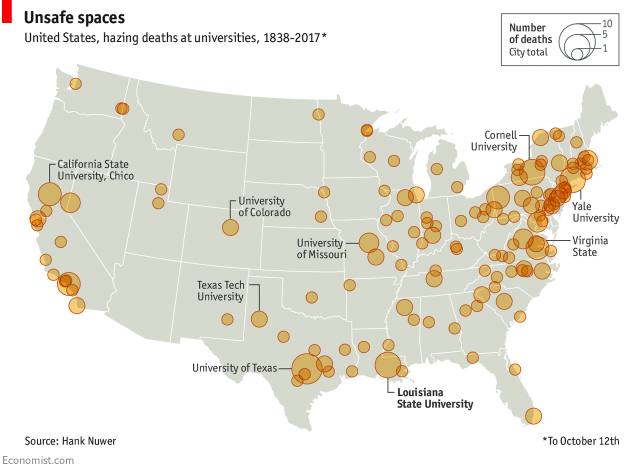 Caitlin Flanagan's harrowing Atlantic piece on the death of the Penn State student Tim Piazza at a fraternity hazing underscored the high stakes of debates around fraternity safety and drinking culture. This graph from The Economist provides a history of hazing deaths at U.S. universities.
* * *
Sexual Violence in Schools
Courtesy of The74
College sexual-assault issues have been at the forefront of the national conversation this year. But the Education Department's Office for Civil Rights has also seen a surge in sexual-violence complaints at K-12 schools, where administrators are often ill-equipped to handle such cases. (Hover over each bar in the graph to see specific amounts of complaints in K-12 and higher ed.)
* * *
Political Polarization at College
Colleges have long been hotbeds for political fervor, but this year political divisions on campus seemed to reach new heights. A national survey of college freshmen across the U.S. found that these students were more politically polarized in 2017 than they have been in the last 51 years. Roughly 36 percent of students aligned themselves with liberal or far-left ideology, while about 22 percent identified as conservative or far right. There was also a significant gender chasm—roughly 41 percent of women identified as liberal or far left compared to 29 percent of men, the largest gender divide since 1966 when the survey was first administered.
* * *
Partisan Disdain for Higher Education
This past year saw a sharp rise in Republican distrust of higher education, with some contending that a backlash against campus identity politics or a less-educated Republican demographic is to blame. The Atlantic's David Graham argued that whatever the cause, the effects of this trend could be significant: "If more than a third of the country, and six in 10 Republicans, think that institutions of higher education are harming the country, it's hard to imagine that won't eventually result in larger drops in enrollment."
* * *
School Segregation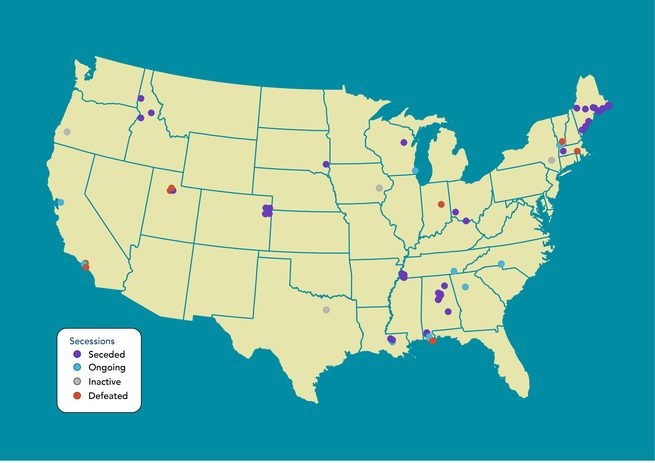 Thirty states currently have policies that allow communities to secede from their school districts. These moves often exacerbate the segregation of schools on the basis of race and socioeconomic status. This map from an EdBuild report on school-district secessions offers a breakdown of 71 communities that have tried to secede from their school districts since 2000.
* * *
School Performance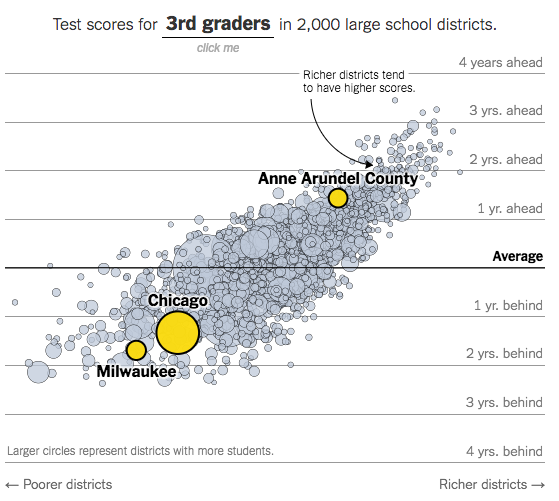 Many Americans are pessimistic about the country's school systems, but recent data paints a new, more hopeful picture of some districts' abilities to overcome challenges. The data, based on around 300 million elementary-school test scores from over 11,000 school districts, challenge assumptions about how and why schools succeed. In Chicago, for example, students were found to learn faster than in most other school systems in the U.S., despite the institutional and socioeconomic obstacles the Chicago school system faces. The interactive version of this graphic is available at the New York Times article here.
* * *
School Choice and Religion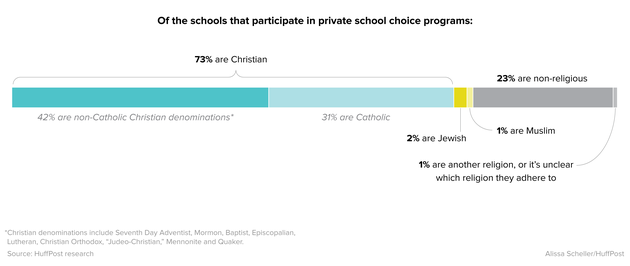 School choice has been at the forefront of education-policy debates since the appointment of Betsy DeVos, an outspoken school-choice advocate, as the country's education secretary. One point of contention in the school-choice debate is the existence of religiously-affiliated voucher programs. HuffPost recently set out to document the religious affiliation of schools that participate in private school-choice programs across the country. Its analysis found that about 75 percent of voucher schools are religiously affiliated. Most are affiliated with Christianity; about 2 percent identify as Jewish and 1 percent identify as Muslim.