10 Revealing Remarks About Education in 2017
A roundup of 10 quotes on teaching and learning from the past year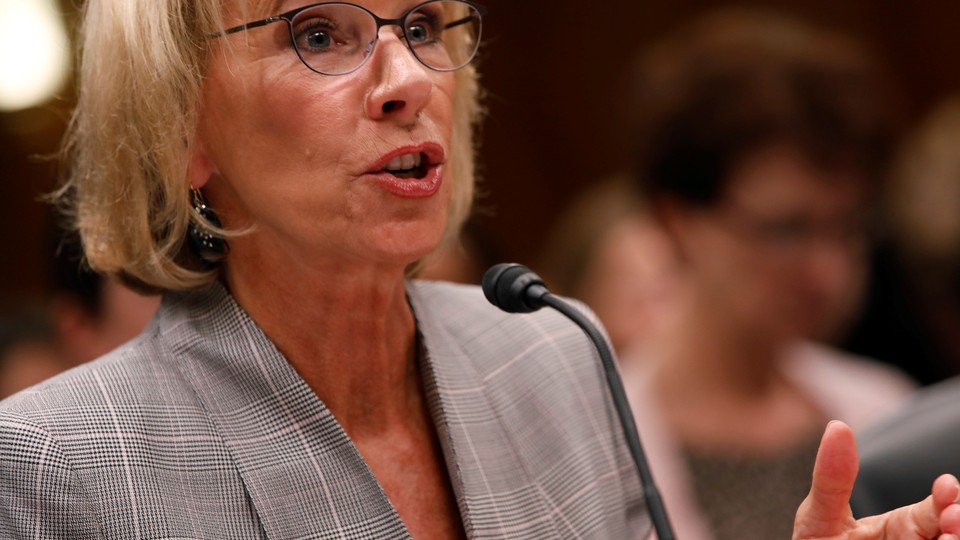 This year, education often dominated the national conversation. New appointments in the Education Department and escalating debates on college access brought school-related issues further into the public eye. It can be easy to get lost in the ever-changing news cycle, so to look back on the year, we've selected ten of the most compelling quotes about schools and learning from this year's education coverage in The Atlantic.
* * *
It's hard to just say: Pretty please, treat our children well. My parents brought me up to be gracious, to ask nicely, but it's hard to get the bureaucracy to listen, and it's hard to get the political powers that be to listen and deliver, without mobilizing and standing on the steps of City Hall and demanding.            

                      —Eva Moskowitz
Eva Moskowitz, one of the country's most infamous charter-school reformers, published a memoir this year that told the tale of her role in building up the New York City charter-school system. Moskowitz spoke with The Atlantic about her memoir and the controversies surrounding her work.
* * *
I will refer back to Senator Enzi and the school he is talking about in Wyoming. I think probably there, I would imagine there is probably a gun in a school to protect from potential grizzlies.

—Betsy DeVos
Betsy DeVos' appointment as the Education Secretary aroused the kind of controversy that isn't usually seen in the world of education. Statements she made during her hearing—including this notorious quote, in which she responded to a question about whether guns belong in schools—made her the laughingstock of late-night comedy and were ridiculed across social media. In this moment, DeVos drew on a story Republican Senator Mike Enzi had told about a school in Wyoming that had fences around it to protect from grizzly bears.
* * *
There was very much a standard opinion you had to have [about RAR], otherwise people would look at you funny, and some people would say stuff to you—a lot of people were called "race traitors."

—Sophomore at Reed College
This year, college-student activism and free-speech issues continued to stir intense controversy. Chris Bodenner's piece on student activists at Reed College—and the fellow students who oppose them— resonated with many readers who felt that the school serves as a kind of microcosm for the debates playing out on campuses across the country.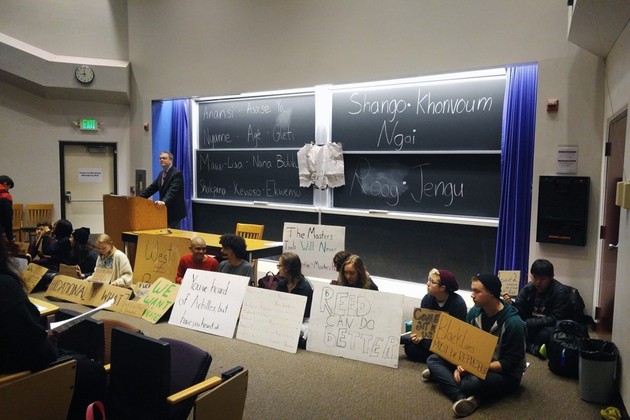 * * *

I am only writing and speaking to liberals at this point. I'm trying to get people who say they believe in equality and integration but act in ways that maintain inequality and segregation to live their own values.

                   —Nikole Hannah-Jones
The renowned journalist Nikole-Hannah Jones spoke with The Atlantic editor in chief Jeffrey Goldberg for The Atlantic Interview about the hypocrisy of white liberals when it comes to school integration. She talked about the long road ahead to achieving full integration and the immorality she sees at the core of the current system.
* * *
It's not our fault.

—Jacob Rosales, graduate of Red Cloud Indian School

Legend goes that shortly before his death in the late 1800s, the Oglala Sioux leader Crazy Horse predicted that a cultural renaissance would come about with the birth of the Seventh Generation. Now, this generation is graduating from high school, and they're holding on to this legacy as they fight against the many social and economic barriers in their way and work toward their educations and futures. Alia Wong, The Atlantic's education editor, traveled to the Pine Ridge Indian Reservation in South Dakota to hear the voices of these students.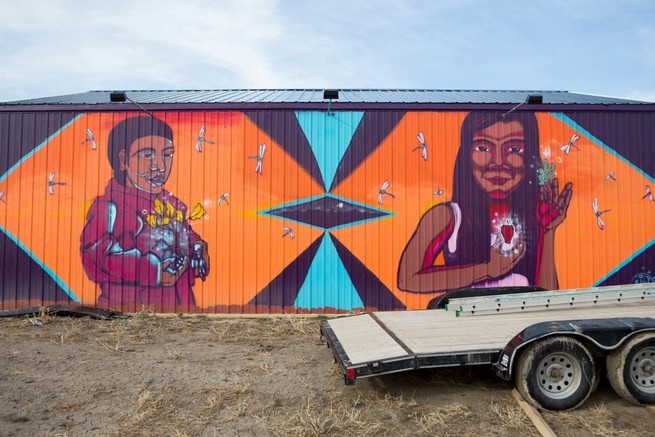 * * *
High school cannot be the end.

—Rahm Emanuel, Mayor of Chicago
The Chicago Mayor Rahm Emanuel laid down a mandate last spring that every public-school student in Chicago must have a destination in order to get their high-school diploma. This attempt to mitigate unemployment among high-school graduates was controversial, with critics saying the rule would put yet another obstacle in the way of students getting their high-school diplomas. An Atlantic feature article explored the decision's complexities.
* * *
This is it? These are the most egregious kids in New York City? I just realized they were a lot like my own sons. They are teenagers. And everybody deserves a second chance.

—Tim Lisante, an assistant principal at Rikers Island
New York's treatment of youth in the criminal-justice system has long been a subject of controversy. A principal at a school for youth at the prison complex Rikers Island spoke with The Atlantic's partner, Chalkbeat, about what he wants the world to know about his students.
* * *
Coming from a rural community, everybody knows who you are. I literally knew nobody on campus. Going to the other side of the state with people from the Chicago area and bigger places, it's just kind of intimidating.

—Dustin Gordon, student at the University of Iowa
This year's Atlantic education coverage deepened the conversation around a group of students often left out of debates about access to college. Rural students excel in high school, yet they are less likely to enroll in college than their suburban and urban counterparts. One of the many factors that play a role in this trend is the kind of cultural challenge described by the rural student Dustin Gordon in this quote: the simple fact of going from a place where everyone knows your name to the big world of college.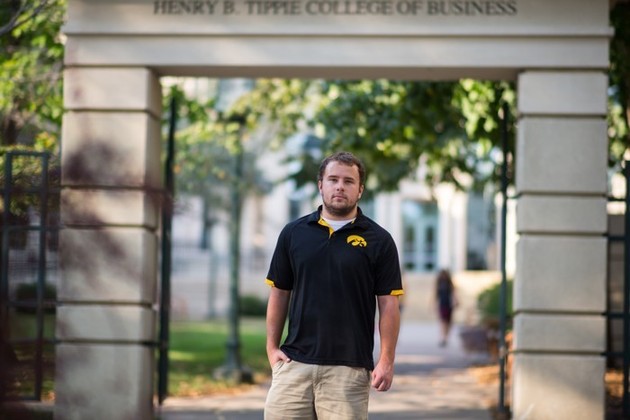 * * *
Come graduation time, who is responsible for the graduates who made it to the finish line? And, more importantly, who is responsible for those who did not?

—Anne-Marie Slaughter
Anne-Marie Slaughter posed hard questions about college access in a piece this past May. It was a month when, as she put it, "audiences for [graduation] ceremonies are proudly watching their friends and family members receive their degree—but for those who don't graduate, their debt loads and dashed hopes paint a much darker picture of American higher education."
* * *
No teacher can 'break' a student's story, his understanding of his life, and replace it with her own.

—Arthur Evenchik and James Forman Jr.
The Atlantic reviewed a memoir, Reading With Patrick, about a teacher whose experience with her student deconstructs the teacher-savior narrative and replaces it with something much more nuanced and real. Michelle Kuo, the author of the memoir, describes it like this: "... it must mean something for two people to have passed time together, to have put work into each other and into becoming more fully themselves."