The Student Who Wasn't Afraid of Being Sad
Jessica Carlson wasn't sure what to do with an angry student who dismissed her sunny exterior—but reconnecting years later revealed that they'd each been hiding a similar secret.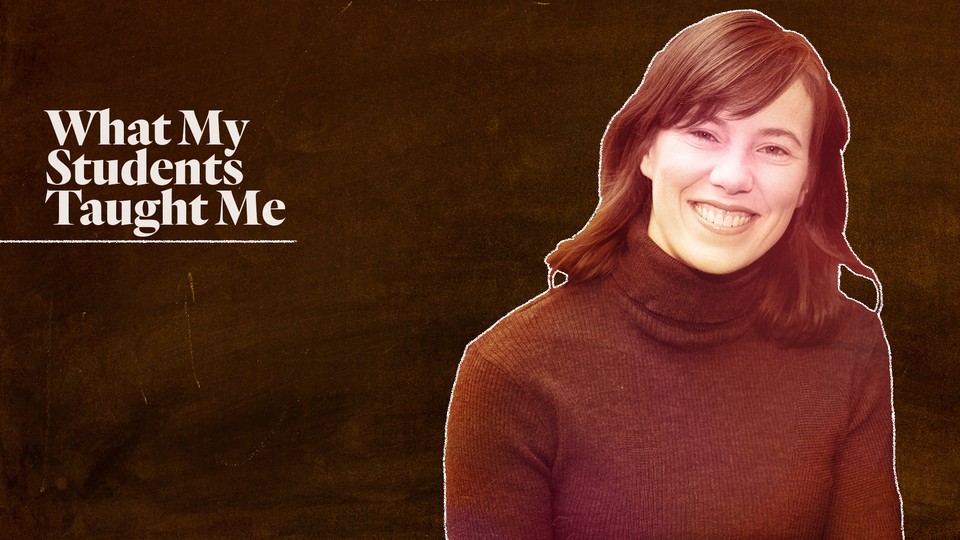 This is the latest installment in a podcast called What My Students Taught Me. Each episode features a teacher reflecting on a particularly challenging student, whenever possible in counterpoint with the student's version of the same events. Listen to previous installments here or subscribe on iTunes.
When Jessica Carlson agreed to teach English in an alternative program for at-risk students eight years ago in Colorado Springs, she knew that she would have her hands full. But she wasn't prepared for Kim Hardy.
Hardy, new to the school and state, resented being in the alternative program and bristled at Carlson's sunny demeanor. Hardy turned every classroom interaction into a battle, and made Carlson dread coming to school.
There were the times Hardy led the class in defiant sing-alongs of Juvenile's "Back That Ass Up"; the day she and classmates superglued Carlson's dry-erase markers to the board; and her proclivity for calling Carlson a "bitch."
Hardy calmed down when Carlson gave the student more challenging work, and Carlson survived the year. But they hardly became close, and when school let out in the spring Carlson expected that she would never see Hardy again. That's why, about four years later, she was stunned to see a Facebook message pop up from the former student. That unexpected outreach took their relationship on a completely different, and unexpected, course. Listen:
---
Music used in this episode: "Logjam" by Podington Bear; "Saunter" by Podington Bear; "Delta" by Podington Bear; "Floating in Space" by Podington Bear; "Refraction" by Podington Bear; "Enrichment" by Podington Bear; and "Lucky Stars" by Podington Bear.
This project was produced in collaboration with the Teacher Project, an education reporting fellowship at Columbia Journalism School dedicated to elevating the voices of students and teachers.