Attending a School Named After a Confederate General
Students of color are speaking out about the hardship of being enrolled at institutions with titles that honor histories of racial discrimination.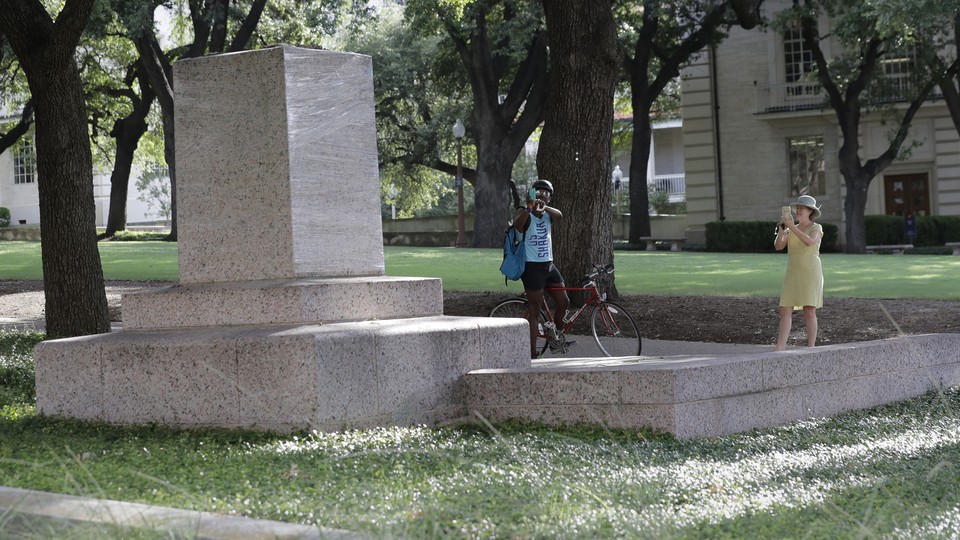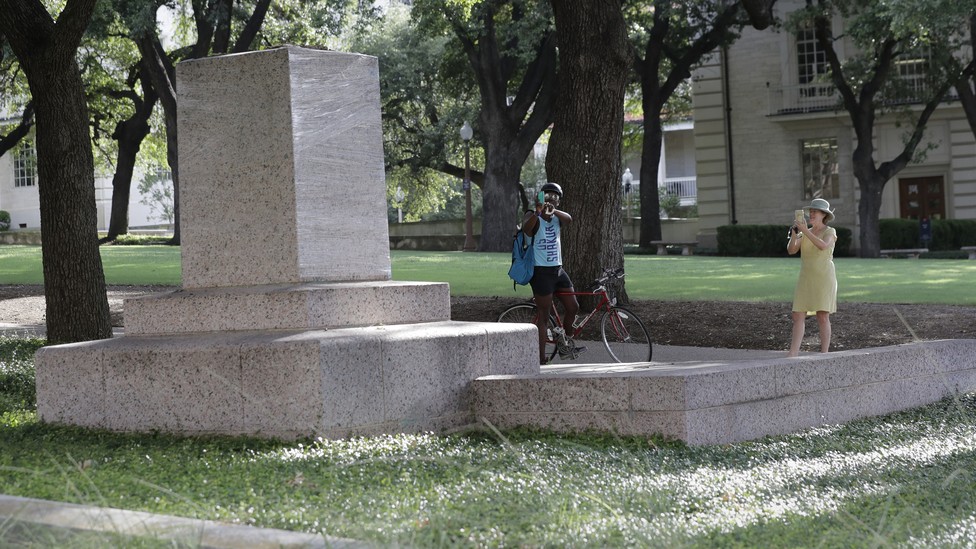 For decades, students at Robert E. Lee High School in Tyler, Texas, have sung their alma mater at pep rallies, assemblies, sporting events, and other functions.
Robert E. Lee we raise our voice in praise of your name
May honor and glory e'er guide you to fame.
…
And so the times will not divide us for united we'll be
Our Memories will bind us to Robert E. Lee.
But not everyone cherishes the song. Joralen Mauldin, 16, a black junior at Lee, read the lyrics her freshman year and cringed. "It's kind of like an unspoken rule for black students … [we] don't like the song because you know that it's honoring General Lee," she said. "A lot of black students … don't [memorize] the words." Mauldin, a member of the high school's drill team, has relegated the song to background noise and learned to tune out the verses. A school building named after the Confederate general, though, is harder to ignore.
"It makes me … upset and uncomfortable," she said. "I feel like I'm being transported back in time to when it was okay to be openly racist."
The legacy of the Confederacy (the Southern states that fought against the Northern states in the Civil War) has long been a source of conflict across the U.S., pitting those who claim pride in the South's history against those who see a remnant of white supremacy and racial oppression.
In the aftermath of the 2015 massacre of nine black churchgoers in Charleston, South Carolina, and the convicted shooter's celebration of Confederate imagery, public attention turned to monuments of Confederate generals in public spaces. The debate was reignited this past August when white supremacists descended on Charlottesville, Virginia, to protest the removal of a statue of Robert E. Lee in a city park, resulting in violent clashes and a young woman's death. With these tragedies, public schools across the country named after Confederate leaders came under increased scrutiny. Yet the implications—socially, emotionally, and academically—for black students who attend public schools emblazoned with the names of Confederate leaders have gone largely unexamined.
A 2016 report from the Southern Poverty Law Center on public symbols of the Confederacy documented at least 109 public schools in 15 states named after Robert E. Lee, Jefferson Davis, J.E.B. Stuart, or other Confederate generals and icons. Notably, many of those schools had sizable black-student populations. According to SPLC data, black students were the majority at one-fourth of the schools (27), and black students made up over 90 percent of enrollment at 10 of them. Still, the data in this report don't cover the extent of the issue. After asking readers to supplement the SPLC's analysis, The Texas Tribune uncovered more Confederate-branded schools in the state.
For Mauldin, her school's name brings embarrassment and shame. "My high school diploma will say Robert E. Lee on it. Is that something that I want to proudly display around my family and friends in the future?" she said. It also creates tension with white classmates who wear Confederate clothing to signify school spirit. While some of her white peers see the Confederate era as a noble part of their heritage, she finds it all unsettling: "A lot of them [say] It's our history … y'all really shouldn't care about it. It's just a school name, but it's what that school name stands for … It just makes me feel like what am I doing at this school? This isn't really the place for me."
The names of school buildings—and the effect on racial identity and self-esteem—raise compelling concerns, said Ashley Woodson, an assistant professor in the College of Education at the University of Missouri. While research showing a direct relationship between Confederate-named schools and student performance is limited, Woodson said studies on psychological factors that influence black-student achievement—as well as work on the academic motivations of black youth—point to some broad conclusions.
Woodson explained that historical narratives that omit black contributions, and negative imagery that misrepresents black culture and experiences, can inform how youth understand their community and themselves. As students reach a stage of awareness—growing in their consciousness of racial issues and understanding of history—young people will often start to interrogate the limitations of the symbolism that surrounds their school, and chafe at the person the school is named after.
"Students begin to [ask], We understand that this was part of our history, but is it necessarily part of our future? What are we celebrating about this person? I think the school name becomes one of those subtle messages that communicate to young black kids … that you don't matter," Woodson said.
And even the youngest students can make those connections. Black students at Benjamin G. Orr Elementary School in Washington, D.C., discovered two years ago through a research project that their school's namesake in July 1801 leased an enslaved man to soon-to-be-president James Madison. Built in 1902, Orr was founded as an all-white school in the district's segregated Fairlawn neighborhood. Today, Orr Elementary is nearly entirely black—and students are currently petitioning to "remove the slaver's name."
Similarly, a strong majority of students (61 percent) at John B. Hood Middle School voted last year after studying Civil War history to remove the Confederate name from their Dallas school. The principal polled the student body, all of whom are black or Hispanic, after some youngsters questioned the name and its relevance. The Dallas Independent School District Board of Trustees subsequently renamed the school Piedmont Global Academy.
And in Jackson, Mississippi, Davis IB Elementary School will gain a new moniker next school year—ditching Confederate President Jefferson Davis for America's first black president Barack Obama. The new name was the overwhelming choice of students at the school, which has a 98 percent black-student enrollment rate.
According to Woodson, these cases show how youth in predominantly black schools are reclaiming their sense of belonging. "My research suggests that any racist symbol is a detriment to the wholeness and development of young people as civic agents," she said. Discarding Confederate names might be purely symbolic, she argued, but "even in those symbolic victories [being] able to remove a reminder of the explicit and legally supported subordination of your community … is very powerful."
Some school communities have made compromises to keep Confederate labeling in place, while others have opposed name changes entirely. Last month, school leaders in San Antonio's North East Independent School District swapped Robert E. Lee High School for LEE (Legacy of Education Excellence) High School, reportedly to preserve the school's history and minimize the expense of renaming. Eighty-three percent of the school's students are black or Hispanic. The school board's only black trustee told the San Antonio-Express News retaining the LEE acronym was tantamount to putting "lipstick on a pig." In other districts, parents have argued that kids are too familiar with existing names to change them, and that a school name doesn't necessarily have to be associated with the misdeeds of its namesake.
Woodson finds such trade-offs confounding. "Who are we giving legitimacy to [and] what philosophies and ideologies are we [prioritizing] when we rely on holding onto history?" Woodson asked. "What's more important than the emotions of the young people who are in this school every day?"
More and more black students seem to be speaking out about the damage Confederate names and symbols can do. After a divisive, years-long debate, the Fairfax County School Board in Virginia voted last month to rechristen J.E.B. Stuart High School, named for a Confederate army officer, as "Justice High." Bill Horkan, a math teacher at Stuart for 21 years, attended a May community meeting on the name change, where a black student named Julia Clark spoke. He was struck by the then-sophomore's persuasive testimony.
I'm here today to tell you what it's like to be a student of color at a school named after a racist. As a person of color, discrimination is all around me. In the media, in politics, and throughout the world. But discrimination should have no place in my school. Not only is it offensive that my school is named after a white supremacist, it is also degrading and dehumanizing.
For Horkan, who's white, hearing black students speak on the issue was enlightening. "It's hard enough to teach to begin with … [when students] aren't feeling good about the school, it's much harder to reach them," he said. "I can see why people would be offended by the name [so] if they are, then I think they should change it."
The sentiment was echoed by Darian Featherstone, a black high-school senior in Oklahoma City, after his school board voted unanimously to retitle three Confederate-named elementary schools. Featherstone applauded the name change, telling Oklahoma City's NBC-affiliate that students shouldn't "be scared of the one place you should be able to be safe, the one place you should be able to learn."
Back in Tyler, Texas, an August school board meeting drew more than 200 people with dozens fiercely debating the pros and cons of Robert E. Lee's name on the city's high school. In many ways, the school's past is as thorny as its present. Lee opened in 1958 as a whites-only school to resist the Supreme Court decision calling for integrated schools. Since then, the student population has flipped, with nonwhite students now comprising more than 60 percent. Amid this shift, change seems imminent. A majority of Tyler school board members now agree with rebranding Robert E. Lee High School, with some wanting to take up the issue this school year.

Mauldin, the Tyler teen, is cautiously optimistic. "Nowadays, a lot of people are starting to realize it is wrong for us [and] starting to speak up more," she said, adding that going to a school named after a Confederate general is just archaic. "It's 2017. That should not be an issue for us in this day and age."