The Powerful Forces That Fight for American Fraternities
Greek organizations often wield powerful political connections and financial support in battles over their misbehavior.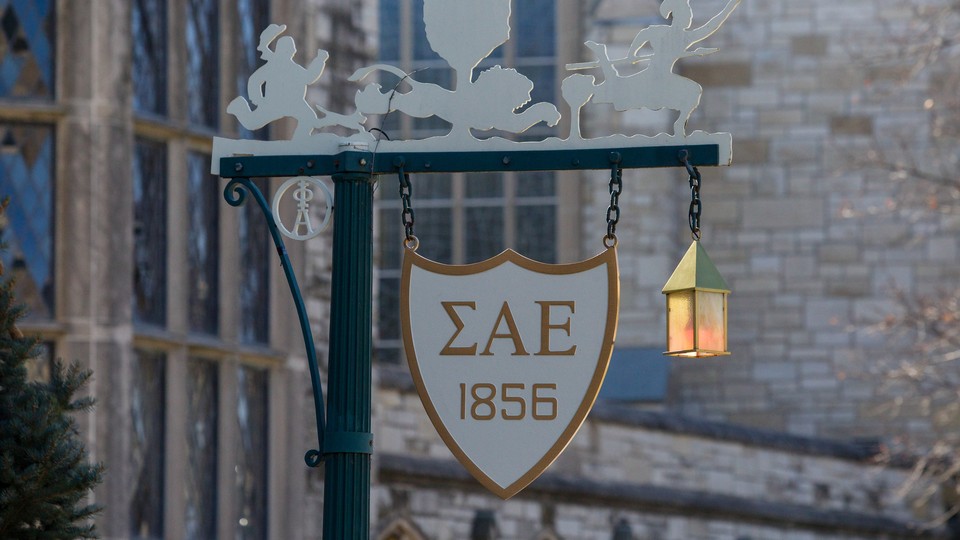 Ian Gove's fraternity was in trouble, and he wasn't about to see it go down without a fight. On a fall evening after classes, he slipped on a suit and tie and steeled himself to defend Sigma Alpha Epsilon (SAE), one of the largest college fraternities in America. The charges were serious: hazing and reckless drinking that had landed an underaged SAE recruit in the hospital.
The 21-year-old college senior may have seemed outgunned as he argued his case at the University of North Carolina at Wilmington. His adversary, a university dean, oversaw the school's honor code and wanted the fraternity shut down.
But Gove had a secret weapon: Thom Goolsby, a trial lawyer and Republican North Carolina state senator who was also a devoted fraternity alumnus. At the November 2012 student-conduct board hearing, Goolsby whispered in Gove's ear as if they were co-counsel: "This is a kangaroo court."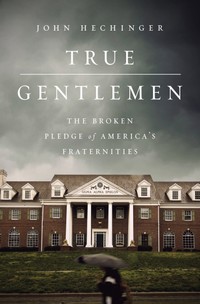 Reflecting his patron's disdain, Gove, who was the SAE chapter president, offered a spirited defense. He fumed because he couldn't cross-examine some witnesses, including one of the accusers, a Wilmington resident who had sent emails to the school reporting late-night SAE keg parties. Gove called him a liar. "These are college kids living next to a neighbor who obviously doesn't want college kids living next to him—which is why he fabricated this testimony," Gove argued.
Because lawyers weren't allowed to speak for students, Gove at times played an awkward role as both the defense attorney and defendant. He was asked about his statement to police officers who busted the party that led to the charges. Gove had said—falsely, in the view of his interrogator—that it wasn't a fraternity gathering.
"That's actually a form of profiling by police officers," Gove replied. "It's like someone asking if I was Jewish when they were out on the scene. Yeah, I said, 'No.' I shouldn't have answered it."
The dean had compelling evidence: police testimony supported by a 17-minute dash-cam video of drunken under-aged recruits. He had secured a signed confession from one of those recruits—or "pledges," as they're called in Greek life. The student said the fraternity had ordered the pledges to drink from a cooler full of mysterious liquor.
A defense lawyer might have counseled his client to plead guilty. But Gove had no such plan. Neither did Goolsby. When they were finished, the administration and the college's president would learn the cost of confronting SAE.
* * *
College administrators who try to crack down on fraternity misbehavior often find themselves confronting an influential, well-financed, and politically connected adversary. On dozens of campuses, Greek alumni and their trade groups have beaten back attempts to restrict the recruitment of freshmen. At Trinity, a liberal-arts college in Connecticut, fraternities successfully fought a policy that required them to accept women as members. At Harvard, fraternities and other single-sex clubs are battling a plan with a similar goal.
Universities and fraternities tend to have an uneasy relationship. They infuriate, yet need, each other. Many colleges market their vibrant social scenes anchored in Greek houses. Fraternity alumni rank among higher education's most loyal and generous donors. Yet, fraternities cherish their long tradition of self-government, which can place them in conflict with university authority. At times, Greek organizations consider themselves an aggrieved group, even victims of discrimination, as Gove's words about police profiling attest.
Students such as Gove can tap into connections that extend well beyond their own states. Each spring, scores of fresh-faced undergraduates flock to Capitol Hill to lobby Congress in support of legislation sympathetic to Greek organizations and to network at a cocktail reception and $500-a-plate fundraiser. In April 2016, at the elegant Liaison Hotel, U.S. Representatives, flanked by American flags, posed for photos with fraternity men and sorority women. The lawmakers were the honored guests of the Fraternity and Sorority Political Action Committee, commonly known as FratPAC, which bills itself as the largest political action committee "focused solely on higher education issues."
Since 2005, when it was founded, FratPAC has given more than $1.3 million in campaign contributions to members of Congress, almost two-thirds to Republicans, according to the Center for Responsive Politics, a nonprofit group that tracks money in Washington. Fraternity and sorority alumni, who make up less than 4 percent of the adult population, are disproportionately represented in the capital. Thirty-nine percent of Senators in the 113th U.S Congress, and one-fourth of U.S Representatives, belonged to Greek organizations, primarily fraternities—as well as one-third of all Supreme Court justices and about 40 percent of U.S. presidents, according to the North-American Interfraternity Conference, which represents most of the oldest and largest fraternities. (Presidents Trump and Obama were not fraternity men.)
In 2012, FratPac helped forestall the introduction of a bill that would have revoked federal financial aid from anyone that a school disciplinary board found responsible for hazing. The fraternity lobby has also defended the due-process rights of college men in sexual-assault cases. In 2015, it backed a bill that would have required the victims of sexual assault to report the allegations to law enforcement before requesting a campus hearing. Fraternity and sorority trade groups and three national fraternities spent $250,000 lobbying for the bill.
The campaign provoked a backlash from sexual-assault survivors' advocates, including Democratic Senators Kirsten Gillibrand, of New York, and Claire McCaskill, of Missouri, who had both belonged to sororities. Many individual members of sororities and fraternities, in addition to groups representing universities, also considered the sexual-assault proposal wrongheaded. Greek organizations, unable to overcome the opposition, abandoned the bill. (The Interfraternity Conference said it is now concentrating on preserving students' right to choose single-sex organizations; improving colleges' disclosure of hazing; and promoting campus-wide efforts, such as hard liquor bans, to combat dangerous drinking.)
At UNC-Wilmington, Gove would have a tough fight, too.
The case against Gove's chapter began on an ill-fated evening two months before the 2012 disciplinary hearing. Just-initiated pledges had headed for an off-campus soiree with sorority women. The fraternity leaders directed the young men to drink only from a cooler with strong liquor inside, a pledge said in a written, signed statement.
Police arrived around 11 p.m. One 18-year-old pledge mistook a cruiser for a taxi and tried to climb inside, then vomited in nearby bushes. An officer reported seeing men screaming at pledges, who were wearing coats and ties and doing push-ups. Later that evening, police found a drunk pledge who had left the party, passed out in the bathroom of an off-campus pub. Pending an investigation, the college prohibited the chapter from holding parties. The next month, the school cited SAE for violating the ban by holding a toga party with the Phi Mu sorority.
At the hearing, Gove scored a victory. The pledge recanted the written statement about the liquor cooler. Infuriating the college's judicial officer, he said the university had pressured him to implicate the fraternity and that, in fact, "a good-looking girl,'' whose name he couldn't recall, had given him a drink. (In response to a public-records request, the university released a 175-page hearing transcript, with student names redacted, as well as e-mails and other documents.)
The school cleared the fraternity of one of the charges: hazing. Still, based on underage pledges' admissions of drinking, the board found the chapter responsible for alcohol offenses at the party and for later violating the social-events ban. The school suspended SAE for two and a half years; the judicial-board administrator, saying the fraternity's behavior would eventually result in serious injury or death, had pushed for four.
As part of a public campaign against the sanction, Gove wrote a letter to state lawmakers bemoaning the "total disregard for due process," the lack of legal counsel, and the "coercive investigative tactics used by an administrator to seek confessions among the students." He asked John R. Bell IV, a Republican state Senator who had been an SAE member at UNC–Wilmington, to sponsor a bill that would require colleges to let undergraduates hire lawyers for disciplinary hearings.
Bell agreed, and the bill won nearly unanimous support in the Legislature, which dismissed UNC's objections that it would make discipline more adversarial, lengthy, and costly. In July 2013, Republican Governor Pat McCrory signed it into law.
Despite its legislative victory, SAE still faced scrutiny from UNC Wilmington administrators, including Chancellor Gary Miller, who had backed the board's discipline of the fraternity. That summer, Governor McCrory appointed two SAE alumni to the university's Board of Trustees. "My goal in joining the board, my sole purpose, was helping the fraternity," one of those new board members, Michael Drummond, told me. "I had heard enough. I had had enough. Either get rid of the chancellor or get the chancellor on board with helping the fraternity out." He recalled telling the chancellor as much: "You can do this one of two ways. Do the right thing and put them on campus or do it the hard way. We won't stop till we're done."
After only three years on the job, Miller left Wilmington in July 2014 to become  chancellor at the University of Wisconsin, Green Bay. "Our whole goal was to protect students. We made the right decision, and I still feel that way," said Miller, who confirmed the conversation with Drummond. (Some board members said SAE's influence on Miller's departure had been exaggerated.)
A new UNC chancellor agreed to let SAE back on campus in July 2015. After pleas from alumni, SAE's national organization, which had initially backed the college's sanction, reinstated the chapter and reactivated its members. The alumni backing Gove won a national SAE award for their "outstanding assistance and guidance.'' Gove, who secured an internship in Governor McCrory's office, wrote a successful law-school admissions essay about his fight for SAE. "I learned more through the alumni and the fraternity because of what we went through than I did studying at UNC-W as far as life lessons go," Gove told me. The chapter's website now hails "the fight to end discriminatory practices against fraternities."
In the greatest triumph of all, the chapter's members forged a lasting legacy: the law—since replicated in other states—that grants every student the right to hire an attorney in campus disciplinary hearings. In North Carolina, the Legislature called it the Students and Administration Equality Act. Its initials spell a familiar name: SAE.
---
This article has been adapted from John Hechinger's new book, True Gentlemen: The Broken Pledge of America's Fraternities.