How Campus Racism Could Affect Black Students' College Enrollment
With racial discrimination on the rise, students and parents are watching universities' responses closely, and some say that these concerns could influence decisions of where to attend.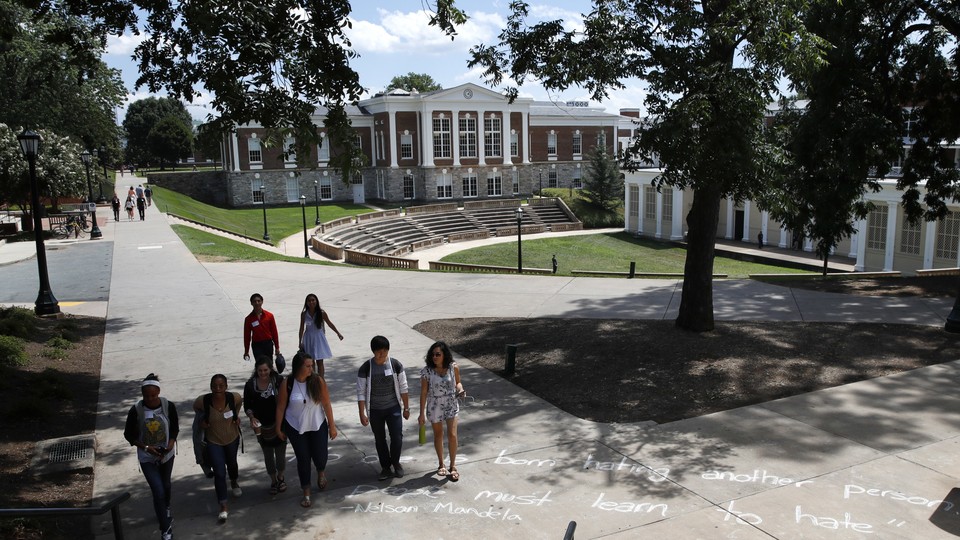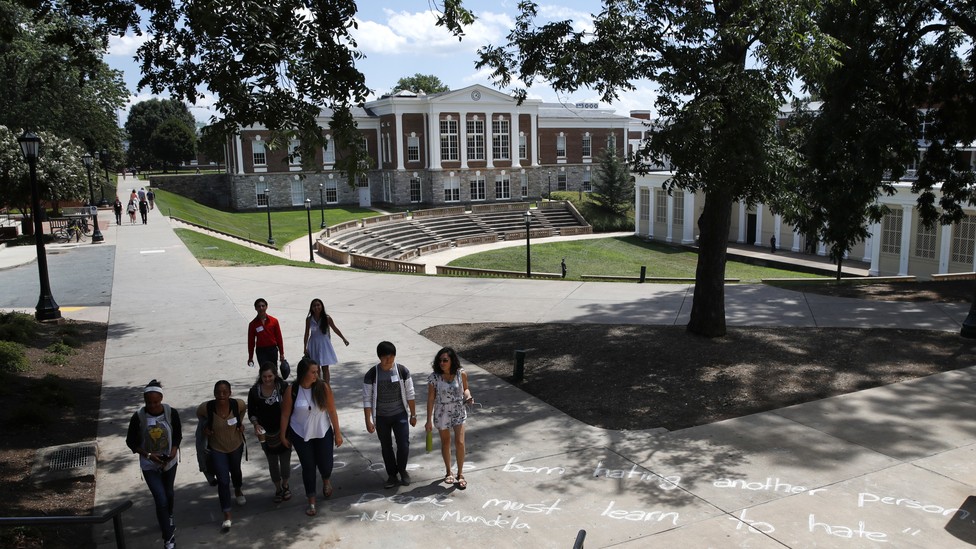 At American University, a private university in Washington, D.C., the commitment to cultural diversity is an integral part of its marketing and outreach to prospective students. And for Janelle Gray, a black freshman from Northern Virginia, such advertising worked. Information sessions and campus visits emphasized that AU valued racial and ethnic diversity, a feature that Gray said drew her to the school.

In the spring of 2017, two days after accepting AU's admission offer, Gray learned that bananas hung on rope fashioned into nooses—a symbol of racial terror and intimidation against black Americans—were found in several spots on AU's campus. The incident coincided with the university's first black woman student-government president taking office. Gray never reconsidered her decision to attend AU because she was equally drawn to its international-relations program. But she admits she arrived on campus last summer with a lot of uncertainty and fear. Then last month, it happened again: Ten confederate-flag posters with cotton stalks were pinned to AU's campus bulletin boards. This time Gray was devastated. "I went to sleep that night, feeling like this situation is just so surreal," she said. "We come here to learn, and we shouldn't have to deal with things like this."

Gray's experience, and the racist acts on her campus, is neither rare nor random. The episodes correspond with what the Anti-Defamation League identifies as an unprecedented increase in white supremacist activity on college grounds that began in fall 2016. Since the start of this academic year, black college students have been targeted in a rash of attacks—at an Ivy League university in New York, at a public college in Illinois, at a Catholic college in Pennsylvania, and at a flagship state university in Michigan. With another college-application season starting and a new crop of black students finalizing their selections, an overarching question persists: To what degree will racist incidents on college campuses—and colleges' response to those incidents—affect black-student enrollment? At risk are colleges' and universities' reputations as champions of diversity, as well as black students' academic success.

According to data provided by American University, the percentage of black freshmen accepting AU's offers of admission increased from 33 percent last year to 38 percent this year, continuing an upward trend for the third consecutive enrollment cycle. Notably, the banana and noose incident occurred in May after many high-school seniors, like Gray, had finalized which college to attend. To date, AU reports applications from black students for the fall 2018 semester are up 6.5 percent from that for the current semester. However, the full impact of last month's event on black students' decision to enroll has yet to crystallize.
In a prepared statement, Teresa Flannery, AU's vice president of communication, said the university sought to address last spring's racist episode "directly and promptly" with current and prospective students. Among the actions taken were a schoolwide community meeting and a webinar the first week of May for new students and families to address their worries. AU similarly held a town hall meeting after the confederate posters appeared in late September. "Though we have not found the effects of these events to be reflected in enrollment and retention, that does not mean we believe there were no negative effects," Flannery wrote. "Certainly, we are concerned about the effects on students' sense of belonging … and on their sense of safety and wellness." While it's hard to say whether AU has, compared to other universities, witnessed unusually high rates of racism on campus, the fact that it's experienced particularly high-profile incidents makes it a case study worth analyzing.

In Gray's observation, AU's challenge is in translating the concern for black students into substantive action. "The administration did a really good job [at September's town hall] … acting empathetic towards our situation," Gray noted. But for her, too little has changed in the days since: "All I've seen are I give you my condolences, I feel bad for you, but what I want to see is … [visible change on] these issues of racism on campus."

Others share her frustration. Sarah Pascarella, a Boston-based writer and editor who graduated from AU in 2000, points to racism at AU dating back two decades. During the 1996-97 school year, the school's student newspaper was accused of racism against a black student-government candidate after it cited a "fear" that she would only cater to certain students in its endorsement of her opponent. When the young woman protested, her letter-to-the-editor was published above a comic containing monkeys. Pascarella, like Gray, was a freshman at the time. "As an alumna, I'm appalled at what black students are experiencing at American University," said Pascarella, who's white. "Same as in the late '90s, the university has much work to do to ensure these incidents are not tolerated, and that all students feel safe and welcome."

Still, the degree to which racist acts adversely affect student enrollment remains an open question. A historic look at dramatic, high-profile events on and near college campuses offers an interesting point of comparison. The May 1970 Kent State University shootings—in which members of the Ohio National Guard fired into a crowd killing students protesting the Vietnam War—caused a "tremendous blow to the reputation of the school," according to an article on a student-news website, and that fall's enrollment declined.
But more recent examples suggest that at in-demand schools such as American, enrollment rates are quite tenacious. At NYU, the terrorist attacks on 9/11 struck just south of its sprawling Manhattan campus, yet the school's enrollment held firm. Fall enrollment following the April 2007 mass shooting at Virginia Tech—where a student killed 32 classmates and faculty members before taking his own life—remained steady. And there were no signs of an enrollment freefall at University of California, Davis, after a campus police officer doused student protesters with pepper spray in November 2011, which was captured on video and sparked national outrage.

It's unclear, though, how targeted acts directed at a small, underrepresented group—rather than random, unpredictable violence—translates to college choices. The University of Virginia in Charlottesville is the state's premier institution of higher education—and a campus where black students demonstrated in 2015 to call attention to racism and the challenges of black student life. Most recently, the school's president and other administrators were harshly criticized for letting torch-wielding neo-Nazis and white supremacists march onto its campus the night of August 11, 2017. The next day a white nationalist rally in the city of Charlottesville turned violent as the governor issued a state of emergency and UVA students sheltered in place.

Marcus Martin, UVA's vice president and chief officer for diversity, in a written statement highlighted the "significant progress" the university has made in the areas of black-student recruitment, enrollment, and graduation, citing a 43 percent increase in first-year black-student enrollment in the past five years. What's striking, though, are black-student data from UVA's "diversity dashboard" listing the offers rate (the percentage of applicants who were offered admission) and the yield rate (the percentage of students who accepted the offers of admission and enrolled.)

From 2012 to 2014, as the offers to black students gradually climbed from 30.4 percent to 34.8 percent, the yield rate gradually fell from 37 percent to 34.2 percent. The number of black students accepting UVA's offer saw a brief jump in 2015 (36.1 percent) before falling back to 34.6 percent in 2016. More simply: 320 black students rejected UVA's offer of admission in 2012, 350 in 2013, 455 in 2014, 432 in 2015, and 504 in 2016.
An admissions officer at UVA was unavailable for comment. But Tom Green, who oversees strategic enrollment management at the American Association of Collegiate Registrars and Admissions Officers, warned against concluding that the dwindling yield rates mean black-student interest in UVA is declining. The data don't reveal how many of the admitted students come from areas where there's less demand for the university, for example.

Yet Lecia Brooks, the outreach director for the Southern Poverty Law Center, a civil-rights nonprofit based in Montgomery, Alabama, predicted that black-student enrollment will begin to take a hit if college administrators allow racist threats and attacks to go unchecked. While some universities have continued to see incremental growth in their black-student populations, Brooks said the outlook could change as parents and students weigh their options, and the racial climate on campuses begins to factor into their decision-making.

"Students are paying attention to how administrators are responding to these incidents, and kind of watching to see [if] they really stand for these lofty initiatives around diversity and inclusion like they say they do," she explained. Additionally, the Clery Act—a federal law that requires colleges and universities to collect and publish information about crimes on and around their campuses—mandates that crimes motivated by hate or bias be included in annual reports. Brooks said parents armed with these statistics will have "a real eye-opener … schools would be hard-pressed to act like [racism on campus] never touched them."
Clery Act data show that the number of reported incidents of intimidation—the most common type of hate crime in 2014, the most recent year for which figures are available—increased from 260 in 2010 to 343 in 2014. The hate crimes were most frequently associated with racism and anti-LGBT bias. (The number of reported incidents of destruction, damage, and vandalism, however, decreased between 2010 and 2014.)

To address doubts that arise for black students and families, Brooks advised that universities require constant professional development with faculty and staff, and make combatting racial injustice on their campuses a genuine part of their programming and recruitment efforts. "But more than that," she said, administrators have "a moral obligation to take a strong stand against the incursion of white supremacy on college campuses and ensure that every individual in that campus community feels safe."

A tougher stance is vitally important for new students—and for black students who choose to stay and matriculate at schools with well-publicized racist incidents. Lauren Mims, of Fairfax, Virginia, earned her bachelor's at UVA in 2012 and is currently pursuing a doctorate in educational psychology. Mims credits UVA for incredible relationships and opportunities—"I feel like I grew up at the University of Virginia"—but has always felt like race relations at UVA could be better. "I would hear a lot of microaggressions in the classroom. There was an incident with Yik Yak where there were racial slurs calling black students monkeys. There have been racist posters put up [on campus]," she said.
Still, Mims has never considered leaving UVA, nor has she heard black classmates talk of transferring. Following the white supremacist rally, she and other black alumni gathered with current UVA students to address fears and offer support. Many students cited the prestige of the university and being first-generation college-goers for their pride in being at UVA. They also spoke of making painful compromises for a quality education—factors that can't be measured on enrollment and retention graphs.

"Many students talked about how it is really hard being here as a black student," Mims said. "It's a university where I can get my degree, where I'm working towards my future career. All of that is just as important to me now as it was before August 11 and 12, even if it makes being a student here harder."