A Federal Investigation Into 'Reverse-Discrimination' at Harvard
The Justice Department appears to be looking into whether the Ivy League institution discriminates against certain applicants based on their race.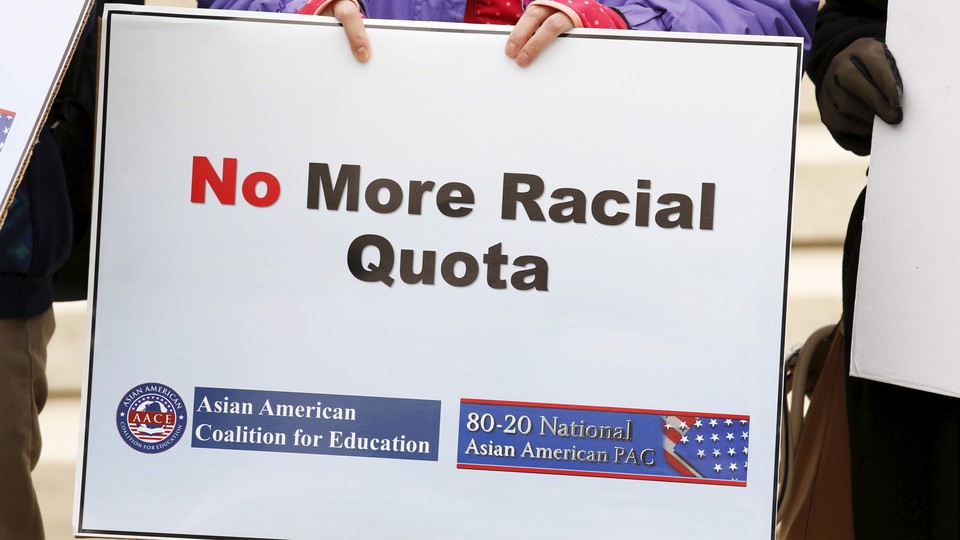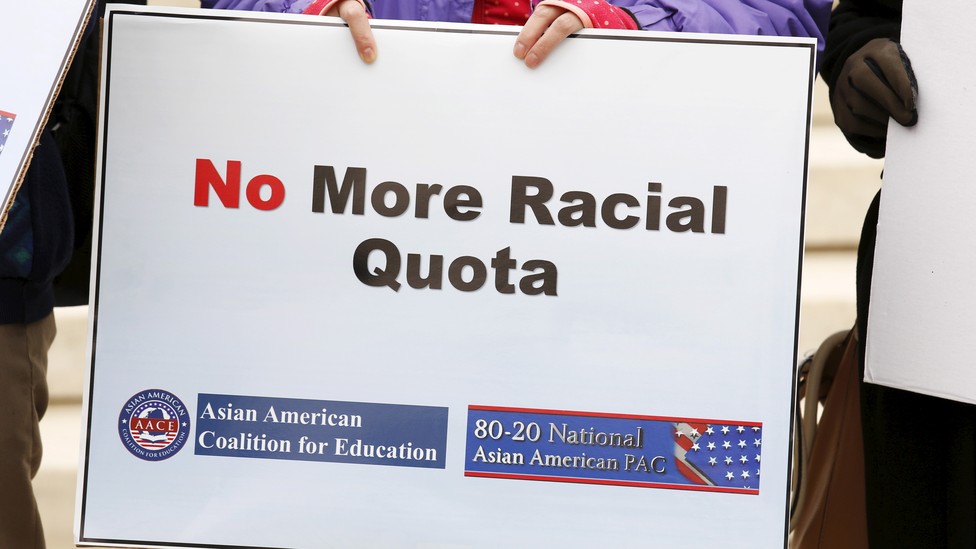 The Justice Department is examining whether the school rejected some applicants based on race—a claim that's notoriously difficult to prove.
A coalition of government-ethics watchdogs and civil-rights lawyers on Wednesday received a letter from the DOJ that it argues confirms the investigation. The two nonpartisan groups comprising the coalition—American Oversight and the Lawyers' Committee for Civil Rights Law—had in early September submitted a Freedom of Information Act request asking for records related to federal probes into illegal race-conscious admissions practices at Harvard and the University of North Carolina at Chapel Hill, both of which are the subject of lawsuits filed in 2014 similarly accusing them of such practices. The FOIA request sought clarity in light of an August New York Times article revealing the DOJ had plans to crack down on "intentional race-based discrimination"—plans that the department subsequently said pertained specifically to an existing complaint against Harvard.
While the DOJ's letter in response to that FOIA application doesn't explicitly acknowledge the probe into Harvard, the two groups argue that it effectively confirms the investigation by noting that the requested records are exempt from disclosure because they've been "compiled for law enforcement purposes." The department in its letter also says it doesn't have any records for UNC Chapel Hill, another potential clue the Justice Department is indeed looking into Harvard. (The DOJ's letter emphasizes that the exemption "should not be taken as an indication that excluded records do or do not exist.")
"Through our FOIA request, it is now confirmed that the Department of Justice has launched an unprecedented assault on efforts to promote racial diversity in higher education," said Kristen Clarke, the president and executive director of the Lawyers' Committee for Civil Rights Under Law, in an emailed statement. "It is truly shameful to see this Justice Department forging ahead with a baseless investigation into race-conscious admissions policies."
The existing complaint against Harvard was filed in 2015 by 64 Asian American groups contending that the Ivy League school discriminates against Asian applicants by using quotas that set a limit on how many such students it admits and "racially balance" each freshman class. The complaint cites, among other evidence, research showing that the SAT scores for Asian American applicants admitted to Harvard tend to be far higher than those for their non-Asian peers. The U.S. Supreme Court has ruled that race-conscious affirmative action is constitutional as long as colleges and universities comply with certain criteria, including that they regularly evaluate the impact of their admissions practices on the school community and show that alternative means fail to produce adequate student diversity. Racial quotas, on the other hand, are illegal.
But it's unclear what methods the Justice Department will employ in its effort to substantiate allegations of illegal quotas at Harvard. As I've written in the past, race is one factor among many that colleges consider when deciding whether to admit a given student. With each admissions cycle, higher-education institutions are seeking to build a diverse class of students—and that includes geographic, socioeconomic, academic, and extracurricular diversity in addition to racial diversity.
It's all but impossible to prove that, for example, Harvard denied admission to a high-achieving and otherwise qualified Korean American student simply because she checked the Asian box, as Harvard could attribute her rejection to myriad other idiosyncratic characteristics. Maybe she's from a New England suburb and Harvard's admissions officers wanted to give priority to applicants from the rural Midwest; maybe she expressed an interest in majoring in biology and the admissions officers wanted to give priority to applicants pursuing careers in computer science. Maybe her childhood experiences were less intriguing than those of an equally bright (or even slightly less bright) Latina applicant who, say, wrote a sensational essay about her upbringing as the only nonwhite student at a high school in Indiana.
It's worth noting nearly identical complaints filed with the Education Department against Princeton University in 2006 and 2011 were dismissed precisely because the department didn't have enough evidence to uphold them. (Harvard did not immediately respond to a request for comment, though in court filings it has denied the allegations contained in the 2014 lawsuit, which was filed by the nonprofit group Students for Fair Admissions.)
"Complaints regarding 'reverse discrimination' are difficult to prove," said Daria Roithmayr, the Martin R. Flug Visiting Professor of Law at Yale Law School and an expert on affirmative action, in an email. Still, she stressed that the reference to statistics indicating discrimination—the SAT-score findings, for example—"is frequently enough to start the ball rolling."
The Justice Department declined to comment on the investigation into Harvard, and Roithmayr said she didn't want to speculate about its investigative methods and motives absent details about the probe. She did, however, raise questions about the degree to which the federal investigation into discrimination against white and Asian applicants is a reflection of the Trump administration's larger political agenda. As my colleague David Graham has written previously, the notably race-neutral language of the Justice Department memo that first signaled its initiative to crack down on affirmative action is viewed by some conservatives "as a mechanism for pushing back on what they see as undue efforts to aid minorities."
Other experts say the federal probe could have a chilling effect, prompting colleges and universities to undo race-conscious admissions policies that are up to snuff constitutionally out of fear that they'll similarly face an investigation. When I spoke with Karen Miksch, an associate professor of higher-education law at the University of Minnesota, in August just after the Times piece came out, she said she suspected the impact of Justice Department investigation would extend well beyond Harvard.
"Whether it is just an investigation of Harvard or not, it's an investigation that's being widely publicized that can lead administrators to start overcorrecting their [affirmative-action] programs," said Miksch, who's conducted extensive research on the way news coverage of affirmative-action lawsuits has influenced institutional decision-making. "My hope is that … universities make decisions based on research [into their affirmative-action policies] and not just fear."