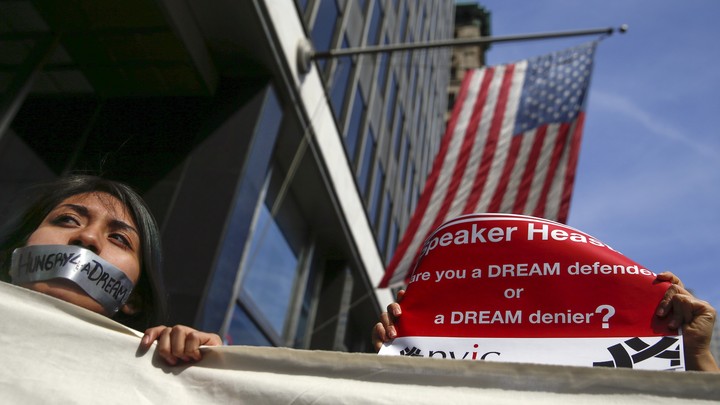 Colleges have recently been inserting themselves into the conversation on Deferred Action for Childhood Arrivals, the Obama-era program shielding undocumented immigrants brought to the U.S. as children from deportation and allowing them to work legally in the country. University leaders condemned the Trump administration's decision to end the program, arguing that DACA recipients are strong students and productive members of the workforce.
Senate Minority Leader Chuck Schumer and House Minority Leader Nancy Pelosi, both Democrats, announced last Wednesday night that they had struck an agreement with Trump to codify protections for DACA recipients. But it's unclear whether Congress would approve such legislation, and the president's own comments have implied that there's still much work to be done before a deal is reached.   
College leaders say they have myriad reasons to oppose a prospective repeal of DACA. Undocumented students, they argue, often bring unique viewpoints and backgrounds to campus, excel academically, and contribute to the economy after graduating. But recent developments have also raised questions about the financial impact such students have on the campuses themselves. What, if anything, would DACA's rollback mean for tuition revenue and enrollment numbers at colleges across the country?
These questions are tricky to answer, in part because the program's future is so uncertain. DACA recipients who lose their status would be subject to deportation, but officials have said they're focusing on criminals and not on DACA recipients, who need to have a clean record to qualify for the program. It's also hard to assess the financial implications because higher-education institutions rarely disclose how many undocumented students they enroll; some don't even have a solid grasp on what that number is. Still, the situation offers an opportunity to reflect on the current financial picture and how it could change.
When DACA recipients lose their work permits, they'll no longer be able to legally work in the U.S. DACA students often rely on their legal income to pay for college. According to a survey of just over 3,000 DACA recipients by the UC San Diego political-science professor Tom Wong for the left-leaning Center for American Progress, 94 percent of respondents currently in school said the program allowed them to pursue "educational opportunities that [they] previously could not." Some observers worry the program's repeal would prompt a decline in DACA-student enrollment; an estimated 241,000 DACA-eligible students had enrolled in college as of 2014, according to Migration Policy Institute figures based on census data, and a sizable percentage of them work while enrolled.
The loss of work permits could also mean that DACA beneficiaries who plan on attending college would be all the more reliant on financial aid, which can be hard to come by. DACA recipients, like all undocumented students, do not have access to federal financial support for higher education, but depending on where they live they may be eligible for other forms of publicly funded aid. Twenty-one states currently offer undocumented students who meet certain criteria the ability to pay in-state tuition, and at least six offer financial-aid benefits to undocumented students of all statuses who meet particular qualifications. The California DREAM (Development, Relief, and Education for Alien Minors) Act of 2011, for example, allows undocumented students who meet certain criteria to apply for in-state financial aid. Several other states, such as Utah, allow public universities to administer privately funded scholarships to students regardless of immigration status.
But even state benefits are up in the air, depending on where a given student lives. While the program's end likely wouldn't affect state tuition benefits that are not DACA-specific, recipients in the several states that do include DACA-specific provisions could lose access to their tuition subsidies and even some college-enrollment opportunities.
In states that don't offer tuition benefits, DACA recipients are largely reliant on aid from private universities, private loans, or scholarship programs that use private funds—aid sources that likely wouldn't be affected if the president does indeed rescind DACA. Higher-education leaders at many private universities have been reminding their students of these options; in a letter to the Harvard community after Trump's announcement on ending the program, for example, President Drew Faust wrote that "the University will maintain its existing financial aid policies, which provide funding to students without reference to immigration status."
"In places where there is no infrastructure, I think the role of the nonprofit-NGO sector is going to be much more important than it has been up until now," said William Pérez, an associate professor in Claremont Graduate University's School of Educational Studies who specializes in immigrant-student issues. "A lot of these nonprofit programs, by virtue of the fact that they're not publicly funded, they have a lot of flexibility. That's the case for private colleges that have significant endowments," too.
Still, Roberto G. Gonzales, a professor at the Harvard Graduate School of Education who specializes in issues related to Latino and immigrant students, said that "with DACA, more colleges and universities have felt more comfortable providing aid and resources. If they no longer have DACA, what will be the level of commitment? remains a really big question."
What's more, some studies suggest that access to these funding sources doesn't have as significant an impact on college enrollment as does that of public subsidies and aid. Research on Latino foreign-born non-citizens, many of whom are undocumented, has found that prospective students living in states where they're eligible for in-state tuition are more likely to enroll in college than those in states without these policies. (Private loans for their part are often difficult for undocumented students to obtain, typically charging higher interest rates and coming with more complications than federally subsidized loans.)
As for how the prospective decline in DACA students' enrollment will affect universities' revenue, any answers are purely speculative, and contingencies will vary state by state.
Ira Mehlman, the media director at the Federation for American Immigration Reform, which advocates for increased immigration restrictions, predicts that the financial shift for most universities will be negligible, and that if it does shift it will likely be in the universities' favor. "For pretty much all these universities, there will be other takers available for those seats, other people who need whatever funding might be going towards covering the DACA recipients' tuitions," he said. And the students who would theoretically take the places of DACA recipients may be in a better position to pay higher tuition, he argued.
Others, however, emphasize that financial gain is unlikely, especially at public universities where schools would likely fill most seats with students receiving in-state tuition. Plus, as Lesley J. Turner, an assistant professor of economics at the University of Maryland who has worked on issues of higher-education funding and undocumented students, pointed out, DACA recipients account for such a small percentage of the population at most public universities that "they're not crowding out a substantial number of students who would be coming from in-state or from out-of-state." In the same vein, most scholars acknowledge that individual colleges likely wouldn't see a significant loss in revenue if their DACA-student enrollment does take a hit.
The consensus among scholars is that community colleges would witness the most conspicuous change if DACA is indeed repealed. It is estimated that the majority of undocumented college students attend community colleges, and many if not most of them rely on their work permits to pay for tuition. "One of the characteristics of community-college students is that they tend to be more likely to be part-time students rather than full-time," Pérez said. "And a big reason for that is because [the students] work either full-time or part-time."
A less quantifiable, but perhaps most likely, impact of DACA's potential end could be recipients' changing attitudes toward college. "The bigger concern is that these young adults who were investing in themselves and their communities with the belief that at the very least they would be able to continue in the DACA program now have had that expectation completely disrupted," the University of Maryland's Turner said, "and that in turn may affect whether they think there's any benefit to staying in college or going to college."
Sadhana Singh, a DACA recipient studying at the private, Roman Catholic Trinity Washington University in Washington, D.C., said she was relieved to learn that DACA's potential end doesn't have a bearing on her college scholarship.
When Singh graduated high school, she thought of college as a "fantasy"; "I just got the brochures in the mail and would sort of yearn over them." She knew her family couldn't afford tuition, especially not in her home state of Georgia where undocumented students are required to pay out-of-state tuition. But she was granted DACA protections eight years after graduating from high school, and one year later she heard about TheDream.US, the largest scholarship program in the country for undocumented immigrants who entered the U.S. as children. She enrolled at Trinity Washington on a full scholarship.
Singh said that after Trump's announcement earlier this month, Trinity Washington and TheDream.US assured scholarship recipients at her school that their scholarships would remain in place. "They basically assured us that we would have the scholarship until we all graduated, no matter what happens with the political landscape," she said. Trinity Washington is "really prepared to see us all the way through graduation, and that means a lot. If all else fails, we'll have a degree by the end of this, and we'll be in a much better place than we were four years ago."
Singh has needed to work continuously to pay for housing and meals, but for Jaime Rangel, a DACA recipient in Georgia, work plays an even larger role in his ability to pay for college. Rangel says that DACA allowed him to get a job in the carpet industry that helped him pay for school at Dalton State University, which he attends part-time. He's since gotten two other jobs, income that also helps him pay for college. If DACA is repealed, he said, "It's going to slow me down even more ... You take DACA away from me, it's like the government just putting a big stop sign right in front of me. I'm going to have to wait before I can go."
We want to hear what you think about this article. Submit a letter to the editor or write to letters@theatlantic.com.