The Risks and Rewards of Student-Exchange Programs
Pen pals and school visits can help students connect with one another, but they can also end up discouraging students from less fortunate backgrounds.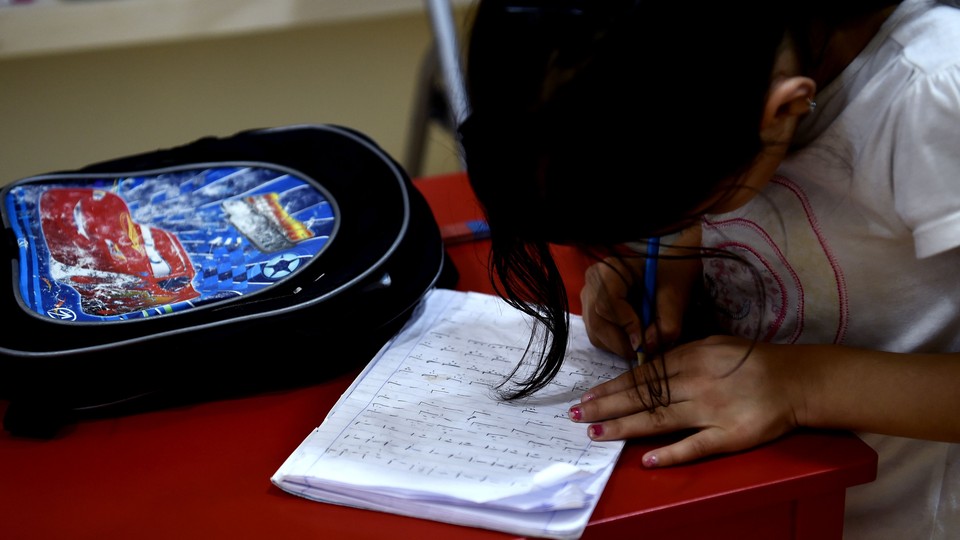 In her first letter to Jazmine, a 10th-grader at Amundsen High School in Chicago, Vanessa shares her nickname ("Vane"), says she loves animals, and briskly mentions that her father passed away.
"I hope you and I have a lot in common," she tells her new pen pal. "At first, I didn't want new friends because I'm scared of talking to people. I hope I get to know you better."
The correspondence between Jazmine and Vanessa, an eighth-grader at Emiliano Zapata Academy, is one of over 25 exchanges between students at these schools documented in P.S. You Sound Like Someone I Can Trust, a book published this past summer by the nonprofit writing and tutoring center, 826CHI. To create the book, which is dominated by the students' letters and merely contextualized by the perspectives of adult facilitators, 826CHI and classroom teachers matched pen pals by interest, sparked the letter-writing process with specific prompts, and offered extensive editing assistance.
According to Maria Villarreal, the director of programs at 826CHI, the letter is an "archaic form" for teenage correspondence. My own students often show that email is over, too. Texting could be next. As demonstrated by academic research and investigations into teenagers' digital lives, thanks to ubiquitous image-heavy social media platforms, the average kid doesn't need to write (or even talk) to socialize. For many teenagers today, the concept of pen pals is a novel one, as are letters as a form of communication—a means of matching thought to written language. It's also a rare opportunity to connect intimately with a peer: While students today may appear constantly connected to the world around them because of the gadgets they wield, they're often isolated. In Chicago, the third-most-segregated large city in the country, where new schools only reinforce their racial and socioeconomic isolation, kids on the South or West Side rarely, if ever, venture downtown.
Classroom projects like the 826CHI initiative strive to help students overcome those barriers, bringing kids from different worlds into one another's lives, combining rigorous academic work with lessons in empathy. A project that culminates in a meaningful product (like the P.S. book) intended for an audience beyond the classroom has the added benefit of making participants feel especially accomplished—more so when their work is published and they end up in the news. But such experiments also risk pushing students to view sometimes-painful differences without the necessary tools to confront and understand them.
* * *
In Chicago, the 826CHI project wasn't just an opportunity for kids from different backgrounds to connect. It was also an opportunity to show them that their stories and perspectives matter. "At first they didn't think they deserved to be in a book," Villarreal said. "They still can't believe people find them interesting."
The student writers also learned that penning letters made conversations deliberate, thoughtful, and rich, a discovery corroborated by research, including perspectives shared in a recent Boston Globe article. Jazmine explains that, while these days she and Vanessa text for hours on end, the cellphone exchanges feel different from the snail-mail ones.
"The letters are our stories. They're more personal," Jazmine said. "With [letter] writing, you can be more specific and vulnerable. Texting is simple and plain. It doesn't have to really mean something. You get a text in a minute. When you wait for a letter, that's special." Hearing her reflect on the letters, and reading the letters themselves, makes it hard to deny that the experience was sweet and nourishing for the two of them, something that enhanced their lives.
But not every exchange between schools produces a healthy outcome, especially when a project sets its sights on chipping into the institutional problems that affect students.  Design flaws, a lack of structure, or a wavering commitment to the exercise can further compound the ramifications.
Amundsen and Zapata are separated by two hours on public transportation in a sprawling city known for its stratification, but the project didn't portend to solve the problems—socioeconomic inequality, racial prejudice, access to opportunity—governments and districts have arguably only made worse. Villarreal and the students' teachers just wanted students to come away knowing others and themselves better—knowledge to outlast their delight at seeing their writing in print.
"We wanted to connect communities," Villarreal said. "We wanted kids to feel the value in their voices."
Two years ago, the Bay Area teachers Eugenia Ives and Annie Elias also sought to connect different student communities, but they were targeting the segregation; they wanted to unite students who were separated by race and class as well as geography. Ives (a former coworker of mine) taught English at Richmond High School, where over 90 percent of students (most of them students of color) qualify for subsidized lunch. Across the Richmond Bridge, Elias taught drama at Marin Academy, a predominately white private school costing over $40,000 a year. Students paired up, conducted interviews, and turned one another's stories into monologues exploring identity and experience as part of a collaborative piece of documentary theater called Bridging the Bridge. Inspired by Anna Deavere Smith's work, they performed at both schools and chronicled the process in a private documentary film produced by Marin Academy.
Elias and Ives made endeavored to foster a sense of care and trust among the students, but they were aware of the potential for insensitivity and misunderstanding. "It was incredibly powerful, what we saw between students. There was this instant connection," Elias said. "But we were nervous about this because it felt very risky."
Scenes in the documentary show that the kids were nervous, too. En route to Marin Academy, Richmond students are shown joking that the private school would probably have windows. They laughingly describe their school as "a prison block"; a girl notes that it was designed after one. On another day of rehearsal, another van takes Marin Academy students in the opposite direction—toward Richmond, a city with a grim (and not necessarily fair) reputation.
"It's out of my comfort zone," admits one boy.
"It's good you recognize that," says his friend supportively.
The kids are curious and friendly, and the Marin Academy students seem particularly quick to characterize their differences as less prominent than their similarities.
Some concerns did materialize. The first performance went smoothly, capped by a standing ovation and energetic Q&A with Marin Academy parents. KQED, San Francisco's public-radio station, wrote a laudatory story. But even with help from Marin Academy, Richmond's inferior resources made for a shakier second night, as attendees filed in and out and the Q&A had to be scrapped in order to close the facility on time. A Richmond teacher reportedly vented about one Marin Academy student's mention of the public school's low test scores. Perhaps the teacher was also irritated at the potential subtext: privileged kids playing dress-up in the lives of those who are less fortunate, offering tantalizing glimpses of their charmed ones.
Elias and Ives believed the dividends of the experiment would outweigh any drawbacks. Yet when school exchanges don't include an anchoring academic collaboration, the point of coming together can be unclear and risks to participants potentially more pronounced. A 2015 This American Life episode called "Three Miles" showed how school exchanges can go awry, focusing on a promising Bronx public-school student who's crushed by her school's visit to the elite Fieldston, a highly selective private school also located in the Bronx. Class Divide, a 2016 HBO documentary about a Chelsea, New York City, intersection inhabited by both a public housing project and a private school, makes a viewer squirm when the school gives project residents a tour of its campus. Both examples demonstrate that the discomfort such exchanges elicit doesn't always translate into something constructive. As a teacher, I worry that they risk mostly making born winners feel better about winning rather than leading to healthier, constructive relations long-term. A wealthy kid can confront his privilege and then write a sage admissions essay about the experience. Witnessing the extent of inequity, meanwhile, may make a much-less-privileged kid feel hopeless and demoralized.
And ultimately, even with a project providing structure, exchanges don't necessarily reduce the inequality they're responding to. In 2015, New York City Schools Chancellor Carmen Fariña suggested that pen-pal programs and exchanges between sister schools could substitute for real integration. Her comments were widely criticized as tone deaf. Sarah Camiscoli, a Bronx teacher and founder of nonprofit IntregrateNYC4Me, which organizes student advocacy and activism around school inequity, argued that student exchanges shouldn't be about sharing lives or even acknowledging the ills of segregation, but instead about finding practical solutions to specific problems.
"When students are systematically isolated, I actually resist the idea that exchanges with students [that are] not actively dismantling [the barriers] are worth the risk," she said. "When you have them meet, it takes a masterful level of facilitation to make that meeting something of value that doesn't strip one group of dignity."
The students she mentors, according to Camiscoli, push for visits between participating schools, but she thinks the practical work they do is more empowering and lasting. "I resist the concept of pen pals—[I resist] projects aligned to experiences, not outcomes," she said. IntegrateNYC4Me students may create murals and follow one another on Snapchat, but they also research the history of segregation and document its impact on teacher quality, course offerings, facilities, and other aspects of the school institution. They try to plan alternative models to the schools they know as students and experts on learning in segregated environments. They share what they've studied on panels, in workshops, and in meetings with politicians and education officials.
But even an educator committed to equity may not want to invest a project with such weighty intent. A structured exchange of composed, revised, and proofread letters is certainly academically rigorous. It may help students grow emotionally and socially because it does not come burdened by the explicit expectation of a transformative outcome.
I try to bridge a gap of sorts every June, when my senior English students share experiences and advice for high-school success in letters to freshmen arriving just a few months later. This year, a roguish senior asked his whole class, "Will they even care? I mean, they're ninth-graders!"
The exercise doesn't actually depend on them caring, at least not initially. I don't tell the seniors that their letters will keep young high-school students from making life-altering mistakes in school and their personal lives. I don't tell the freshmen that their futures in part depend on their ability to learn from the errors and achievements of others. Even if the roguish senior were right, it would still be a good thinking and writing exercise with clear value for graduating seniors leaving high school behind. But I have faith that ninth-graders will be more likely to care if the letters remain a tradition, and, over the course of years, both seniors and ninth-graders recognize participating in both roles of the ritual as part of their high-school experience.
The Bay Area's Bridging the Bridge students found one another on social media while participating in the project, but Ives and Elias don't know if they hang out. Ives left Richmond High, and the project ended. If it happened every year, it might evolve, the facilitators gaining expertise and the students and their communities engaging in richer collaborations. If, without 826CHI's resources and a published and publicized book, Zapata and Amundsen can preserve their pipeline in the coming years, they'll prove that a relationship endures more than any document. They'll instill educators with the hope, though not the certainty, that more students will gain confidence, know one another and themselves better, and enjoy improved academic outcomes.