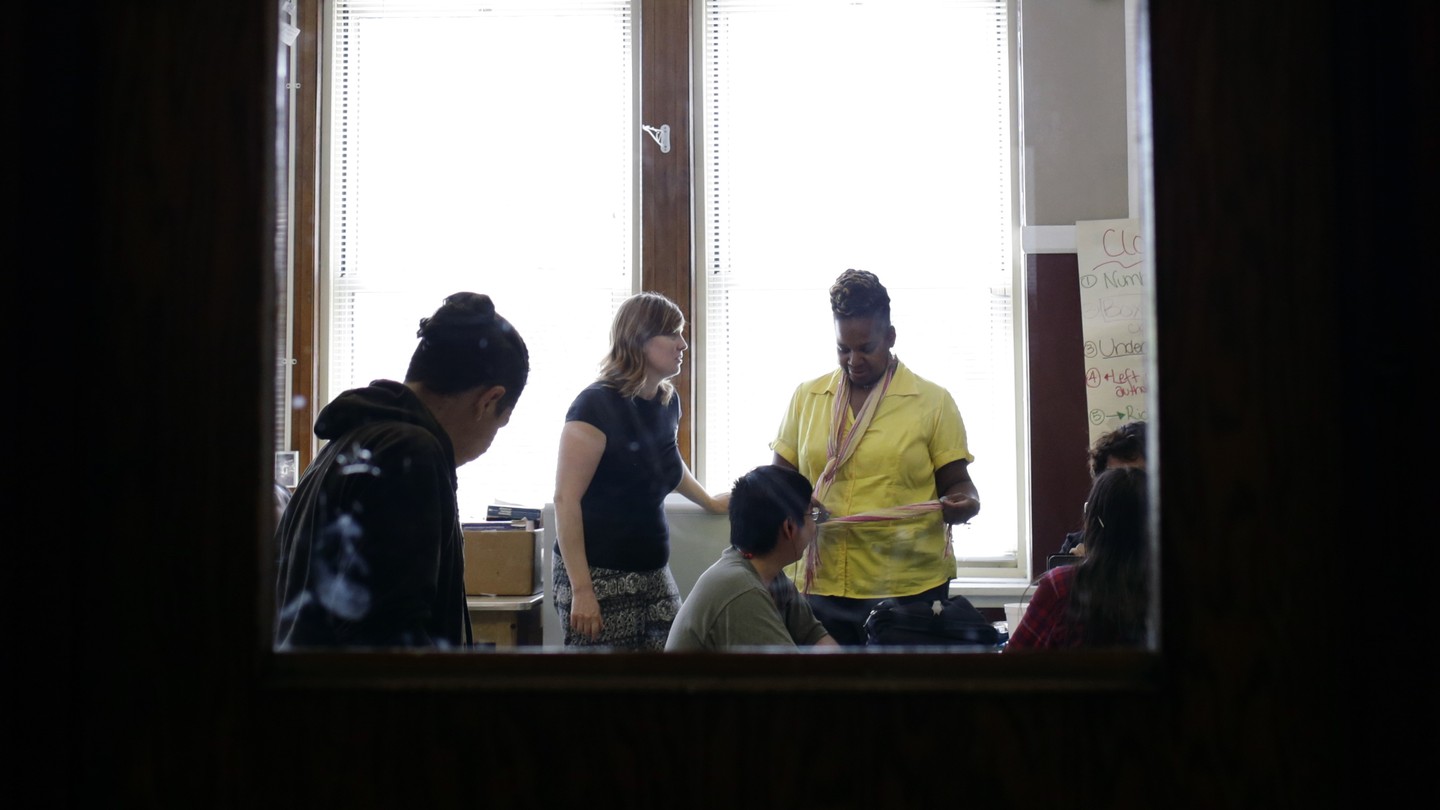 The Controversy Behind Chicago's Diploma Mandate
Mayor Rahm Emanuel wants to set students up for success after graduation. But at public schools, even the best ideas often have unintended consequences.
When students start school in the United States, they tend to proceed along one of two paths. For many, college is the assumed destination from their earliest days in the classroom, reinforced progressively at every step of their education. The only mystery is what higher-education institution they'll attend. But for a vast set of students, there is no assumed destination except adulthood—school will be a fact of life until it simply isn't any longer, and at that point, they'll have to figure out what comes next.
There's a growing divergence between the outcomes of these two types of students. The pay gap between college grads and those who don't have a college degree is at an all-time high: According to 2015 data compiled by the Economic Policy Institute, college graduates on average earn 56 percent more than those who only have a high-school diploma. It's increasingly likely that students without a degree or an alternative won't merely struggle to find work, but that they will drop out of the workforce altogether.
In April, Chicago Mayor Rahm Emanuel laid down a mandate: Every public-school student in Chicago must have a destination in order to receive their high-school diploma. In other words, all Chicago Public Schools and public-charter-school students must have a postsecondary plan in order to graduate. The idea is to ensure not only that the estimated 40 percent of CPS students without a plan don't end up on the streets once they leave high school but also that they're equipped with the know-how to fulfill their goals. A symbolic plan or verbal commitment won't suffice. Students will need to present their school with an authorized document confirming their plan is being put into action, whether it's a college or trade-school admissions letter or a signed agreement affirming they are enlisting in the military or have been hired for a job. Shortly after Emanuel announced the mandate, it was approved by the district's school board. It will go into effect with the class of 2020, making CPS the first school district in the United States to have such a requirement, according to district officials.
To Emanuel, the mandate is urgently needed to address a grave problem in Chicago's poorest neighborhoods, where unemployment is widespread and violence seems unavoidable. The mayor's critics say the rule will make things much worse for people who are already struggling; the last thing Chicago's students need is another hurdle in the way of a high-school diploma. But the scary truth, Emanuel argues, is that a diploma is no longer enough.
High school cannot be the end," Emanuel explained as we sat in his downtown Chicago office one afternoon in early June, exactly two weeks before the last day of school. "I don't care whether it's college, I don't care whether it's community college, I don't care whether it's the armed forces, I don't care whether it's a trade—you have to have an education plan post-high school. The job market requires 14 years of education—minimum. We're going to make sure every child is ready to succeed regardless of where they're from."
Emanuel sees the issue as a civil-rights commitment. Consider, for example, the fact that nearly half—47 percent—of black men ages 20 to 24 in Chicago are neither formally employed nor in school. It's a reality that often forces those men into making money by dangerous means, perpetuating the violence that plagues the city's poorest neighborhoods.
The mayor is in large part trying to reach kids who fall into that cycle of violence and crime. He wants to alter the paths for people like Curtis Toler, a Chicago native who joined a gang at age 9, was running a branch of that gang by age 16, and by age 17—after finding the body of his mother who'd been killed by his stepfather—resorted to life as a gang leader, with frequent trips in and out of prison. Toler, who's now 40, says he spent roughly six years total in Chicago's Cook County Jail.
It took decades for Toler to fully turn his life around. A pivotal turning point came at his son's high-school graduation ceremony, while he was facing a string of federal indictments against members of his gang that could have landed him back in prison. As the graduating class sang Chicago's "You're the Inspiration," Toler started to reflect on what would happen if he were to spend another 10 years behind bars. "I just broke down in tears," he told me. "I was like: 'Oh, I'm about to miss 10 years. How old is he going to be in 10 years?'"
Today, Toler does community outreach and other advocacy work with Chicago CRED, an initiative spearheaded by former U.S. Education Secretary Arne Duncan that seeks to provide job training and employment opportunities to Chicago's unemployed, out-of-school black men in an effort to stymie violence in the city. It's the kind of program that could have redirected Toler at a much younger age.
It's no coincidence that CRED, which tries to curb Chicago's violence by focusing on that subset of young men who are neither employed nor in school, is Duncan's latest endeavor: The postsecondary-plan requirement was originally his brainchild—even though the policy is most associated with Emanuel. (It was recently announced that the Emerson Collective, a business and philanthropic organization that has partnered with Duncan to pilot the CRED initiative, is acquiring a majority stake in The Atlantic; the announcement came more than a month after my conversation with Duncan and Toler.)
The mayor included employment as another acceptable postsecondary option at the urging of Janice Jackson, CPS's chief education officer. "She persuaded me," Emanuel said, "that a job was as good a part of the training as anything else."
"A hundred years ago, if you had a high-school diploma, you could go get a great job—you know, go work in the stockyards or the steel mills," Duncan, who grew up in South Side Chicago, told me from a brightly lit office atop one of the city's striking downtown skyscrapers, his back against an expansive view of Millennium Park. "That was your ticket. Your ticket was punched. Now, [a high-school diploma] is critical, it's a great step, but it's got to be, 'What's the next step?' And we, as adults, have to make ourselves accountable for helping kids take that next step."
While Toler managed to rebuild his life despite childhood and school experiences that helped shepherd him into gangs rather than postsecondary success, countless Chicago students who come from similar circumstances don't have similar outcomes. As Toler put it, "It took me a hell of a long time to go from change to transformation."
School administrators I spoke with in Chicago were largely sympathetic to Emanuel's aims. Maurice Swinney, the principal of Tilden High School on the South Side, said the policy, at face value, is logical. "I believe the intent of Rahm Emanuel is to say: 'We don't want to continue to graduate students from high school without knowing what their next level of educational participation or entry into the workforce looks like,'" he said. "For me, as a principal, that makes a lot of sense."
I heard similar reactions throughout my conversations with CPS educators. "Just stopping at this high-school diploma is not going to prove to be something that's going to sustain you for the rest of your life," Antonio Pryor, the postsecondary coach at Clemente High School on Chicago's West Side, said.
And in Chicago, the new mandate likely won't change much of what happens on many high-school campuses day-to-day. When it comes to the 60 percent of Chicago public-school seniors who already graduate saying they have a postsecondary plan, officials contend, the requirement will simply make what's already happening more structured and systematic.
But structure and systems require resources to implement and maintain. And while they may share Emanuel's aims, many take issue with the mandate as a means of achieving them, doubtful that schools will get the resources they need by the time the requirement goes into effect. The district, after all, is entrenched in a seemingly eternal fiscal crisis. Although it was recently announced that the district will be receiving a $450 million influx thanks to a state budget compromise, CPS has continued to borrow money at sky-high interest rates to offset its deficit.
Some fear that, without added resources, the requirement risks pushing the kids most in need of structured planning further behind than they would otherwise be if the policy didn't exist. Students will need help figuring out their options, filling out the required forms, and dealing with all kinds of unexpected obstacles that are inevitably bound to arise in the application process—work that typically falls on counselors. In many schools, such support is in short supply.
Emanuel and Jackson insist that the new mandate will come with the needed support. "We're not just slapping [down] a requirement and going, 'You gotta do this, or else,'" Emanuel said. "We're helping everybody make choices, get the understanding of it and the support to make the right choice for their career and their lives." Jackson emphasized that postsecondary planning isn't only an inherent aspect of a high-school counselor's job already—it's "their primary job and responsibility." Every high school has a counselor who's equipped with a college-counseling credential designed specifically for CPS, she noted.
By this school year, Jackson added, CPS will ensure that each of its 13 geographic "networks" has a postsecondary specialist who will work directly with the school principals and counseling staff in his or her region. These specialists will serve as consultants of sorts who help school-level administrators and educators create "a college-going culture" on their campuses. "The wrong way to think about this is more bodies, more counselors, and more people in the building," Jackson said. "It's really about how we use the resources that we have."
When asked about CPS's commitment to provide each of its multi-school networks with an additional postsecondary specialist, Jen Johnson, who oversees education issues for the Chicago Teachers Union, said it's "laughable." "What kind of real service can that person adequately provide when they're expected to support such a large swath of schools with varying needs?" Johnson asked. Learning about and assessing the needs of dozens of schools and then providing adequate supports, she continued, "would take a slew of people."
"Considering one person per network in a huge district," Johnson continued, "that's insane. That's insane."
According to Kristy Brooks, a counselor at Walsh Elementary School on the lower West Side, the lack of support staff in schools often means that a counselor spends the vast majority of his or her time managing special-education cases and tending to other miscellaneous duties, from sharpening pencils for testing to distributing medication when the school nurse isn't around. "We're kind of just a dumping ground," said Brooks, who also serves on the counselors committee for the Chicago Teachers Union. One former counselor similarly reduced the job to "a lot of putting out fires." Both described the job as very reactive—breaking up a fight in the hallway, dealing with an angry parent, acting as the nurse, tending to some other emergency.
And even if counselors were able to dedicate their entire workday to guiding students through the postsecondary-planning process, there still aren't enough of them. Although the American School Counselor Association recommends that each counselor be assigned to no more than 250 kids, across CPS there are 326 high-school students per counselor, according to 2016-2017 data provided by Brooks. The ratio varies significantly depending on the school. (Across the United States, each public-school counselor is responsible for 436 high-schoolers on average, according to 2014 data from the National Association for College Admission Counseling.)
In my conversations with counselors, several said that their skepticism about the mandate came partly from previous CPS initiatives, which they say have led to perverse incentives. The combination of too-few counselors and unrealistic requirements for documenting student progress meant a lot of box-checking that they say detracted from getting students what they needed. Anna Rodriguez left a career as a classroom teacher to become a counselor because she was drawn to the idea of working with students one-on-one, helping them cope with stress, and guiding them in their college-admissions or career-search process, among other activities typically associated with counseling. In reality, her days at the CPS school on the Southwest Side were filled with "a lot of chasing students around just to fulfill paperwork requirements," she said.
Over the last decade, for example, CPS undertook an aggressive campaign to encourage students to fill out the Free Application for Federal Student Aid. A 2008 report from the University of Chicago Consortium on School Research found that CPS students who completed the FAFSA by May and had been accepted into four-year colleges were more than 50 percent more likely to enroll than students who were accepted but had not completed the form. In 2010, CPS began providing incentives to schools with the highest overall FAFSA-completion rates, building upon a push spearheaded by Duncan, then-CEO of CPS, that entailed weekly updates on students who had completed the forms. The effort made a lot of sense in theory—and its simplicity made it an especially compelling strategy for improving students' postsecondary outcomes.
But, Rodriguez pointed out, the effort also meant she was required to make sure each high-school senior applied to three colleges and filled out the FAFSA. Coupled with the high school's counselor shortage, requirements like that made her work both strenuous and superficial, with the emphasis more on documenting that kids were succeeding and getting into college than on truly enabling those outcomes. "It was basically: Here are your three applications; here are three schools I've picked for you because we need to have proof you've done it," she said."A lot of times it was kind of cajoling the kid, like, I know you don't want to do this; this is just a requirement that we have."
CPS has been able to point to notable gains in student outcomes because of such directives. This past school year, 78 percent of eligible CPS seniors completed the FAFSA. But impressive-sounding statistics like that, counselors told me, can mask unfortunate realities for individual students. In a school setting, incentives can put appearances—like a report showing 100 percent of students filled out the FAFSA—in conflict with genuine, thoughtful support for an individual student's goals and needs.
Rodriguez recalled one student who declined to fill out the FAFSA because he was set on enlisting in the military after high school. She didn't push it—if that's what he and his parents wanted, fine. But, according to Rodriguez, such acquiescence wasn't an option, and school administrators demanded that she call his parents and convince them to fill out the financial-aid forms. Ultimately, Rodriguez got them to write a letter to the school asserting their son had no interest in completing it just so she wouldn't have to hassle them anymore. In all but coercing the student to fill out the FAFSA, the school had arguably fallen victim to the unintended consequences of a well-meaning initiative. Rodriguez eventually got so fed up with her job at the CPS school that she left it for a similar position at Northwestern Academy, a college-prep and enrichment program for high-achieving, low-income CPS high-schoolers.
There are many ways a mandate like Emanuel's graduation policy could go wrong. Perhaps counselors will steer more students into for-profit colleges, which typically guarantee acceptance to anyone who applies but are often low quality and even detrimental. Perhaps it will exacerbate already low persistence rates—the percentage of students who remain in college after their freshman year—because students will be encouraged to apply to schools that are too expensive for them or aren't the right fit. Perhaps more kids will just drop out.
Skeptics of the postsecondary-plan mandate fear that it risks complicating rather than solving the dilemmas numerous counselors described to me. One told me about a 4.0 student who ended up enrolling at a Chicago-area university and accruing exorbitant amounts of debt because he wasn't encouraged to consider out-of-state schools known for being generous with financial aid. I heard about a student who applied to community college merely because his school required it and never took the acceptance seriously. Today, at 24, he works in a factory job he hates to support his two children. One counselor recalled a bright, promising student who was accepted to a four-year college but failed to enroll because he shot and killed someone and was sentenced to nearly a quarter-century in prison. These students would have fulfilled the requirement. It doesn't mean they're any more happy or successful than they would have been had they not.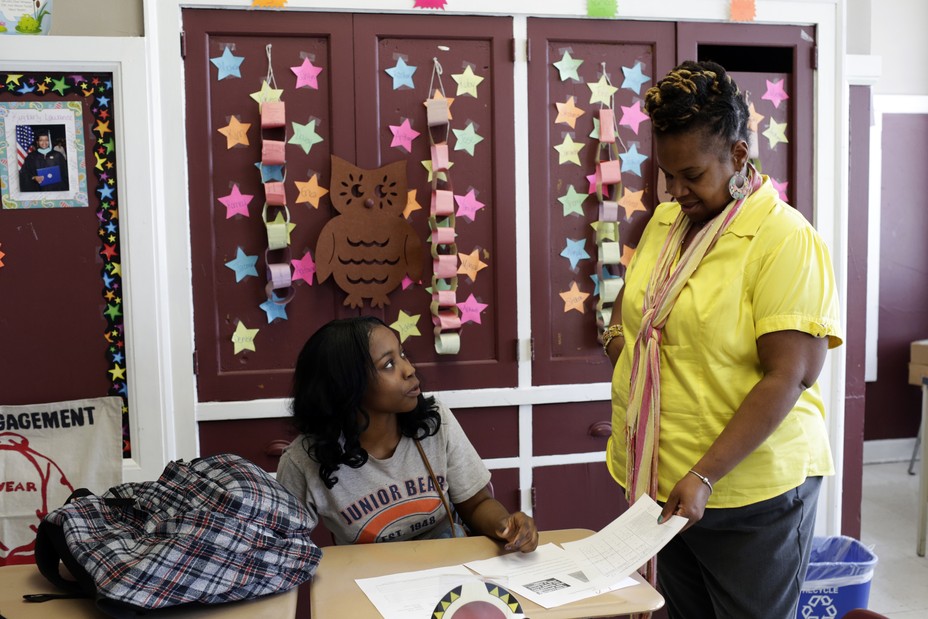 "The idea of every Chicago public-school student graduating with an individualized, thought-out plan that works for that student? Yes, I'm on board with that," said Brooks, the Walsh Elementary counselor. "But without the resources to do that, and without the supports in these communities to make that happen, it just seems like it's a box to check on a piece of paper that's going to make someone else look good."
Emanuel and Jackson clearly see the requirement as an extension of a years-long effort to improve student outcomes—one that's been largely successful, they say. More and more students have been participating in college coursework before graduation, and that progress has been met by similar improvements in college enrollment and college completion. During the 2016-2017 school year, 43.4 percent of students graduated with at least one college or career credential, and the goal is to get that rate up to 50 percent by 2019. In a 2006 report, the University of Chicago research consortium, whose data often informs the district's reform strategies, found that just 6 percent of students earned a four-year college degree by the time they were in their mid-20s. Within a decade, according to Jackson, that rate has increased to about 18 percent.
CPS students are certainly making strides. The graduation rate has risen so rapidly—thanks in part to rigorous data collection aimed at ensuring freshmen are on track for diplomas—that the trend made national headlines. The five-year graduation rate for the 2016-2017 school year was 77.5 percent, up 4 percentage points from the previous year—reportedly the highest year-over-year improvement in memory. (The national high-school graduation rate, which unlike that for CPS is calculated based on four-year cohorts, was 83 percent for the 2014-15 school year, the most recent year for which data are available.)
Emanuel and Jackson attribute these improvements to the ability of schools to make graduation and postsecondary success campus-wide priorities. This has often been possible because of young, enterprising principals who take it upon themselves to turn schools around. Take Principal Marcey Sorensen, who after arriving at Clemente High School decided to prioritize spending on an international baccalaureate program, a postsecondary team, and quality teachers. It's a decision that until recently would have seemed unimaginable at the West Side school, which long struggled, and continues to struggle, with gang violence. Its harsh campus climate was matched by dismal academic outcomes. When Sorensen arrived at Clemente six years ago, the graduation rate was under 50 percent and the attendance rate was just 70 percent. "We had a lot of work to do," Sorensen said, emphatically spacing out the words.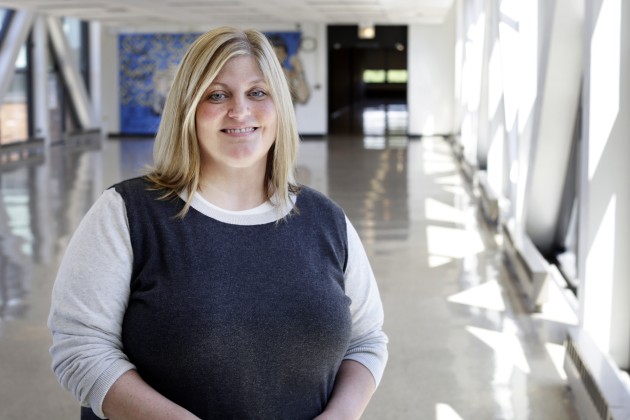 Sorensen proudly listed off the numbers showing how far Clemente has come as she sat across from me in a conference room at the nucleus of the school's campus—an eight-story building connected by escalators whose sunlit lobby displays a massive tile mural. Every class of 2017 graduate, she stressed, applied to and was accepted to colleges and universities. Sorensen's strategy involves both a straightforward emphasis on planning—the school requires all seniors to take a yearlong course on postsecondary planning, whether the goal is college or some alternative path—and a more abstract culture of high expectations that combines strict rules and caring relationships. Students have to keep their cell phones in lockers and pass through metal detectors every time they enter the building, but once inside they're also encouraged to explore their passions and entertain career options they wouldn't have otherwise considered. Sorensen wore a constant smile when we spoke and, as she gave me a tour of campus, greeted every student we passed by name.
Despite its strides, Clemente still has a long way to go. While it boasts that virtually all its students apply and are accepted to higher-education programs, just 43 percent of those in the class of 2015 actually enrolled in college, compared with 58 percent of students across CPS. Meanwhile, just 44 percent of Clemente's students who enrolled in college during the 2014-15 school year remained there the following year, compared with 72 percent of students district-wide. "We've achieved a lot of the low-hanging fruit, and at this point, in terms of enrollment and persistence rates, they're unacceptably low," said Andrea Kulas, who coordinates Clemente's international-baccalaureate program.
Still, Clemente's general model is what CPS officials want schools to adopt so all students can meet the new requirement. When she and her colleagues at Clemente heard about the mayor's new initiative, they didn't bat an eye. "We're like, 'Okay, cool,'" Sorensen said. "'We're already doing that, so fine.'"
The secret to Clemente's success, in addition to its enterprising principal, is its comprehensive postsecondary team, an ecosystem of nonprofit wraparound services, and on-campus human capital to help individual students develop his or her own plans from the minute they enter the doors as freshmen. Clemente relies on various nonprofits and community organizations, which, as with many other schools, have a strong presence on campus, with delegates on school grounds full-time offering services ranging from career counseling and interview prep to financial-aid tutorials and college-application guidance.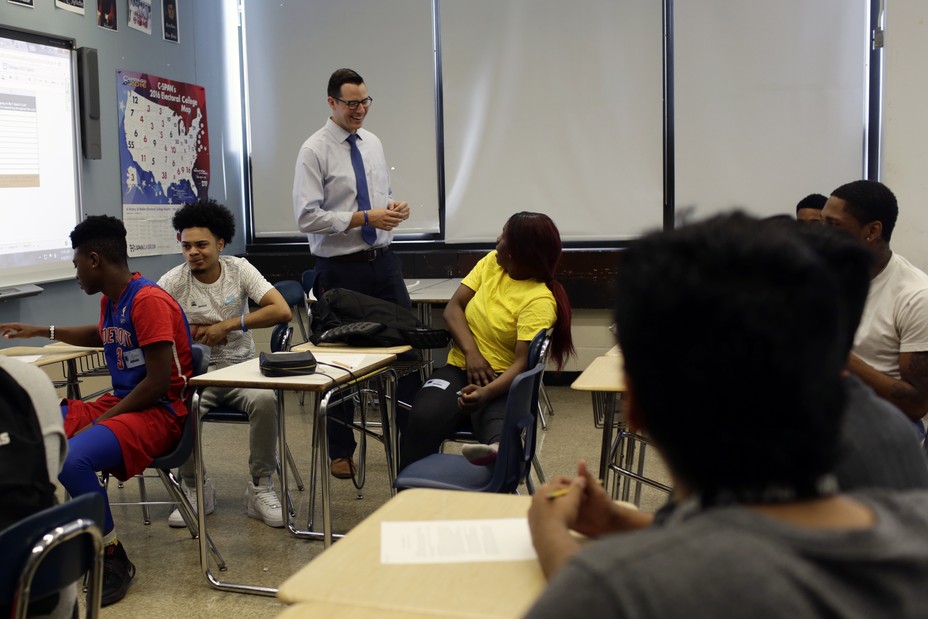 This reality is difficult to replicate and scale up. And as Swinney, the principal of Tilden, argued, the new requirement places an obligation on entities outside of CPS, too. Schools, he concluded, need more than just additional counselors on the ground for this requirement to achieve its goals. It's also incumbent on other players across the city to ensure that's possible: on the chambers of commerce and local businesses, on community organizations, and on higher-education institutions. "I think we will be doing ourselves an injustice as a Chicago Public Schools system to think that schools are the ones solely responsible for that," Swinney said. "This could be the thing that binds Chicago together as a city, as it wraps itself around its children—or it could be a disaster."
Disaster will only occur, Swinney said, if the city doesn't do enough to support schools like his that serve high-needs populations. Almost all of Tilden's students are low-income, and roughly four in 10 of them are in special education. What's more, the school's mobility rate (essentially the percentage of students who either transfer in or out in the middle of the year) is 36 percent—nearly twice the CPS average. Educational-attainment levels are just as dismal: According to 2016 data, just 50 percent of students graduated within five years, and just 32 percent of graduates enrolled in college.
"Every time someone in education or in politics has a bright idea and a way to raise the bar, it always sounds good in theory," Swinney said. "But we know some schools are going to have a tougher time with this, and we need to make sure we as a district … help the schools be as successful as they want to be and as we want them to be."
Among the biggest factors in the plan's success or failure, though, is not how administrators, counselors, or educators respond, but how students do. The students I spoke with are keenly attuned to the ways in which their choices and life outcomes can become someone else's political football, or trophy. They chafe at the way the policy has been presented—as a mandate that will require students to do more to advance beyond high school, rather than as a promise of resources to give students the support they need to realize their own ambitions. "By choosing to share the flashy 'no excuses' frame of a complex policy, Rahm has turned people against it," wrote the author and sociologist Eve Ewing on Twitter. "There are so many ways in which CPS policies don't really reflect what happens on the ground," said the sociologist Carla Shedd, whose book Unequal City explores how Chicago's schools reinforce or ameliorate social inequalities. "There has always been a disconnect between policies and the ways in which people respond to those policies."
That distance between the policy's stated intent and the way it has been framed seems to have made students deeply skeptical—if not fearful—of the new requirement. Nearly every single Chicago teen I spoke with—many of whom mistakenly thought the graduation rule didn't permit alternatives to college—told me the punitive and paternalistic nature of the requirement infuriates them. The mayor "wants everybody to know what they're doing, but you can't force everybody to know what they want to do at that moment," said Devon Zachery, a high-achieving senior at Gage Park High School on the Southwest Side who plans on going to a four-year college. "That's a personal decision."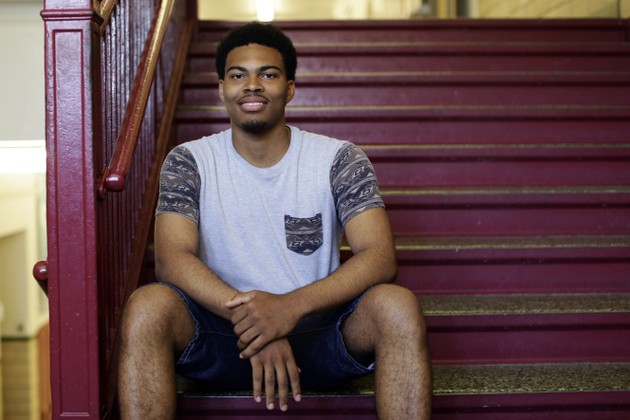 Several Chicago teens I spoke to told stories similar to Rodriguez's FAFSA anecdote, depicting such requirements as examples of schools treating students like currency to avoid getting a slap on the wrist. One recent CPS graduate explained that her counselor forced her to complete all her college applications by an arbitrary date in the fall even though most of hers weren't due until the following January. In obsessing over its ability to claim that every single student had successfully applied to college, she told me, the school had become paranoid about making sure everyone was on track.
Imyah Manuel, a senior at Clemente who is a published author and plans on going to a four-year institution, came to similar conclusions after hearing about the mandate on Facebook. A student who otherwise earned her high-school diploma shouldn't be denied the right to graduate just because she "can't get focused," Manuel argued. She recalled the city's highly controversial decision back in 2013 to close 49 elementary schools, a move that the mayoral-appointed school board justified because of under-enrollment but was widely interpreted as a form of punishment for underperforming black children. "I feel like, if certain schools will not be able to live up to the requirement, he will basically shut them down," she said, "and it'll just be the same situation that happened a few years ago." (CPS has not indicated whether there will be consequences for schools that fail to meet targets under the new policy.)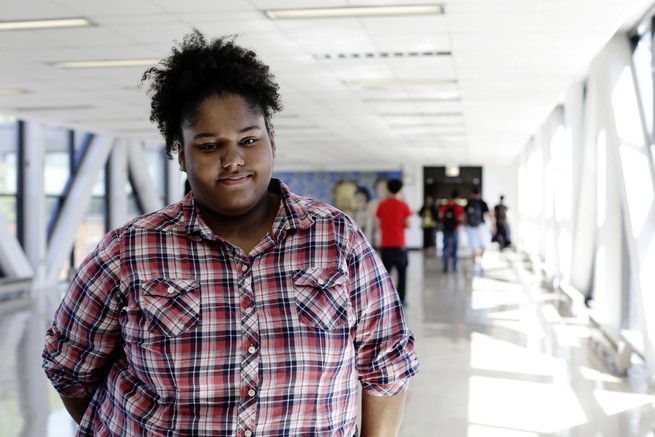 The most immediate worry for students is whether the requirement will be flexible enough to accommodate their own plans and needs for their future. I spoke with one Clemente alumna, Rosa Ramirez, who had developed a clear blueprint for her postsecondary life well before her senior year. An honor-roll student in the school's international baccalaureate program with a passion for art who had been promoted to battalion commander in the Reserve Officers Training Corps program, Ramirez had long been determined to join the military. But at the end of her junior year, Ramirez, now 19, went to the hospital after experiencing pain in her stomach and was told she has a serious liver condition. Ramirez was en route to meet up with recruiters, prepared to sign the papers with her parents, when she learned it'd be all but impossible for her to pass the military tests. "My doctor actually told me, 'As of right now, you're not going to be able to [enlist], because they're going to X you out,'" she said. "It sucked—I was really upset, because I really wanted to do it, and I knew as a kid I wanted to." If Emanuel's requirement were in place, Ramirez might not have been allowed to graduate.
The requirement will allow for exemptions: Students who are undocumented, have criminal records that bar them from being able to comply, or have children, for example, will be eligible for waivers. But such exceptions are "a last resort," Jackson said. "We really want to ensure that school professionals are having really strong conversations with them because even with those life circumstances, with the right messaging, the right approach in pathway, we still believe that those children, too, can be successful."
Renita Washington is in many ways the epitome of what Emanuel wants for all public-school kids in Chicago. When she was in seventh grade, Washington and her mother hit a rough patch and moved into a homeless shelter, where they lived off and on for several years. Washington couldn't find the drive to do well in school. She stopped attending classes, and her grades took a hit. But then things started to change in high school, thanks to a support system of friends and mentors. Now her favorite subject is math, and her favorite class is psychology. "It's so interesting to learn about the human brain," she said, "and why people do the things they do." The instability and hardship Washington experienced became an impetus to setting ambitious academic goals for herself.
Washington wears black-rimmed glasses and often talks about her classroom experiences as if she's a veteran principal or an education-policy researcher. Whereas many teens talk about their school experiences through the lens of homework, grades, gossip, and relationships, she's quick to lament the role of Teach for America in the school system; the terrible counselor-student ratios that plague Chicago's schools; and the size of the new freshman class at her school, which, she notes, has 40 or 45 to a classroom instead of 25 to 30.
The 17-year-old senior also has a postsecondary plan so well-thought-out and calculated that many soon-to-be college graduates would be jealous of it. Washington was recently nominated for a prestigious Posse Scholarship for college, and she knows exactly what she wants to study. "I'm going to major in women's and gender studies and then minor in business and education," she said matter-of-factly, organizing her sentences as if she were dictating an academic paper. Ultimately, she said, she intends to get her Ph.D. and then teach women's and gender studies—all while doing event-planning on the side. The end goal, once she has those ambitions squared away, is to start a nonprofit.
Yet even Washington complained of appearances taking precedence over genuine support for her ambitions. Counselors allegedly required her to include the University of Illinois at Urbana-Champaign on the list of colleges that would receive her SAT and ACT scores even though she has no interest in staying in Illinois for school, let alone attending its flagship campus. When Washington pushed back, the counselor explained that she needed to keep it as a "safety school" and that it was a good option because of its close ties to her high school. The penalty for not applying to Urbana-Champaign, according to Washington, was detention.
"That's a problem, because if a student doesn't want to stay in Illinois, or they don't want to have Urbana as an option, then now you're forcing me to do this thing that I don't necessarily want to do," Washington said, growing uncharacteristically flustered as she recounted the incident. Although she has enjoyed attending her high school and appreciates how many opportunities it has given her, she couldn't help but complain about how much preference her counselors seemed to give to big, research universities. In fact, the way she tells it, they discouraged her from pursuing the plan she devised for herself even though it's the product of extensive research, outside mentorship, and campus visits to almost all of her prospective schools. Her plan? To attend a small liberal-arts school, like Middlebury College in Vermont or Pomona College in California, far from Chicago.
Emanuel and Jackson are aware of the criticism and the fears of students and counselors, but they think aiming too low is riskier than aiming too high, even if the ambitions they lay out seem lofty given the humble challenges the counselors and students I spoke with described. "It's not a good practice if kids are just applying to school and just going to any school," Jackson said,  "they have to go to a school that's going to support them from a race and equity standpoint, from an academic standpoint, financial standpoint."
It's hard to predict what will happen next—it could take years for the mandate's true impact to fully crystallize. But for Emanuel, daring the unknown is better than settling for the status quo. "We don't know today what the unintended consequences are. We don't," Emanuel said. "That's the honest truth."