How Higher-Education Leaders Are Fighting for DACA
This week, university presidents have penned personal letters to Trump in defense of their undocumented students.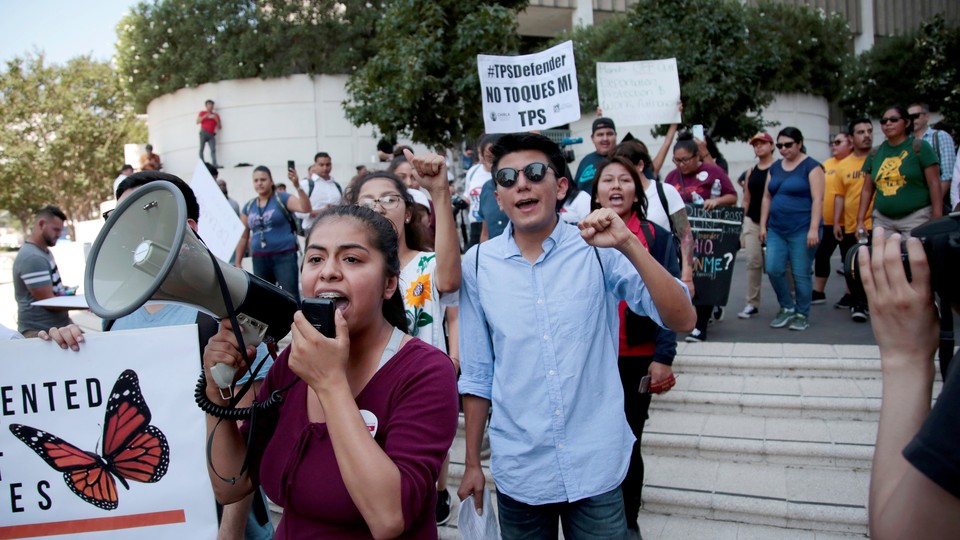 Updated on September 4, 2017.
Amid the torrent of pleas to President Trump this week to protect Deferred Action for Childhood Arrivals (DACA) are letters written by several university presidents. In a noteworthy showing of direct engagement in political discourse, the presidents of Harvard, Princeton, Yale, Brown, Cornell, Amherst, NYU, and Duke, for example, have written personal letters this week.
The Obama-era program protects undocumented immigrants who came to the United States as children from deportation and allows them to legally work in the country. During his presidential campaign, Trump promised to rescind the program, which was instituted by executive action by former President Barack Obama.
The president is reportedly prepared to announce a decision on DACA on Tuesday. The timing of the decision owes itself in part to outside pressure; Texas Attorney General Ken Paxton, and 10 other Republican state officials, called on the administration to rescind the DACA program by September 5 or face a lawsuit.
If DACA comes to an end, many of the program's beneficiaries would start to lose their protected status. As many as 800,000 undocumented young people benefit from the program, some of whom are high-school or college students. An estimated 10,000 undocumented immigrants graduate from college each year.
The letters written by university presidents emphasize the good character of undocumented students and their contributions as members of the education system and future members of the workforce. In his letter, Princeton President Christopher Eisgruber writes, "I expect that the extraordinary young people at Princeton and other institutions of higher education who have benefited from the DACA program will be leaders in building the innovation economy that your administration has championed."
Threats to DACA have repeatedly attracted the involvement of university presidents over the past year, and this week's personal letters echo the language of other letters signed en masse by higher-education leaders. In November 2016, shortly after Trump's election, more than 600 college and university presidents—including those of the aforementioned schools who wrote letters—signed a statement in support of DACA. "DACA beneficiaries on our campuses have been exemplary student scholars and student leaders," the signatories stated. "They are actively contributing to their local communities and economies."
This past March, a letter submitted by the American Council of Education thanking Trump for his positive comments on "DREAMers"—all unauthorized immigrants brought to the U.S. as children—and urging him to continue DACA was eventually signed by nearly 600 colleges and universities. Notably, the signatures in the March letter, which also included the aforementioned schools whose presidents wrote letters, were listed by name of university as opposed to that of the institution's president. These personal letters, then, are ostensibly among the most direct attempts thus far by higher-education leaders to engage in the DACA debate.
The wording of these personal letters isn't much different than that of the earlier group statements, though their pleas for the Trump administration to defend DACA in court are more urgent in tone given the looming prospect of a lawsuit from the Republican attorneys general. The language is concise and focused on practicality—these students are, the university presidents argue, valuable members of the education community, contributors to society, and propellers of the U.S. economy.
Some find the utility-focused language lacking. "You read these and wonder if they're from just another Fortune 500 company," said Chad Wellmon, an associate professor of German studies at UVA who has written about the inability of university leaders to assert their moral roles. In Wellmon's view, this week's statements are an example of how universities often miss opportunities to establish their identity as institutions dedicated to the pursuit of knowledge and to make arguments on the basis of this identity. "What I would want [these university presidents] to say is, 'this is a trespass on the … project of the university,'" Wellmon said. "It undermines our mission not as a production of economic utility and citizenship but [of] what we do best, which is to create knowledge, to share it and discover new knowledge."
Little about these particular schools, perhaps aside from their prominence as elite institutions, makes them obvious sources for the personal letters. They do not have particularly high numbers of undocumented students. (Exact numbers are difficult to obtain, but for its part Harvard, which enrolls roughly 22,000 students total, has an estimated 65 undocumented students currently on campus; NYU does have one of the largest populations of international students in the U.S., although what percentage of those students may be undocumented is unclear.) As private institutions, though, these schools theoretically have less reason to fear the repercussions of speaking out than, say, a school like UC Berkeley, which Trump threatened with funding cuts after violent protests shut down Milo Yiannopoulos' speech on campus. (Janet Napolitano, the president of the University of California system who also served as secretary of Homeland Security under Obama, did sign onto the pro-DACA letter in November, as did Berkeley's chancellor; Napolitano also spoke out against rescinding DACA during a Q&A after delivering a keynote this week.)
It's possible that the mere urgency of the September 5th deadline is what motivated the presidents to pen personal letters. In a comment to the Yale Daily News, a school spokeswoman stated that "the kind of response that [Yale President Peter Salovey] gives depends on what he thinks would be most effective. In this instance, with the timing, he decided to go the direct way."
Lynn Pasquerella, the president of the Association of American Colleges and Universities (of which the aforementioned schools whose presidents wrote letters are members), echoed this sentiment. "There really is a renewed sense of urgency in the aftermath of what happened in Charlottesville, [a sense] that as leaders in higher education we have to play a critical role in not only shaping the agenda for higher education, but in serving as a national voice on issues of racial and social justice," said Pasquerella, who served as president of Mount Holyoke College between 2010 and 2016. "All of the presidents that we work with have had to address this issue on their campuses, and many are playing a leadership role in standing up for the ways in which DACA transforms lives."
University presidents tend to resort to this kind of direct outreach with caution, and while such perspectives are hard to track down, certainly some university presidents feel it's inappropriate to weigh in on DACA. Though they often opine on politicized issues that directly affect universities, such as affirmative action, as leaders of tax-exempt entities they are subject to laws that limit their ability to make partisan statements. While university presidents have released statements and penned mass letters throughout the past year in response to the Trump administration's decisions, such as the withdrawal from the Paris climate accord and the travel ban, this appears to be a rare case of university presidents directing multiple letters to President Trump urging him to take a particular course of action.
Perhaps that's because, as Pasquerella contended, higher-education leaders don't see DACA as a partisan issue. "We do need to steer clear of making partisan statements. We serve a diversity of perspectives, and we seek the truth," she said. "At the same time, we do have values to serve, and these are not partisan values. When we say that there are a group of young people who deserve to be protected, who deserve to live the American dream, these are human right issues that go beyond any partisan perspective." (It's also worth noting that universities have a financial interest in DACA's continuation: For many institutions, losing undocumented students could mean forfeiting a large chunk of tuition revenue.)
To Wellmon, the fact that these letters are personal appeals by university presidents makes what he sees as their lack of precise language all the more frustrating. "To my mind, the opportunity to write in the first person [is an opportunity] draw on local experiences, local conditions, local stories where you actually can talk about particular instances in classrooms or in labs. ... As a president, you know particular students whom this will affect. Tell their story. Tell how their absence at your university is going to make the classroom, the lab, the library, the classroom experience that much more impoverished," he said.
It remains unclear what exactly a college campus can do to protect its undocumented students in the face of federal enforcement. Students across the country have requested that their schools adopt "sanctuary campus" status and thereby refuse to turn over undocumented students to immigration officials. But many argue that this designation is largely symbolic; were federal enforcement officers to arrive on campus, the legal protections campuses have against such action are limited. Harvard, Yale, Princeton, and Duke, for example, are not sanctuary campuses; the university presidents have all argued that this status has little or no legal basis, and some have argued that it could even have the unintended effect of calling more attention to undocumented students on campus.
These presidents' letters come amidst a flurry of statements this week by business, government, and religious leaders. The American Council on Education submitted a letter on behalf of many of the major higher-education organizations, reiterating support for the March letter written by university presidents urging Trump to protect DACA. Among the mass statements in recent weeks have been one by a group of over 1,300 Catholic educators and one from over 100 law professors arguing for the legal basis of DACA. On Wednesday, over 1,800 community leaders, including some university presidents, signed onto a mass letter to Trump.
One of the signatories on the Wednesday letter, President Timothy L. Snyder of Loyola Marymount University in Los Angeles, said in an interview that while he plans on calling the White House Friday, he did not consider writing his own letter. "I think it's more powerful when we work across institutions," he said. "We speak in unity, and it's not one person bottled in one institution, but rather it's a spectrum. We're unified on this issue."