How Campus Sexual Assault Became So Politicized
The Trump administration has announced that it's rescinding college-rape policies put in place by President Obama.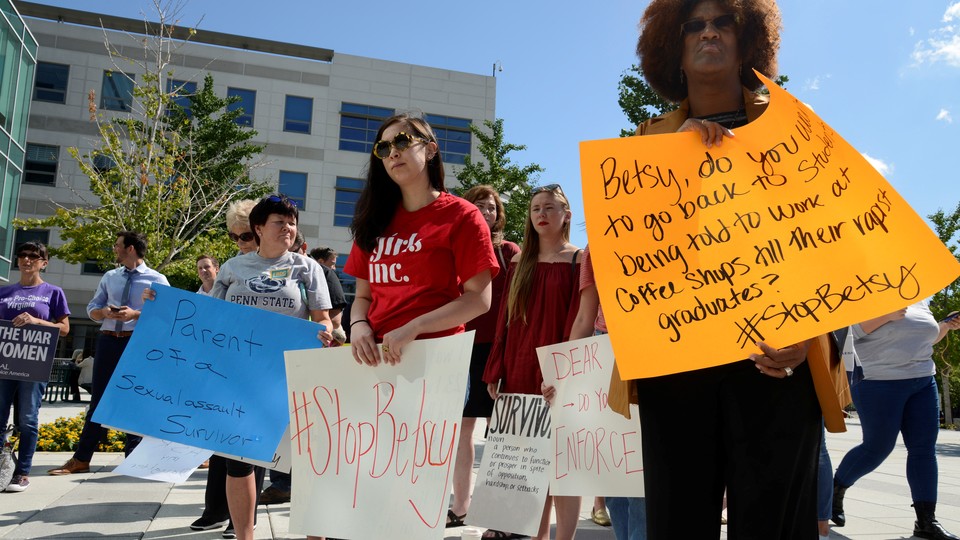 On Friday, the Department of Education officially revoked the Obama administration's guidance on college sexual assault, offering interim guidelines on how universities should handle the issue. Democratic Senator Patty Murray said in a statement the decision could send sexual assault survivors "back into the shadows."
When DeVos gestured at these upcoming plans in a speech earlier this month, many Democrats made similar statements. All 56 Democratic members of Congress who tweeted about the speech criticized it. Democratic Senators Bob Casey and Kristen Gillibrand called DeVos' decision "an insult to survivors of sexual assault" and "[a betrayal of] our students, plain and simple," respectively.
Since her confirmation hearing, DeVos and her staff have largely been depicted as perpetrator-sympathizers with no concern for sexual-assault victims who, in part thanks to Obama's policy changes, now feel empowered to speak out. (This criticism has, at times, been understandable.) But there is  serious disconnect between the harsh reaction to DeVos and the substance of what she said—one that underscores the deeply partisan nature of policy-building around college sexual assault.
As Emily Yoffe recently wrote for The Atlantic, DeVos would be "sensible" to change many of Obama's policies on college sexual assault. "If [DeVos's] statements were made by a different official in a different Administration," Jeannie Suk Gersen wrote for The New Yorker, "they would seem rational, uncontroversial, and even banal."
Reactions to the interim guidelines issued on Friday have been mixed. Victims advocates have argued they favor the rights of the accused by, for example, making it easier for such students to appeal a decision, while others have described the interim rules as sensible and necessary. Ultimately, though, they are only temporary—the Education Department will adopt binding regulations after it consults with the public—and they allow universities to maintain many of their existing policies. For instance, the department allows campuses to continue using the controversial adjudication standards put in place by the Obama administration. It also asserts that any agreements Obama-era Education Department reached with universities it had found in violation of Title IX would remain in place.
While colleges have historically neglected student sexual-assault victims by failing to adequately punish perpetrators, many believe the Obama administration may have gone too far with its reforms. In 2011, Obama's Education Department issued what's become known as the "Dear Colleague" letter, advising universities to, among other things, apply a "preponderance of the evidence" standard when adjudicating these cases. In other words, to find a student guilty, the university has to determine that it's "more likely than not" that an assault has taken place (before the Dear Colleague letter, many universities required "clear and convincing" evidence, a much higher bar to meet).* Six years later, approximately 170 accused students have filed lawsuits, accusing their universities of unfair treatment.
Since Obama implemented these new policies, college sexual assault has become a hyper-partisan issue, with Democrats indiscriminately defending the rights of victims—often ignoring the reliability of evidence—and Republicans indiscriminately defending the rights of the accused—at times questioning the existence of the epidemic of sexual violence on college campuses.
The politicization of sexual assault on campus is surprising, even in a hyper-partisan environment. For one, there's evidence of a dramatic shift in how Democrats think about students' rights. Ever since the 1950s and '60s, when the fiercely liberal Warren Court—an era of the Supreme Court during which Justice Earl Warren presided as Chief Justice—dramatically expanded the rights of the accused in landmark decisions like Miranda v. Arizona and Gideon v. Wainwright, defendants' rights have been associated with progressive activism.
Yet that's flipped in recent years, with Democrats overwhelmingly focused on the victims of sexual assault and Republicans overwhelmingly focused on the victimization of those accused of it. There have been a few bipartisan efforts to come to a consensus on how to handle campus sexual assault—most notably a 2014 letter from 28 Harvard Law School professors urging the university to revise Obama-inspired procedures around sexual assault—but policy recommendations remain largely divided along party lines.
This divide is most evident in state legislation. Red states like North Dakota and North Carolina have passed legislation to protect the rights of the accused, requiring that all students have lawyers in disciplinary hearings. The Blue states of California, Connecticut, Illinois, and New York, on the other hand, have all passed "yes means yes" legislation, which strongly favors victims' rights. These latter laws mandate that, in order for sex to be consensual on college campuses, both parties need to explicitly provide consent.
As a national issue, debates over how to handle college sexual assault has always been at least mildly partisan. As Katharine Baker, a professor at the Chicago-Kent School of Law who focuses on sexual violence, pointed out, women's advocacy groups and the Democratic Party have long had a "decent" coalition. "Women's advocacy groups are generally concerned with protecting rape victims, so we see Democrats interested in protecting them, too," she said in an interview.
On the right, Baker notes, many social conservatives see college sexual assault as an unfortunate repercussion of increased sexual freedom. "If a woman gets herself into that position, they think it's her responsibility to get herself out of it." And by extension, according to Baker, that makes them less likely to endorse policies that favor alleged victims over those who've been accused. Republicans are more likely to believe these college cases should be handled exclusively by the criminal-justice system—a stance victims'-rights activists adamantly oppose, as only a tiny fraction of sexual assaults reported to the police are ever taken on by a prosecutor.
When it was introduced, Title IX, the federal law prohibiting sex-based discrimination at any education institution that receives government funding, applied primarily to gender discrimination in athletics. It wasn't until 1994 when the Education Department's Office for Civil Rights (OCR) introduced the idea that the law also applied to college sexual assault, effectively giving it the authority to investigate how universities respond to it. Soon after that, in part because of pressure from feminist activists frustrated by police inaction on the issue, it announced that Title IX required universities to adjudicate sexual-assault cases. But for years, that guidance didn't actually change much on campuses; the Education Department only got involved in a few cases, and no political campaign, including President Obama's in 2008, included the issue in its platform.
"This was still an era in which student crime victims were culturally conditioned to report to the police, not to a campus bureaucrat (if they reported at all)," said KC Johnson, author of The Campus Rape Frenzy, which argues that the Obama-era policies led to unwarranted panic around the issue of college sexual assault. "There were also few accusers' rights organizations pushing the issue at the time, so there was very little public or media awareness."
It wasn't until 2011—after Obama issued the Dear Colleague letter and formed a White House task force to protect students from sexual assault—that college sexual assault became prominent in the national political conversation.Many politicians initially assumed that reforming policies as they pertained to college sexual assault would become a bipartisan issue ("Republican and Democrat parents all want their kids to be safe in college," Congresswoman Speier said in an interview). But as accused students began complaining about unfair adjudication procedures, the parties quickly diverged.
So why did Obama adopt this stance in the first place, effectively bucking traditional Democratic norms by requiring universities to relax their standards for due process?
The answer is likely—and unsurprisingly—political. After a devastating 2010 midterm election, Democrats in Congress looked to Senator Michael Bennet's campaign in Colorado—one of the few bright spots for their party in 2010—as a model. Bennet had relied heavily on identity politics, rallying women, minorities, and millennials. And he had triumphed.
In the lead up to the 2012 presidential election, Obama campaigned hard on a variety of social issues, including gay rights and support for Planned Parenthood. Some conservatives argue that, politically, it made sense for Obama to position himself as a champion for college victims of sexual assault. "Obama and the Democrats played into this narrative of standing up to campus patriarchy and a conservative view of sex," The Campus Rape Frenzy's Johnson said. "The narrative that campuses, which typically are the most gender-progressive institutions in society, were actually indifferent to these rapist animals in their midst was absurd. But there was enough evidence that you could wrap your arms around it."
As Obama moved to make college sexual assault one of his administration's signature causes, Republicans began associating him with the issue.
"When Obama (and Biden) became the symbols of politicians who wanted to take action to combat campus sexual assault, the issue was dragged into the anti-Obama narrative," said Kelly Behre, a lecturer at the UC Davis School of Law who specializes in intimate-partner violence. "For example, in her speech this month, DeVos claimed Obama had 'weaponized' the Office for Civil Rights."
Like many other issues in education, the divisiveness around college-rape policies has become more conspicuous since the 2016 election and the confirmation of DeVos. Throughout the campaign, conservatives, particularly members of Trump's campaign, condemned "elites" and "snowflakes" on college campuses for being too sensitive on a variety of issues. "There is this idea that campuses are out-of-control and run by liberals promoting safe spaces,'" Behre said. From the perspective of many conservatives, colleges across the country reinforced that narrative by rolling out new, expansive policies to protect sexual assault victims under President Obama.
Today, most issues that garner national attention are at least somewhat partisan. But college-sexual-assault policy is a particularly dangerous issue to divide along party lines. Key questions involved—What is consent? Who should be believed?—do not lend themselves to two different answers, one Democratic and one Republican. The process of adjudicating college sexual assault is already incredibly murky. If college sexual assault continues to be a hyper-partisan issue, it will become more and more difficult for everyone involved to remain open to the unique nuance and ambiguity of each case.
It is unlikely that universities, unless forced, will change the Obama-era policies. The interim guidance issued Friday generally allows universities to retain the procedures they adopted after the 2011 Dear Colleague letter, and many institutions have already spent hundreds of thousands of dollars on expanding bureaucracies charged with carrying out those procedures.
And as liberal institutions, many college presidents want to avoid aligning with President Trump—particularly on an issue like sexual assault. "These are institutions which, on any gender-related questions, are well to the left of the national norms," said Johnson, the author. "Due-process advocates are not going to stage a campus sit-in in the president's office, but if a president does anything to create a fairer process on this issue, she could be targeted by accuser's rights groups. If the impression is that President X is indifferent to rape, President X is probably going to be out of a job."
When I interviewed Congresswoman Speier, a longtime advocate for victims' rights, for this article, I asked her if she thought DeVos should make any changes to the policies put in place by President Obama."They're adequate—they probably could even be enhanced," she said.
Still, dozens of Republican lawmakers, at least 160 accused students, and countless right-leaning media outlets have called for their overhaul. Even some left-leaning journalists and intellectuals have raised concerns. To ignore that—and to shirk all forms of compromise—will make this issue more partisan than ever.
---
* This article originally stated that, before the Dear Colleague letter, most universities required a complaint to have "clear and convincing" evidence. We regret the error.