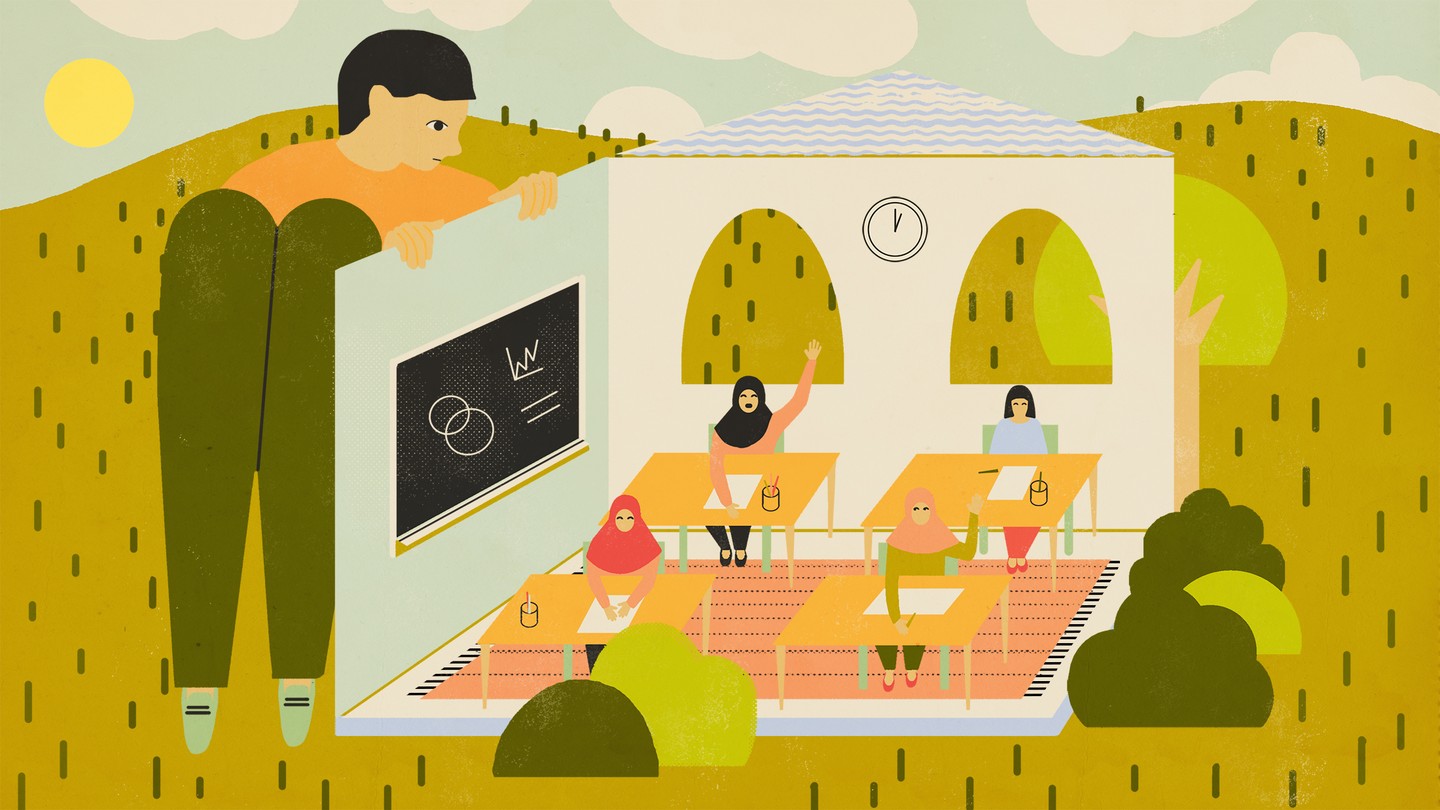 Boys Are Not Defective
Girls in the Middle East do better than boys in school by a greater margin than almost anywhere else in the world: a case study in motivation, mixed messages, and the condition of boys everywhere.
Jordan has never had a female minister of education, women make up less than a fifth of its workforce, and women hold just 4 percent of board seats at public companies there. But, in school, Jordanian girls are crushing their male peers. The nation's girls outperform its boys in just about every subject and at every age level. At the University of Jordan, the country's largest university, women outnumber men by a ratio of two to one—and earn higher grades in math, engineering, computer-information systems, and a range of other subjects.
In fact, across the Arab world, women now earn more science degrees on a percentage basis than women in the United States. In Saudi Arabia alone, women earn half of all science degrees. And yet, most of those women are unlikely to put their degrees to paid use for very long.
This is baffling on the most obvious levels. In the West, researchers have long believed that future prospects incentivize students to invest in school. The conventional wisdom is that girls do better in school as women acquire more legal and political rights in society. But many Middle Eastern women do not go on to have long professional careers after graduating; they spend much of their lives working at home as wives and mothers. Fewer than one in every five workers is female in Jordan, Qatar, Saudi Arabia, the United Arab Emirates, and Oman.
This spring, I went to the Middle East to try to understand why girls are doing so much better in school, despite living in quintessentially patriarchal societies. Or, put another way, why boys are doing so badly.
It's part of a pattern that is creeping across the globe: Wherever girls have access to school, they seem to eventually do better than boys. In 2015, teenage girls outperformed boys on a sophisticated reading test in 69 countries—every place in which the test was administered. In America, girls are more likely to take Advanced Placement tests, to graduate from high school, and to go to college, and women continue their education over a year longer than men. These are all glaring disparities in a world that values higher-order skills more than ever before. Natasha Ridge, the executive director of the Sheikh Saud bin Saqr Al Qasimi Foundation for Policy Research in the United Arab Emirates, has studied gender and education around the world. In the United Kingdom and the United States, Ridge believes she can draw a dotted line between the failure of boys to thrive in school and votes for Brexit and for Donald Trump. Disengaged boys grow up to become disillusioned men, Ridge says, left out of the progress they see around them.
And the gender gap in the Middle East represents a particularly extreme version of this trend.
"If you give girls a quality education, they will mostly run with it and do amazing things. It propels them," says Ridge, one of the few researchers to have written extensively about the gender gap in the Arab world. But for boys, especially low-income boys, access to school has not had the same effect. "These boys struggle to find a connection between school and life," she says, "and school is increasingly seen as a waste of time."
Motivation is the dark matter of education. It's everywhere but impossible to see. Motivation helps explain why some countries get impressive education results despite child poverty and lackluster teaching, while others get mediocre results despite universal health care and free iPads. When kids believe in school, as any teacher will tell you, everything gets easier. So it's crucial to understand the motivation to learn and how it works in the lives of real boys and girls. Because the slow slipping away of boys' interest in education represents a profound failure of schools and society. And the implications are universally terrible. All over the world, poorly educated men are more likely to be unemployed, to have physical- and mental-health problems, to commit acts of violence against their families, and to go to prison. They are less likely to marry but quite likely to father children.
Undoubtedly, each country is unique, so it is dangerous to generalize. (In Lebanon, for example, boys still do better than girls in math, and in Yemen, girls are still less likely than boys to even be enrolled in school.) And the fact is, neither girls nor boys are doing especially well in school in the Middle East—success is relative. Girls in Jordan still do worse on international tests than girls in America. Still, by age 15, Jordanian girls perform an entire year ahead of boys in science and almost two years in reading, according to the 2015 PISA test. The education gap between boys and girls across the region is large and strikingly similar, even among nations with stark distinctions—in oil-rich, wealthy countries like Oman, where boys are virtually guaranteed some sort of government job when they grow up, and in poor ones like Jordan, where they are not.
Something seems to be happening (or not happening) that is not readily explained. "It's becoming a global phenomenon," Ridge says, "and it's not going away."
Seven teenage girls filed into the principal's office in their matching green tunics and sat in a line of chairs. It was a warm spring morning in Amman, Jordan, just before final exams, and it was clear from the girls' shy smiles that it was better to meet with a reporter than to be in class. "These are good students. Role models," the principal told me as she ushered them in.
The Princess Alia Secondary School was named after the current king's eldest half-sister, a woman who graduated from college with honors and dedicated much of her life to raising and protecting horses. Now the school serves 470 girls of all ages. It's a tidy place, the walls painted a fresh coat of white, matching the hijabs worn by about half the girls.
After third grade, all Jordanian public-school students attend single-sex schools, a common model across the region due to cultural and religious anxieties about the mixing of the genders. The schools have the same curriculum and resources, but girls' schools are taught by female teachers and run by female principals, while boys' schools are taught and run by men.
Over the past six years, Jordan's education system has been strained by the need to absorb more than 126,000 Syrian refugee children. One-fifth of the students at Princess Alia are refugees. But while much can be blamed on the war in Syria, the gender gap in Jordan cannot: The strong performances of girls compared with boys pre-dates the conflict, and much of the international test data does not yet include large numbers of refugee students.
After drinking a tiny cup of strong Arabic coffee, I asked the girls if they have any theories about why girls in Jordan seem to be doing better in school than boys. They didn't hesitate to tell me. "I do my homework, and I read books," Nawar Mousa, a 16-year-old with glasses and a wide red headband in her curly brown hair, said. "My brother, what does he do? He goes with his friends. He plays PlayStation."
The other girls nodded. Parents, they agreed, keep girls closer to home and demand more of them. "If I study five hours a day, it would not be enough," Riima Al-Sabbah, a 17-year-old student, said. "If my brother studies one hour, it would be a miracle." We all laughed. The only man in the room, my hired translator, laughed with us.
Across the developed world, girls report doing one more hour of homework than boys per week, according to survey data, and boys are four times more likely than girls to report playing video games daily or almost daily. In many Muslim cultures, parents also tend to give girls less freedom. There is an ever-present anxiety that girls will shame the family by having a liaison with a boy. Teenage boys, meanwhile, congregate in the streets and in smoky cafés without supervision.
There are also practical differences in incentives: In Jordan, a boy with mediocre test scores can still get a job after high school, maybe with the police or maybe cleaning hotel rooms. It probably will not be a great job, but it will give him some money and allow him to marry someday, which remains a mark of status in the culture. What's more, under the law, boys can often count on inheriting twice as much as girls.
Women and girls, on the other hand, have far fewer choices. They must either score high on the end-of-school exam (which only half of students typically pass) so that they can get admitted to a university and get a reputable job like a teacher or a doctor—or they must marry right away. It is considered dishonorable for a woman to work alongside men in service jobs at restaurants or hotels. "A boy doesn't need to study hard to have a good job," Mousa said. "But a girl needs to work hard to get a respectable job."
A similar dynamic plays out in neighboring, oil-rich countries. In Saudi Arabia, there is no incentive for boys to work hard in school because the government will provide most men with jobs when they grow up, explains Madawi Al-Rasheed, the author of A Most Masculine State: Gender, Politics and Religion in Saudi Arabia and a visiting professor at the London School of Economics. "If you're a boy," she says, "you can drive around, roam the streets, watch football matches." For girls, going out is a more complicated proposition. They must have a driver to go meet friends at a shopping center, since Saudi women cannot drive. Even going to the zoo requires advanced planning, as women can only go on specific days. But instead of being simply stifling, Al-Rasheed says, the constraints can motivate some girls: "I think they see education as a way out of the confinement."
This theory is confusing, given what researchers know about human behavior generally. Psychologists have found that autonomy typically leads to motivation—not to disengagement. But in the Middle East, boys' freedom seems to act as a kind of academic handicap over the long term, allowing boys to get distracted from school while they are young and impulsive. And the hyper-surveillance of girls, meanwhile, seems to act as a perverse kind of motivator. Lacking other options, girls study harder. It was a theory I would hear again and again around the region, from Ministry of Education officials, researchers, parents, and students. But it didn't feel like the whole story.
After interviewing the girls at the Princess Alia school, I gave them my contact information, in case they wanted to keep in touch. Shortly before midnight that night, I got an email from Maha Daraghmeh, a student who had said very little during our interview. "I'm the girl who sat in silence on the couch," she wrote. "Miss Amanda, I don't agree that girls are smarter than boys, and I sure don't agree that we study hard."
We met at a café the next day. Daraghmeh, a 17-year-old with olive skin and a wry smile, wore blue Converse sneakers, a black-and-white flannel shirt, and a dark headscarf. "Before you came," she told me, "the principal told us not to say anything negative about the school." Daraghmeh had kept quiet to stay out of trouble, but she was not the type to keep quiet for long.
There was some truth in what the other girls had told me, she said, but also some embellishment. "I know all these girls," she told me with a long look. "They don't study that hard." Girls go out, too, she told me—though less than boys. She goes out once a week, sometimes more. She plays PlayStation, too, and she has even skipped school a few times. She plans to study harder next year, when she has to take the end-of-school exam; she wants to score well enough to convince her mother to let her study music in London one day. But for now, plenty of distractions lurk on YouTube and Facebook, whether she leaves the house or not. "It's not about gender," she said.
To hear Daraghmeh tell it, schools matter as much or more than the day-to-day habits of boys and girls. Her own school is, she claimed, uninspiring. There are no classes in art or in music—her main passion. But her younger brother's school, she said, is even worse. He attends an all-boys' high school, taught by male teachers. The solution to the problems of Jordan's education system is, in her mind, straightforward: "We should get more helpful teachers," Daraghmeh said. "They are not helpful."
After we finished our coffee, Daraghmeh walked me to her house to meet her family. Her younger brother, 15-year-old Ahmad, sat quietly in the living room next to his mother while his sister tried to draw him out. Sometimes his teachers tell students the answers, he confirmed, or pretend they don't see when boys cheat. Teachers also hit the boys, he acknowledged, a common practice in boys' schools. In front of me, he shrugged it off: "Boys are less responsible," he said smiling. He seemed uncomfortable criticizing his school, but Daraghmeh's mother, much like her daughter, got right to the point: "Girls' schools are better," she said, "less dangerous."
Four years ago, Jordan's Ministry of Education commissioned a large study on the country's gender gap. The researchers examined international and national test data going back over a decade, concluding that girls had outperformed boys in virtually all regions of the country and in all subjects. But the team also analyzed survey data and held focus groups with nearly 400 students, teachers, parents, and principals. It was not a randomly selected, nationally representative sample, unfortunately, but the findings, which were published in 2014 and have been echoed in other internal government research, revealed that boys and girls might as well have been attending schools in different countries.
For one thing, boys' schools are more violent places, concluded the study, which was funded by USAID. Over half of the boys interviewed said they'd experienced some kind of bullying in school over the previous year. Only 11 percent of girls said the same thing. Two-thirds of male teachers said they'd witnessed physical violence among students in the past year—compared with less than a quarter of female teachers.
Boys also reported worse relationships with their male teachers. Only 40 percent of male students interviewed said they believed their teachers cared about how well they did in school—compared with 74 percent of girls. These results are bolstered by another recent USAID-funded study, which has not been made public but was shared with The Atlantic by RTI International, which helped conduct the research: Teams of education experts observed different classrooms around the country and found that male teachers in all-boys schools were more likely to belittle or punish students for getting the wrong answer. And boys were much more likely than girls to complain about their male teachers' tendencies to beat students and shout at them.
Meanwhile, in the larger, 2014 study, male teachers were three times as likely as female teachers to say they were dissatisfied with teaching. Teachers do not earn a lot of money in Jordan, but men are still expected to be the primary breadwinners in families. So male teachers are more likely to work second or third jobs as tutors or even taxi drivers in order to augment their small salaries. One Jordanian student told me about a male biology teacher he'd had who was so exhausted by his two other jobs that he used to close the blinds in first period and go to sleep.
On average Jordan's male teachers—who have mostly gone through the same educational system themselves—do worse on the national entry test for teaching, according to Ministry of Education data. This suggests in turn that boys might be encountering less-prepared teachers on average. Unsurprisingly, teaching is not considered a very prestigious job—particularly for Jordanian men. So fewer men aspire to do it. And men who do teach are also more likely to simply leave the country, recruited away by Gulf states that desperately need male teachers for their own boys' schools. "Male teachers are hard to come by, and good male teachers are even harder," says Haifa Dia Al-Attia, the CEO of the Queen Rania Foundation for Education and Development, an organization founded by Jordan's queen that is heavily involved in reforming the country's education system.
Mohammed Al-Qazaq supervises 35 schools in Amman, including all-boys and all-girls schools. The female teachers are "more loyal to their jobs," he says. "When I ask male teachers to bring me their plans for the semester, they don't care. When there are training courses, they don't attend. It's not their wish to be a teacher." He sometimes runs into his male teachers working their second jobs at restaurants or malls. "They say: 'What can I do? I want to get married. I want to buy a car.'"
One of Al-Qazaq's schools is the Akef Alfayez Elementary School for Boys, which I visited while in Amman. The school seemed less well-kept than Princess Alia, perhaps because the girls are required to help clean their school—and the boys are not. (There are occasional exceptions, the students told me—like the time Liam Neeson came to visit, part of a larger UNICEF Goodwill Ambassador tour of the refugee crisis. For Neeson, the boys cleaned.) In the classes I saw there, the boys seemed engaged, raising their hands and answering questions. Later, though, two students privately told me that, just before I'd arrived, the principal had ordered the students to behave well. The diligent classroom scenes I'd witnessed were not realistic, the students said.
The principal of Akef Alfayez allowed me to interview a group of boys in his office, while he sat at his desk under large portraits of the king and the king's male relatives. One boy, 16-year-old Ezzeldin Abualdarak, offered up a familiar theory about the gender gap in Jordan: "Girls are more serious in a lot of things," he said. "I go out with my friends. We play soccer anywhere we can for hours. My sisters stay at home and either play on their phones or study."
But the next day, when I visited Abualdarak at his home, he told a slightly different story. Like Daraghmeh, Abualdarak said the problem had more to do with the quality of the boys' schools than with the daily habits of boys and girls. "I study more than my sisters," he said. His sisters and mother agreed. Also, he does not actually play soccer for hours everyday. "I want to become an international business lawyer," he told me. "I like studying math and Arabic." He complained that some teachers at his school spend half the class just trying to establish order. Maybe, he said, there should be cameras in the classrooms so students would behave.
The separation of students, teachers, and administrators into single-sex public schools may serve cultural and religious purposes, but it seems to create an unintentional ghetto for boys—where less-devoted teachers instruct less-engaged students amid more violence. "[T]he education system for males, as currently set up, is much less conducive for learning," the 2014 report stated before calling for a reinvention of the teaching profession to raise salaries, prestige, and professionalism in the hopes of recruiting better male teachers in particular.
The Queen Rania Teacher Academy, an affiliation of the foundation, is working to boost the training and selection of male and female teachers across Jordan. "Most of the problems I face with male teachers is that they want to yell at kids, to humiliate them," Mary Tadros, an academic-programs adviser for the academy, says. "As soon as you do that, you lose them." Like most American educators, teachers in Jordan do not typically receive any special training to help them understand specific tactics for teaching only boys or girls.
In the academy's new teacher-preparation program, aspiring teachers spend ten months in training, including five months of student teaching. The academy hopes to extend the training to all new teachers in the country in the future. Students who complete the program must commit to teaching in public schools for three years or else pay back their tuition.
The Ministry of Education is also considering raising the age at which students are segregated by gender, in order to ensure that boys have more time with quality female teachers. But that is very controversial among conservative Jordanians. So for the time being, all the ministry can do is try to direct the more-committed female teachers to the youngest grades, where they can have a greater impact on both genders. Now, when male teachers in the co-ed primary schools leave their jobs, they are intentionally replaced with mostly female teachers.
In May 2014, the government of Oman, a small, peaceful, under-the-radar country on the southeastern tip of the Arabian Peninsula, held a "Male Dilemma Symposium." The goal was to share the findings of a three-year research project investigating the gender gap in schools and to recommend changes. It was a small step toward openly grappling with a hard problem, but it was one that most other countries in the region have yet to take. "We used to say, empowering women, and now we talk about empowering men," Hamood Khalfan Al Harthi, the undersecretary for education and curriculum in Oman, says.
The research project, conducted by Mohammed Eltahir Osman and his colleagues at Sultan Qaboos University, analyzed testing data for 27,000 boys and girls from across the country. The problem, Osman and his colleagues concluded, was not simply boys' freedom or male teachers' preparation. It was all that and more. Through surveys and other analysis, they identified a long list of factors that were interacting like a chemical equation, which is the unsexy secret about how education systems usually work. Not just teacher quality but students' sense of safety, their study habits, and the subtleties of the boy and girl peer cultures all converge to create a healthy—or toxic—brew.
In every country, there is evidence that a healthier mix is possible. Jordan's private schools, for example, seem to be more balanced. The gender gap narrows in private schools, which are attended by 20 to 30 percent of Jordan's students. It's not inevitable, in other words, that girls will do better in Jordan; it depends on the context.
No one knows why the gap is smaller in Jordan's private schools. It could be that more affluent parents are compensating for any gender gap by getting private tutoring for their private-school sons. Or perhaps private schools are doing a better job selecting and supporting their teachers. Whatever the case, it's also true that private schools are less likely to be sex-segregated; typically, boys and girls are taught together—by mostly female teachers. This might mean that female teachers are stronger, and private-school boys are benefiting from better instruction alongside girls. Or it could be that boys are upping their academic and behavioral game to meet the standards set by the girls.
Interestingly, the same pattern appears in Tunisia and Lebanon—two of the only countries in the region in which boys and girls are routinely educated together. In both places, coeducation is the norm—and the gender gap in math and science scores is small to nonexistent.
In Western countries, some studies suggest that boys—and girls—do better in single-sex environments, not worse. But everything depends on the execution, says Leonard Sax, a psychologist and the author of Boys Adrift. "Merely separating girls from boys accomplishes nothing good, and often leads to catastrophe," says Sax, who has visited single-sex schools around the world. After South Carolina opened hundreds of single-sex public schools starting in 2008, for example, some teachers found that boys who had never gotten in trouble before were suddenly regulars at the principal's office. "If you're in a group of all boys, being disrespectful to the teacher may raise your status in the eyes of some boys," Sax says. "Boys know that's not true for girls." Without training to help teachers manage a room full of boys (or girls), low-level problems can become full-fledged contagions.
And that's exactly what seems to be happening in many Middle Eastern public schools. Elements have conspired to create an education system that isn't working well for anyone—but especially not for boys. And it all comes back to that ethereal dark matter: "The issue is not about intellect; it's about motivation," Al Harthi says, echoing the kids I spoke to who dismissed notions of girls as naturally more studious. The problem is, motivation is shaped by parents, teachers, and the culture at large. As Osman's study noted, Omani boys do not feel like their teachers care about them, and boys are much more likely to report corporal punishment occurring at school. That's not a motivational setting.
But there is another, more amorphous challenge to students' motivation—one that cannot be fixed by better relationships or by putting more female teachers in schools. "The boys look at achievers as not masculine," Osman says. The boys' notions of masculinity do not overlap with the goals and values of their schools. So, in that void, the boys develop other ambitions, shaped by their peers on the soccer field and in the streets. "The boys have their own society," Osman says. "They are governed by their own rules and values."
This is a universal problem, if ever there was one. All around the globe, notions of masculinity have not kept pace with the demands of a world that rewards creativity and critical thinking above physical strength. Even in the United States, a new PDK poll shows, parents have higher academic expectations for their daughters than their sons. "Boys don't feel that school can necessarily help them reach manhood," Michael Thompson, a psychologist and the co-author of Raising Cain, says. "Sometimes they experience school as an obstacle to becoming masculine; but girls rarely see school as a barrier to womanhood."
Teachers can be retrained and relationships can be improved, but this problem of masculine identity is harder to fix—and until it is, every other reform will have limited effects. "If boys believe that the route to masculinity, to a respected boyhood and manhood, is outside of the classroom," Thompson says, "they are not going to do as well in school as girls."
In the meantime, countries make awkward compromises. In order to avoid all-female cohorts of students, Sultan Qaboos University, Oman's only public university, now has two sets of admission criteria: one lower bar for men and one higher bar for women. Each year, the Ministry of Education announces the quota, depending on the discipline and the applicant pool. In 2009, for example, the engineering department rejected 732 women who would have been accepted, based on their test scores, had they been men. Osman disagrees with this quota system. "It helps to solve a temporary problem, but it has an impact in the long term on students' confidence and on equality," he says. "They should have found another way to boost the abilities of boys."
Schools could, for example, identify strong male teachers who have improved boys' academic performances and amplify their voices. Principals could help teachers build trust with their male students and develop better strategies for managing misbehavior. In their report, Osman and his colleagues listed 30 such recommendations. To date, none have been implemented, he says, but he is hopeful that change is coming. For now, men may have a better chance of getting admitted to Sultan Qaboos University, but they represent nine out of every 10 students on academic probation.
If Oman's quota system sounds unfair, it's worth noting that some elite American universities discriminate against female applicants, too. Being a man may raise your chances of being admitted to many of the most selective liberal-arts colleges in the United States. But the real problem—that schools are failing far too many boys—is rarely discussed in U.S. education debates. Boys get attention haphazardly, if they fit into subcategories of race or learning disabilities, and then only rarely.
There is reason to think that putting more attention on the issue of boys' education would help—just as it helped girls in the past. Last year, an elegant study by MIT economist David Autor and his colleagues showed that boys may be particularly harmed by bad schools and especially responsive to strong schools. Using Florida birth and school records, the researchers compared the effects of strong schools on siblings in the same families. The worse the school, they found, the bigger the gender gap in favor of girls. "School quality," the study concluded, "is more consequential for boys than girls."
As the Jordanian teens I met seemed to know instinctively, nothing about boys' educational failures is natural or inevitable. It may be true, as developmental research suggests, that boys tend to be more active and take longer, on average, to learn to control their impulses. But those are challenges that well-trained teachers and informed parents should be able to handle. Boys are not defective; schools are. The fact that boys are struggling around the world means that too many schools are designed with a bias for girls. Too many teachers prefer compliance over competition, quiet diligence over risk-taking, and on average that leads to schools that are more comfortable for girls than for boys in every time zone. But given the world they are inheriting, just as boys need to learn to focus, girls need to learn to take risks.
And neither can thrive in a world where the other is diminished.
---
This story was produced with support from the Education Writers Association Reporting Fellowship program.