UVA's Troubling Past
As college students return to Charlottesville after violent clashes there earlier this month, the university community wrestles with the legacies of the school's founder and history with slavery.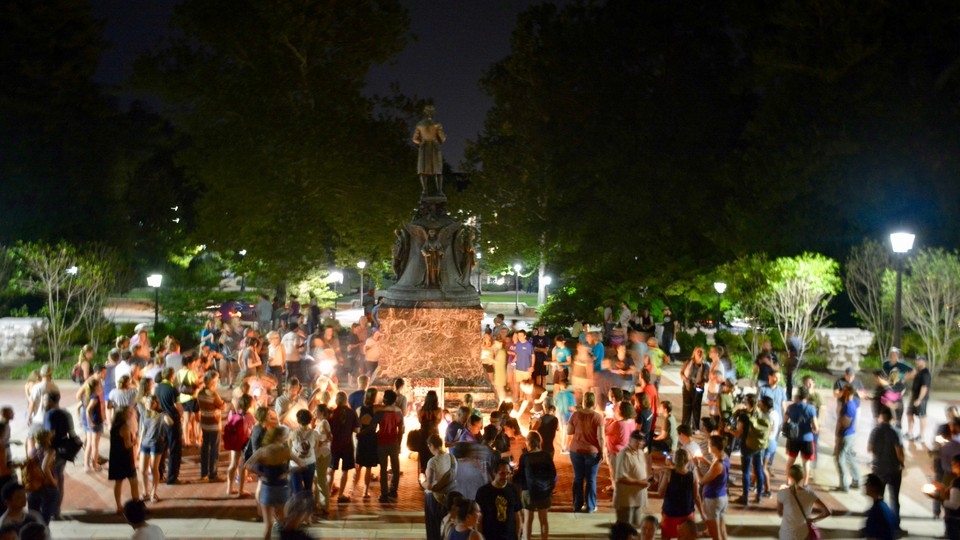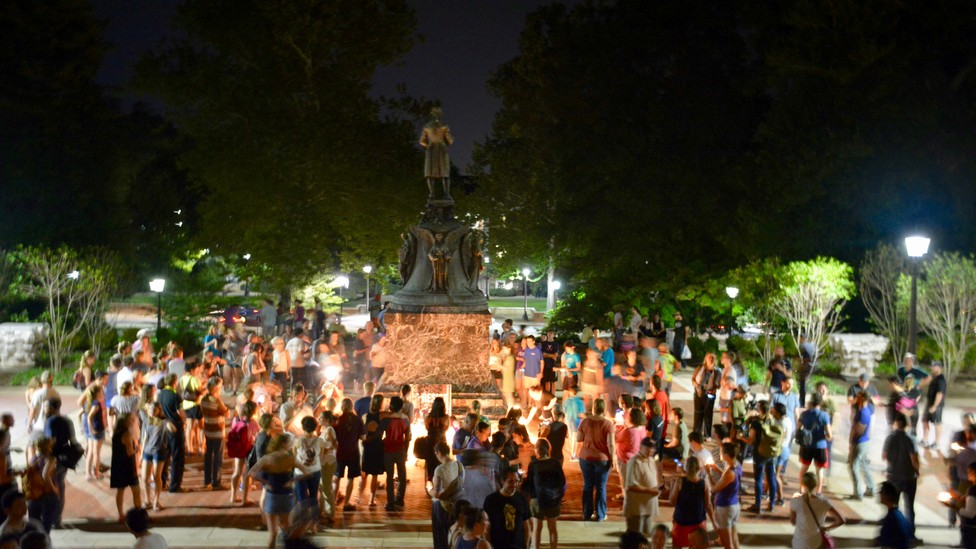 Just 10 days after violent clashes tore across Charlottesville, Virginia, college students there headed to their first day of classes of the fall semester. Many of the University of Virginia's nearly 17,000 undergraduates arrived with a purpose: to recover their school from white supremacists who had put a national spotlight on their town.
This recovery has been described in terms of reclamation: UVA's Student Council president, Sarah Kenny, told freshmen gathered at Sunday's convocation that a student-led vigil held a few days earlier enabled students to "reclaim the lawn," while Monday night's Black Student Alliance march sought to "reclaim these grounds built by our ancestors from the taint of white supremacy."
Reclaim what, exactly?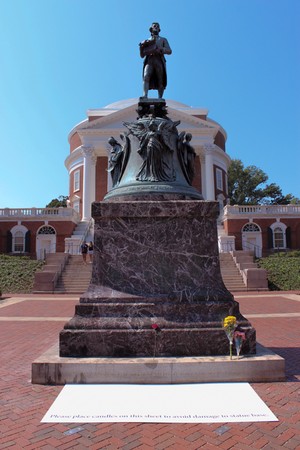 The University of Virginia's shorthand moniker may be "UVA," but its community knows the school as "Mr. Jefferson's university," a designation that shows how deeply linked its founder, Thomas Jefferson, is to its core identity. And this link is a point of pride, but also a paradox. Jefferson declared "all men are created equal," yet he was also a slave owner. So while members of the UVA community expressed shock that white nationalists like the UVA alumni Richard Spencer and Jason Kessler brought their band of torch-wielding, epithet-chanting white supremacists to campus, Chad Wellmon, a professor of Germanic studies who watched that march from his on-campus home, said he understood what drew the alt-right leaders to the school's grounds: "They played on the complex, endlessly enlightening, and troubling history of Jefferson."
If the Jefferson legacy complicates efforts to reclaim the UVA identity, then so too does the university's more recent history, aspects of which reflect Jim Crow-era traditions. At the dawn of a new school year, UVA is simultaneously working to distance itself from the events of August 11 and August 12, while also grappling with a more enduring question: What does recovery look like at UVA when aspects of the school's identity continue to resonate with white supremacists?
* * *
Countless articles have attempted to dissect the cultural forces that propelled white supremacists to Charlottesville: Jefferson's contradictions, the city's background as a town that supported the Confederacy in the Civil War, and the area's liberal progressivism that has lately taken a stand against those two legacies. Spencer, meanwhile, has claimed that Charlottesville is emblematic of his ideology's platform—a claim that finds parallels in the University of Virginia's history.
The fact that slaves built the university's iconic grounds is now common knowledge, but other aspects of its racist past are perhaps less well-known. In 1921, the university accepted a $1,000 donation from the KKK, and the Robert E. Lee statue in the recently renamed Emancipation Park, of central import to last week's events, received its welcome in 1924 from UVA President Edwin A. Alderman. In 1935, Alice Jackson Stuart, the first black student who applied to attend UVA, was rejected and paid by the state of Virginia to attend Columbia University instead. Bobby Bland became the first African American student to receive an undergraduate degree in 1959.* That was 89 years after Harvard graduated its first African American student.
"The white supremacists forced us to confront, in the most visible way, how present is our 'past'?" said Willis Jenkins, a UVA professor of religious studies.
Recent initiatives, like the university's planned Memorial to Enslaved Laborers and an upcoming symposium on the school's history of slavery, show that UVA has been working to make up for previous failures to acknowledge its tarnished past. Lisa Woolfork, a professor of English at the University of Virginia, said the white supremacists' campaign has little bearing on the university's present. "They're more committed to what the University of Virginia used to be than what the university is now," she said. "When they march through the lawn, it's a form of time travel."
Sophie Maeter, a student studying foreign affairs who serves as the vice chair of events for UVA's college republicans—an organization inaccurately characterized on social media as "Unite the Right" supporters—echoed the view that ralliers preyed upon the school's history to legitimize their beliefs. "UVA, as a whole, really strives to reject bigoted views," she said. "But because of our complicated history and Thomas Jefferson's dark history with race relations, people with these views have latched onto UVA as a megaphone."
At the same time, Jenkins said he thinks the administration, in its response to last week's violence, tried to pretend as if the school is more distant from its history than it is. "Administrators have justified their actions with explanations that seem to entirely bracket the historical context of this invasion, and so to miss why it was so threatening and destabilizing," he said.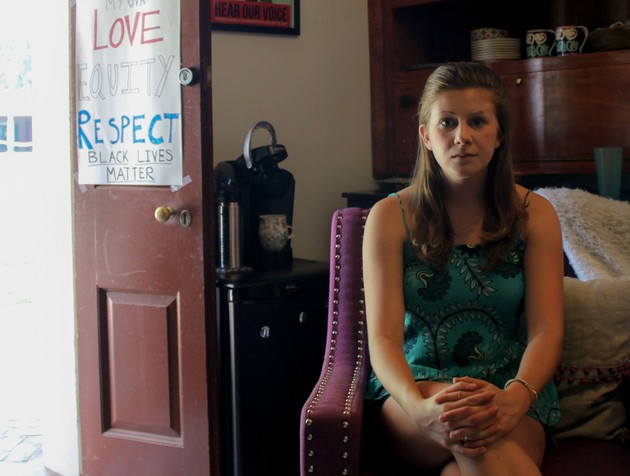 There's other evidence to suggest that the past is still bubbling up in ugly ways at UVA. The New Yorker's Jia Tolentino recalled a racially motivated attack on a Student Council presidential candidate around the time she was a student there in the mid-2000s. Recent periods of declining black student enrollment, a central focus of the Black Student Alliance's "Towards a Better University" recommendations to improve the lives of minority students, threaten to discourage prospective students of color from applying.
According to a study from the New America Foundation, UVA ranks among the least socioeconomically diverse public universities in the country: Only 13 percent of UVA students receive Pell grants, which are government subsidies given to students from low-income families. The percentages of African American and Hispanic students who attend the university, 6.5 and 6.2 percent respectively, do not reflect the demographic breakdown of the state population which UVA, as a public university, is meant to serve.
"[UVA] has a brand, but the unconscious or implicit side of that brand is the type of student that is a UVA student, the type of person who is involved in the community, which is white students, students of a certain socioeconomic background, sexuality," said Jack Chellman, a senior studying English and political and social thought. Blake Hesson, a sophomore who studies French and women, gender, and sexuality studies, remarked that some students who align with that brand may struggle to see how the school environment could be uncomfortable for those who don't. "They have a very limited lens in terms of what they choose to see," Hesson said.
A UVA spokesperson said officials aren't speaking with the press at this time, but provided a message from UVA President Teresa A. Sullivan and Risa Goluboff, the dean of the law school, announcing a working group of administrators that will "identify next steps in the University's response to student events." That investigation promises to explore revisions to policies regarding the use of the campus's public space, to provide increased resources toward campus safety personnel, and to conduct an independent security audit. The group will, according to the statement, use the "energy unleashed by this moment to advance the University's commitment to democracy, social justice, inclusion, and equity."
* * *
What distinguishes this moment from the others in which UVA was thrust into the national spotlight is that it asks the community to reflect on itself and its relationship with outside forces. The white supremacists "threw down the challenge to say, 'This place belongs to us,'" said Woolfork, the English professor. "Now, students are coming back and saying, 'No, this is mine.'"
For Wes Gobar, a senior double-majoring in history and government who serves as the president of UVA's Black Student Alliance, the violent clashes in Charlottesville demonstrate the urgent need for telling the honest history of the school—a history that includes students and faculty who have thrived in spite of institutional inertia around matters of race.
Gobar noted that he finds benefits in Jefferson's intellectual contributions, but argued that they must be unpacked and contextualized. "If you were to consult Thomas Jefferson on the topic of the alt-right, what would his answer be?" Given that Jefferson's writings describe blacks as "inferior to whites in the endowments of body and mind," Gobar said, the answer would be "unsettling."
Kenny, the student council president who in her campaign pledged to challenge "good ol' boy" perceptions of student government, spoke of a need to reinterpret Jeffersonian ideals in the context of equity and inclusion. Rather than letting Jefferson's narrow vision of citizen leadership—restricted to white, landowning men—constrain the college, she said, the school community ought to apply that legacy in a way that promotes an inclusive campus.
Wellmon, the Germanic studies professor, suggested that what's at stake isn't located in the school's founder, but rather in its role as an institution of higher learning. The intolerance and baseless rhetoric that white supremacists espouse, he said, assaults the intellectual inquiry at the heart of the modern university. "What happened last Friday," he said, "was a trespass against the practices and values of universities across history and across the world." As he teaches his first class on Wednesday, he'll propose reading texts carefully and basing arguments in evidence as a means of resistance against claims of white supremacy.
UVA maintains a strong tradition of student self-governance, which grants students an unusual degree of responsibility for tasks typically reserved for administrators, like upholding the school's storied Honor Code and adjudicating disciplinary cases. In this structure, whatever changes students want to see in their new school year have to come from them.
Kenny finds the tradition of student governance empowering, especially at a time when the university community is divided on the administration's response to last week's violence. For students like Evelyn Wang, a current UVA senior studying commerce and women, gender, and sexuality studies, however, the opportunity to assert big changes can feel more like a burden, especially as students balance a demanding new year with raw emotions. "There are a lot of students feeling fatigue here regarding the expectations on us to be doing something about the violence, the onus always being on us to be fighting for it," she said. Then, there's the complicating factor of student turnover, which Wang said weakens momentum for student-driven initiatives. "A lot of us are fourth-years, and we're going to be gone after this year," Wang said. "That kind of institutional memory is so hard to retain year after year with students."
But should there be a moment of reflection the school stands for, this would be it: The university is celebrating its bicentennial this year, which has been planned as "a celebration of UVA's achievements, a recognition of the imperfections of its past, and a visualization of its future." The milestone now doubles as an inflection point for scrutinizing the school's legacy. "I really see the job of the current students, at least in recent history, in an unparalleled role, of taking accountability of what this school's third century is going to look like," Kenny said.
---
* This article has been updated to clarify that Bobby Bland was the first African American student to receive a bachelor's degree at UVA. A handful of African American students matriculated at higher levels before Bland, and two African American undergraduates matriculated with Bland but did not receive degrees.