The Unexpected Value of the Liberal Arts
First-generation students are finding personal and professional fulfillment in the humanities and social sciences.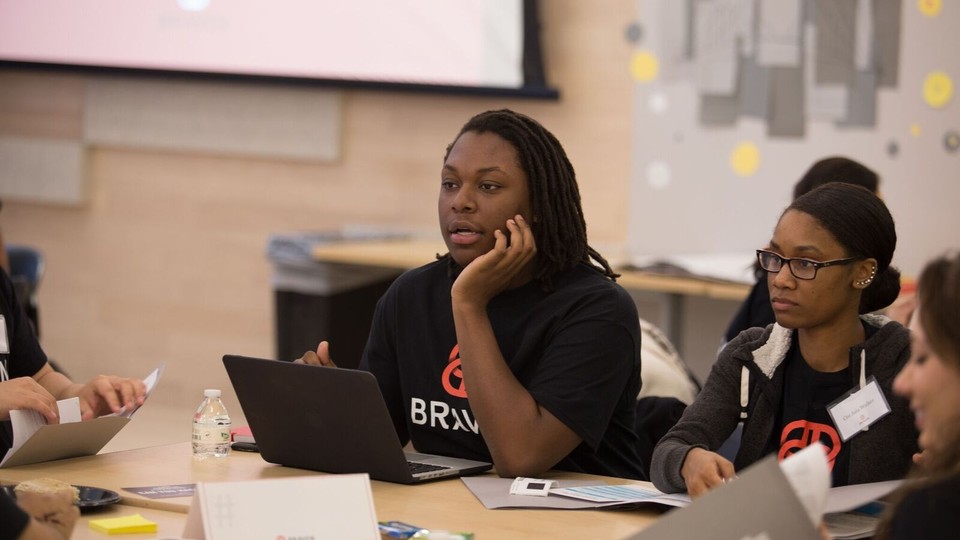 Growing up in Southern California, Mai-Ling Garcia's grades were ragged; her long-term plans nonexistent. At age 20, she was living with her in-laws halfway between Los Angeles and the Mojave Desert, while her husband was stationed abroad. Tired of working subsistence jobs, she decided in 2001 to try a few classes at Mount San Jacinto community college.
Nobody pegged her for greatness at first. A psychology professor, Maria Lopez-Moreno recalls Garcia sitting in the midst of a lecture hall, fiddling constantly with a cream-colored scarf. Then something started to catch. After a spirited discussion about the basis for criminal behavior, Lopez-Moreno took this newcomer aside after class and asked: "Why are you here?"
Garcia blurted out a tangled story of marrying a Marine right after high school, seeing him head off to Iraq, and not knowing what to do next. Lopez-Moreno couldn't walk away. "I said to myself: 'Uh-oh. I've got to suggest something to her.'" At her professor's urging, Garcia applied for a place in Mt. San Jacinto's honors program—and began to thrive.
Nourished by smaller classes and motivated peers, Garcia earned straight-A grades for the first time. She emerged as a leader in diversity initiatives, too, drawing on her own multicultural heritage (Filipino and Irish). Shortly before graduation, she won admission to the University of California, Berkeley, campus, where she could pursue a bachelor's degree.
Today, Garcia is a leading digital strategist for the city of Oakland, California. Rather than rely on an M.B.A. or a technical major, she has capitalized on a seldom-appreciated liberal-arts discipline—sociology—to power her career forward. Now, she describes herself as a "bureaucratic ninja" who doesn't hide her stormy journey. Instead, she recognizes it as a valuable asset.
"I know what it's like to be too poor to own a computer," Garcia told me recently. "I'm the one in meetings who asks: 'Never mind how well this new app works on an iPhone. Will it run on an old, public-library computer, because that's the only way some of our residents will get to use it?'"
By its very name, the liberal-arts pathway is tinged with privilege. Blame this on Cicero, the ancient Roman orator, who championed the arts quae libero sunt dignae (cerebral studies suited for freemen), as opposed to the practical, servile arts suited for lower-class tradespeople. Even today, liberal-arts majors in the humanities and social sciences often are portrayed as pursuing elitist specialties that only affluent, well-connected students can afford.
Look more closely, though, and this old stereotype is starting to crumble. In 2016, the National Association of Colleges and Employers surveyed 5,013 graduating seniors about their family backgrounds and academic paths. The students most likely to major in the humanities or social sciences—33.8 percent of them—were those who were the first generation in their family ever to have earned college degrees. By contrast, students whose parents or other forbears had completed college chose the humanities or social sciences 30.4 percent of the time.
Pursuing the liberal-arts track isn't a quick path to riches. First-job salaries tend to be lower than what's available with vocational degrees in fields such as nursing, accounting, or computer science. That's especially true for first-generation students, who aren't as likely to enjoy family-aided access to top employers. NACE found that first-generation students on average received post-graduation starting salaries of $43,320, about 12 percent below the pay packages being landed by peers with multiple generations of college experience.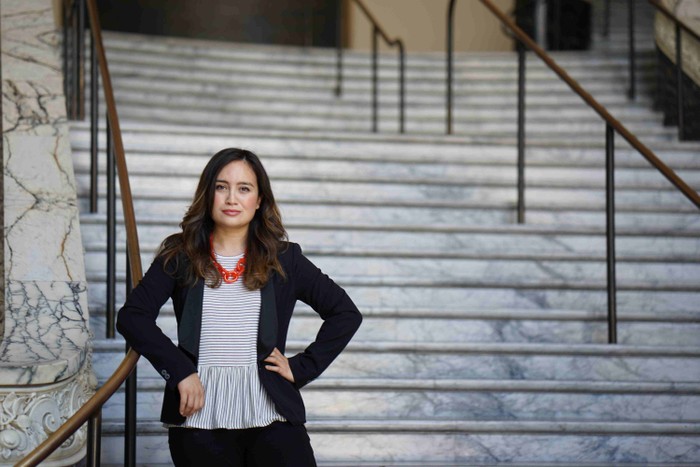 Yet over time, liberal-arts graduates' earnings often surge, especially for students pursuing advanced degrees. History majors often become well-paid lawyers or judges after completing law degrees, a recent analysis by the Brookings Institution's Hamilton Project has found. Many philosophy majors put their analytical and argumentative skills to work on Wall Street. International-relations majors thrive as overseas executives for big corporations, and so on.
For college leaders, the liberal arts' appeal across the socioeconomic spectrum is both exciting and daunting. As Dan Porterfield, the president of Pennsylvania's Franklin and Marshall College, points out, first-generation students "may come to college thinking: 'I want to be a doctor. I want to help people.' Then they discover anthropology, earth sciences, and many other new fields. They start to fall in love with the idea of being a writer or an entrepreneur. They realize: 'I just didn't have a broad enough vision of how to be a difference maker in society.'"
A close look at the career trajectories of liberal-arts graduates highlights five factors—beyond traditional classroom academics—that can spur long-term success for anyone from a non-elite background. Strong support from a faculty mentor is a powerful early propellant. In a survey of about 1,000 college graduates, Richard Detweiler, president of the Great Lakes Colleges Association,  found that students who sought out faculty mentors were nearly twice as likely to end up in leadership positions later in life.
Other positive factors include a commitment to keep learning after college; a willingness to move to major U.S. job hubs such as Seattle, Silicon Valley, or the greater Washington, D.C., area; and the audacity to dream big. Finally, students who enter college without well-connected relatives—the sorts who can tell you what classes to take or how to win a choice summer internship—benefit from programs designed to build up professional networks and social capital.
Among the groups offering career-readiness programs on campus is Braven, a nonprofit founded by Aimée Eubanks Davis, a former Teach for America executive. Making its debut in 2014, Braven already has reached about 1,000 students at Rutgers University-Newark in New Jersey and San Jose State University in California. Expansion into the Midwest is on tap. Braven mixes students majoring in the liberal arts and those pursuing vocational degrees in each cohort, the theory being that all can learn from one another.
One of Braven's Newark enrollees in 2015 was Dyllan Brown-Bramble, a transfer student earning strong grades in psychology, who didn't feel at all connected to the New Jersey campus. Commuting from his parents' home, he usually arrived at Rutgers just a few minutes before 10 a.m. classes started. Once afternoon courses were done, he'd retreat to Parking Lot B and rev up his 2003 Sentra. By 3:50 p.m., he'd be gone.
Brown-Bramble's parents are immigrants from Dominica. His father runs a small construction business; his mother, a Baruch College graduate, manages a tourism office. Privately, the Rutgers student is quite proud of them, but it seemed pointless to explain his Caribbean origins to strangers. They typically reacted inappropriately. Some imagined him to be the son of dirt-poor refugees struggling to rise above a shabby past. Others assumed he was a world-class genius: "an astrophysicist who could fly." There wasn't any room for him to be himself.
When Brown-Bramble encountered a campus flier urging students to enroll in small evening workshops called the Braven Career Accelerator, he took the bait. "I knew I was supposed to be networking in college," he later told me. "I thought: Okay, here's a chance to do something."
Suddenly, Rutgers became more compelling. For nine weeks, Brown-Bramble and four other students of color became evening allies. They met in an empty classroom each Tuesday at six to construct LinkedIn profiles and practice mock interviews. They picked up tips about local internships, aided by a volunteer coach whose life and background was much like theirs. They united as a group, discussing each person's weekly highs and lows while encouraging one another to keep trying for internships and better grades. "We had a saying," Brown-Bramble recalled. "If one of us succeeds, all of us succeed."
Most of the volunteer coaches came from minority backgrounds, too. Among them: Josmar Tejeda, who had graduated from the New Jersey Institute of Technology five years earlier with an architecture degree. Since graduating, Tejeda had worked at everything from social-media jobs to being an asbestos inspector. As the coach for Brown-Bramble's group, Tejeda combined relentless optimism with an acknowledgment that getting ahead wasn't easy.
"Keep it real," Tejeda kept telling his students as they talked through case studies and their own goals. Everyone did so. That feeling of being the only black or Latino person in the room? The awkwardness of always being asked: Where are you from? The strains of always trying to be the "model minority"? Familiar territory for everyone.
"It was liberating," Brown-Bramble told me. Surrounded by sympathetic peers, Brown-Bramble discovered new ways to share his heritage in job interviews. Yes, some of his Caribbean relatives had arrived in the United States not knowing how to fill out government forms. As a boy, he had needed to help them. But that was all right. In fact, it was a hidden strength. "I could create a culture story that worked for me," Brown-Bramble said. "I can relate to people with different backgrounds. There's nothing about me that I have to rise above."
This summer, with the support of Inroads, a nonprofit that promotes workforce diversity, Brown-Bramble is interning in the compliance department of Novo Nordisk, a pharmaceutical maker. Riding the strength of a 3.8 grade-point average, he plans to get a law degree and work in a corporate setting for a few years to pay off his student loans. Then he hopes to set up his own law firm, specializing in start-up formation. "I'd like to help other entrepreneurs do things in Newark," he told me.
Organizations like Braven draw on "the power of the cohort," said Shirley Collado, the president of Ithaca College and a former top administrator at Rutgers-Newark. When students settle into small groups with trustworthy peers, she explained, candor takes hold. The sterile dynamic of large lectures and solo homework assignments gives way to a motivation-boosting alliance among seat mates and coaches. "You build social capital where it didn't exist before," Collado said.
For Mai-Ling Garcia, the leap from community college to Berkeley was perilous. Arriving at the famous university's campus, she and her then-husband were so short on cash that they subsisted most days on bowls of ramen. Scraping by on partial scholarships, neither knew how to get the maximum available financial aid. To cover expenses, Garcia took a part-time job teaching art at a grade-school recreation center in Oakland.
Finishing college can become impossible in such circumstances. During her second semester, Garcia began tracking down what she now refers to as "a series of odd little foundations with funky scholarships." People wanted to help her. Before long, she was attending Berkeley on a full ride. Her money problems abated. What she couldn't forget was that initial feeling of being in trouble and ill-prepared. Her travails were pulling her into sociology's most pressing issues: how vulnerable people fare in a world they don't understand, and what can be done to improve their lives.
Simultaneously, Berkeley's professors were arming Garcia with tools that would define her career. She spent a year learning the fine points of ethnography from a Vietnam-era Marine, Martin Sanchez-Jankowski, who taught students how to conduct field research. He sent Garcia into the Oakland courthouse to watch judges in action, advising her to heed the ways racial differences tinged courtroom conduct. She learned to take careful notes, to be explicit about her theories and assumptions, and to operate with a rigor that could withstand peer-review scrutiny. Her professors would stay in academia; she was being trained to have an impact in the wider world.
What can one do with a sociology degree? Garcia tried a lot of different jobs in her first few years after graduation. She spent two years at a nonprofit trying to untangle Veterans Administration bureaucracy. After that, she dedicated three years to a position at the Department of Labor, winning many small battles related to veterans' employment. She had found job security, but she couldn't shake the feeling that a technology revolution was racing through the private sector—and leaving government far behind.
Companies like Lyft, Airbnb, and Instagram were putting new powers in the public's hands, giving them handy tools to hail a ride, find lodging, or share photos. By comparison, trying to change a jury-duty date remained a clumsy slog through outdated websites. Instead of bemoaning this tech gap, Garcia decided to gain vital tech skills herself. She signed up for evening classes in digital marketing and refined that knowledge during an 18-month stint at a startup. Then she began hunting for a government job with impact.
In 2014, Garcia joined the City of Oakland as a bridge builder who could amp up online government services on behalf of the city's 400,000 residents. This wasn't just an exercise in technology upgrading; it required a fundamental rethinking of the way that Oakland delivered services. Buffers between city workers and an impatient public would come down. The social structures of power would change. To make this transition, it helped to have a digitally savvy sociologist in the house.
Over coffee one afternoon, Garcia told me excitedly about the progress that she and the city communications manager were achieving with their initiative. If street-art creators want more recognition for their work, Garcia can drum up interest on social media. If garbage is piling up, new digital tools let citizens visit the city's Facebook page and summon services within seconds.
Looking ahead, Garcia envisions a day when landing a municipal job becomes vastly easier, with cities' Twitter feeds posting each new opening. Other aspects of digital technology ought to help residents connect quickly with whatever part of government matters to them—whether that means signing up for summer camp or giving the mayor a piece of one's mind.
---
Related Video
---
This article has been adapted from George Anders's new book, You Can Do Anything.