What a New Trump Administration Hire Could Mean for For-Profit Colleges
The Education Department has tapped a former dean of the for-profit DeVry University to oversee a unit that responds to allegations of fraud.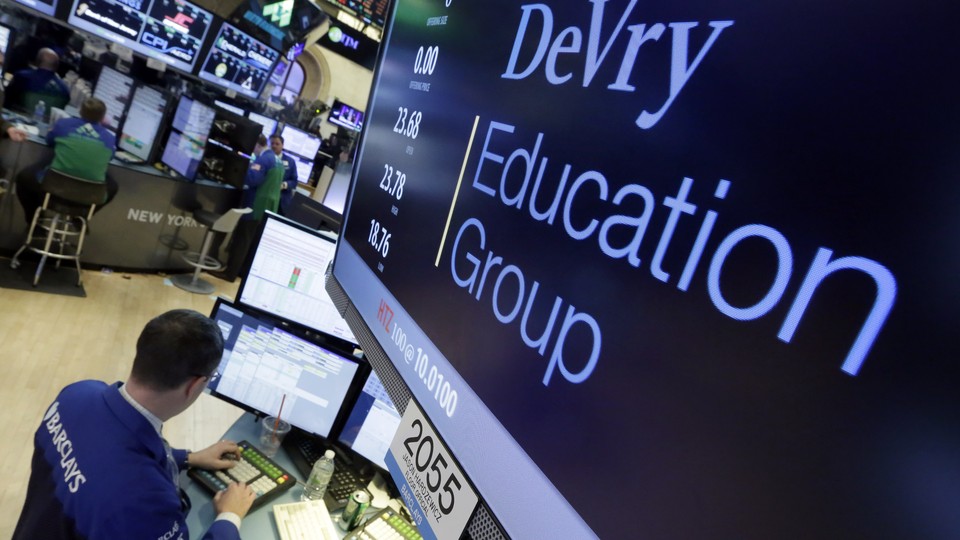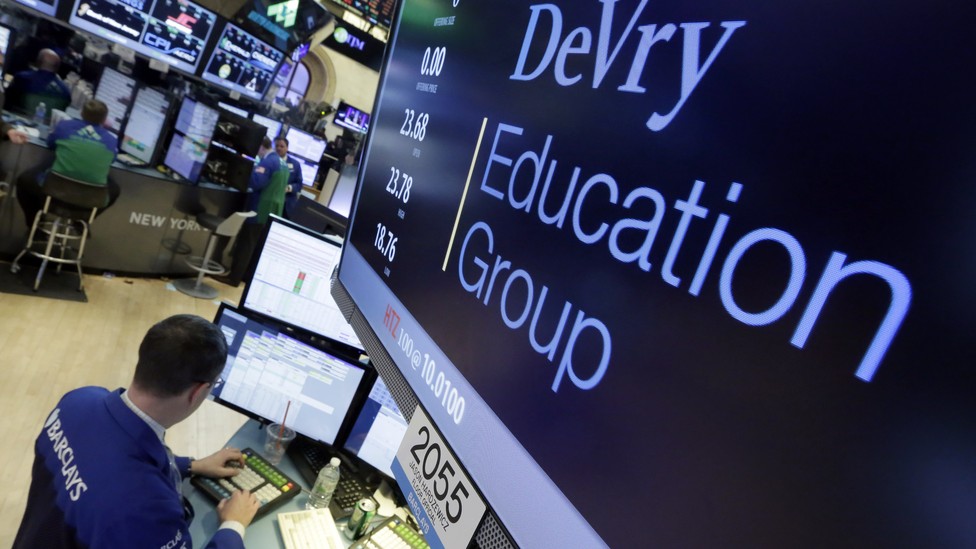 The Trump administration has tapped Julian Schmoke, a former DeVry University administrator, to lead the Education Department's student-aid enforcement unit. The move provoked complaints from critics who pointed out that DeVry recently settled several claims brought against it by regulators alleging it had engaged in some of the very abuses the unit is charged with eliminating.
Schmoke's hiring was first reported by Politico on Tuesday evening, citing an internal email announcing the move. Schmoke, who most recently oversaw campus operations at a community college in Georgia, will be in charge of addressing allegations of illegal activities such as fraud by higher-education institutions.
DeVry, a for-profit college, has faced allegations that it was using deceptive recruitment tactics, misleading students about their career prospects, and distorting data provided to the federal government. The institution's parent company arrived at settlements with several government entities, including the New York attorney general earlier this year and the Federal Trade Commission in late 2016, the latter of which amounted to $100 million. DeVry Education Group, the parent company, subsequently rebranded itself as Adtalem Global Education.
"You have someone who was in the middle of the fraud era of DeVry now in charge of enforcing a rule that was designed to do precisely what has just been done to DeVry: to better regulate them and monitor them," said Tressie McMillan Cottom, an assistant professor of sociology at Virginia Commonwealth University and expert on for-profit colleges. Cottom pointed, in particular, to regulations published at the tail end of Obama's presidency aimed at protecting student borrowers against fraudulent higher-education institutions. (Schmoke himself has not been accused of any wrongdoing, nor implicated in those alleged practices by any public report.)
The enforcement unit was formed by the Obama administration in February of 2016 in an effort to more efficiently and effectively respond to the types of allegations DeVry has faced, including claims from students requesting that their loans be discharged through what's known as borrower defense. "Let me be clear," former Education Secretary John King said at the time of the unit's creation, "schools looking to cheat students and taxpayers will be held accountable."
While the enforcement unit is designed to stamp out illicit practices at all kinds of higher-education institutions, including nonprofit and public ones, it was expected to focus on for-profit institutions given their disproportionate tendency to engage in such practices.
The Trump administration has made a systematic effort to undo Obama-era initiatives, particularly those that sought to ramp up regulation of private institutions. It's long been expected that Trump would target policies pertaining to for-profit colleges—in fact, several for-profit institutions, including DeVry, saw a noticeable bump in their stock values the day after the election. A few months ago, the Education Department moved to delay implementation of the borrower-defense rule—a development that prompted attorneys general for well over a dozen states to sue Secretary Betsy DeVos.
"This can definitely be seen as further evidence of the Trump administration, and DeVos in particular, [practicing] favoritism toward for-profit entities and for-profit education, which is a move away from [higher education's] historic mission … of being a nonprofit that reinvests in its entities," said Linda DeAngelo, an assistant professor of higher education at the University of Pittsburgh who has conducted research on for-profit colleges. (While DeAngelo argued that, taken in aggregate, for-profit colleges are problematic because of their tendency toward predatory practices, she has also found a range of outcomes among students enrolled at such institutions. "Students can sometimes have very good experiences even in bad environments," she said.)
In a press release sent out Thursday, the Education Department confirmed Schmoke's hiring as part of a larger announcement that it will be expanding its focus on enforcement and consumer protections. A. Wayne Johnson, the chief operating officer of the Federal Student Aid office, in a statement said he's intent on preventing "bad actors" from harming students, parents, borrowers, and taxpayers. "We will enforce what is right for students at every turn of their student aid life cycle," he said. And if the office, through its enforcement unit, determines that a higher-education institution is out of compliance, it will either bring that institution into compliance or revoke its access to federal student aid.
Steve Gunderson, the president and CEO of Career Education Colleges and Universities (CECU), a trade organization that represents for-profit colleges, emphasized that, under DeVos, "the department is incredibly committed to two things: no questions of ethical misconduct by their staff and adhering to the letter of what is the right process" for enforcement. It has strict protocols in place to prevent conflicts of interest—if only because it knows opponents will go after it if it ever transgresses ethical and legal norms. For example, according to Gunderson, the department ensured that Robert Eitel—a lawyer for the for-profit-college company Bridgepoint Education Inc. who was tapped earlier this year to serve as a special assistant to DeVos—recused himself from conversations in which he had a conflict of interest.
And today, Gunderson said, the for-profit sector is much more careful than it has been in the past about the kind of people it admits and enrolls to ensure students are set up to succeed rather than fail. At last year's annual CECU summit for CEOs, which happened a week after the election, "there wasn't even a debate among the 50 CEOs in the room when they said, 'We are never going back to where we were,'" he said.
But Schmoke's hiring was quickly seized on by critics of the administration as a harbinger of a for-profit-college renaissance in which such institutions are no longer held accountable—or are held less accountable—by the federal government for ensuring students get the education they signed up for. "The Trump administration is turning the Education Department from a defender of students and taxpayers to an accomplice in the fraudulent and predatory practices of for-profit schools," argued California Representative Mark Takano in a statement. "This hire is just the latest indication that President Trump and Secretary DeVos are putting the profit margins of for-profit companies over the interests of students."
A series of recent investigations documented widespread problems in the industry, including deceptive marketing, distorted data, and predatory recruitment of students. Trump's eponymous "university," a for-profit real-estate seminar series, was similarly faulted by regulators for its practices. Critics fear that institutions beset by problems similar to those that doomed Corinthian Colleges will now escape scrutiny.
"I can't even say this is 'signaling' to for-profits" that Trump is on their side, Cottom said. The administration is "being explicit in saying that an era of regulation is over; this is a new approach that welcomes privatization."
Still, Cottom and DeAngelo stressed that Schmoke is hardly the kind of for-profit power player they might have expected the administration to hire for this job. As Gunderson alluded, Schmoke wasn't particularly high up within the hierarchy at DeVry—his LinkedIn profile says he was the associate program dean for the College of Engineering and Information Sciences. What's more, his role at the college was academic in nature, rather than focused on its business operations. And he appears to have little direct experience with enforcement actions.
"It's a pick out of nowhere," DeAngelo said, noting that Schmoke's predecessor, Robert Kaye, was a consumer-protection attorney at the Federal Trade Commission before being tapped to lead the enforcement unit.
It's not unusual, though, for federal agencies to hire officials with experience in the industries they are assigned to regulate, either because they're presumed to know where the problems are, or trusted to balance the needs of the industry against the desire to regulate. Nor is his time at DeVry Schmoke's only relevant experience; DeAngelo pointed out that his most recent role was at a public, two-year institution.
But whatever the logic behind the choice, critics were quick to take it as a signal of the administration's more supportive approach to the industry, and expected the industry itself to do the same. "Certainly for-profit colleges don't think that this is an administration that is intent on highly regulating them and monitoring them," Cottom said.
Isabel Fattal contributed research.