How Students' Brains Are in Danger on the Field
Recent research makes clear the drastic effects of head injuries on young athletes, and advocates are asking states and schools to do more.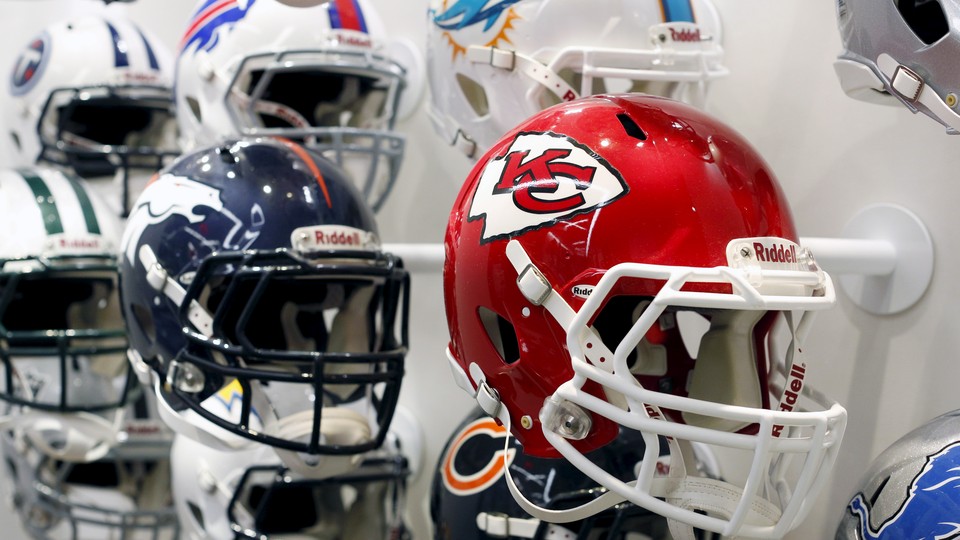 When Olivia Hayward was smacked to the ground during an especially scrappy soccer game, she didn't worry about her head. It was her wrist that seemed off. A 90-pound high-school freshman playing varsity ball, Hayward routinely drew the attention of sturdier players on the opposing side. "I got knocked around a lot in every game," she said. Hayward hauled herself up off the muddy field, played until the end of the match, and went directly to a hospital, where x-rays indeed revealed a broken wrist.
Three days later, her head started to throb. Light bothered her eyes, and nausea killed her appetite. The athletic trainer at school insisted that she take the concussion test, the regular protocol after a blow to the head; like all athletes, she had taken the test for a baseline read at the start of the school year. This time, Hayward struggled to follow the shapes and colors flashing across the screen. "I failed!" she recalled. A doctor surmised that when Hayward snapped her head back, she'd suffered whiplash, which had concussed her brain. This was her second concussion.
She spent a fortnight "in sleep mode" and skipped school entirely for three weeks, relying on her parents to read aloud her text and email messages. She eased back into school, starting with one class a day, and sought extra help from teachers who in turn eliminated petty assignments and extended deadlines on missed tests and projects. Her mother warned that one more concussion would rule out any future sports that involved using the head. "This was really scary for me, because sports are a big part of my life," she said. Hayward had been playing soccer since she was 6.
As any harried modern parent can attest, sports occupy daily life for scads of teenagers: Nearly 8 million boys and girls played on a high-school team during the 2016-17 school year. And for many, especially those who compete in high-impact sports like football and soccer, concussions are a persistent worry. Findings from a recent study out of Boston University, the largest of its kind, surely will add to that concern. After examining the brains of 202 deceased football players, scientists found CTE—chronic traumatic encephalopathy, the degenerative malady thought to be caused by brain trauma—in 87 percent of the brains. Even the brains of young adults who had only played high-school football showed mild cases of the disease, leading to pronounced changes in behavior, mood, and cognitive function: hopelessness, impulsivity, memory loss, and substance abuse were typical among the afflicted.
Awareness of the dangers concussions pose seems to be growing among high-school parents, players, and coaches, thanks in part to sobering studies such as the latest one from BU. But concrete changes to laws and practices still lag behind the science. This is so partly because there is no overarching body to implement or enforce them, and partly because the culture of some sports, especially football, resists change. "In many settings, the seriousness of the threat to the health of an athlete, both acute and long-term, from suffering a concussion is not fully appreciated or acted upon by athletes, their teammates, and, in some cases, coaches and parents," said Robert Graham, the chairman of the Committee on Sports-Related Concussions in Youth for the Institute of Medicine, before a congressional subcommittee in 2014.
CTE is thought to be associated with repeated blows to the head that often are beneath the diagnostic standard for concussions. "One single concussion does not appear to be a risk factor for CTE," said Chris Nowinski, the CEO of the Concussion Legacy Foundation. But a concussion on top of the brain trauma caused by repeated, sub-concussive blows is cause for concern. "A blow to the head that produces symptoms of concussion probably will count 100 times more than a sub-concussive hit," said Dr. Robert Cantu, the co-founder and medical director of the Concussion Legacy Foundation. Advocates hope the attention on CTE encourages schools and youth leagues to better address the prevalence of brain trauma among student athletes.
Roughly 300,000 high school athletes suffer from concussions every year. According to recent research conducted at Northwestern University, the number of diagnosed concussions doubled between 2005 and 2015. Scholars there studied a sample of injury data among high-school athletes in nine sports over that 10-year period, and uncovered some surprising findings: between 2010 and 2015, female soccer players faced an even higher risk of concussion than footballers did; boys baseball and girls volleyball showed the biggest jump in concussion rates; and in all sports played by both sexes, girls experienced greater rates of concussions than their male counterparts playing the same sport.
The rise in reported-concussion rates coincides with the passage of state legislation aimed at curbing brain injuries, as well as a surge of media attention to the problem. More athletes are coming forward to report moderate symptoms, which the American Orthopaedic Society for Sports Medicine suggests "may point to a lower threshold used by healthcare providers in diagnosing concussions in more recent years."
But that doesn't mean the head blows are inconsequential. A team of researchers from the Center for Injury Research and Policy that studied concussions among high-school athletes concluded in a 2014 report that the rise in diagnoses resulted from greater awareness among coaches, parents and athletes and not "an overdiagnosis of insignificant hits to the head."  Some of those hits may be the by-product of year-round, single-sport play that many young athletes engage in, generating more bodily hurts of all kinds. "If you're seeing more overuse injuries, you'll probably see more concussions," Nowinski said. And research suggests that concussions are still underreported. An exhaustive 2013 study by the Institute of Medicine on concussions in youth sports summarized the cultural barriers to reporting like this: "Youth profess that the game and the team are more important than their individual health and that they may play through a concussion to avoid letting down their teammates, coaches, schools, and parents."
Some head injuries, of course, are too ugly to miss. During a scrimmage last August, a running back on the Kearny, New Jersey, high-school football team was knocked out when a linebacker from the opposing team lunged at him and they banged helmets. It wasn't a proper tackle, said John Kryzanowski, the head coach of the Kearny team, and it didn't help when his player landed head first. "We immediately ran out on the field, and so did the trainer," Kryzanowski said. Paramedics eventually arrived, and the player woke up, but the concussion kept him off the field for three weeks. In addition to the state-mandated concussion training he has received over the years, Kryzanowski has educated himself on how to limit the injury in football, a sport he has coached for 14 years. He limits the amount of contact players experience during practice, requires the kids to practice their plays by running into soft bags rather than each other, and deploys "hawk tackling" to keep players' heads out of tackles, among other measures. Most youth-sports coaches, he suggested, are conscientious about keeping players safe. "I don't want kids to put their futures in jeopardy," he said, and "most coaches are afraid of lawsuits."
State lawmakers and sports governing bodies have taken some steps to respond to the science on concussions. By 2007, all states and the District of Columbia had passed modest legislation on concussions in youth sports, setting guidelines for when to remove an athlete from play after a suspected concussion, and suggesting when it was safe for the athlete to return. But just 21 states require coaches to be trained to recognize concussion symptoms, and no federal laws are in place that mandate concussion safety in high-school sports.
For its part, the National Federation of State High School Associations (NFHS), which sets standards and guidelines for the disparate sports governing bodies in every state, has come forth with a variety of proposed measures to reduce head injuries in all sports; it created an online concussions course for coaches, and suggested specific changes in how football is practiced and played. In 2014, the organization went further, convening a special gathering of medical experts, coaches, and "stakeholders" to identify more detailed strategies for reducing head injuries in high-school football; they came up with nine "fundamentals" to minimize dangerous contact. The NFHS has consistently emphasized that its state membership organizations are doing their due diligence to reduce the risk of injury among student athletes. But the NFHS is a federation, not a governing body like the NCAA, and all of the proposed changes were just recommendations. "We do not have the mandated authority to say 'you have to do everything that's in here,'" said Bob Colgate, the director of sports and sports medicine at the NFHS.
Diana Coyne, co-chair of The Parents Concussion Coalition—one of countless grassroots organizations that has sprung up over the last decade to raise concussion awareness and force legislative action—began "poking" the NFHS in 2014 to get tougher on the number of permissible contact practices in football, arguing that the bylaws in all state sports organizations profess allegiance to NFHS rules. Coyne began lobbying to change the concussion laws in Connecticut after her high-school son suffered several head injuries playing football that he didn't report. "We've pushed them to make it a rule, because states will follow," she said about the national sports federation. High-school football players are in particular need of protection, she said, because some play both varsity and junior varsity, and offense and defense—or they play every minute of every game, which is never expected of college or professional players.  So far, the NFHS has resisted adopting more forceful language, a hesitation Coyne attributes to the culture of the sport. "No one is really willing to change football," she said.
Some parents of concussed kids go on, like Coyne, to become activists. The majority who don't are left on their own to manage the uncertain aftermath, including their own fears. Sarah Sangree remembers when her sixth-grade daughter, Annabel, clanged helmets with another ice-hockey player and damaged her head. That evening Sangree panicked, checking on Annabel every few hours to make sure she didn't die in her sleep. The injury turned out to be mild, and Annabel missed just three days of school. "As concussions go, we were incredibly lucky," Sangree said.
One mother whose three children all suffered from concussions in high school stressed how terrifying it can be for parents to think about the damage they can cause to the brain. She also expressed some regret that she was so willing to put her kids at risk of such a serious injury just so they could play sports.
Coyne believes that states and schools will get serious about preventing concussions in high-school sports when more parents and players start to sue. She thinks that insurance companies also might start to balk at the concussion risk in some sports, and require schools to implement stricter protocols in exchange for coverage. And as the science of brain injuries in adolescents advances, the damage caused by sports-related concussions and lesser hits to the head among the young will become too incontrovertible to ignore. Nowinski thinks that much depends on what people will accept from the federal government. "It might seem odd for the federal government to be regulating sports, but they do regulate children's-health issues," he said. "I expect we'll eventually see something if sports don't put the health of the player first."