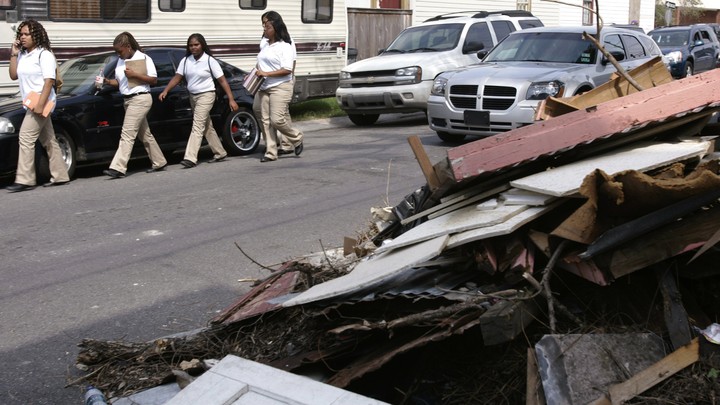 As floodwaters from tropical storm Harvey continue to rise in the nation's fourth most-populous city, well over 100 districts across southeastern Texas remain shuttered during what for some would have been the opening days of the academic year. The closures affect hundreds of thousands of students.
Canceled are the back-to-school barbecues. Postponed are the sounds of clanging lockers and squeaky new sneakers. Elongated are the first-day jitters, as summer vacation extends for an extra, harrowing week across Houston and surrounding areas.
The storm and its aftermath don't just mean extra summer days, of course—many children will return to schools that have suffered significant structural damage, such as broken windows, flooded gymnasiums, and totaled classroom supplies. Beyond that, the emotional and academic impacts of the natural disaster could plague students' psyches and school successes for years to come. As of Wednesday morning, the storm's death toll had risen to 30.
According to experts, the chaos and emotional upheaval brought on by extreme events can have an especially negative impact on children. Tropical storm Harvey has put students in its path at a greater risk for symptoms of anxiety and depression than they'd otherwise be—not to mention illness and injury. And because schools are closed, some children aren't getting the nutrition they need—the vast majority of students in Houston Independent School District, for example, receive free or subsidized meals, and the district offers free lunches to all students regardless of income at most of its schools. The closures also threaten to exacerbate "summer slide"—kids' tendency to lose some of the academic gains they'd made the previous school year—and to reduce the amount of time children can dedicate to learning during the new school year. In short, when weather causes unexpected closures (which inevitably happens more often in some districts than others), children't lives can become crippled by the chaos.
Such inconsistency can have lasting effects. Researchers found that some children became more aggressive after experiencing Hurricane Katrina, which severely damaged 110 of the city's 126 public schools and resulted in the complete reorganization of New Orleans's education system. In a separate study surveying children during the 2006-07 school year (the first complete academic year after Katrina), researchers demonstrated that disasters can have a chronic, long-term effect on youth: Of the nearly 5,000 surveyed fourth- through 12th-graders from areas affected by the disaster, 42 percent of them met the cut-off for a mental-health referral. Though the geographic scope of damage may not be as vast in Texas, similar patterns of emotional fallout may be on the horizon for the youth of the Houston area.
Joy Osofsky, a professor of pediatrics and psychiatry at Louisiana State University, was involved in providing trauma and mental-health support to schools in the wake of Katrina. The severity of the disaster's impact on individual children, she said, was directly correlated with the stability of their broader environment. For instance, children who may have had a close relative relocate following the storm, or whose families experienced outsized economic strain, were likely to show greater signs of stress than those who had more stability. In the midst of such upheaval, Osofsky said, schools had the opportunity to be a source of stability.
"Families really need a lot of support, and not necessarily [for their] mental health, but just support and ways to get back to some kind of routine, and ways to help the family feel less stressed so that they can be more available to the children emotionally," Osofsky said. "Schools played an enormously important role in this [post-Katrina] work."
Harvey is bound to come with academic repercussions in addition to any psychological ones. One way to think about the disaster's academic consequences is to consider its prospective toll on the amount of instructional time affected students will get during the 2017-18 school year—effectively a week's worth of absences, assuming districts don't find a way to compensate for the missed time. A body of research shows just how devastating even a single missed day can be—one study on Chicago Public Schools, for example, found that the number of days students were absent in the eighth grade was eight times more predictive of freshman-year course failure than were eighth-grade test scores. The school closures could jeopardize the progress Houston public schools have made in combating chronic absenteeism, which is defined as missing 10 percent or more of the school year (roughly 18 days). A report found that 21,400 Houston Independent School District students were chronically absent during the 2014-15 school year.
Generally speaking, a lack of stability has been proven to have adverse effects on kids' academic performance. Add that to the social-emotional stress that may bear down on children should they be required to change schools, and it can be extremely challenging to succeed academically.
Researchers are seeking to better understand the impact natural disasters have on kids and their educational outcomes in large part because it's a reality with which growing number of children are having to cope: Three times as many natural disasters occurred from 2000 to 2009 than from 1980 to 1989, with scientists attributing 80 percent of the increase to climate (rather than geophysical) change.
For their part, many Houston-area schools are already involved in the storm's recovery effort, even as the deluge surges. Buildings that are part of the Katy Independent School District are being used as shelters for displaced community members, and the Houston Independent School District is accepting donations to help families bounce back. Yes Prep Public Schools—a charter-school network in the area—compiled a list of shelter locations, trauma-response tips, and safety information on its website.   
Paul Provence, a high-school social-studies teacher at Yes Prep Public Schools, which had its first day on August 14 but canceled classes in anticipation of the storm, said he is already thinking about how he will modify his lesson plans in the aftermath of the disaster: "This is going to be a very traumatic event for not just students, but staff, families, communities, and that's certainly going to come into the classroom," Provence said. "As teachers, we're going to have to provide space for students to process their trauma and try to find ways to move through it and find a way to find a new normal and a new equilibrium point."
Provence, who evacuated Houston on Friday and spoke to me from Oklahoma, said that while some generalized anxiety clouded the school hallways at the end of last week, there wasn't overwhelming sense of foreboding. He said the students seemed uncertain about the extent of the impact but falsely assumed Harvey would bring about fairly typical flooding.
Despite the trauma such an intense natural disaster can cause for school-aged children, Osofsky and her colleagues found children affected by Hurricane Katrina demonstrated a remarkable ability to bounce back. Kids were found to have adapted better as routines and normalcy were established, and for older children, the ability to personally participate in the recovery effort was an important marker of self advocacy.
But that forthcoming recovery effort, much like the psychological recuperation, won't happen overnight. "The reality is the majority of the children do show resilience," Osofsky said. "It just takes time."
We want to hear what you think about this article. Submit a letter to the editor or write to letters@theatlantic.com.