​​​​​​​The Diminishing Role of Art in Children's Lives
Kids have fewer opportunities to do art in school and at home—and that could have long-term consequences.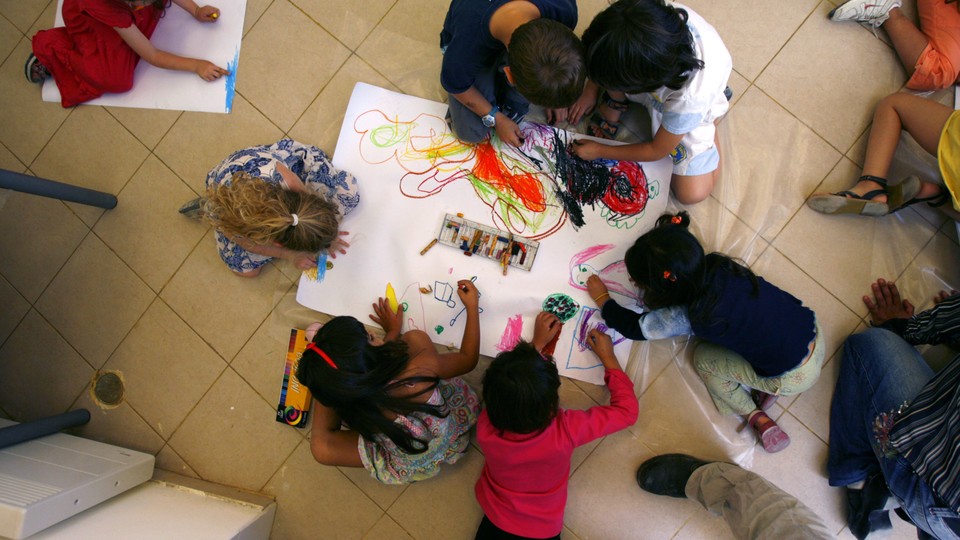 "Ik ben ik"—I am me—was the classroom theme when my son started preschool in the Netherlands two years ago. He painted a portrait of himself, with exaggerated teeth only on the bottom row and three strands of wiry hair on his head ("hair is hard," he later told me). He went on to depict his home life: our canal-side house more wavy than erect; his father and I standing beside a cat we do not own; and his baby sister next to him while his other sister—his nemesis at the time—was completely absent. It was the first real glimpse we had into his experiences and sense of self, and it was both insightful and entertaining.
My house is covered in the artwork of my three children. My middle child's self-portrait, for example, is framed and featured in our living room, with her bold red hair painted in broad stripes and a third eye she claims is magic; my son's bedroom wall displays his sketching of a giraffe. What my kids cannot express in written language they delight in sharing through their scribbles.
As much evidence will support, drawing has significant developmental benefits for young children. It gives them space to represent what they think—territory within which they can exaggerate what is important to them or express ideas they are not yet able to verbalize. Through art, children are able to describe and reveal their notions about themselves, the world, and their place in it.
The role of drawing in enhancing childhood development has been acknowledged since art education first became a part of public-school curricula in the Commonwealth states in 1870.  A wealth of research has shown a strong link between the scribbles of preschoolers and their early stages of written language and reading. Drawing also helps prepare children for success in other subject areas, including explaining and communicating mathematical reasoning, which assists in their comprehension and communication of math concepts, according to an analysis by the California State University, Chico, professors Susan Steffani and Paula M. Selvester.
More generally, extensive evidence suggests that exposure to art in school has long-term academic and social benefits for kids, especially those who are economically disadvantaged. A 2012 study by the United States' National Endowment for the Arts, for example, found that low-income eighth-graders who had lots of exposure to the arts were more likely than their peers with less exposure to earn higher grades and attend college.
But according to new research conducted in the Netherlands by the Dutch school inspectorate, the amount of time children spend drawing by hand both in and out of school has been reduced over the last 20 years; the study also found that their artwork has declined significantly in quality and complexity since a similar study was conducted two decades ago.
The project, which focused on 11- and 12-year-olds and identified trends similar to those seen in the United States, sought to gain insight into the effectiveness of art education, which encompasses drawing but also music, theater, and dance. It was only in the areas of drawing and music, however, that the inspectorate detected a reduction in the quality of the students' work. This trend can have broader consequences for students' future success, because, according to The Conversation, "drawing can be incorporated into learning in many ways, including visual mapping, reflective thinking, organizing and presenting information, and a way of communication that can transcend language barriers."
As part of the Dutch study, students were given two drawing assignments and were assessed on their ability to develop and combine ideas, experiment, and attempt spacial representation. The contemporary drawings showed less cohesion (consisting of separate rather than related objects) and included less detail than those done by students when the study was initially conducted 20 years ago.
Many changes help account for these results, according to the researchers. Similar to data out of the U.S., the number of hours focusing on art education in primary school in the Netherlands has been reduced, for one, and there are fewer specialized art teachers. Art-teacher preparation is not, according to the Dutch broadcaster RTL, "considered a priority at teacher-training colleges."
But social shifts and technological advances are also a factor, according to Rafael van Crimpen, the head of the Breitner Academie in Amsterdam, who told Dutchnews.nl that schools today are embracing digital technology at the expense of art and creativity. "Children draw better if they have more time for it," van Crimpen said. "Education is changing with the times and that is reflected in their drawings. And of course, digitalization plays a part." These tendencies are evident in the U.S., too, with many classrooms relying on technology to teach art.
Folkert Haanstra, an arts-education professor who was among the advisors of the Dutch study, says the impact of digitalization is clearest outside of the classroom, where children are spending more time with technology than with drawing, and therefore have less practice. "Moreover," he said over email, "the quality of the digital images they can make on electronic devices is probably more satisfying and look more professional than the drawings they can make by hand."
Prioritizing technology usage as a vehicle for learning in general has also diminished an emphasis on handmade art. According to the researchers Shirley Brice Heath and Elisabeth Soep, "when school budgets shrink and employment opportunities demand knowledge of technology and related skills, the arts slip easily into optional or eliminated subjects of study."
Brice Health, a linguistic anthropologist, and Soep, an expert on youth discourse and digital-media culture, argue that the arts discipline is even more vulnerable than other nonacademic programs. "All artists—especially the young—must be willing to make a leap of commitment," the two wrote in 1998. "This step involves risks of greater variety than those required to go out for basketball or work on a neighborhood teen board—tasks that few citizens would question or devalue."
Indeed, the idea that the arts are a low-priority subject in schools is not new. The New York Times reported in 1993 that budget cuts in schools put the arts at risk, and this consequence is too easily dismissed as necessary prioritizing. "Arts education, long dismissed as a frill, is disappearing from the lives of many students—particularly poor urban students," according to the Times. "Even though artists and educators argue that children without art are as ignorant as children without math, their pleas have gone unheard as schools have struggled with budget cuts."
Art programs in and even outside of school are constantly at risk of being cut. President Donald Trump and Education Secretary Betsy DeVos have proposed reducing the federal education budget by $9 billion, in part by cutting a $27 million arts-education program.
As the priority placed on the arts in public schools diminishes and digital engagement overwhelms students' experiences with hand-drawing, there could be more at stake than it appears. As W. G. Whitford wrote in his 1923 article, "A Brief History of Art Education in the United States," "Without art there is an incompleteness that nothing can overcome. Through correlation and efficient cooperation, artwork becomes 'a helping hand, a kind of connecting link that binds all subjects to it and makes every study at school more interesting and valuable.'"