Major League Baseball's Educational Safety Net
The league recently partnered with Northeastern University to provide players with access to advanced coursework.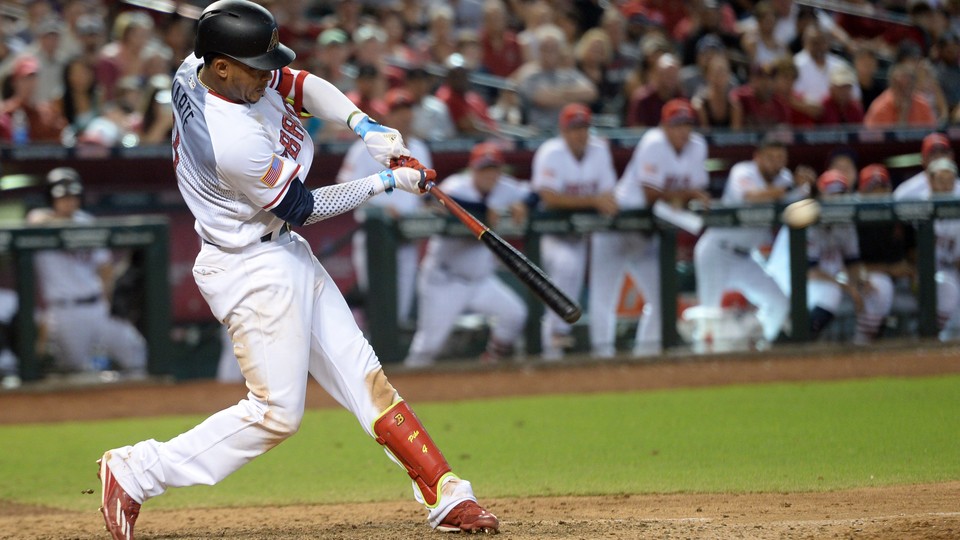 Monday night's Home Run Derby proved to be a short contest for Charlie Blackmon. Despite swatting an impressive 14 bombs in a heart-pounding first round of the jovial tournament, the Colorado Rockies' bearded leadoff hitter was eliminated early by Cody Bellinger of the Los Angeles Dodgers.
Blackmon's 20 home runs and .319 average at the All Star break suggest he has a promising future in baseball. But even if professional sports don't work out for him, he has some impressive credentials to fall back on: The outfielder earned his bachelor's degree in finance from the Georgia Institute of Technology in 2011.
Not all of Blackmon's teammates are similarly educated, though, and Major League Baseball is working to change that. Last month, the league announced a partnership with Northeastern University in Boston to provide players with access to a host of higher-education opportunities. Northeastern is now MLB's "preferred education provider," a moniker that baseball executives hope will help steer players toward reliable learning opportunities.
"Players and clubs have been putting money aside for players to continue their education for decades," Paul Mifsud, a vice president for MLB, said. "[But] that money was not being used efficiently, and a lot of players were taking that money and spending it on for-profit institutions with very low graduation rates."
In the 1960s, MLB established the College Scholarship Program, which promised to fund the academic pursuits taken up by players within two years of their retirement from baseball. But, as Mifsud indicated, many players spent that money on for-profit schools, which offered the academic flexibility appealing to professional athletes. Though the Trump administration has proven more sympathetic to for-profit schools, the sector was a frequent target of Obama-era reforms, coming under fire for abysmal job prospects for graduates, predatory recruitment efforts, and less-than-altruistic motives.
During collective bargaining this year, a change was made to the College Scholarship Program (now called the Continuing Education Program) that prohibits players from using the money on for-profit schools with a graduation rate below 50 percent. According to the most recent statistics from the Department of Education, the six-year graduation rate for private, for-profit schools is just 23 percent nationwide. But, Mifsud said, barring players from enrolling in what was a popular academic option left a void MLB needed to fill.
"We're now telling our players, 'Here's an avenue we know you've been using to get education,' and we're telling you you can't use that anymore," Mifsud said. "We did not think it appropriate to not offer them an alternative."
That's where Northeastern comes in. By partnering with the school, Mifsud said the league is signaling to its players that the university is a good option for them to further their educations. Players will have the chance to select courses from across the university's academic offerings and earn certificates and degrees based on their prior educational experiences. What appealed to players about for-profit education—namely, flexibility—is also offered at Northeastern, which has campuses across North America as well as various online options. Northeastern President Joseph Aoun said the school is particularly committed to non-traditional learners, and that each player will also have access to a counselor to create a personalized learning plan.
Roughly 30 percent of today's Major League Baseball players were born outside the United States, and English is certainly not everyone's first language. In response, Aoun said Northeastern has vast experience working with international students and the school will work directly with non-native speakers to develop personalized learning plans for them, too.
"We are going to work with each player based on where the player is, what the background is, and also the goals and what they would like to study and what they would like to achieve," Aoun said.
And those academic backgrounds are incredibly varied among ballplayers. Some, like Blackmon of the Rockies, completed their bachelor's degrees. Many others, however, never stepped foot on a college campus. Unlike their counterparts contending for the NBA or the NFL, baseball players are eligible to be drafted immediately after graduating from high school, and a slew of other players sign professional contracts after their junior years of college. In both cases, the athletes have not earned a postsecondary degree, and Mifsud said they often leverage their remaining college eligibility to snag higher signing bonuses during contract negotiations. The bonus therefore becomes a monetary incentive to forgo higher education, and dugouts fill with athletes at all points on the academic spectrum.
For players like David Wright, Prince Fielder, and Adam Jones, eschewing college for a Major League contract has ostensibly worked out: With multi-million dollar salaries, the all-stars likely won't need to look toward education as a means to a lucrative career. But few of the ballplayers who ink deals with Major League franchises will even make it to the batter's box in a professional park. According to Mother Jones, just one in 10 Minor Leaguers—who have signed Major League contracts and typically play for a franchise's affiliate team until they're ready for the big leagues—ever gets called up. And, as The Atlantic has previously reported, the wages doled out in the minors are often below the poverty level. The 90 percent of players who never get "the call" will likely need a second act to live a comfortable life.
"From the rookie [perspective], it's most pressing because that person likely ... does not have access to a tremendous amount of wealth that can keep him alive and happy for the rest of his life," Mifsud said. "He's going to need to do something after baseball in order to earn an income, and it's our sincere hope that Northeastern University will help provide that player with a significant path toward sustainability for himself."
Even for the players to whom education is not a necessary financial safety net, Mifsud and Aoun said the partnership would be productive. Aoun emphasized that lifelong learning is more important now than ever, as new fields are created and people constantly attain new skills to keep up with the evolving jobs landscape.
"People pursue a life of fulfillment and achievement, and education is key in this dimension," Aoun said. "People need to understand who they are. People need to manage what they have. People need to continue to grow in their lives and they may look at other professional options, even though they don't need it for financial reasons."
And though the partnership is especially appealing as players consider life after baseball, Mifsud said educational options for athletes still on professional rosters are a boon for the game itself.
"It's not purely altruistic: It's also a benefit to baseball," Mifsud said. "One, our teams believe that players who are developed off the field are also the players who perform the best on the field. … Two, if we want kids to make that jump from high school or college right into baseball without completing their collegiate education, then providing a support system ... will also encourage more players to continue to play ... when they have other professional choices ahead of them."
According to Robin Hughes, an associate professor at Indiana University-Indianapolis and the co-editor of the Journal for the Study of Sports and Athletes in Education, the partnership is a step in the right direction. About 10 years ago, Hughes said she had a similar idea but met pushback from colleagues in the higher-education community resistant to something so "out of the box." Hughes suggested Northeastern may hear from critics who say the school is watering down its academics for the athletes and recommended ball clubs consider traveling with a tutor to supplement players' studies.
"I think it's smart. It makes good sense," Hughes said. "You can be a baseball player, a basketball player—you can play anything—but you can also be educated. You can do two things: You can be an athlete and you can also be a scholar."
It's too early to tell which academic programs will be the most popular among the ballplayers or if the partnership will be successful in general, but Mifsud said players have expressed immediate interest. In fact, one athlete called Northeastern within a day of the program's announcement.