The International-School Surge
Increased demand for a "western" education around the world has reshaped whom these institutions serve.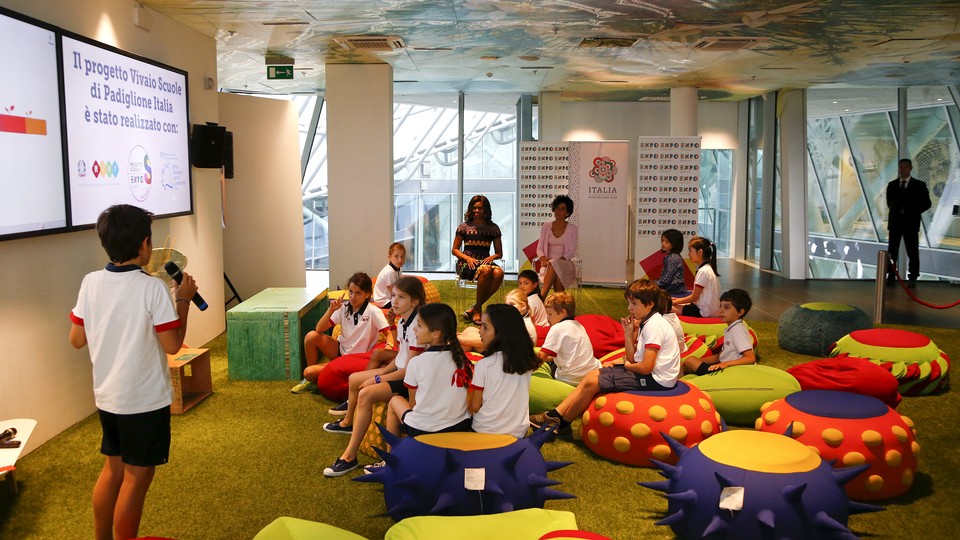 After losing two jobs in the Denver area due to budget cuts, the school librarian Jennifer Alevy found a new direction for her education career in 2011: an international school in Kathmandu, Nepal.
The origins of today's international schools can be traced to 1924, but they've grown exponentially in the past 20 years. Originally created to ensure that expatriates and diplomats could get a "western" education for their children while working in far-flung countries, international schools have found a new purpose: educating the children of wealthy locals so those kids can compete for spots in western colleges—and, eventually, positions at multinational companies.
This dramatic change means increased opportunities for American teachers abroad—and, potentially, increased competition in the U.S. from a new demographic of English-fluent and cosmopolitan young people from all over the world.
Today, Alevy is the coordinator of library services at the American International School in Ho Chi Minh City, Vietnam, which caters to Vietnamese students. The school, which was founded in 2006, has devoted resources to its library that Alevy rarely saw back in the states. "I feel fortunate that the school I work in has seen the value in the library and librarians," she said. "I am really excited for the opportunity to work with three other librarians. I have not had that chance in a long time."
Across the world, teachers educated in America, Great Britain, Australia, and other English-speaking countries are being imported in droves to teach the kids of wealthy or even middle-class families of emerging nations in Asia, the Middle East, and other developing regions.
"The majority of the world wants a grounding in English," said Bruce McWilliams, the executive vice president of International School Services, a New Jersey-based company that recruits teachers for international jobs.
The growth of international schools is staggering. Twenty years ago, there were only about 1,000 English-language international schools worldwide, according to the U.K.-based ISC Research. Most of the students in these schools were the kids of expat families working abroad—diplomats, journalists, NGO staff, technicians, and mid-level corporate types.
Today, there are more than 8,000 international schools, serving 4.5 million students with 420,000 teachers. And 80 percent of students are actually from the school's host country. And, according to ISC, demand is rising—in the next 10 years, experts expect the number of international schools to double to more than 16,000 schools and 8.75 million students worldwide.
Mitsuko Sakakibara of Japan is a typical parent. Her son Leon, 8, attends the Hokkaido International School in Niseko. "I would like my son to have an international environment education to build his mind as a global citizen from a young age," she said, explaining she didn't think he would get that in a Japanese school. "English would be the basic tool to communicate smoothly … and also help to have more choice to decide where to study or work."
The United Arab Emirates and China now have the most international schools—about 550 English-speaking schools in each, according to ISC—but places as India, Vietnam, Bahrain, and Saudi Arabia are also seeing huge increases. More than 20 cities in the world have at least 50 English-speaking international schools each, such as Dubai (which has more than 250) and Abu Dhabi in the United Arab Emirates; Beijing; Shanghai; Bangkok; Tokyo; Singapore; Riyadh, Saudi Arabia; and Madrid.
The average annual tuition for these schools varies by country—in Bangladesh, it's $5,200; in Singapore, it's $18,500. In places like China or India, the tuition is often higher than what the average family in that country earns in a year, making the schools available only to the wealthy.
Recognizing this changing demographic, schools are finding new ways to meet growing demand—and get around rules in some countries that limit the schools local students can attend. Take the Elite K-12 Education Group, which began in Ningbo—located on the coast near Shanghai—and is expanding to Shanghai, Beijing, Chengdu, and other big Chinese cities. The school, which models itself after the British education system, offers an international bilingual program for Chinese nationals. Its local ownership allows local students to attend despite government rules which restrict Chinese nationals from attending internationally owned schools.
"I wanted my kids to be Chinese, to know who they are, but to learn with a global perspective and to be fully prepared for western university," said Tao Sun, the chairman of the organization. "If you want your child to have many options for world-class universities, and if you want them to survive, thrive, and succeed there, then they need to start learning and speaking English as soon as they can."
Look at some of the 8,000 international schools around the world, and it's easy to see the appeal. In Dubai, the Safa Community School offers "clustered" classrooms with a common area that is "like a big sitting room for the community, where you can study at the 'kitchen table,' play a board game on the floor, film an action scene, bake some cookies, or sit on a bean bag with a laptop," according to the school's Facebook page. Down the road, the GEMS Nations Academy has classes in robotics and coding in a partnership with Carnegie Mellon University.
Michael E. DeBakey High School in Doha, Qatar, offers a focus on STEM training for professions in the medical field, while Cranleigh Abu Dhabi students are developing their own opera. Meanwhile, at the Nansha College Preparatory Academy in Guangzhou, China, content and English language teachers work together to plan and deliver lessons. That means that even in physics class, students' English skills are constantly being tested.
Compare these approaches to a typical public school in many developing countries, where it is not uncommon to have more than 40 students in a class. In schools like that, the focus is on rote memorization and lectures, with little emphasis on student participation, according to international-school representatives. Of course, the children of many poor families in developing countries are often unable to attend school at all, because of cultural issues, the need to help out at home or earn money for the family, or the inability to afford school fees or uniforms. According to a UNICEF, more than 59 million children of primary-school age were out of school in 2013.
Plenty of international schools continue to cater to the expatriate family. With globalization, more people than ever are choosing to work abroad. This has led to a new euphemism: "Third Culture Kids," or TCK. Picture a whole generation of, say, American kids who carry U.S. passports but have barely spent any time living in their home country.
"It's all interrelated—this whole notion of free markets and the global economy. Education has to meet that need," said Cynthia Nagrath, the marketing and communications manager at The International Educator (TIE), a teacher-placement service based in Massachusetts. "People have to work together with students of different cultures," she said. "That's the beauty of these international schools. You've got students from all over the world, but they all learn together in English."
Not that the schools are good for everyone. Monica Gallego Rude, a California resident and former international-school employee, has researched the international-school phenomenon as part of her doctorate in education studies. The phenomenon, she said, is not all positive.
"I truly believe in international education, but, I'd be the first to tell you that it isn't appropriate for every student," she said. In some cases, students who learn English could lag behind their peers in their mother tongue. Some international teachers may not have the cultural training to deal with their students—for instance, in some cultures, it's considered rude to make eye contact with one's elders, while a Western teacher might take lack of eye contact as disinterest or lack of respect. In some cases, she said, a for-profit international school might accept students who lack the necessary academic foundation to succeed, in order to make enrollment goals.
"Ultimately, I think my biggest worry about these types of schools is that they will contribute to continued inequity in the global education market," she said. "The haves in the non-English speaking world pay for the potential to enter the globalized English-speaking market, while the less fortunate have to gain language skills another way or get shut out."
For American teachers, the growth of international schools represents a growing opportunity to practice their trade outside the United States. In America, public education can seem bogged down by policy debates over test scores and funding which take attention away from the classroom. Then there are the teacher cuts—between 2008 and 2012, more than 300,000 education jobs were lost, according to the Obama White House, a number that's recovered only slightly since then. This at a time when there's over 1 million more students enrolled in public education than there were 10 years ago.
Compare that to the life of an international teacher. Apart from the rich cultural and travel experience, it's also a relatively lucrative gig. While salaries in many countries may be slightly lower than that for a comparable job in the states—starting pay , in U.S. dollars, can range from the low $20,000s to the high $30,000s annually, depending on location—there are other benefits. Teachers typically get a housing stipend and a free round-trip ticket home each year. Parents get free or reduced tuition for their kids. They don't have to pay taxes or worry about teacher cuts or yearly budgets being voted down. Generally, they have a community of appreciative parents and attentive, motivated youngsters. Not to mention the significantly reduced cost of living in many of these emerging nations.
Some teachers never go back. Shannon Fehse, 37, originally from Chicago, heard about international schools after a chance meeting with an international-school teacher while in college. She subsequently decided to make international teaching a career. For the past 13 years, she's taught in Taiwan, Colombia, Mexico, and China. She's currently at a school in the United Arab Emirates.
But, she added, the job has its drawbacks. "When something really good or bad happens at home, you can't be there," she said. "You miss a lot—and when you go home you find that you've changed considerably. Your perspective, your mentality. People at home don't necessarily understand. It's harder to relate to people you've always related to."
Competition for jobs at some international schools, especially at schools in popular locations, has gotten stiff, some teachers say. Nevertheless, demand for teachers at international schools is still growing. "We definitely need more [teachers] out there," said Nagrath of The International Educator.
All this growth raises questions about the future. What can America and other western countries expect as more and more people from across the world graduate with a western education and fluency in English language and culture?
For some universities in the United States, this rising demographic of eager, Americanized foreign students may be good news in the face of declining enrollment—especially since foreign students typically pay full tuition. For others, it may mean increased competition for foreign-student applicants, according to some experts. "In some instances, this has led to the rise of state [universities] focused on international-student recruitment," said David Di Maria, the associate provost for Montana State University's Office of International Programs.
Some universities are facing enrollment challenges due to demographic shifts, and can use reliance on foreign students to bring in more bodies. At the same time, other universities in the U.S. are seeing record growth, and additional interest from foreign students could help increase diversity on campus or strengthen international partnerships, he said.
But some have questioned the increase of foreign students in U.S. colleges, especially at public colleges. As The Atlantic has reported, some say American students may be missing out on educational opportunities as institutions focus more on recruiting students from abroad.
In the United States, 5.2 percent of college students come from outside the country, according to the Institute of International Education. The United States continues to be largest host of foreign college students in the world, with more than a million foreign students in a given year coming to the U.S., the institute reported in its 2016 Project Atlas report. However, perhaps that number could begin to stagnate, as Di Maria noted the growth of universities in such places as the Middle East, Asia, and other markets. "Traditional sending countries are becoming receiving countries," he said.
And what about competition for jobs in the states? Expect the growth of international schools to lead to more, said Richard Gaskell, director for international schools at ISC Research—especially for jobs that "require good language skills and personal skills, such as collaboration, resilience, and creative thinking," he said.
Outsourcing is far from a new thing, of course. In the past, communication and cultural differences has presented barriers to successful outsourcing for some companies. In the future, Americans can expect, at least, fewer opportunities to work for major corporations in foreign countries, said Ettie Zilber, an international-school consultant.
"Multinationals have many considerations before sending a family overseas for an assignment," she said. "Hiring a local who has studied and interacted with western teachers, curriculum, values, culture and understands the local culture is a smart move."
But that's not necessarily bad. "Competition," she added, "is a good thing for progress."