The College-Town Achievement Gap
Persistent inequality plagues the places some prestigious universities call home. Are the higher-education institutions to blame?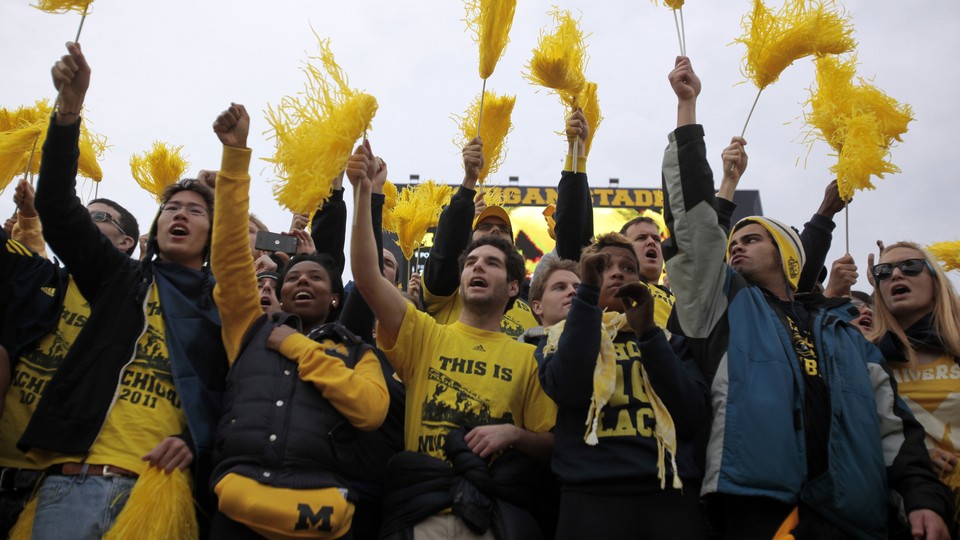 Politically progressive university towns with racially integrated schools like Berkeley, California; Chapel Hill, North Carolina; and Ann Arbor, Michigan, might seem natural environments for black students to thrive. Each is home to a prestigious university with an activist, social justice-oriented school of education. Each school district has been a part of a network to promote equity for students of color. Each has a large community of well-educated African Americans.
Yet in a comprehensive analysis of the standardized-test scores in hundreds of districts nationwide, Berkeley and Chapel Hill have the widest and third-widest achievement gaps between black and white students. Even when controlling for socioeconomic disparities, the gaps remain: The 2016 study, conducted by researchers at Stanford, still placed Chapel Hill and Berkeley toward the top for test-score inequality. Ann Arbor for its part places among the 10 percent of districts with the widest racial achievement gaps, as do Evanston, Illinois; Oxford, Mississippi; and Charlottesville, Virginia—all homes to prominent universities.
Last fall I examined three high schools—one in Berkeley, near the University of California campus where I work; one in Chapel Hill; and one in Ann Arbor, where I graduated from high school a generation ago. I wanted to learn what factors might help explain this counterintuitive pattern—why racial inequality in schools is so prevalent in these socially progressive towns despite conscientious, if restrained, programs to increase the success of students of color.
Early in my research, Ronald Ferguson, a professor and the director of the Harvard Achievement Gap Initiative, counseled me to resist easy conclusions, and not only because test-score differences are a flawed way to measure achievement gaps. Indeed, given the complexity of internal school factors and broader social forces that research shows combine to produce achievement gaps, I did not expect to find definitive answers.
* * *
Pedro Noguera, an education professor at UCLA, was working with Berkeley High School's Diversity Project—a program dedicated to exploring the racial and socioeconomic achievement gaps in the high school—a decade ago when he noticed that the school's prestigious jazz band was comprised largely of white students. "The black kids are playing music," he said, "but it's on the outside, maybe through the churches. If they show up at an all-white jazz band, they're not going to feel welcome."
Current statistics reflect Noguera's observations: Roughly 7 percent of the high school's jazz band today is black, according to Sarah Cline, the band's director, while African Americans account for 21 percent of the school's student population. These racial disparities, Cline said, take root in the elementary- and middle-school years: "The head start that many professional-class families—mostly white and Asian, but not exclusively—have given their children in the area of music makes other students already feel behind as soon as they get their instruments in the fourth grade." Echoing Cline, Peter Gidlund, the district's performing-arts director noted that the number of black students participating in music "plummets" in middle school.
"Berkeley music programs start off inclusive in elementary school, but then high school hits, the sense of competition rises, and parents are getting them private lessons and talking about college applications," said Robin Claire Barnes, an African American parent whose son Neo stopped playing saxophone once he started his freshman year at Berkeley High. "Neo was suddenly behind, and there didn't seem to be a way to keep him plugged in so that he wouldn't always be viewed as an afterthought." The Berkeley High jazz band website lists 28 available private teachers, grouped by instrument, and according to Cline more than three in four jazz-band members take private lessons. To help make private lessons available to more students, a parent booster group provides scholarship funds.
Deborah Harmon, an African American education professor at Eastern Michigan University who develops initiatives to support teachers and students of color, described a similar phenomenon taking place at her daughter's high school in Ann Arbor. The band at Pioneer High, also my alma mater, is almost entirely white, she said—and private lessons are similarly popular among band members. "I see that there are families that say there is an expectation," said David Leach, the Pioneer director of bands, estimating that well over half of band members supplement with off-campus instruction. "But I cannot say it's a culture we promote."
The alienation in music programs I saw at all three schools does not correlate directly with lower test scores, of course, but it reflects a hypercompetitive mentality to which the nearby universities may contribute. An achievement-oriented academic culture inspired by the nearby university is palpable on the high-school campuses—Kevin Hudson, an assistant principal at Pioneer, said some teachers even "teach like they're at U of M." Some experts suspect that this university culture both overtly and covertly tends to empower white students while marginalizing their black peers.
* * *
Students of all races described the competitive culture of academic achievement at these high schools as relentless and potentially harmful. The Berkeley High junior Johanna Staples-Ager, who is white and whose father Joel Ager is a UC Berkeley engineering researcher, referred to an academic "junior year death machine" when many of her friends take up to five Advanced Placement classes.
But in such competitive classroom environments, some black students may be particularly vulnerable to the fear that their white peers are judging them by the stereotypes of African American intellectual inferiority, according to Claude Steele, a psychology professor at Berkeley. Steele and his colleagues named this anxiety the "stereotype threat" in the 1990s. Steele's research suggests that students who achieve at higher levels may be even more susceptible to this fear. "If I am in an elite school … that makes stereotypes about intellectual ability very relevant, I can feel that pressure more intensely," Steele said.
Reid, a student at Pioneer, said he didn't experience this stereotype threat in his three AP classes at Pioneer—but Neo Barnes from Berkeley High said he feels highly self-conscious in his Mandarin Chinese class where out of about 20, he is the only black student and slightly more than half are white. "There's a stereotype that black students can't learn an advanced language," he said. Black students at all three high schools spoke repeatedly of being the only student, or one of two or three students, in their AP or upper-level classes. Four percent of Pioneer's AP students are African American, as are 6 percent of Chapel Hill's. Meanwhile, 8 percent of the students who graduated from Berkeley High's prestigious International Baccalaureate in 2016 are African American, according to district officials.
A scarcity of black teaching staff, observers say, can compound black students' sense of isolation. Less than 5 percent of Berkeley High's teachers are black; Pioneer's number is 4 percent, though Principal Tracey Lowder and his support team bring a noticeable African American presence. Chapel Hill has a faculty that is 17 percent black and led by Sulura Jackson, an African American principal. But the support these educators are able to offer during the school day may not be enough to help black students match the skills and experience wealthier white students are more likely acquire from outside academic enrichment, sometimes at the nearby universities. The median income of white families nationally is about 70 percent greater than that of black families: The median white income in Chapel Hill is more than $57,000, for example, while that for African Americans is less than $36,000.
Some educators and advocates refer to an opportunity—rather than an achievement—gap to highlight the non-academic, structural imbalances between different groups of students that can contribute to race-based differences in academic performance. Increased spending by middle-class and affluent parents on children's extracurriculars may be exacerbating that opportunity gap. "There has been an increase over the past 30 years in how much parents spend on activities and supplementary support," said Jeannie Oakes, an education professor emerita at UCLA. "I would imagine university families are at the top of the heap in spending." A 2011 Stanford study included data showing that families in the upper 20 percent of income earners increased educational-enrichment spending substantially over the last several decades. Families with fewer means may have to rely on the often budget-limited resources a school can offer for services like preparing college applications. Berkeley High has two college counselors for about 1,600 junior and senior students.
These opportunity imbalances, some experts argue, are further compounded by the practice of separating classes into skill or difficulty levels; white students tend to predominate in AP and honors classes, which can contribute to further racial stratification in schools. "African American and Latino students are [historically] more likely to be placed in lower-level classes than white students with comparable scores," according to a 2006 book, Learning Power, Oakes co-wrote. Students at each school I visited are free to choose higher-level courses, and guidance counselors say they often encourage black students to take them, but a few black students at all three schools indicated they were discouraged from doing so. The system can be elaborate at schools such as those in college towns where, some say, the pressure to achieve is particularly intense: Pioneer, for example, has five junior-year math levels.
Ten years ago, Berkeley High broke its 3,200-student campus into five learning academies to promote personalization and racial integration. But the integration effort backfired, and today some parents and students say the difference between certain academies is like "Yale and jail."
* * *
Even despite pushback against Berkeley High's so-called "Yale and jail," academies, confronting the combination of teachers and a largely white parent community that favors stratification, according to experts, can be one of the most politically challenging obstacles schools face as they attempt to close the racial achievement gap. Oakes and her colleague Amy Wells, now a professor of education at Columbia University, did a national study of 10 high schools that showed influential, predominantly white parents "mounted powerful political opposition" when schools tried to change structures that "threatened the exclusivity or privileges of the high-track classes."
Many of the administrators and teachers at these three schools know the research by Oakes and others. But "it's difficult for school districts to resist the pressure that comes from white, liberal parents with university credentials," Oakes said. "These parents come with such authority. And it's hard for parents of color to stand up to the counter-pressure." Schools in turn often limit themselves to working the edges to address the achievement gap between black and white students, leaving the larger structure intact. "They're doing the feel-good stuff, but they're not addressing the political obstacle," argued UCLA's Noguera.
Disturbed by seeing their children academically marginalized, some black parents who can afford to do so resort to private schools for their children. "All the black faculty I know at the University of Michigan and Eastern Michigan don't send their kids to the public schools," Harmon said—even though African American students account for just 5 percent of the students at the city's main private school.
* * *
Each of the three schools and school districts has taken a distinct path to redressing the systemic problems that hamper black student achievement. Each has taken the forward-looking step of acknowledging the deeply rooted racial problems. Each has also done cultural-competency training to help teachers become aware of the experience of students of color, develop culturally sensitive teaching practices, and examine how their own racial identities affect their work.
Harmon, the Eastern Michigan professor, spent three years doing cultural-competency training in Ann Arbor several years ago, when "the black community was at a tipping point," and parents demanded the district address the lack of racial awareness. The work included strengthening family participation, which research shows can be critical for African American student success. Harmon also developed a support program to help retain minority teachers.
Berkeley High School has developed a required freshman ethnic-studies class and anti-racism curriculum that Vice Principal Tamara Friedman said "sets an important tone for the Berkeley High culture." Shannon Fierro, the vice-principal of the school's International Baccalaureate program, said the school is examining the question, "How do we teach white students to step back so students of color can step forward?" Teachers are implementing basic practices to address participation imbalances such as calling on students by randomly pulling names from a class set of name cards.
Berkeley's longstanding efforts make its limited progress in closing the achievement gap a singular puzzle. It's the only school in the country with an African American studies department of its kind, has a developing partnership with the NAACP, and worked on the racial-equity project with Noguera for five years. But its success in bolstering black-student achievement has been modest at best.
"The fact that Berkeley has such a history of social-justice activism makes it even worse," said Donald Evans, the superintendent of the Berkeley school district, noting that the city's residents have resisted efforts to examine racism in the community—racism that could affect the school climate. "People say we're liberal; we don't need it." While cultural-competency training may be helpful, there is no clear evidence that this training by itself translates into improved student outcomes.
At Chapel Hill High, the counselor Jessica Wallace similarly expressed frustration at the limitations of her district's work during her 10 years at the school: "I've seen a lot of initiatives and workshops about people being aware. We're all conscious, but now what? There seems to be a gray abyss."*
Chapel Hill Principal Jackson responded with her own strategy during my visit: a discussion with the school's 88 African American male students in the gymnasium about improving their academic achievement and connection to the wider school community. Looking over them, she challenged the group to build a "brotherhood." They shared stories of subtle racial profiling in halls and classrooms, stories I heard echoed at a black parents' meeting at Berkeley High and in a Black Student Union meeting I attended at Pioneer; Jackson told me weeks after the visit that the group has begun meeting regularly.
The large-scale equity reforms that researchers and the U.S. Department of Education have said are necessary to serve all students require economic resources and political savvy that schools and districts don't easily acquire or retain. Such reforms include explicitly focusing on race equity, setting universally high academic standards, increasing professional development on instruction, and building parent engagement. Each of these schools, though aware of these necessities, has not yet navigated these demands in a way that has significantly closed the black and white student achievement gap.
It's also important to recognize that some reforms might produce qualitative strides that do not necessarily register on standardized tests like the baseline Stanford study this article uses. What standardized test can authentically capture the skill of leadership, real-world problem-solving ability, interpersonal skills, or a talent for choreography? How do you quantify a young man's achievement inspiring a Black Lives Matter gathering by sharing his own convictions? To highlight these difficult to measure abilities is not to minimize the statistical achievement gap, but to acknowledge its elusive complexity—to acknowledge that is difficult to measure fully and arduous to mend, whether in university towns or just about any integrated urban or suburban school in this country.
Ferguson, the Harvard Achievement Gap Initiative director, emphasized that deep repair will likely be an extended journey given the long historical roots. "The achievement gap may have very little to do with micro-aggressions and black students in AP classes being asked if they're in the right place," he said. "It may have more to do with 300 years of less opportunity."
---
*This story originally misidentified Jessica Wallace as Laré Meachum. We regret the error.