Summer-School Revivals and Literacy Pig Arrivals: This Week's Top 7 Education Stories
The best recent writing about school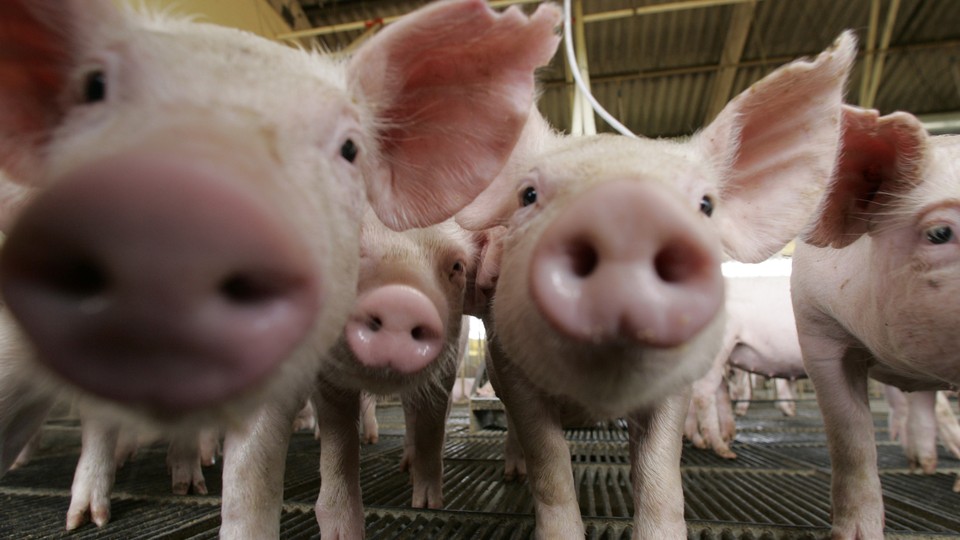 The School Where War and Persecution are Familiar Subjects
RJ Wolcott | Lansing State Journal
[Nasim] Mohammad left school in the fourth grade. It was around the time that the Taliban took power in Ghazni Province, his home. He wanted to keep his mother safe, to be her guardian. ...
He's 32 now. He fled Afghanistan for a refugee camp in Indonesia, where he stayed for three years. He arrived in Lansing last spring, on a Thursday at the end of May. Which is how he came to be seated among a dozen students in the basement of Lansing's First Presbyterian Church. ...
The [students] are from Somalia, Congo, Afghanistan, and 13 other countries: adult refugees and immigrants who are too old to go into the public-school system, but held back by the lack of a high-school degree.
* * *
How Boston Is Making Summer School Cool
Max Larkin | WBUR
Educators have a phrase for the way summer school has historically worked: "drill-and-kill."
Administrators at Boston Public Schools say they're still partly stuck in that model: Some students who didn't master material during the year are still caught up with five weeks of rote learning in stifling classrooms. ...
But city officials are trying to fix that, by re-envisioning summer school as something that high-need students won't want to skip.
Starting this summer, the city will engage more than 2,000 K-8 students—and their teachers—in programs that combine summer learning with a wide array of enrichment opportunities, from science camp to sailing.
* * *
How Betsy DeVos Could Break Up the Charter-School Coalition
Molly Hensley-Clancy | Buzzfeed
[On Tuesday, Education Secretary Betsy] DeVos spoke [to charter-school advocates about] the need to ensure that poor students had the ability to attend not just charter schools, but private schools, too—just as her son had done. It was a heavy allusion to the necessity of a voucher system—one that would allow families to use taxpayer money to pay for private and religious schools.
But vouchers have long been considered politically toxic for many in the charter-school movement, who are already wondering how closely their schools—attended primarily by low-income, black, and Latino students—should link their fortunes to those of the Trump administration.
* * *
The Adventures of Literacy Pig
Cara Giaimo | Atlas Obscura
Children's literature is full of pigs. There's Wilbur, the relatable runt who makes interspecies friends in Charlotte's Web. There's Babe, who learns to herd sheep with kindness. And don't forget Olivia, who has had a whole series of picture book adventures in her signature red dress.
For the most recent generation of children, there is also Daisy (and even more recently, Daisy II): potbellied pigs who, like characters loosed from the page, spend much of their lives traveling from library to library, helping to teach children that reading is fun.
* * *
The $2 Mistake That Cost West Virginia University Thousands
Jake Jarvis | Charleston Gazette-Mail
West Virginia State University was not the only college in West Virginia to recently lose federal funding for a program that benefits low-income, first-generation college students.
A $2 mistake on an application from West Virginia University means the school will lose more than $200,000 to fund its McNair Scholars program, which could mean the end of the 18-year program.
* * *
Can Scientists Help End the Teacher Shortage?
Carolyn Jones | The Atlantic
Two years ago, LaTeira Haynes was working in a quiet laboratory at UC San Diego finishing up her doctorate in biomedical engineering. Now, she's teaching a 9th-grade biology class in South Los Angeles that is so large she uses a microphone to be heard over the constant din of teenage chatter, rustling worksheets, and the zipping and unzipping of backpacks.
But to her, there is no sweeter sound.
"These students are here. They want to be here. I want to be here," said the energetic second-year teacher, her hair pulled back and her hoop earrings flashing. "I have 47 kids in this class and 44 of them are here today. That's huge."
* * *
Alison Graham | Indiana Daily Student
One of the best parts of Violet Hall's 3-D-printed arm is the pair of pipe cleaners she can attach to hold her violin bow. In fourth grade, which she starts in the fall, they learn to play an instrument. Most of the students at Binford Elementary will learn how to play the recorder, but not Violet.
"It's kind of tricky doing a recorder with one hand," Violet's mother, Milet Hall said.
Violet, 9, was born without her right hand or forearm. Ever since, her parents have tried different prosthetics to help her do what other kids do almost everyday—ride a bike, climb the monkey bars or play an instrument. Now, Violet is closer to doing those things thanks to the work of an IU researcher who worked to print her a 3-D hand this past spring.