Presidential Searches and Cyber Hacks: This Week's Top 7 Education Stories
The best recent writing about school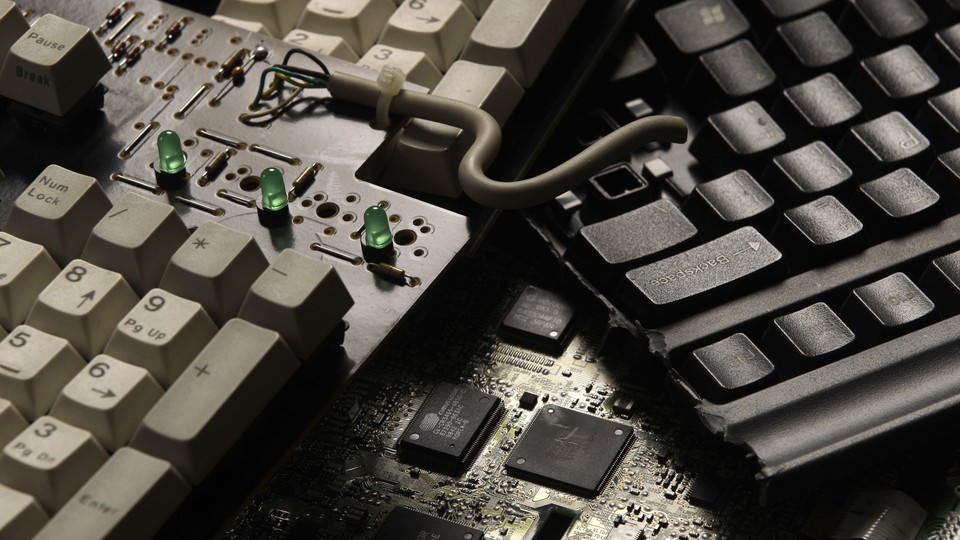 How Accusing a Powerful Man of Rape Drove a College Student to Suicide
Katie J.M. Baker | Buzzfeed
No one was there to help Megan [Rondini] ... one night in July 2015, except for a well-to-do businessman Megan knew only as "Sweet T." The 34-year-old later told authorities he offered 20-year-old Megan a ride home because he and a friend saw her leaving downtown Tuscaloosa, [Alabama,] alone. Megan couldn't remember how she ended up in Sweet T's white Mercedes on the way to his ornate mansion, decorated with his choicest hunting conquests, from massive-tusked elephant and wide-mouthed hippo heads to taxidermied lions and leopards. But, Megan later told police, she was sober enough by the time he pointed her toward his bedroom to know she didn't want to have sex with him—and, she said, Sweet T should've known it, too.
* * *
A School That Provides the One Constant in Homeless Students' Lives
Katie Hayes Luke | NPR
Positive Tomorrows is a small, privately funded school in the heart of Oklahoma City, designed to meet the needs of homeless children. The future of these students hinges on the one constant in their lives: the school, which addresses both education and basic needs. The educational challenges associated with homelessness are broad and extend to every corner of a child's life. Without consistent access to adequate food, shelter and safety, students are often too hungry, tired, and stressed to keep up in the classroom.
"It is sort of like trying to change your tire on I-35 and I am trying to teach you how to read while that is happening," says Amy Brewer, the school's director of education. "Obviously that does not go very well."
* * *
Why Schools Are Prime Targets for Cyber Hackers
Kyra Gurney | Miami Herald  
[The hackers] weren't just looking for the names of kids and valuable Social Security numbers, [United Data Technologies, the Doral-based cybersecurity company that investigated the incidents] found. The hackers were also searching for some way to slip into other sensitive government systems, including state voting systems.
Luckily, the hackers—from Morocco, not Moscow—never found one or managed to get their hands on personal data. But the attempted hacking exposed the vulnerabilities of Florida's school-district networks: vast computer systems that store sensitive information on thousands of students, and their parents, and could potentially provide a backdoor into other government systems.
* * *
Arizona's Unqualified Teachers
Ricardo Cano | The Arizona Republic
The Arizona Republic gathered data from 162 Arizona school districts, accounting for 46,000 teachers and about 80 percent of the state's 1.1 million public-school students in the 2016-17 term. Of those teachers, 22 percent lacked full qualifications.
Many in that 22 percent did have a college education and teacher training, but had less than two years in the classroom, a time frame when they don't qualify for the state's full credential—a standard certificate. Many others lacked even more basic qualifications. Nearly 2,000 had no formal teacher training. Dozens lacked a college degree.
* * *
The 395 Kids Philando Castile Left Behind
Rebecca Klein | Huffpost
Jeronimo Yanez, at the time a St. Anthony police officer, shot and killed [Philando] Castile last summer during a traffic stop. Castile, 32, left behind not only a girlfriend and her daughter, a mother and a family, colleagues and friends, but also 395 adoring students at the Saint Paul, Minnesota, elementary school where he worked.
The students have spent the past year mourning Castile, a loss that was felt anew last week with the news that Yanez had been acquitted of any wrongdoing.
Now that Castile's killer has been found not guilty, the young children are grappling with another uncomfortable truth: The justice system doesn't always deliver justice.
* * *
How the Liberal Arts Help Veterans Thrive
Kara Voght | The Atlantic
In partnership with the Posse Foundation, a nonprofit with a successful track record of connecting students from underrepresented backgrounds with elite schools, Vassar enrolled its first cohort of veterans in the fall of 2013. ...
The intimacy and intellectual growth at the heart of the liberal-arts experience has enabled veterans to thrive at these institutions, even as those students overcome spades of difference. What's more, the benefits of Vassar's experiment aren't limited to the veterans: To faculty, administrators, and traditional students, student-veterans have imparted lessons about what it means to be liberal and inclusive not only by aspiration, but also in practice.
* * *
Inside Harvard's Search for a New President
Claire Parker, Leah Yared | The Harvard Crimson
When University President Drew G. Faust announced last week she would step down in June 2018, she set into a motion a months-long, secretive process that will set Harvard's course for years to come: a presidential search.
While Harvard will conduct the search—still in its early stages—from behind closed doors, glimpses from hotel lobbies and conversations with insiders from searches past shed light on how one of the world's most prestigious schools will choose its next leader.