Chess Champions and Budget Bellwethers: This Week's Top 7 Education Stories
The best recent writing about school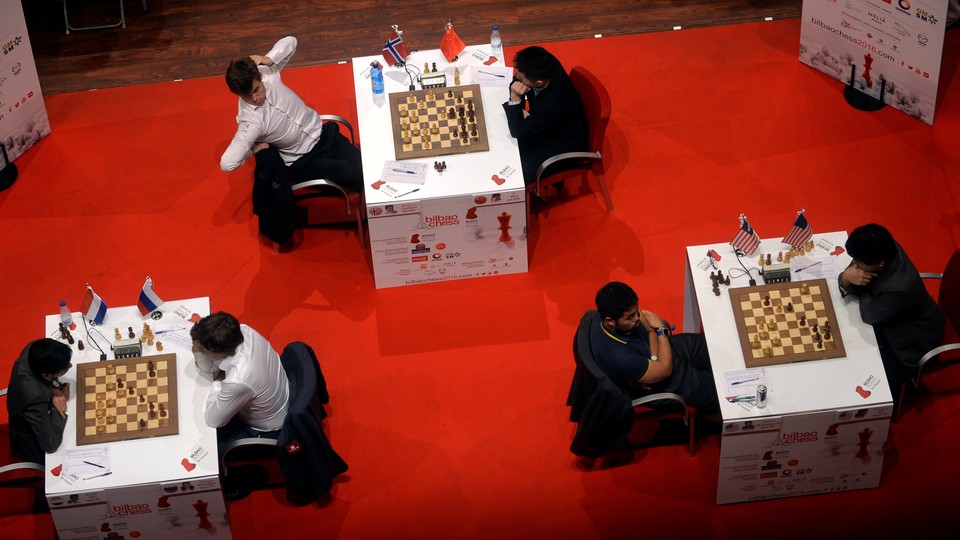 The Unprecedented Crisis Facing Puerto Rico's Universities
Molly Hensley-Clancy | BuzzFeed
Puerto Rico's public university system is facing an unprecedented round of funding cuts that students and observers say will decimate the island's college campuses.
The 55,000-student public university system, a fiercely guarded point of pride for the island, is being asked to slash $450 million from a budget that barely tops $1 billion. In response, campuses scattered across the country have been shut down by student strikes since late March. Thousands of demonstrators have refused to attend classes and shut down schools by blocking entrances to protest the budget cuts and tuition increases.
Now the strike is stretching from spring semester into summer—with, students say, no end in sight.
* * *
Baltimore's 12-Year-Old Chess King
Luke Broadwater | The Baltimore Sun
Cahree [Myrick] went a remarkable 7-0 in Nashville two weeks ago to win his division at the United States Chess Federation SuperNationals, and [the barbershop owner Sundiata] Osagie and others have been bragging about his achievements ever since. …
"People don't think Baltimore City is producing these kind of achievements, but we are," the commissioner Steve Alpern said.
The Baltimore Kids Chess League is open only to the city's public-school students. Launched in 2003, the program has produced three national championship teams. But Cahree is the first player to win an individual title.
To do so, he had to outscore 249 players from 28 states in his division. Eighty-nine players from Maryland competed in more than 20 divisions. Cahree was the only player to finish in the top five in his division.
* * *
Is the U.S. Education System Producing a Society of "Smart Fools?"
Claudia Wallis | Scientific American
BOSTON—At last weekend's annual meeting of the Association for Psychological Science (APS) in Boston, the Cornell University psychologist Robert Sternberg sounded an alarm about the influence of standardized tests on American society. Sternberg, who has studied intelligence and intelligence testing for decades, is well known for his "triarchic theory of intelligence," which identifies three kinds of smarts: the analytic type reflected in IQ scores; practical intelligence, which is more relevant for real-life problem solving; and creativity. Sternberg offered his views in a lecture associated with receiving a William James Fellow Award from the APS for his lifetime contributions to psychology. He explained his concerns to Scientific American.
* * *
The Disjointed Education of Foster Children
Caroline Preston | The Hechinger Report
By the time [Bonnie] Barnes, 18, started school at Riverview [East Academy in Cincinnati] this past November, she'd already attended at least 13 schools. There was the public school specializing in science and math. The school attached to a foster home up the street from a roadside amusement park. And the residential school in Youngstown, Ohio, where the academics were a joke. Barnes, who re-entered foster care at age 12 after spending a few years in the system as an infant, had moved more times than she could count. With each move, she had to change schools.
Often, with each transition, something went a little wrong.
* * *
Is the White House Betraying a Promise to HBCUs?
Brandon Patterson | Mother Jones
On the morning of February 27, more than 70 presidents of historically black colleges and universities (HBCUs) stood in a West Wing corridor, waiting to enter the Oval Office. The meeting with President Donald Trump would be historic. … According to Morgan State University president David Wilson, who was among those attending, Bannon voiced a promise: "If you give us a plan, we will execute it." The implication was clear, Wilson says: Tell us what resources HBCUs need and the administration will find a way to pay for them in Trump's budget. …
But for leaders and advocates of these institutions, the release of Trump's budget in late May did nothing of the sort.
* * *
The College-Town Achievement Gap
Erik Gleibermann | The Atlantic
Politically progressive university towns with racially integrated schools like Berkeley, California; Chapel Hill, North Carolina; and Ann Arbor, Michigan, might seem natural environments for black students to thrive. Each is home to a prestigious university with an activist, social justice-oriented school of education. Each school district has been a part of a network to promote equity for students of color. Each has a large community of well-educated African Americans.
Yet in a comprehensive analysis of the standardized-test scores in hundreds of districts nationwide, Berkeley and Chapel Hill have the widest and third-widest achievement gaps between black and white students.
* * *
The Prescription-Drug Trade on Campus
DePaulia Staff | The DePaulia
On the afternoon of March 27, Chicago police officers waited on the 2400 block of North Seminary Avenue, within sight of the DePaul Quad, for two DePaul [University] students who were unaware they would soon be busted for illegally dealing Xanax, a drug commonly prescribed to treat anxiety and panic disorders. Not long after, a similar scene played out on the street near the Halligan Bar on the corner of Lincoln and Orchard, where Chicago police arrested two more DePaul students. …
The arrests shed a light on the illegal trade of prescription drugs, including Xanax, Ritalin, and Adderall, which many students say are easy to get on campus and relatively cheap.