The Soccer Academies Preparing African Children for Division I Competition
A rising number of academies are opening across the continent with the goal of giving children a better education on the way to a better life.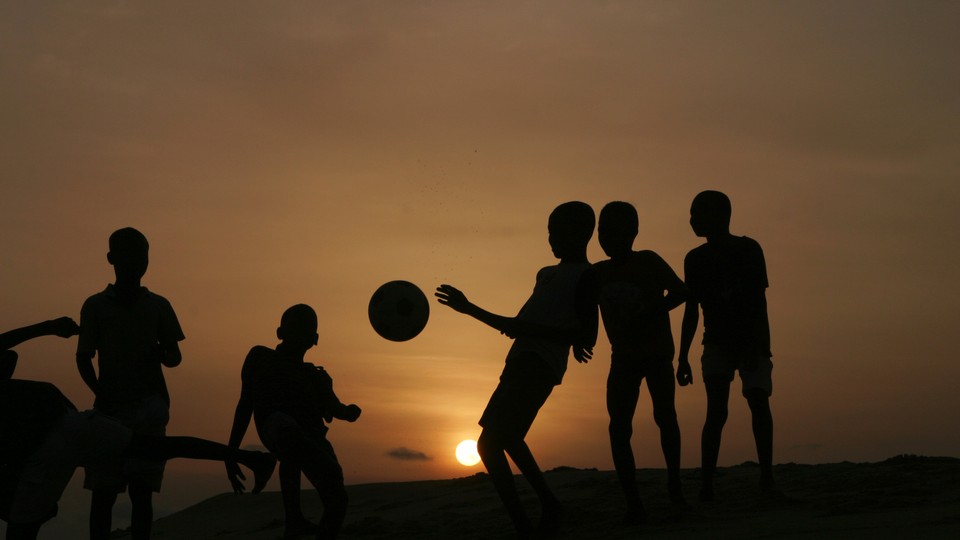 Ema Twumasi's first ever collegiate goal was a spectacular bicycle kick against California Polytechnic State University in August 2016. The 19-year-old Ghanaian's timely scoring during the remainder of the season propelled his team, Wake Forest University in North Carolina, to the NCAA championship game last December, where it lost to Stanford on penalty kicks.
Twumasi probably wouldn't have made it this far were it not for Ghana's Right to Dream academy, set up by the former Manchester United scout Tom Vernon almost 20 years ago.
Right to Dream (RtD) is one of a growing number of educational charities that have built a trans-Atlantic pipeline, sending young African soccer players to the U.S. to meet the demand of talent-hungry Division I collegiate programs.
Vernon, as well as others like him, say they aren't in it for the money—most are registered  charities or nonprofits and do not charge fees. Instead, they believe soccer can solve many of Africa's social and economic ills, blending education, sport, and opportunity. Forty-three percent of Sub-Saharan Africa's population is under the age of 15 (compared to just 19 percent of that in the U.S.), and much of that demographic is poor. These programs seek to provide students in Africa an education whose quality often exceeds the kind they'd get through government-funded schooling and help American schools improve and diversify their athletic programs.
But the academies hardly guarantee their participants a Hollywood ending, which can make them problematic if the teens who do eventually travel to the U.S. believe a professional soccer career is a sure thing, a means of feeding their families back home. The academies also form one small part of a global debate on the value and ethics of private versus public education—a debate that's playing out in the U.S. but perhaps even more dramatically in many African countries—and raise questions about who their programs benefit most.
Each year, RtD scouts young soccer talent from across Ghana. Some 30,000 kids ages 10 through 18 try out, between 15 and 20 of whom are accepted to its residential academy on the banks of the River Volta. Bracketed by soccer practices, RtD students attend academic classes for more than five hours daily, and graduates leave with the equivalent of Ghana's high-school diploma. RtD charges no fees, and incoming students for the most part come from families earning less than $2 a day.
Twumasi was one of those kids. Until she stopped working, his mother was the family's sole breadwinner, running a clothes stall in the town of Sunyani, in western Ghana. That's where, in 2008, an 11-year old Twumasi attracted the attention of RtD scouts. He won a spot at the academy and studied there through the eighth grade before heading to the U.S. to complete his education at Kent School in Connecticut, where he excelled on the field and was even named the state's 2015 Player of the Year. (Like Twumasi, some of the soccer-academy students have the chance to attend some of the United States' top boarding schools thanks to the academies' private-school networks.)
It was in part because of RtD that Twumasi was able to land a spot at Wake Forest, which he attends on a full-ride scholarship. Though the ties to a given soccer academy may not be direct, some in the Division 1 soccer community acknowledge the player pipeline as valuable in helping to discover talent. "It is tough to get a solid evaluation" of African players' athletic abilities, said Brendan Nash, who coached a former RtD player, CK Kumah, at Bucknell. "Africa is a large continent, so we will miss many qualified candidates. ... The academies help streamline the process quite a bit."
Programs such as RtD can also help the many students who want to play professionally fulfill that dream. RtD for its part can boast of more than 30 graduates who have gone on to professional soccer careers, though many students participate because they aspire to get a college education in the United States, too. Still, the chances of an African-born player earning riches through sports remain slim: In the current 2016-17 season, there are 47 African-born players in the entire English Premiership League.
"I think every soccer player, either from Africa or the U.S., enters college with some ambition of turning professional," Nash said. But he believes it's the responsibility of coaches to give student-athletes career options that extend beyond the pitch.
Hoping to emulate Vernon is Will Smith, an American who in 2015 co-founded Monrovia Football Academy (MFA) with the former Liberian national player Sekou "Georgie" Manubah. While doing undergraduate research in post-conflict Liberia in 2013, Smith was invited to play local pickup games with both amateurs and professional soccer legends like Manubah and George Weah (the latter is the only sub-Saharan African to have been named FIFA world player of the year). "I saw how people from a variety of backgrounds, political affiliations, and demographics came together to celebrate 10 years of peace in the country, united by their love for football," Smith recalled.
Yet Smith noticed huge gender inequalities in access to soccer: He never saw girls playing the sport, and that most of the children selling and working for their parents were girls, not boys. He also witnessed an education system that was a mess. The adult literacy rate in Liberia is just 43 percent; the secondary-school graduation rate is 13 percent, according to UNICEF. In 2013, 25,000 Liberian high-school graduates took the University of Liberia's entrance exam, and every one of them failed; in 2014 fewer than 20 students passed. Meanwhile, as of 2012, Liberia spent some 8 percent of its GDP on schooling, which is comparatively high (North America and European rates are around 5 percent)—until one realizes this translates to a paltry annual education budget of $45.6 million, according to The Economist. By comparison, Fairfax County, Virginia, a suburb of Washington, D.C., recently approved its fiscal year 2018 budget of $2.8 billion.
Then ebola struck. "I started texting Georgie to make sure everyone was okay, and eventually I started thinking about ways to contribute to the post-ebola rebuilding process," Smith said. "[I hoped our academy] would use football as a positive-incentive mechanism to break down gender barriers and improve academic performance."
Endorsed by President Ellen Johnson Sirleaf, today MFA has 51 students (30 boys and 21 girls), ages 8 through 12. They currently attend day-school, and within the next two years, Smith hopes to fundraise—primarily from U.S. donors—enough to build residential facilities that can accommodate 300 students ages 6 through 18. His goal is to send those children to U.S. colleges.
* * *
The scale, impact, and benefits of these institutions are largely unknown—data comparing the academic attainment of students at the academies to that of their peers who attend public schools few of them keep records on the athletes who attend. Experts suspect the academies could have some positive impact—as long as they focus on supplementing existing schooling options and don't expect anything in return. Generally speaking, "charitable, poverty-focused" nonprofits that deliver free education services to poor communities "are making a useful, though limited contribution," said Katie Malouf Bous, an education policy advisor at Oxfam International, in an email.
Yet some of the academies do charge tuition. One operation in Lagos, for example, asks for $600 per year from each of its 400 students, the equivalent of two to three months' worth of wages for the average Nigerian. Smith's MFA charges parents $150 for the school year in a country where the per-capita GDP is just $455; his rationale is that research shows people value services they have to pay for more highly than they do free ones. (A 2017 report by advocacy group RESULTS Educational Fund found that school fees continue to be a barrier to education in Africa, especially for the very poor.)
What's more, these outside actors—whether sports academies or private foundations or corporations—lack many of the accountability and transparency checks of government, leading to serious questions about evaluations, efficacy, and ethics. To the casual observer, the story of these academies, and the men behind them, might call to mind "The White-Savior Industrial Complex," a pejorative coined by the author Teju Cole in response to the Kony2012 video sensation, where he described the urge of privileged whites to help as "the fastest growth industry in the U.S." More broadly, the landscape includes foreign companies and 'edupreneurs,' encouraged by donors like the World Bank, that sense a market opportunity among Africa's youth bulge.
And in serving as an alternative—rather than a supplement—to public schools, the academies may struggle to actually improve the state of education across the continent. Malouf Bous believes that organizations that really want to make a difference should push for better public education, not parallel or rival models. "To really get to scale and achieve equity," she said, "external organizations could be supporting communities to advocate for and hold their governments accountable for delivering high-quality public education."
Regardless, sporting heavyweights continue to rush in to recruit prospective athletes in Africa: The famed Barcelona soccer club recently opened a training academy in Lagos, Nigeria; in May, 2017 the National Basketball Association opened its first academy in Africa in Thies, Senegal. Like oil and gas prospectors, the NBA—in partnership with the Senegalese nonprofit Sports for Education and Economic Development (SEED)—searched across the continent for the first 12 youth basketball players to join the academy in Senegal. Graduates of the school will finish with a national high-school diploma, and in addition to athletics, they will have access to tutors, ESL training, and a range of classes including philosophy and physics. According to the NBA, 94 percent of SEED graduates have passed the national high-school exit exam, compared to the national average of 35 percent.
Africa's current population of 1.2 billion will grow to 2.4 billion by 2050—the continent added 30 million more people last year alone—and will serve as a growing source of athletic talent. Images of kids playing soccer along dirt roads, in refuse-strewn fields and refugee camps, on beaches or in clearings are common throughout the continent. "They've grown up not playing on grass fields, not having nets, shoes, some of them are raw when they arrive," said Chaka Daley, the head coach of the University of Michigan, where the soccer roster will feature five African-born players this fall. "But they have pace, strength, and something like creative guile in the way they play. … The African-born kids don't just want to make it. They want to give back to the people who got them here."