Why Expanding Access to Childcare Isn't Enough
Quality matters quite a lot—especially for boys.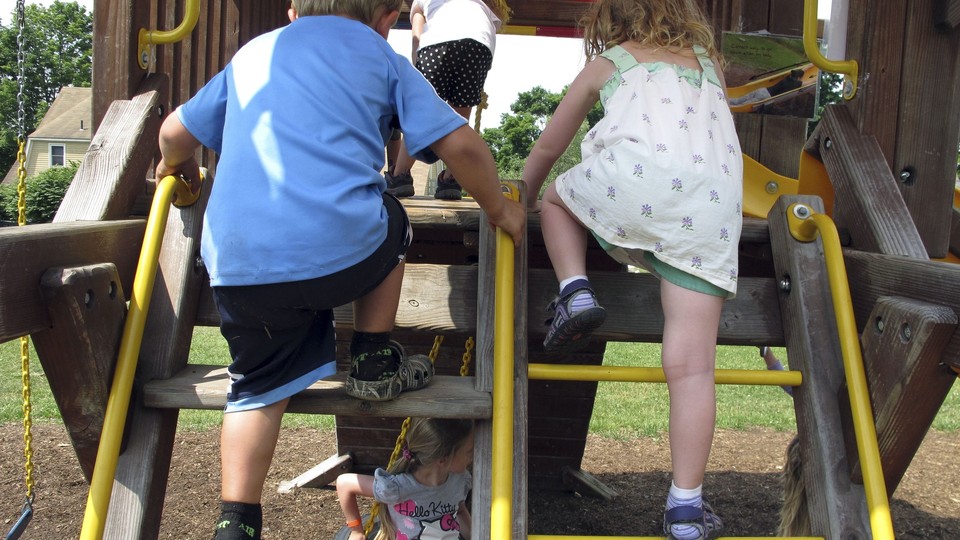 By 2021, if New York City Mayor Bill de Blasio gets his way, a hedge-fund manager with a seven-figure salary would pay the same amount to send his 3-year-old daughter to preschool as a single mom working as a cashier would pay for hers: nothing. Last month, de Blasio announced his plan to provide free preschool for the city's 3-year-olds, adding to the already robust Pre-K for All program that provides education for 4-year-olds in New York. Increasing the availability and affordability of early-childhood education has bipartisan support; universal programs already exist across the country, and six in 10 Americans agree pre-k should be free for everyone. But simply expanding access isn't enough to help children—especially male children.
Attending a low-quality childcare program has deleterious effects on boys, so much so that the children would have been better off staying home. According to a new working paper from the National Bureau of Economic Research co-authored by the economists Jorge Luis Garcia, James Heckman, and Anna Ziff of the University of Chicago, it is the quality of the childcare, not simply the presence of it, that matters. Relying on data from childcare programs serving disadvantaged children in North Carolina, the researchers found a gender gap exists in the long-term outcomes of preschool and that boys are more vulnerable than girls if exposed to facilities that aren't meeting high standards.
"The program differentially promotes the labor income, employment, and health of males and reduces their participation in crime," the researchers wrote. "It differentially enhances the cognition, achievement, and educational attainment of girls. Boys placed in child care benefit relatively more than girls from participation in high-quality center-based care compared to low-quality center-based care."
Essentially, girls reap long-term benefits from enriching programs, too, but not to the same extent as boys—a fact the researchers attribute to girls' higher maturity levels and greater ability to resist and cope with high-stress situations at a young age. Indeed, according to a paper written by UCLA's Allan Schore, parts of boys' brains develop at slower rates than girls', which affects the early stages of their social and emotional growth. Because of the gender disparity in the rate of brain maturation, girls are able to process and adapt to traumatic situations sooner than their male counterparts.
As a result, attending a low-quality childcare facility—what Heckman told me would more accurately be called a "child warehouse"—is acutely harmful for the boys and can impair their development further. And so, staying home with a loving parent is more beneficial for these children in the long-run because it fosters a stronger familial bond, even if the parent holds no formal training in early-childhood education or the family is not particularly well-resourced.
"A warm and fuzzy parent can actually be much better than a highly educated Freudian analyst who's very dispassionate and may be very brilliant in some ways but wouldn't supply the warmth and attachment that seems to be a necessary ingredient for encouraging and supporting the child," Heckman told me. "Mothers' love is not anything to sneeze at."
According to the new paper, the boys who attended a program with enriching activities, qualified faculty, and a nurturing environment were between 11 percent and 19 percent more likely than boys in a lower-quality facility to be employed by age 30. They also made between $19,000 and $24,000 more. And these monetary effects are not limited to the individual men. Society as a whole received an economic boon from these high-quality childcare facilities because the men enrolled in them were also less likely than the men who'd been enrolled in lower-quality facilities to commit costly crimes. This data dovetails nicely with previous research conducted by Heckman and his colleagues which identified a 13.7 percent annual return on investment in early-childhood programs for disadvantaged children.*
Girls, for their part, benefitted academically from participating in the high-quality programs. The researchers found that girls who attended the more robust facilities were between 13 and 25 percent more likely to graduate high school, 13 percent more likely to graduate college, and between 8 and 13 percent more likely to have a job at age 30 than those who attended the lower-quality programs.
The study is a reminder that it's important quality is not lost in the sweeping rhetoric of equality that often colors discussions of universal childcare. Nearly 1.5 million children across the country attend state-funded preschools, according to a new report released by the National Institute for Early Education Research (NIEER). Forty-three states offer a publicly funded preschool option, but just six states' programs met all 10 of the NIEER quality standards—things like staff professional development, staff-child ratio, and teacher education level. Nine of the state programs met half or fewer of the standards. But, what it takes to improve the quality of these programs is, according to Heckman, not such a mystery after all.
"What a good childcare program does is basically do what a good middle-class loving mother would do," Heckman said. "Some parents, some environments, simply can't provide those [things]. We have to think about these child care programs as a way to supplement the resources that children have at home."
---
* This article originally misstated that Heckman's research found a social benefit of $1.137 from each dollar invested in these programs. We regret the error.