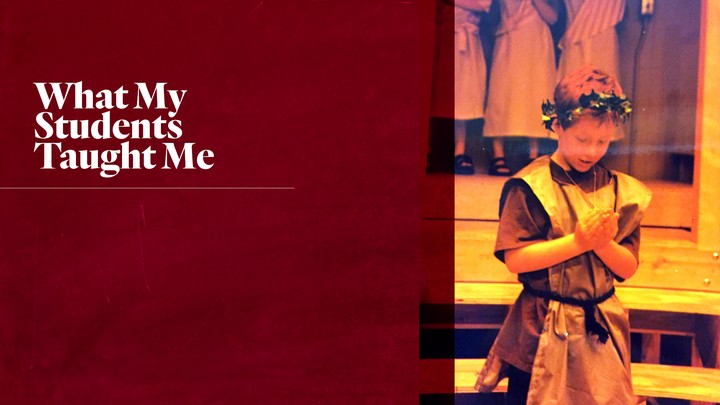 This is the first installment in an audio series featuring teachers reflecting on one of their most challenging students—counterbalanced by the student's version of the same events. Listen to other installments here or subscribe on iTunes.
Every teacher has a student they never forgot: the disruptive student who worked their last nerve. The shy student they struggled to reach. The heartbreaking student who endured too much too soon.
This week The Atlantic, in collaboration with Columbia Journalism School's Teacher Project, debuts a new audio series dedicated to telling the stories of these unforgettable students. Most episodes feature the voice of a teacher reflecting on their most memorable student, and the voice of the student describing the same set of milestones—from when the pair first met to their most frustrating, or inspiring, interaction.
The stories bring a new, and nuanced, understanding to the most significant interpersonal relationship many educators and children experience outside of their homes.
We start with the story of Matthew Dicks and Brandon Dorfman. Dicks was in his first year teaching second grade 17 years ago when he met Brandon—a.k.a. "the redheaded demon"—at Henry Wolcott School in West Hartford, Connecticut. Dicks made a lot of rookie mistakes in trying to quell the rambunctious Brandon, from bribing him with candy to engaging in futile power struggles. "In the war of classroom management, Brandon beat me," Dicks says. "He will always be my nemesis, sort of."
Yet for both Dicks and Brandon, the trying and, at times ineffectual, relationship ultimately led to a measure of understanding, empathy, and even grace. Listen:
---
The Teacher Project is an education reporting fellowship at Columbia Journalism School dedicated to elevating the voices of students and teachers.
We want to hear what you think about this article. Submit a letter to the editor or write to letters@theatlantic.com.
Sarah Carr
leads an investigative education reporting team at the Boston Globe and is the author of
Hope Against Hope,
about New Orleans schools.
Mallory Falk
is a radio reporter and producer based in El Paso, Texas. She is a former education reporter at WWNO in New Orleans.