The Real Chaos of Campus Gun Laws
New legislation in Georgia shows ambiguous campus-carry laws might create a greater burden than the guns themselves.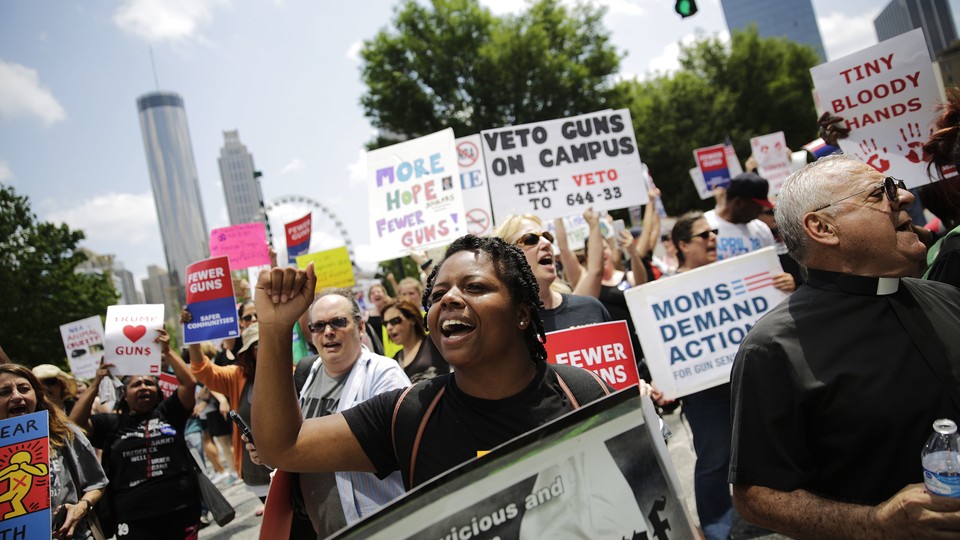 ATLANTA—Last week, Georgia Governor Nathan Deal signed a bill that will allow Georgia weapons permit holders over 21 years of age to carry concealed firearms in most parts of the state's college and university campuses. The impacted schools include the Georgia Institute of Technology, where I teach, and the University of Georgia.
Here, as in other states where similar laws have arisen, opponents contend that guns on campus will only cause accidental violence. But supporters see the prohibition of firearms at colleges and universities as a greater risk. Given the knowledge that campuses are gun-free, the reasoning goes, would-be assailants might choose them as easy targets. Opponents respond that few attacks ever have been prevented by the "good guys with guns" that the laws supposedly arm for the task.
But apart from the question of whether guns really make campuses safer, there are other reasons to squint at college gun laws—even for those who support the concept of campus carry. Among them: The ambiguities in these laws makes implementation confusing, enforcement difficult, litigation likely, and the resulting costs to university systems, campuses, courts, and citizens burdensome.
As a result, there's reason to believe that campus-carry laws impact safety less than operational complexity, overhead, and anxiety. They eat up workforce time and taxpayer money that might be used better to advance the educational mission of institutions of higher education. Georgia's new law, HB 280, offers a particularly egregious example.
"Campus carry" is a convenient nickname for the issue of guns on campus, but it also obscures the wide variation in the laws and their implementations.
Ten states already allow guns on campus by law in some manner—Arkansas, Colorado, Idaho, Kansas, Mississippi, Oregon, Tennessee, Texas, Utah, and Wisconsin. Some of those still impose limitations or outright prohibitions of guns on state college and university campuses. And all of them involve tradeoffs and customizations, whether through policy or litigation.
Utah is the only state to put the right to regulate guns on public campuses entirely in the hands of the legislature. In other cases, broader gun laws were interpreted not to exclude colleges and universities. Such is the case in Colorado, where guns are authorized by virtue of two Court of Appeals decisions regarding challenges to the state's 2003 Concealed Carry Act.
A similar verdict established the right to bear arms on campuses in Oregon. Even so, Oregon's State Board of Higher Education has banned guns from all buildings on campus after a Court of Appeals decision overturned an outright administrative ban. A 2013 Arkansas campus gun law also allowed only faculty and staff to carry concealed weapons, but required campuses to opt-in to the policy. None did. However, a new law passed in the state this year will expand the law to allow concealed-carry licensees to bring guns to campus. Meanwhile, Tennessee law allows college and university faculty and staff to carry firearms, but not students.
Given the complexity of these laws, any citizen serious about understanding campus carry must dig into the legislation, rather than assuming that guns on campus amounts to a simple yes-or-no decision. This applies to proponents as much as detractors. Presumably responsible, licensed gun owners would want clear guidelines for how citizens might legally carry firearms on campus as much as campus administrators, faculty, and students would. Often, those citizens will find more confusion than clarity.
Georgia's Deal vetoed last year's campus carry legislation, HB 859, after facing widespread public reproach. The University System of Georgia (USG) and all 29 state campus presidents and chiefs of police had opposed the law—along with many faculty, students, and parents.
HB 859 made it to the governor's desk in the wake of widespread, national controversy over a similar bill in Texas, which became law in 2015 and went into effect last September. Concerns about losing university talent over the issue appeared to be justified when UT Austin's architecture dean cited the law as a contributing factor in his decision to leave Texas for the University of Pennsylvania. And fears over the chilling effects of campus speech when guns might be present in classrooms appeared to be justified by a widely circulated account of a University of Houston faculty-senate presentation, which appeared to advise educators to adjust their curricula and office hours to avoid hypothetical conflict with armed students.
Based on feedback from the public, Deal expressed pragmatic concerns about HB 859. He had indicated a desire for campus childcare facilities, faculty and administrative offices, and disciplinary facilities to be exempted from any campus gun bill. He had also expressed concern about how to handle high-school students attending college classes under Georgia's dual-enrollment programs.
2017 marked the fifth time in as many years that the legislature advanced the new bill. The House struggled to pass the legislation before its session concluded, doing so only after extending its own deadline. But the new bill does address many of the concerns Deal brought to legislators last year: The law includes language addressing childcare facilities, faculty offices, and disciplinary facilities. It also offers a provision for dual-enrollment students.
But the way it addresses those and other matters raises many more questions than it answers about how guns should be managed and controlled on Georgia's public campuses when the legislation goes into effect.
One example is an apparent ambiguity created by a missing Oxford comma. A paragraph detailing exceptions dictates that the new writ "shall not apply to faculty, staff, or administrative offices or rooms where disciplinary proceedings are conducted." Does that mean offices as well as disciplinary rooms? Or just offices when used as disciplinary rooms? Given the governor's prior insistence on both, one might presume that's what the law intends. But presumption is not a good feature of law. Some speculated that the confusion might be enough to force a veto of the bill. Obviously, it was not.
The University System of Georgia, individual institutions, and eventually the attorney general will have to decide how to interpret the clause. The optimal choice is unclear. Most faculty probably don't want guns in their classrooms. But some might prefer the stricter interpretation of the law, which would allow properly-licensed faculty to carry firearms in their own offices. No matter the case, it's an embarrassment that a law to allow firearms on campus leaves such fundamental questions unresolved.
But other vague meanings in HB 280 might undermine the new law more seriously. Some of the most vocal parental objections to the 2016 bill focused on Georgia's dual-enrollment programs. These programs allow high-school students to take classes at dozens of public, private, and technical schools in Georgia, earning both high-school and college credit in the process. While many states operate similar programs, Georgia's is among the most flexible and comprehensive. The state covers all costs, including tuition, fees, and books.
Any campus gun law would place minor, K-12 dual-enrollment students—whose home institutions generally prohibit firearms—in uncertain circumstances. HB 280 attempts to address the matter by stipulating that concealed-carry rights "shall not apply to any room or space being used for classes in which high school students are enrolled through a dual enrollment program."
That sounds straightforward enough. Except, dual-enrollment students are not necessarily visible beyond admissions. Policies vary by institution, but the faculty I spoke with are discouraged from asking about students' dual-enrollment status. That might have to do with FERPA, a federal education-privacy law. Depending on the interpretation, it might be illegal to reveal that high-school students are present in a classroom. Which might make it difficult to impose gun restrictions on a "room or space" containing such students.
For that matter—what counts as a "space" in the first place? HB 280 offers no definition. Some concerned parents posting on social media Friday reported that Deal's office said that it meant "building." But that's not how the bill reads.
When I asked one of Deal's representatives to clarify, he told me it was "a good question," and referred me to the Georgia Attorney General's office—which won't opine on the interpretation of law as a matter of policy absent a formal request for opinion. Once more, the university system and individual institutions will have to set policy.
They don't have much time. The law takes effect July 1, affording the university system and its campuses little time to establish those policies, let alone to vet them with the attorney general. Given the ambiguities, opponents of campus carry—not the least of which are the university system and its member-campus presidents—might have an opening to continue prohibiting firearms, at least if they participate in dual enrollment.
At some institutions, like Georgia Perimeter College, dual-enrollment students are plentiful enough that classrooms might become gun-free zones anyway. But given the administrative burden and cost of continuously evaluating, marking, and publicizing classrooms and "spaces" affected by the dual-enrollment provision, the state flagship campuses could take a chance and construe the entire campus as such a "space." Texas's law prevents local campuses from establishing rules that "have the effect of generally prohibiting" firearms. But Georgia's does not. At worst, the matter would have to be litigated, allowing the university system to defer it in the same manner Oregon had done—albeit at material and political cost.
Other uncertainties in the Georgia law are common to campus gun bills everywhere. It's common to prohibit firearms in living facilities, like dorms, fraternities, and sororities. But in that case, where should legally-licensed gun owners living on campus store their firearms? Cars are a common solution. But with car break-ins common on campuses, it might be wise to offer different accommodation. Gun lockers offer another option, but the work of installing, maintaining, and managing the logistics of such facilities would fall to individual campuses.
As would the cost. After Idaho passed a campus-carry law, new security measures reportedly cost $3.7 million alone. Texas schools had estimated initial implementation would cost $39.2 million over six years, although initial costs were lower than expected. Those are hard costs, like security and signage. The softer costs, like back-office management and lost productivity, might be harder to track. Meanwhile, Georgia's inflation-adjusted, higher-education expenditures per full-time individual student have fallen by half since 2001.
Compared to other bills, including Texas's 2015 law, Georgia's contains remarkably little detail. The bill is two pages long. One wonders if the law was written so that it would appear to tackle the fact of Deal's 2016 concerns, without really addressing the management of those concerns. In other words, HB 280 looks like a law enacted for political spoils rather policy effects.
That's a turnaround for the governor. Apart from the concessions for childcare facilities, offices, and dual-enrollment students, Deal's 2016 veto statement appeared to oppose the very concept of campus carry. He advocated for campuses to remain "gun free zones." He judged it "highly questionable" that the bill would increase student safety. And he designated colleges as "sanctuaries of learning where firearms have not been allowed." The astute citizen might wonder what changed.
An obvious answer: the entire national political climate. After the election of Donald Trump in November, Republicans in a red state like Georgia might feel emboldened by a new mandate. Some are even wondering if the National Rifle Association may have influenced Deal. Less than a week before Deal signed HB 280 into law, Atlanta hosted the NRA's annual convention. Donald Trump spoke at the event, and Deal helped cut the opening ribbon. Given access to such influence, and given that his second and final term as governor will end after 2018, campus-carry opponents have speculated that Deal might have bent to national interests. Deal's office didn't respond to my request for comment on the matter.
When I wrote about Georgia's proposed campus-carry legislation last year, I tried to look beyond the typical pro- and contra-gun argument that often turns discussions about gun rights into caricatures of left and right. Instead, I appealed to the pervasive anxiety that plagues faculty, staff, and students alike.
The reasons for it are many. Years of funding cuts and tuition hikes. Declines in program, pay, and grant funding. Upsurges in high-stakes testing, onerous bureaucracies of assessment, and the broader economic conditions in which students and faculty must live. Even if adding a single gun to that context might hypothetically protect a student—and that's dubious—adding many more hypothetical guns seems certain to have a much more detrimental effect.
It turns out I failed to account for another gun-law anxiety: that created by legislation unready to become law but pressed to be implemented immediately. HB 280 is sure to distract Georgia's higher-education infrastructure with operational, legal, and financial burdens that could take years to shake out.
In the meantime, the university community—especially the students—will bear the burden of lawmakers' careless insistence on political victory. It's a lesson for states that might yet face campus-carry laws of their own. Just as hypothetical guns represent a more expansive threat than real ones, so the cost of gun laws might be far greater than the safety they would afford—or eliminate.