The Ethos of the Overinvolved Parent
Colleges are adjusting to increasing contact with adults who are more ingrained in their children's lives than ever.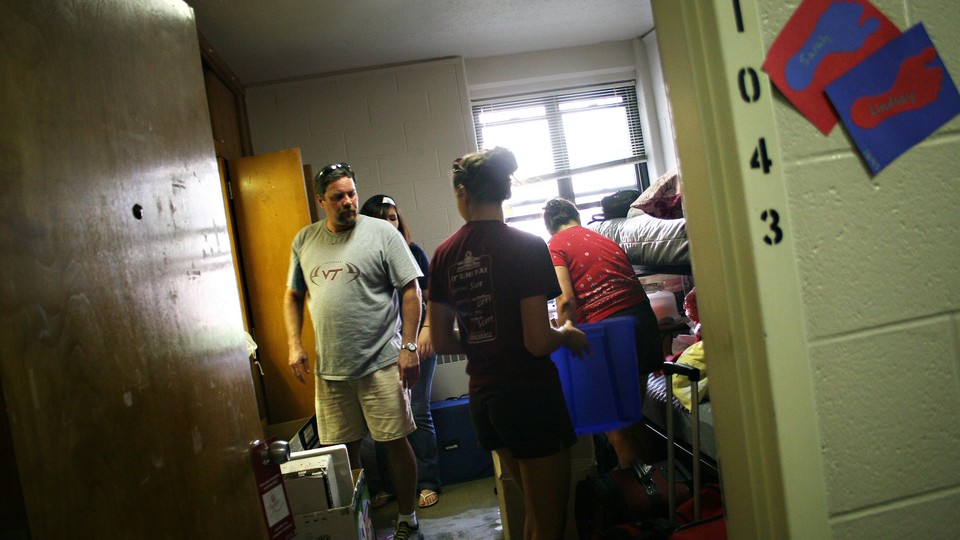 Stacy G.'s daughter was having a meltdown. Her daughter, a sophomore at a prestigious private college, wanted an internship at Boston Children's Hospital, a plum job that would look great on her applications to graduate school. After four weeks of frantically waiting for the school to arrange for an interview at the hospital, Stacy called her daughter's adviser at the internships office to complain.
"For $65,000 [in full attendance costs], you can bet your sweet ass that I'm calling that school ... If your children aren't getting what they've been promised, colleges are going to get that phone call from parents," Stacy said. "It's my money. It's a lot of money. We did try to have her handle it on her own, but when it didn't work out, I called them."
Whether Stacy is representative of the majority of parents of students at four-year, selective colleges or a member of the dreaded "helicopter parents" club, there are enough parents like her to have spawned a small industry of self-help books on the subject, research papers, and even a new cellphone app. Checking in with their children daily and occasionally contacting school administrators, a contingent of parents of students at these schools has stepped up its involvement levels in recent years, sources told me, because of technology, employment concerns, and the high price of college. And colleges themselves have responded by creating new channels to communicate with parents.
Laura Hamilton, an associate professor of sociology at the University of California, Merced, began studying a group of college women and their families back in 2004, embedding herself in the dormitory of a midwestern college and later writing about her qualitative research in two books, Paying for the Party and Parenting to a Degree. As Hamilton explained in a 2016 Atlantic article adapted from the latter book, involvement by the parents varied. Some parents, often those without college experience themselves, had a hands-off approach to their kids' higher education, while other parents were more involved. Among the most highly involved parents, some helped their kids navigate the school bureaucracy so they could later enter into graduate programs or a solid entry-level job requiring a degree. Others were highly involved with their daughters' social lives, assuring that they were well-positioned to find wealthy husbands. "The Mrs. degree is alive and well," Hamilton told me.
While some parents might focus on career goals for their children and others care more about their daughters' social lives, there is no question that parents' involvement in the lives of their college-aged kids as a whole has intensified—at least among middle-class and wealthy families whose children attend selective colleges. According to Harlan Cohen, the author of The Naked Roommate: For Parents Only: A Parent's Guide to the New College Experience, smartphones and social media have enabled parents to stay more hands-on. Cohen, who has worked with college administrators at over 500 colleges and meets regularly with parents as part of his research, added that it's not unusual for parents to send their kids a wake-up call in the morning to ensure that they make it to their early classes. Stacy, for her part, communicates with her daughter at least three times a day.
Parenting involvement is certainly also driven in part by the rising cost of college tuition. The full cost of attendance at most selective private universities can run around $65,000 per year—a nearly $260,000 four-year bill for parents whose children do not qualify for merit or need-based aid. Between 1995 and 2015, the average tuition at national private colleges jumped 179 percent. Out-of-state tuition and fees at public institutions rose by 226 percent over that same period of time. College is often the biggest expenditure that parents will ever make for their children; they want to make sure that their money is being well spent. Few people would spend $260,000 without expecting some oversight.
What's more, many parents have a deep fear that their children will be unable to find work after graduation and remain dependent upon them during their 20s. To avoid this fate, some choose to oversee their kids' academic choices. After all, the "kid in the basement" bogeyman isn't entirely irrational: Navigating college has become more complicated than ever before, especially at large public colleges where there can be multiple specialized schools and hundreds of majors. Mistakes—such as choosing a major that doesn't correspond to locally available careers—can be very expensive if they lead to additional time in school.
To make sure that her daughter avoids mistakes and reaches her career goals, Stacy told me that she was helping her daughter prepare for graduate programs by doing her own research on the requirements at those schools. Without minimizing the efforts of the students, she believes that they benefit from efforts from parents like herself. Hamilton's research also pointed to the fact that kids with more involved parents were more likely to finish college and find good paying jobs after graduation. Other research shows that first-generation students who do not have highly engaged parents take and complete fewer classes and earn lower grades than their classmates.
* * *
Responding to the growing parental oversight, many colleges are establishing more formal methods of working with parents. Connecticut's Fairfield University and Texas A&M University, for example, now have tabs on the front pages of their websites targeted at parents. Some institutions provide a parent-and-guardian track during student orientation and create webinars for parents on topics like homesickness and career services. There are parent "leadership councils" at these schools that act as a voice for parents and provide the administration with input. Universities also reach out to parents with weekly newsletters, Facebook pages, and web chats. Fairfield even has welcome events for incoming parents hosted by current parents in their homes or conference centers as far away as California.
"We are constantly engaging the parent community," said Jennifer Anderson, the vice president of marketing and communications for Fairfield. She sees it as a positive trend, one that benefits the school. Keeping that engagement high "gives parents the feeling that the college cares and that their kid is on the right track." Because students are so busy today, she added, parents who learn about events through the weekly newsletter can then nudge their students to attend those events.
In an email response to questions about Texas A&M's parent-focused efforts, Libby Daggers, an associate coordinator in new student and family programs, wrote: "Our philosophy is that the university, students, and their families are all a part of a collaborative relationship which leads to student success … By providing specific information and easy access to resources we feel we can equip our families with the tools necessary to support their student throughout their time in college."
But Hamilton had a slightly different take on universities' motivations for incorporating parents more zealously into the college experience: State support for public higher-education institutions has been declining precipitously in recent years, and schools have been forced to cut administrative expenses. At University of California campuses, as Hamilton noted, only about 10 percent of revenue comes from the state; most of the revenue comes from tuition, in particular from out-of-state students. These state colleges, she believes, are using parents to spot mental-health and academic crises early on, which then helps them maintain a high retention rate and save costs with advisement.
* * *
Is it possible for parents to be too involved in their children's lives when they go to college? Parents have to help their kids without overpowering them, Cohen said. Kids need to become "comfortable with the uncomfortable" and learn to navigate tricky academic and social challenges on their own. He travels to schools around the country, including my neighborhood's high school, giving talks to parents about when and how to get engaged in their children's college lives.
Excessive parental involvement in the lives of their college-aged children, Hamilton said, extends the timeframe for parenting past the 0-18 years. It delays adulthood in children. And, most importantly for Hamilton, it exacerbates socioeconomic inequality. Students without helicopter parents, she's found, are less likely than those with them to translate their higher-education degree to a slot in the middle class or get enough support from their college.
These drawbacks don't faze Stacy. Her daughter is growing more mature and independent, she said; supervising her academic choices was critical. Oftentimes Stacy urges her daughter to first check with her adviser about professional questions, after which she'll step in to do her own research. She compared her input on her daughter's college choices to getting a second opinion for a medical procedure.
"It's a lot for them to navigate, and it wouldn't be fair to tell them to navigate it on their own," she said. "It's not called helicopter parenting. It's called Parenting 2017."