The Broken Promise of Higher Education
Americans believe self-interested leaders have put their needs ahead of students, leading to a college-completion crisis.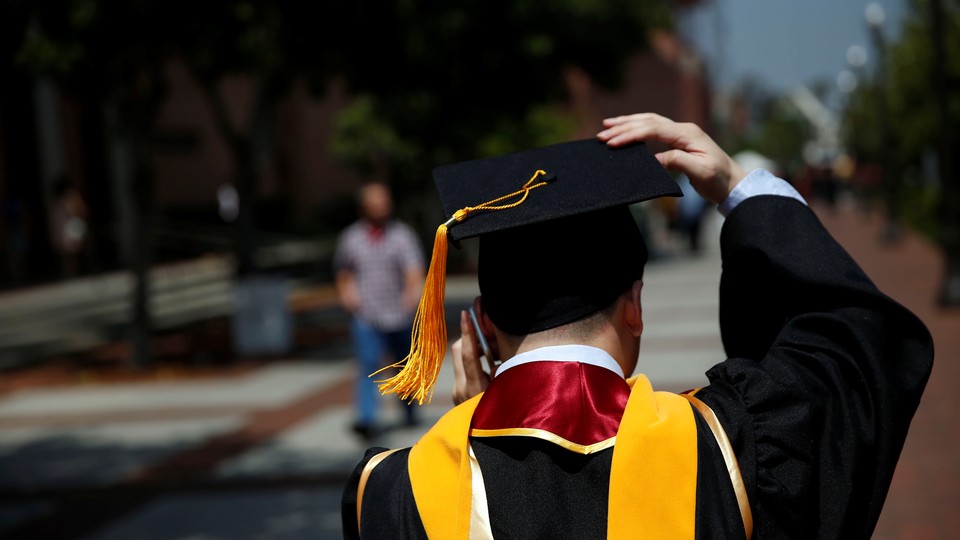 May is always an important month in the college calendar. Many high-school seniors across the nation make the decision where to attend college; millions of college students graduate and enter the workforce.
It is the circle of life for colleges and universities in the United States—young students deciding what courses to take and what to major in, accumulating credits and knowledge, and, upon graduation, taking that experience into the workforce. Having been a professor and dean for many years, I have looked across the sea of cap and gowns and seen the excitement and anticipation of those about to cross the stage. Like them, and like their parents, I have wondered what their futures hold.
For many who graduate with a four-year degree, the future is bright. According to the Bureau of Labor Statistics, in January 2017 the unemployment rate for those over 25 with a bachelor's degree was 2.5 percent compared with 5.3 percent for those with just a high-school diploma. But for millions of other students, the future is bleaker.
The reality is that America has a college-completion crisis. Among traditionally aged bachelor's degree students, the U.S. Department of Education reports that only 59 percent graduate within six years, nevermind four. For students in two-year institutions, completion rates are even lower. Put those numbers together and a majority of American students who enter college do not complete their degrees in the time allotted, or indeed ever.
Students do not graduate for many reasons: from lack of finances to poor academic preparation to life getting in the way. But without a degree, these students do not receive the economic reward they expected. Worse, those who begin a degree program and take on debt but do not finish are left with the burden of paying back loans, worse off than when they started.
The abysmal national graduation rate is more than just a student problem. Institutions are failing to help their students successfully navigate the path to a degree. Yet because college students are presumed to be adults and because college is an expensive personal investment, the public and the government typically begin from the presumption that students are solely responsible for their own success or failure.
But why? This presumption could actually be a question—a critical one for any society to answer. Come graduation time, who is responsible for the graduates who made it to the finish line? And, more importantly, who is responsible for those who did not?
Varying Degrees, an inaugural representative survey commissioned by New America, a think tank and national action network dedicated to American renewal in the digital age, explored this question. As it turns out, 58 percent of Americans believe that universities need to assist in the success of their students, versus fewer than a third—only 32 percent—who believe students are solely responsible for their own success.
Worse yet, Americans also believe that colleges and universities do not put students first. Nationally, nearly three out of five Americans believe that higher-education leaders put the long-term interests of their institutions first over the needs of students. And judging from low graduation rates across the country, they may be right.
That millions of students have dropped out of college, often unable to pay back their student loans, is more than just a college-completion crisis. It is also an upending of the promise of higher education: to students, that they can educate their way into economic stability, and to citizens, that higher education will spur economic growth and a stronger nation. Instead, voters see students left to go it alone, navigating an unfamiliar and challenging world while forgoing a paycheck, taking on thousands in debt to cover the costs, and often moving back in with their parents to survive.
The political backwash of these broken promises manifests itself in dramatic support for Bernie Sanders's commitment to "free college" and Donald Trump's lashing out at all elites. Americans invest millions of hours and billions of dollars into higher education, seeking to improve their opportunities for a stronger career and a better life. They want, and deserve, more than they are getting.
Families and students expect their daughters and sons to take responsibility for their studies, but they also expect the institutions their students attend to provide assistance, guidance, and educational experiences that make higher learning a worthwhile investment. Data from the survey suggests they are clued in—and they are getting angry.
May is also the month of commencement ceremonies, with their pomp and circumstance, robes and maces, rituals and speeches. Audiences for those ceremonies are proudly watching their friends and family members receive their degree—but for those who don't graduate, their debt loads and dashed hopes paint a much darker picture of American higher education.