Student-Government Politics and Identity Politics: This Week's Top 7 Education Stories
The best recent writing about school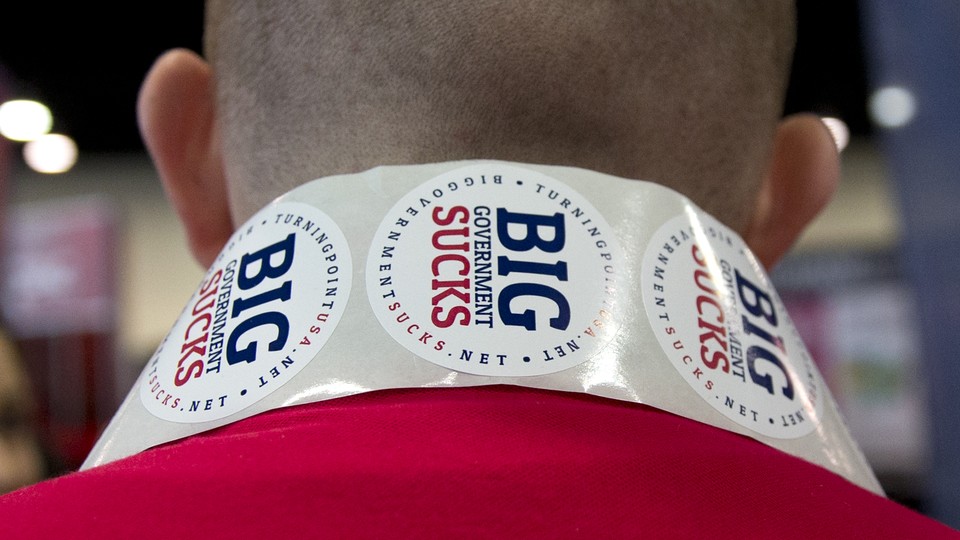 Inside a Stealth Plan for Political Influence
Michael Vasquez | The Chronicle of Higher Education
[Charlie Kirk], the rising young conservative star, uses his frequent Fox News appearances to blast college campuses as "islands of totalitarianism" filled with liberal students and faculty members who force their worldview upon those around them. So Kirk's nonprofit political-advocacy group, Turning Point USA, launched a secret counteroffensive. The goal: getting young conservatives elected to student government at universities around the country.
Campus-based groups of all political stripes have long encouraged their members to pursue leadership roles, and so have fraternities and sororities. What makes Turning Point unique, student leaders say, is that its outside parent organization provides critical manpower—and thousands of dollars—to help win elections.
* * *
How to Revive Chicago's Neighborhood High Schools
Becky Vevea | WBEZ Chicago
In most Chicago neighborhoods, the local high school is seen as a last resort.
Students are scattering across the city to more than 120 schools—with most bypassing the school down the block in favor of test-based schools, specialty programs, or even a neighborhood school in a different community. Nearly 76 percent last year opted against their assigned neighborhood schools, according to data from Chicago Public Schools.
An effort is underway to revive these neighborhood institutions, with the goal of giving students more options close to home and reducing the pressure many middle-schoolers face to earn top marks in order to win coveted high-school seats.
* * *
How Can a Community Support High-Schoolers Plagued by Tragedy?
Kevin Rector | The Baltimore Sun
Sharonda Rhodes stood before the classmates of her dead son Markel and told them they are on the right path—there at Excel Academy in West Baltimore, at their desks learning chemistry—and will have a bright future if they maintain that focus and stay off the streets.
"You can do it," said Rhodes, her T-shirt covered in pictures of Markel, a 19-year-old senior at the school who was fatally shot in March. "Don't let nobody tell you you can't."
Across the room, Makayia Crosson, also a senior set to graduate next month, began to cry. Rhodes rushed over to her, and the two gave each other a long hug.
Five Excel students have been fatally shot since October.
* * *
Smoothing the Path from Community College to Advanced Degrees
Katherine Long | The Seattle Times
Students who earn an applied bachelor's degree from a community college often find it hard to earn a graduate degree because many of their courses don't count toward a master's or Ph.D. But a new agreement with an online university could make it easier.
* * *
Heather Long | CNN
Matt Antignolo has worked in public-school cafeterias for 24 years.
He's learned two key truths: Just about every kid loves pizza, and an alarming number of American youngsters still can't afford a $2.35 lunch, despite the dramatic expansion of free- and reduced-lunch programs.
When a student doesn't have enough money for lunch, cafeteria staff in many districts, including Antignolo's, take away the child's tray of hot food and hand the student a brown paper bag containing a cold cheese sandwich and a small milk. Some schools take away their lunch entirely.
* * *
'America's Deaf Team' Tackles Identity Politics
Matthew Davis | The Atlantic
For this team, the season begins months before Homecoming, in Room G41, a large, windowless rectangle with retractable theater seating in the basement of the Gallaudet University Field House. A collection of young men enter through double doors and walk up the theater steps, their feet pinging and echoing on the hollow metallic casings. They wear shorts and baseball caps, athletic T-shirts and cut-offs, jewelry and headphones, sandals and sneakers, hearing aids and cochlear implants. There is talking, yelling, laughing, singing, and signing. They are black, white, and Latino. Those not yet old enough to vote and those who could buy a drink. Yet as the head coach Chuck Goldstein makes clear during this first team meeting of the season, such a collection of young men represents the entire deaf and hard-of-hearing community.
* * *
Can Duke Fix Its Broken Student-Conduct System?
Claire Ballentine and Neelesh Moorthy | The Chronicle
Several students told The Chronicle that they have encountered problems with undergraduate-conduct-board proceedings similar to those described by legal experts.
The Chronicle spoke with four students who discussed problems with the Office of Student Conduct, including incomplete or inadequate investigations into their cases, difficulty introducing witnesses for their defense, and a "guilty until proven innocent" mindset of the boards. …
Donald Beskind, a professor of law, has been serving as a faculty adviser for students going through the student-conduct process since 1977. He said he has observed problems with almost all aspects of the process and that it has become increasingly harsh in recent years, with an "astonishingly high" number of convictions.