Sexual Assault and Free College: This Week's Top 7 Education Stories
The best recent writing about school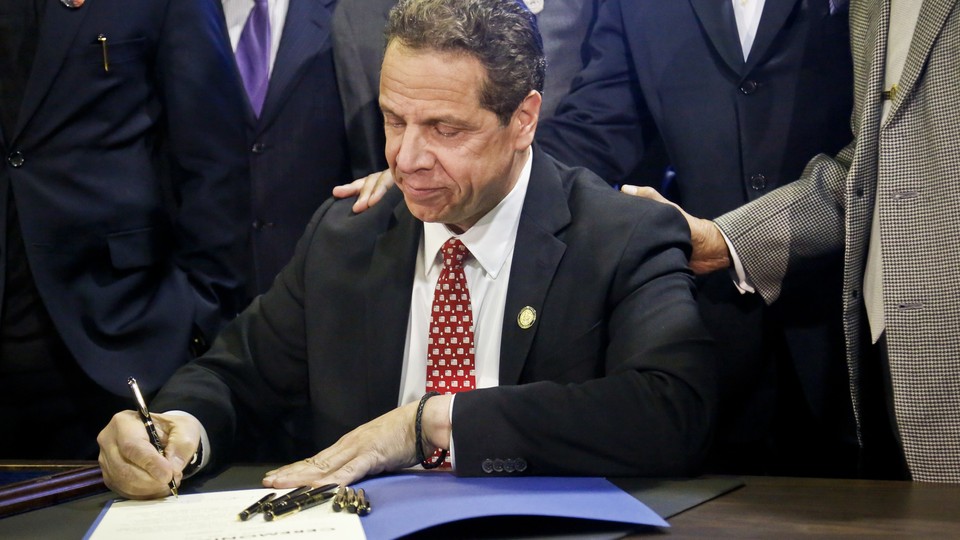 The Unanswered Questions of New York's Free-College Program
Keshia Clukey | Politico
ALBANY, New York—It's May 1, college-decision day for thousands of high-school seniors around New York. … But for some students and their families, this May Day may not bring the same sort of clarity, the same sigh of relief, that it normally would. That's because of the introduction of New York's Excelsior scholarship program, which Governor Andrew Cuomo has advertised as free college tuition at the state's two- and four-year schools for the state's middle class. ...
Students who have submitted their deposits have done so without knowing whether they are eligible for the scholarship in the fall, just one of the many uncertainties arising for students, administrators, and policymakers in the wake of the law's rapid enactment.
* * *
How a Coveted Magnet School Bent the Admission-Lottery Rules for Student-Athletes
Vanessa de la Torre and Matthew Kauffman | Hartford Courant
Capital Prep, the nationally acclaimed Hartford magnet school that is the most sought-after in the city, repeatedly bypassed the state's normal lottery process and enrolled athletes who played for its dominant sports teams, a Courant investigation has found.
The Courant has uncovered at least 10 cases of student-athletes who were admitted outside the blind lottery system, based on interviews with students, parents, and others with direct knowledge of individual admissions—players who helped build sports dynasties at a school that touted itself as a winner, in and out of the classroom.
* * *
Why Victims of Sexual Assault Don't Report It
Georgie Silvarole | The Independent Mail
One in five women (and one in 16 men) are sexually assaulted while in college, and more than 90 percent of sexual-assault victims on college campuses do not report the incident, according to the National Sexual Violence Resource Center. The rate of false reporting lies between 2 and 10 percent, the NSVRC reported.
To seek justice, and often to feel safe, sexual-assault survivors have to decide if they want to navigate their judicial options and open themselves up to judgment and questioning. By following through with an investigation, either through the university or local law enforcement, survivors can be subjected to interrogation, accusation, name-calling, and doubt.
* * *
Amber Walker | The Capital Times
Typically, people associate homeschooling with religious-based education. But [Johnny and Marie Justice] are inspired by an educational philosophy called "unschooling." While the experience looks different for each family, unschooling allows children more autonomy to explore and learn at their own pace. Along with work and household duties that all families must balance, the Justices and others who embrace the unschooling idea encourage their children to chart an unconventional educational path.
The Wisconsin Department of Public Instruction reports there are 722 home-schooled students registered in Dane County, representing less than 2 percent of all school-aged children.
* * *
A National Portrait of School Segregation
Alexander Nazaryan | Newsweek
The gains of Brown v. Board have been almost entirely reversed. Last year, a report by the Government Accountability Office found "a large increase in schools that are the most isolated by poverty and race." Between 2000 and 2014, the number of schools the report deemed H/PBH—that is, "high poverty and comprised of mostly Black or Hispanic students"—more than doubled, from 7,009 to 15,089. …  [And] the Century Foundation concluded that only about "8 percent of all public-school students currently attend school districts or charter schools that use socioeconomic status as a factor in student assignment." The report's tone was hopeful, because while the number of districts around the country that consciously practiced class integration was a paltry 91 out of more than 13,000—that's more than double what it was in 2007.
* * *
The Path to Higher Education With an Intellectual Disability
Hayley Glatter | The Atlantic
Just 263 of the nation's more than 4,700 degree-granting institutions offer programs for students with intellectual disabilities, which the American Association on Intellectual and Developmental Disabilities defines as "significant limitations in both intellectual functioning and in adaptive behavior."
The number of programs is growing, experts say, but they are hardly keeping up with demand. Adults with intellectual disabilities are far from immune to the changes in the workforce that have accompanied the contemporary, evolving economy. The employment rate for adults with cognitive disabilities is just 22.5 percent, according to recent estimates—48.9 percent lower than adults without a disability. … According to [Erica] Walters [who directs a program for students with intellectual disabilities at Clemson University], the employment rate for students who complete Clemson's four-year program is 100 percent. In other words, it's working.
* * *
Why Does it Take So Long for Police to Receive Sexual-Assault Reports?
Megan Jones | The Daily Illini
On Sept. 26, 2016, a female University of Illinois student reported to a University employee that she had been the victim of a sexual offense two nights earlier. On that Friday night, she went to Brother's Bar & Grill, and the next thing she remembered was waking up in her apartment realizing several of her possessions were stolen, including her laptop.
She also remembered that she had been assaulted.
But a report filed by the employee to the Title IX office on September 26 didn't make it to the University police department until December 9. … University officials neglected to forward student reports of sex offenses to University police for months, despite the requirement that all sex crimes be reported immediately, according to a CU-CitizenAccess and The Daily Illini analysis and interviews with the police department.