Internet Addictions and School-Board Afflictions: This Week's Top 7 Education Stories
The best recent writing about school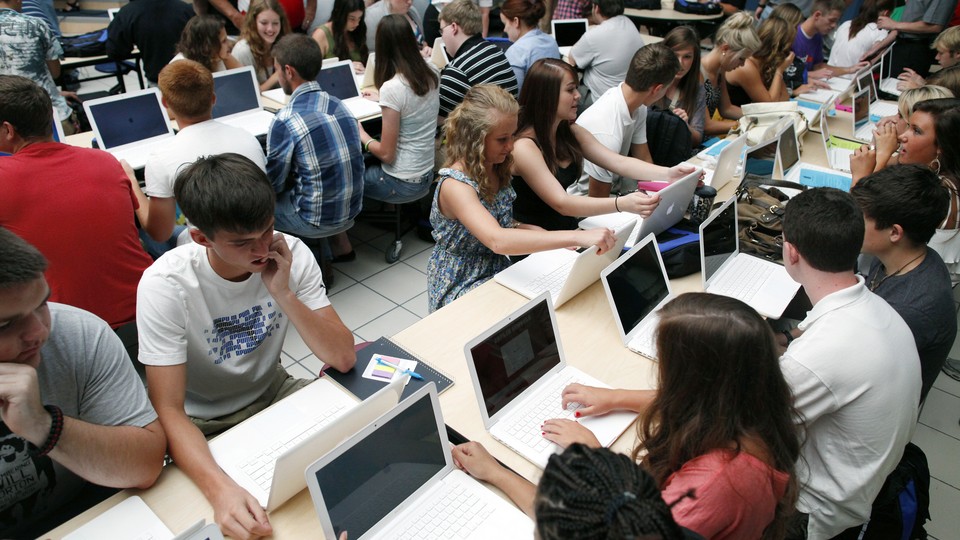 The Pain of Internet Addiction
Lesley McClurg | KQED
When her youngest daughter, Naomi, was in middle school, Ellen watched the teen disappear behind a screen. Her once bubbly daughter went from hanging out with a few close friends after school to isolating herself in her room for hours at a time. ... "She started just lying there, not moving and just being on the phone," says Ellen. "I was at a loss about what to do."
Ellen didn't realize it then, but her daughter was sinking into a pattern of behavior that some psychiatrists recognize from their patients who abuse drugs or alcohol. It's a problem, they say, that's akin to an eating disorder or gambling disorder—some consider it a kind of internet addiction. Estimates of how many people are affected vary widely, researchers say, and the problem isn't restricted to kids and teens, though some—especially those who have depression or anxiety disorder—may be particularly vulnerable.
* * *
How D.C. Officials Gamed the School Lottery
Peter Jamison and Aaron C. Davis | The Washington Post
The former D.C. Public Schools chancellor Kaya Henderson routinely helped well-connected parents—including two senior aides to Mayor Muriel E. Bowser—bend or break the rules of the District's notoriously competitive school lottery to enroll their children at coveted schools, according to a confidential report obtained by The Washington Post.
The report, based on an investigation by the D.C. Inspector General's Office, describes in remarkable detail how Henderson used her power as head of the school system to place the children of those with political clout at campuses they could not otherwise access through the random lottery, which every year leaves thousands of families on waiting lists for their desired schools.
* * *
Inside the Blackmailing of a Texas School-Board Candidate
Dave Lieber | The Dallas Morning News
Lynn Davenport received the tweet on her phone in, of all places, a Richardson [Independent School District] board meeting six days before election day. She was at the meeting because she was a candidate for a board seat.
Her phone lit up. She read: "I see you @lynndavenport....you didn't want to tell others about your secret? #yesyesyes." ...
For Davenport, her candidacy was about bringing a maverick voice to a school board that has voted 7-0 on 443 out of 444 board votes in the last six years, her campaign's analysis shows. Only one time, on one vote, was the final tally 6-1. That's the problem with many school districts in Texas. If you buck the party line, you pay a price. That price comes in many ways—from social ostracism to rumors designed to damage a volunteer board member's reputation.
* * *
Joseph Pisani | Associated Press
Stores can't keep them in stock. Parents are scrambling to find them. And some schools have banned them.
The mania for fidget spinners—the 3-inch twirling gadgets taking over classrooms and cubicles—is unlike many other toy crazes. They're not made by a major company, timed for the holiday season, or promoted in TV commercials. They're more easily found at gas stations or 7-Eleven than at big toy chains.
"It just took off," says Richard Gottlieb, a consultant at Global Toy Experts in New York.
* * *
Jenny Brundin | Colorado Public Radio
Can I introduce you to the entire Lone Star School graduating class of 2017 in less than 40 words? Are you sure you want to take that bet?
Meet Zach Hamar, self-described as "definitely loud," Jessica Bassett, who opts for "pretty shy," Austin Kuntz says he's "hardworking," and Daydra Parker describes herself as "the more productive one out of all of us."
Now you know everyone. All four of them.
* * *
Solving the Mystery of Underachievement
Nick Ehrmann | The Atlantic
As enrollment in higher education reaches record-levels-69.7 percent of all high-school graduates in 2016, a hidden danger awaits thousands at the starting line: Being "eligible" for college admission doesn't mean that students are academically prepared. This collision of expectations and reality creates a revolving door in higher education that can stifle individual talent and exacerbate inequality at the highest levels of the American education system. This is the story of how Travis Hill, growing up blocks from the White House in northeast Washington, D.C., learned what "college readiness" means when the pursuit of higher education becomes a reality.
* * *
How Trump's Election Affected Students' Career Goals
Cayla Harris | The GW Hatchet
When Celeste Aguzino began her senior year this fall, she had a full semester of federal government experience under her belt and plans to go onto a career in the federal workforce.
Then, Donald Trump was elected president.
As seniors prepare to graduate on the National Mall Sunday and enter the workforce, some students interested in politics who initially planned to kickstart their career in a Democratic Hillary Clinton presidential administration are now moving away from work in the federal government—and moving from the District altogether.