Hillary Clinton's Wellesley Homecoming
Returning to her alma mater to celebrate the class of 2017, she acknowledged her defeat—and offered a vision for the next generation of women leaders.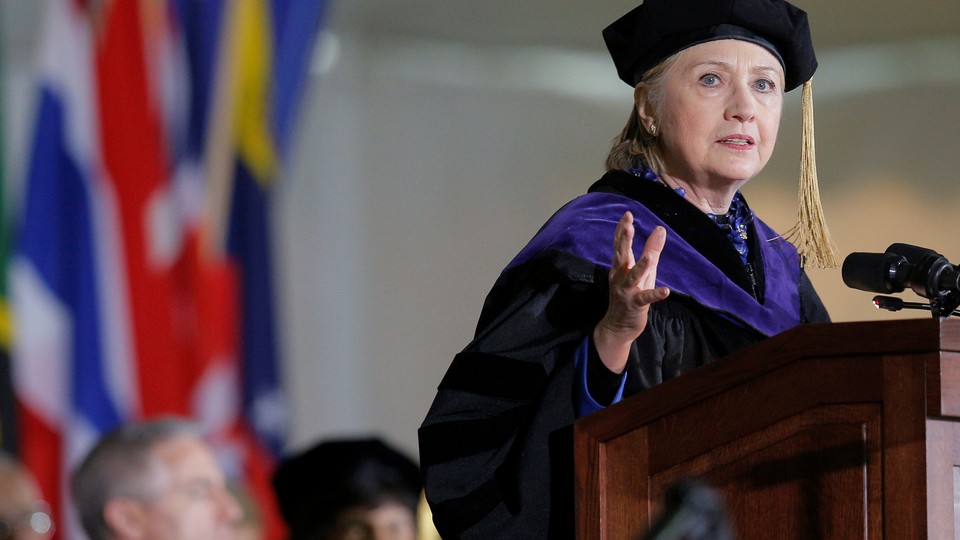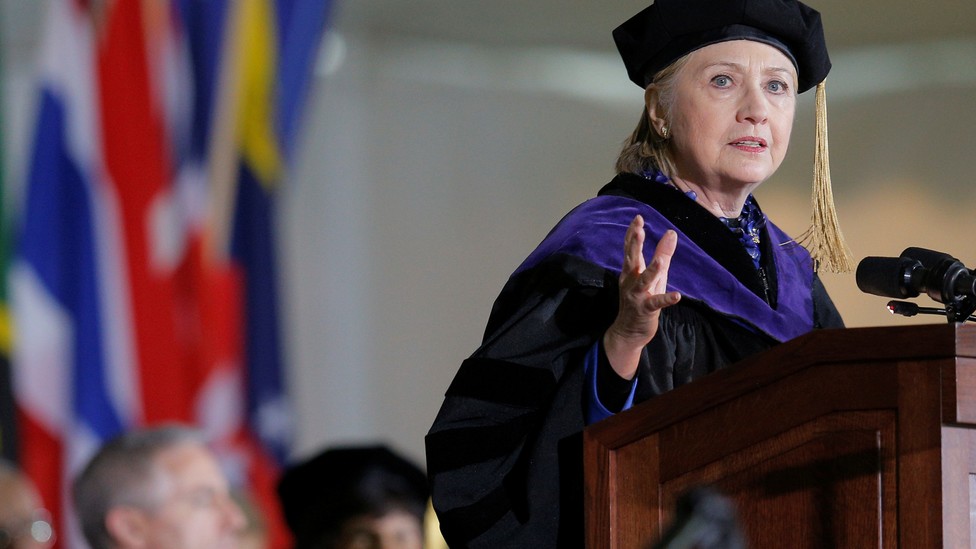 On Friday morning, along with the families of graduating seniors, hundreds of Wellesley College alumnae flocked to the school's suburban Massachusetts campus in order to see Hillary Clinton, class of 1969, take the stage. Local alum groups hosted watch parties, starting early on the West Coast, and thousands of alums across the country live-streamed the event at their desks (myself included).
Long before some Americans took comfort in Clinton spottings in the woods, Wellesley alums have been known to track her spottings on campus, including her reunion visit in 2014, when her 2016 presidential bid was still just a rumor, and more recently at a private event in March when she spoke with students about activism and organizing.
On November 8, many thought Hillary Clinton's victory was assured. For the Wellesley community, that expectation, and that certainty, were predated by a conviction tracing back decades. As one alumnae recounted to The New Yorker in 2016, graduating seniors in 1969 "wrote the name of a senior and predicted what would happen to her. Several said that I'd marry a football player; that wasn't a stretch. But we predicted Hillary would be the first female President of the United States."
This initial assumption by her cohort—that she would be the first woman head of state—was given validation over the years. That's largely because Clinton was indeed the trailblazer for so many things: New York's first female U.S. senator, among the first few female secretaries of state, the first woman to be nominated for president by a major U.S. party, and the first to win the popular vote. But it's a trend that started with her time at Wellesley, when she was the first student in the school's history to speak at a commencement—a request made to the college administration by her fellow classmates. And what she said on a rainy day to celebrate the achievements of the class of 2017 in many ways marks the epilogue of a political trajectory she began on the same stage nearly half a century ago.
As a graduating senior, Clinton was celebrated nationally as a young leader bursting onto the political scene when she forcefully and thoughtfully responded to the conservative senator, Edward Brooke, who had preceded her on the stage. Speaking for the senior class—one which had protested the war, organized around civil rights, and mourned Martin Luther King Jr. together—she offered her reflections on activism and effecting change as young adults. "We're not in the positions yet of leadership and power, but we do have that indispensable element of criticizing and constructive protest," Clinton said. She spoke passionately about idealism and offered her classmates the challenge: "to practice politics as the art of making what appears to be impossible possible."
Twenty-three years later, Clinton returned to campus for commencement; she hadn't yet become first lady nor was she a household name. Given the May before Bill Clinton's election, her address at times sounds a bit like a subtle stump speech, with references to child and family-care public policy. Still, she laid out before the next generation of graduates a view of what might constitute a fulfilling life philosophy: one that combines family, work, and service.
Responding in some ways to her 1969 speech, her 1992 address reflected on what is necessary for political transformation. "Each new generation takes us into new territory. But while change is certain, progress is not," she said. "Change is a law of nature; progress is the challenge for both a life and society." Quoting Vaclav Havel, the Czech writer, political dissent, and later president, Clinton urged the students to give in to "throwing yourself over and over again into the tumult of the world, with the intention of making your voice count—only thus will you really become a person."
In a way, these speeches have each represented the different stages in Clinton's political life: her breakout onto the political scene as a young activist, and her ascension to a very public office, with her career unfolding before her, and now, a de facto summation and conclusion. It seems likely that Clinton would have spoken at this year's ceremonies at Wellesley, whether she had won or lost. But given the circumstances, this speech may well serve as the beginning of her final chapter in politics: one she promised this morning would be defined by helping younger women run for office and serve the public.
Clinton's loss in November was shocking for many people, and for a number of reasons, but it was a uniquely painful experience at her alma mater. While support for her wasn't unanimous among students and alums, the general sense of the community as a whole was certainly behind her. Alexandra Schwartz chronicled the evening on campus for The New Yorker, explaining "I wanted to be in a world of women when the first female President of the United States was elected." Those in the community who supported Clinton felt her run deeply intertwined with the college itself and its mission—that its students and alumnae are "Not to be ministered unto but to minister."
The jubilant 3,000 or so alums who gathered at the college to watch the results come in were somber by the end of the night, stunned by the realization that the wider world doesn't align with the predominant reality at Wellesley. In the months since, a school that champions the slogan "women who will" has had to contend with one woman who couldn't—or, rather, one woman who did but was ultimately thwarted by a series of unprecedented events in the 2016 election, in addition to a flawed campaign.
Clinton acknowledged this painful reality in her speech Friday, but assured graduates that being at her alma mater was the right place to return after her loss. Her time at Wellesley was so valuable for precisely this reason, she explained. It offers its students and alums the "freedom to take risks, make mistakes, even fail in front of each other."
Her failure and the current state of the country should be the animating force for the class of 2017, she advised. In talking to young women, she remained thankful that "my defeat had not defeated them" for the next generation now has the responsibility to protect truth and reason when both are under attack. "When people in power invent their own facts and attack those who question them, it can mark the beginning of the end of a free society," Clinton said. "That is not hyperbole, it is what authoritarian regimes throughout history have done. They attempt to control reality." She exhorted the role of college graduates, schooled in Enlightenment values, to combat "alternative" realities, and demand truth.
And, in a strongly worded comparison of the current political situation with that of her graduation year, she pointed out, "we were furious about the past presidential election of a man whose presidency would eventually end in disgrace with his impeachment for obstruction of justice, after firing the person running the investigation into him at the Department of Justice."
Despite the political turmoil that has surrounded her speeches, Clinton has urged persistence and optimism. Speaking decades ago, the young graduate reminded her classmates, "Fear is always with us but we just don't have time for it. Not now." The same remains true today, 48 years later.