Graduation and Gentrification: This Week's Top 7 Education Stories
The best recent writing about school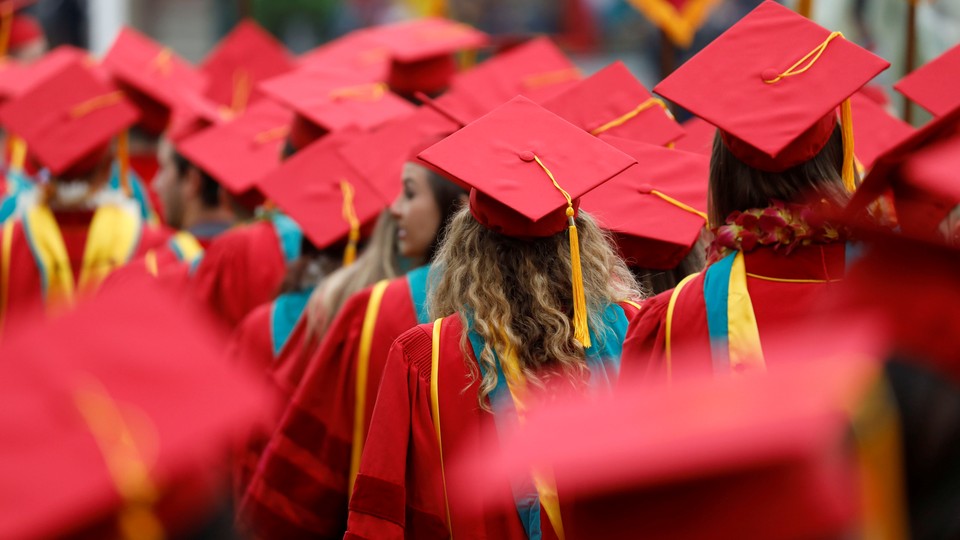 An Inside Look at America's Higher-Education Frontier
Sam Contis, Eric Benson | The California Sunday Magazine
It's easy to see Deep Springs College—a tiny, highly selective two-year liberal-arts institution just outside Death Valley—as a bastion of tradition. The school was founded in 1917 by the electricity tycoon L.L. Nunn to create service-oriented leaders, and in many ways it can seem like a finishing school for intellectual cowboys. The 25 or so students are all male. They spend their days engaging in both manual labor (the college is a working cattle ranch) and classroom discourse (syllabi skew toward the Western canon). Alcohol and drugs aren't permitted during the seven-week academic terms, and the community enforces a strict isolation policy that prohibits students from leaving the Deep Springs Valley except in cases of emergency or religious observance. Even the drive to the college evokes cinematic scenes of frontier outposts.
* * *
How Online Learning Turned High Schools Into Diploma Mills
Zoë Kirsch | Slate
What has happened in Gadsden, [Florida], shows how the push to rank schools based on measures like graduation rates—codified by the No Child Left Behind Act and still very much a fact of life in American public education—has transformed the country's approach to secondary education, as scores of districts have outsourced core instruction to computers and downgraded the role of the traditional teacher. It also offers a glimpse into what that shift means for the students who are increasingly dependent on online courses to help prepare them for college and the workforce. Spoiler: The view from the ground suggests that many online credit-recovery courses are subpar substitutes for traditional classroom instruction.
* * *
How Struggling Schools Cope With Extreme Teacher Shortages
Lori Higgins | Detroit Free Press
On any given day in the Detroit Public Schools Community District, about 100 classes are operating without a permanent teacher—the result of a dire teacher-vacancy problem that is taxing schools, teachers, students, and principals.
As of April 27, the district had 263 teacher vacancies. Of that number, 161 were being filled by long-term substitute teachers, including several dozen that are part of a program that puts them on a quicker track toward full certification.
Schools are employing a variety of methods to cope day-to-day. Some teachers are taking on bigger loads. Some are giving up their preparation time. Some principals are covering classes. And in some cases, instructional specialists and curriculum leaders are filling in.
* * *
Why a Philosopher-Founded School May Eliminate its Philosophy Program
Lindsay Ellis | Houston Chronicle
The University of St. Thomas—named after philosopher and theologian St. Thomas Aquinas—may eliminate philosophy programs, a signal of financial strain and a broader move toward professional programs at the private Montrose, [Texas], school.
Administrators are reviewing student interest, department offerings, and existing costs this month in advance of a June board meeting, sparking outcry among alumni and faculty. Supporters have raised more than $11,500 for a faculty legal-defense fund amid fear that the review will spur large-scale cuts.
* * *
A Final Graduation for Segregated Schools
Bracey Harris | The Clarion-Ledger
All of Cleveland, [Mississippi], is letting something go in one form or another this day.
Within two hours, degrees for Cleveland High School will be conferred by the state of Mississippi for the last time. Before the day ends, the same will happen for the Wildcats' cross-town rivals, East Side High.
The day of the ceremonies comes a year and week to the day that the federal judge Debra Brown ordered the Cleveland School District to consolidate its two high schools and middle schools, writing in her opinion that "the delay in desegregation has deprived generations of students of the constitutionally guaranteed right to an integrated education."
* * *
Sarah Carr, Mallory Falk | The Atlantic
Every teacher has a student they never forgot: the disruptive student who worked their last nerve. The shy student they struggled to reach. The heartbreaking student who endured too much too soon.
This week The Atlantic, in collaboration with Columbia Journalism School's Teacher Project, debuts a new audio series dedicated to telling the stories of these unforgettable students. Most episodes feature the voice of a teacher reflecting on their most memorable student, and the voice of the student describing the same set of milestones—from when the pair first met to their most frustrating, or inspiring, interaction.
* * *
A College Town Grapples With Gentrification
David Fishman | The Daily Northwestern
[Charrisse] Roberson's is one of more than 5,000 Evanston, [Illinois,] households that pay over 50 percent of their income to housing costs. At the same time, the city has lost 40 percent of its affordable housing units—for renters at 60 percent of the area median income and homebuyers at 80 percent—between 2004 and 2013 to high-priced rentals and homes. And after an election cycle where many municipal candidates vowed to improve affordability, voters passed a referendum in April to fund Evanston/Skokie School District 65 that would increase property taxes by roughly $450 a year.
Local officials and community leaders say maintaining affordability should be a high priority, inextricably linked to the city's diverse population and progressive values. Nevertheless, the problem is getting worse due in part to an exodus of unskilled jobs, lack of affordable housing and federal budget cuts.