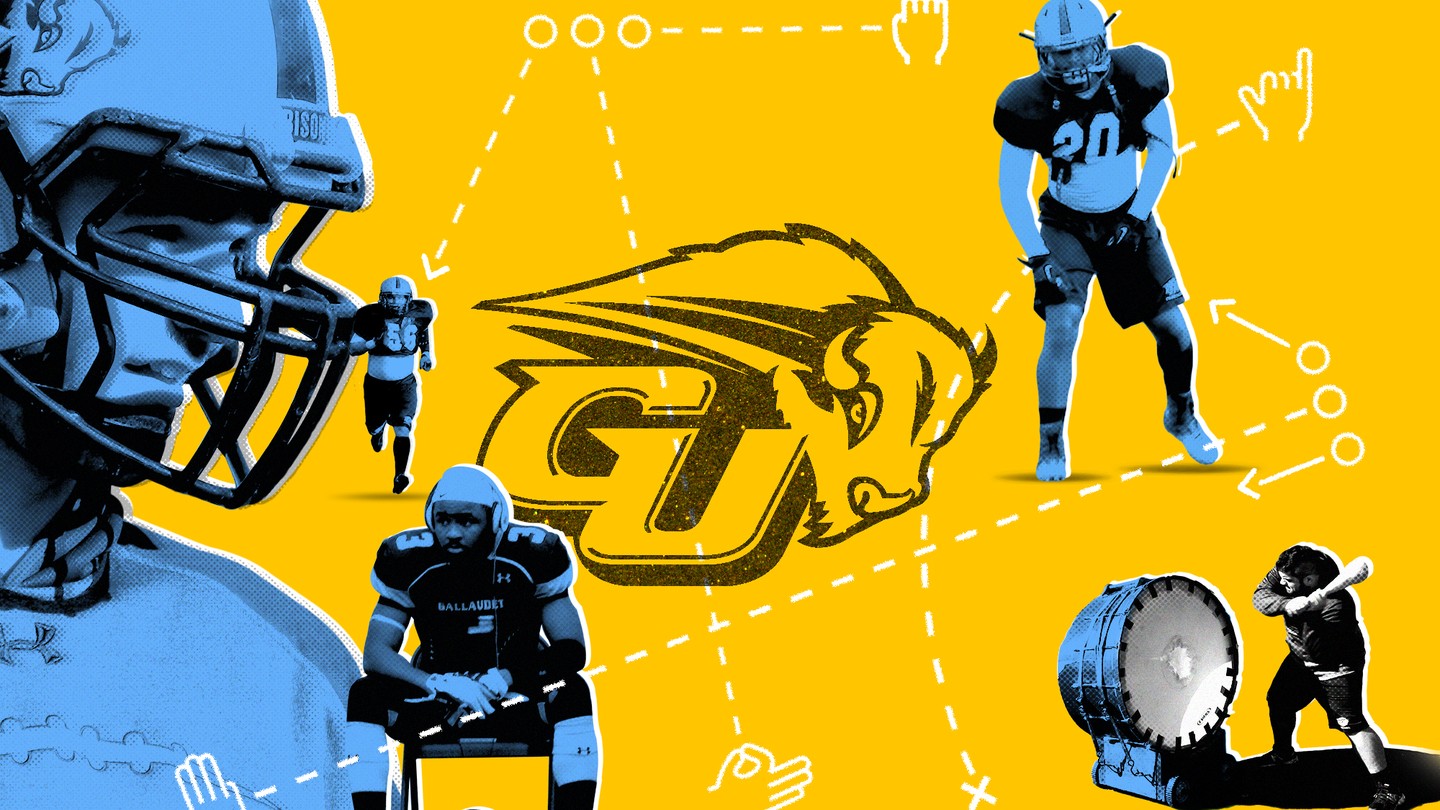 'America's Deaf Team' Tackles Identity Politics
In order to survive, Gallaudet University has to blend a diverse student body from very different backgrounds: deaf culture and hearing culture. Can football players show the school how?
The Homecoming game falls on a brilliant, unseasonably warm Saturday afternoon in late October 2016. The sun streams through the multicolored leaves of oak trees and dapples thousands of alumni and fans in patches of light and shade. Pop-up booths have been erected behind the football stadium: The Class of 2019 is selling crepes; the Class of 1992 is selling T-shirts; writers for the student newspaper, The Buff and Blue, are hawking the latest issue. Little kids terrorize the person dressed as the school mascot, a bison, by pulling his tail and then squealing in delight. The smells of fraternities grilling cheeseburgers waft through the air. Previous classes gather in anticipation of their march around the track, where they will be honored for their fifth, 10th, or 25th class reunion. Despite all the enthusiastic activity, everything is just a bit quieter than you might expect, like the volume has been turned down a notch or two.
Close to 1 o'clock, when the atmosphere is at its peak, and the two football teams stand on opposing sidelines, the home team's cheerleaders—all smiles—march to the center of the stadium to perform "The Star-Spangled Banner." There is no music, no singing. The crowd watches as the dozen cheerleaders stand in formation, an American flag high but limp in the windless air behind them. The cheerleaders start by extending their arms horizontally and then grabbing an imaginary bulb in their right hand—the sun—and raising it into the sky for "dawn's early light"; midway through, their arms pull back to show "rockets' red glare," hands explode for "bombs bursting in air," and their right hands wave that the "flag was still there." It ends, of course, with "the home of the brave," the cheerleaders stomping their feet on the FieldTurf, their flexed arms curled in signs of strength.
The crowd raises their hands and shakes them in the air, applause in American Sign Language, and the Gallaudet University Bison, the country's only college football team for the deaf and hard-of-hearing, takes the field for the opening kickoff.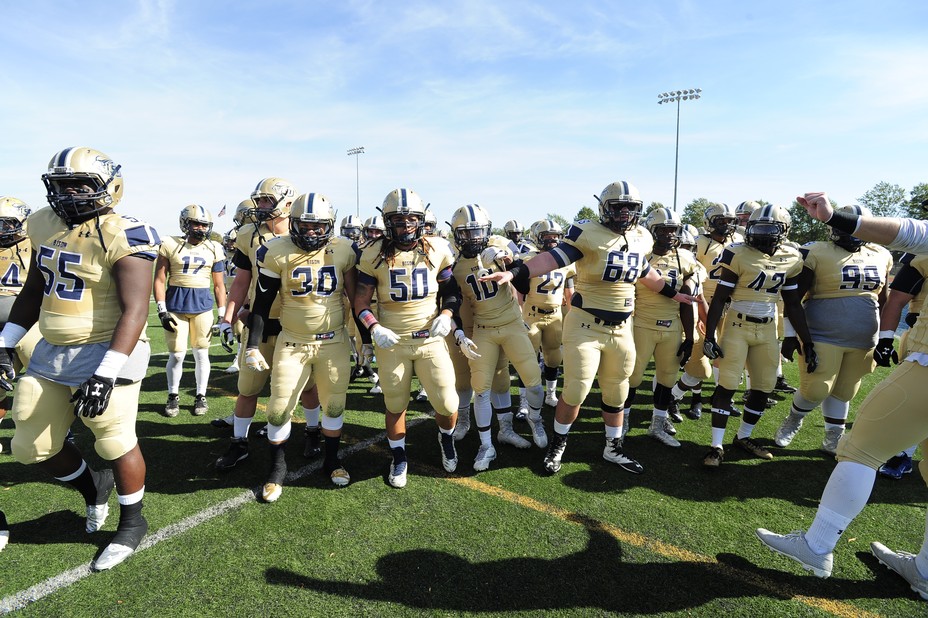 For this team, the season begins months before Homecoming, in Room G41, a large, windowless rectangle with retractable theater seating in the basement of the Gallaudet University Field House. A collection of young men enter through double doors and walk up the theater steps, their feet pinging and echoing on the hollow metallic casings. They wear shorts and baseball caps, athletic T-shirts and cut-offs, jewelry and headphones, sandals and sneakers, hearing aids and cochlear implants. There is talking, yelling, laughing, singing, and signing. They are black, white, and Latino. Those not yet old enough to vote and those who could buy a drink. Yet as the head coach Chuck Goldstein makes clear during this first team meeting of the season, such a collection of young men represents the entire deaf and hard-of-hearing community.
"We're the only deaf football team in the world," he says and signs, using a method of communication called "sim-com." And then his rhetoric gets on a roll: "We're America's deaf team. We have the best deaf recruiting class in the country. Better than Alabama's deaf team!" After he gets a couple chuckles, he turns serious and addresses the reason why there are both talking and signing in Room G41: "The biggest challenge we have at Gallaudet University," he says, "is communication."
Two days later, Gallaudet takes the field for its first official practice of the 2016 season. Practice always begins with the banging of a blue Evans bass drum. The bass courses through the feet of young men who cannot hear but who can feel the vibrations in their bodies. As the 70-plus players run and line up in the end zone, the drum is wheeled to the center of the field, where it supplants whistles and shouts to signal players to switch stretches. When warm-ups are done, the drum is struck repeatedly as the players do jumping jacks, chant "B-I-S-O-N," and then come together as if forming a mosh pit.
In the middle of the pit is Carnelius "C.C." Smith, senior safety, team leader, and Gallaudet's best player. "It's football season," he says and signs to his teammates. "We've been waiting for this all fucking summer." C.C. represents a certain kind of Gallaudet University football player—hard-of-hearing, mainstream-educated, raised in a hearing world with voiced English instead of American Sign Language (ASL). He was born in Atlanta but moved to Virginia Beach when he was 6. C.C.'s hearing loss isn't substantial, and he went through school and life without hearing aids or cochlear implants. He is a kind of Renaissance man—he plays and listens to music, takes photos. But his first love is football, especially tackling people, something he has been doing since strapping on pads in his peewee league. C.C. only played high-school football his freshman and senior years—an injury his sophomore year and a complicated school transfer his junior year kept him out—and because of that wasn't as highly recruited as he might have been. He chose Gallaudet, then, for one of the reasons many other mainstream-educated hard-of-hearing players do: lack of options. He didn't know ASL when he came to Gallaudet and had never interacted with deaf culture, but he has learned the former and embraced the latter.
After C.C. breaks out the team, the players move to position drills. The slotbacks in Gallaudet's triple-option offense represent another kind of football player. All seven slots are freshmen who are fully deaf, or close to it. Most were educated in schools for the deaf where ASL was the primary language. The communication challenge that Coach Goldstein was talking about is how players like C.C. interact with these slots. As a senior, C.C. is one of the best students at crossing the divide between the fully deaf and the hard-of-hearing, between spoken English and ASL. At Gallaudet, this is what identity politics looks like. And every year, new players—like these seven slots—arrive, and the process begins anew: How do you merge two languages, two cultures, two approaches to the absence of sound?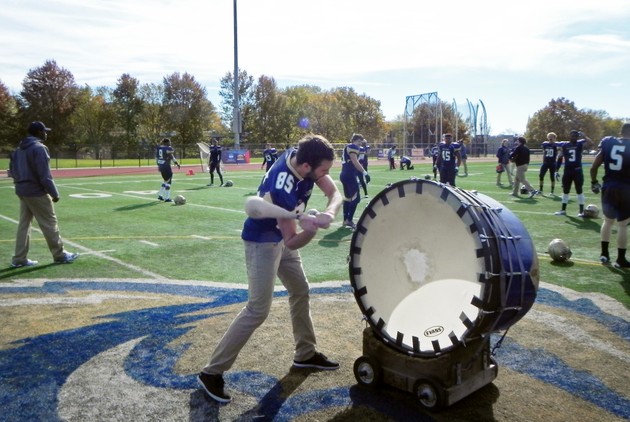 Watching the slots practice cuts and pitches, I'm struck by this absence. I have been covering the Gallaudet Bison for three years, and there have been many moments in that time when I have found myself standing on the field, surrounded by dozens of young men in football pads and coaches with play sheets, when all I can hear is ancillary sound—the thump of a football from a punter's foot, the crack of a pad, the clap of a hand. Today, it's the metal grind of a sled as the offensive line drives into fake, foam men to practice its blocks. And it is in these moments of silence when what Gallaudet is attempting to achieve through its football program rings most profound.
A 99-acre leafy island in Washington, D.C.'s revitalizing Northeast quadrant, Gallaudet University is currently the world's only university for the deaf and hard-of-hearing. Initially founded in 1857 as a school for deaf and blind children, the school had its collegiate charter signed by Abraham Lincoln in 1864.
The origin story of deaf education in the United States is so vital to the community and the campus that, in my introductory class in American Sign Language, we learned how to tell it in sign. The story goes that in May 1814, Thomas Hopkins Gallaudet, a pastor, came across a neighbor's deaf daughter on a walk and couldn't communicate with her. This moment spurred in Gallaudet a lifelong passion for educating the deaf (primarily so they could access God's words), and he traveled across the Atlantic in search for educational models. In France, he witnessed the educator Laurent Clerc teaching deaf pupils in sign language. Gallaudet convinced Clerc to come with him to the United States, and together, Clerc and Gallaudet started the American School for the Deaf in Hartford in 1817, teaching their students in sign. It was a method of teaching that traveled south to Washington, D.C., when Edward Miner Gallaudet, Thomas's son, became the first president of the Columbia Institute, which was renamed Gallaudet in 1894 to honor Thomas.
It might seem obvious that deaf people should be taught in sign, but it's not. For this, many deaf people blame Alexander Graham Bell. To the hearing world, Bell revolutionized communications possibilities, but for deaf Americans, Bell's name is synonymous with pain, trauma, and threats of extinction. Bell, an educator of the deaf married to a deaf woman (his telephone stemmed from attempts to improve communication with her), spearheaded the oralist movement of the late 19th century and supported laws prohibiting the deaf from marrying each other in hopes of eradicating deafness. Oralists believed the best way to educate the deaf was to force them to speak and teach them how to read lips. And though oralism triumphed nationally, sign language won out as the preferred method of communication at Gallaudet. Still, no one considered sign an actual language until the English professor William Stokoe filmed Gallaudet students and faculty signing during the 1950s and '60s. Stokoe picked up patterns reminiscent of spoken languages, and he catalogued the many speech patterns embedded in signing, proving to the world how linguistically robust sign language is. It was named American Sign Language—because of Clerc's influence, it bore a close resemblance to French Sign Language—and ASL became the linchpin of a blossoming deaf culture and identity movement centered around Gallaudet.
And though Gallaudet University recently marked its 150th year, its future is uncertain. As the number of deaf high schools in America dwindles and mainstream education increases, Gallaudet is struggling to maintain its enrollment. How does what one friend calls the "Deaf Hollywood, Capitol Hill, and Wall Street" retain its deaf cultural identity while also broadening its tent for the sake of its own survival? What does it mean to be deaf? One answer can be found on the football field, where the mixture of the culturally hearing, mainstreamed athletes and culturally deaf, deaf-school athletes creates a mosaic that would not have existed 10 years ago but that is perhaps the model for the university's—and the community's—composition 10 years from now.
Sean "Reds" (because of his hair) Fenton is C.C. Smith's roommate and good friend. As an infant and young boy, Reds followed his twin sister's every move: When she jumped, he jumped. When she left the table, he left the table. Reds was born deaf, but his sister was not, and his parents didn't even recognize his deafness until he was 2. He received a cochlear implant soon after and wore it while receiving vocal training. He was mainstreamed at Catholic schools in Chicago, played football, and was heavily recruited. He chose Gallaudet because on his recruiting trip, he saw people communicating in ASL and wanted to be a part of that. Reds plays middle linebacker and ultimately became a semifinalist for the prestigious William V. Campbell Trophy, an award that honors academic excellence in college football. (It's also known as the "academic Heisman"; Tim Tebow is a notable recent winner.) Reds and C.C. are the kind of players who have changed the composition of the Gallaudet University football team, a program that was founded in 1883, making it one of college football's first organized teams.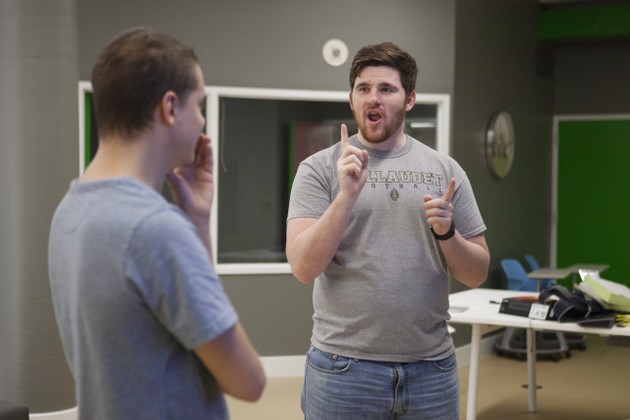 Before there were telephones in homes, before there were airplanes and cars, before computers and hearing aids and cochlear implants, before penicillin and inoculations and brain scans, American football has been played under autumnal skies in Northeast Washington, D.C. More than played, the game has been forged here. In 1894, the Gallaudet quarterback, leading his team against another deaf school, grew concerned the opposing defense was stealing his signs. So he gathered his teammates together in a circle behind the ball—and the football huddle was born. Since then, like Notre Dame, Gallaudet has developed its own mythology: the Dirty Thirty, the Bison Dance, the importance of the blue Evans bass drum.
Gallaudet football's current incarnation began in 2008, when the program moved from a club team back to Division III. They became founding members of the Eastern Collegiate Football Conference in 2009, and that year Gallaudet went 6-4, its first winning season against solely Division III competition since 1930. The head coach moved on shortly after the season ended, and the program fell into the hands of two young coaches: Chuck Goldstein, who became the head coach and offensive coordinator, and John Davis, who became the assistant coach and defensive coordinator. Davis and Goldstein were football men, both hearing, who had played college football themselves. They ran schemes that fit their personalities. Davis, full of passion and a measured aggressiveness, ran a blitz-heavy defense designed to create turnovers and wreak havoc. Goldstein, more contained and precise—the kind of man who wipes a speck of dirt off his desk—ran the triple option, an old-school offense that emphasizes ball possession and assembly-line-like efficiency.
Together they overhauled the Gallaudet University football program in significant ways, none more important than in recruiting. Traditionally, Gallaudet's football program mirrored Gallaudet's student body. Most players, like most students, came from schools for the deaf across the United States. Davis and Goldstein knew that success in Division III depended on deepening their talent base, and they struck upon a revolutionary idea. In addition to recruiting deaf-school athletes, they planned to recruit hard-of-hearing athletes in mainstream schools across the country, players like C.C. and Reds.
They found and recruited these athletes in three primary ways. They Googled phrases like "deaf football player Kansas" for any stories that may have been written in local press about high-school players who were also deaf. They cross-referenced all the high-school students who checked the "hearing-impaired" box on standardized tests with high-school football programs across the country. And they consulted Barry Strassler, an extremely active Gallaudet alum who prides himself on finding the best mainstream, hard-of-hearing talent in the United States. The results of these efforts were recruiting classes composed of great athletes, many of whom could have played at Division I, Division II, or other Division III schools.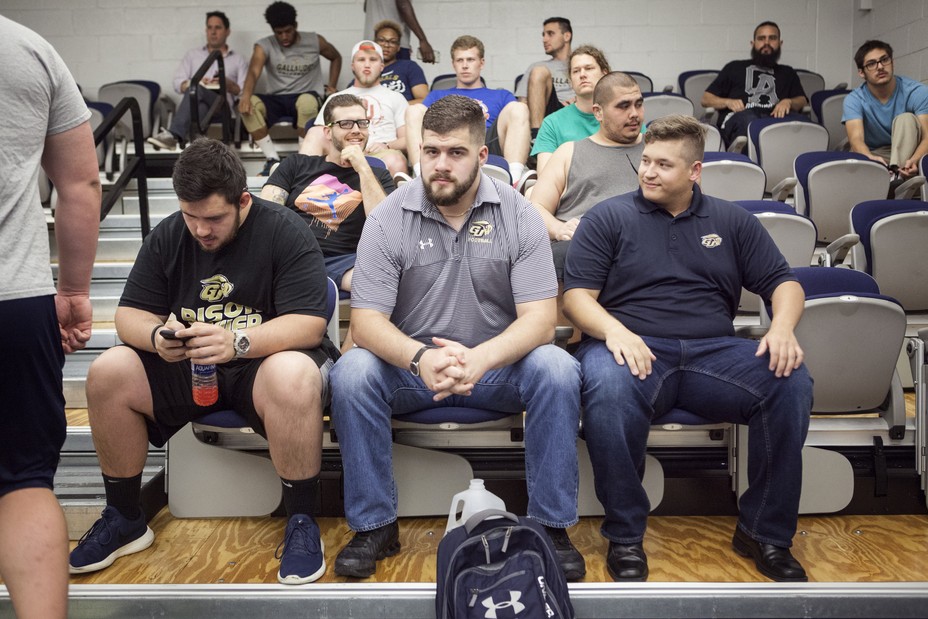 They chose to come to Gallaudet for a variety of reasons. Some had poor grades and poor test scores and had trouble getting in to other colleges. (Nonetheless, Gallaudet is still regarded as a fairly selective school.) Some were wooed by Davis and Goldstein with the promise of immediate playing time. Others wanted the opportunity to be part of a community and culture that might be best suited to their educational and personal needs—the community and culture of the deaf. Whatever the reason, the number of players on the team swelled, and the Bison became a polyglot of the deaf experience—deaf-school graduates fluent in ASL, mainstream-educated players who had never signed in their lives, and everyone in between. In 2010 and 2011, Gallaudet went 5-5, but in 2012, they jumped to 7-3. Perhaps the greatest indication of their recruiting success was that from 2009 to 2012, a Gallaudet player won the Eastern Collegiate Football Conference award for Freshman of the Year. All this talent and skill culminated during the 2013 season.
The Bison started the year 8-0, and media from across the country—including ESPN—became interested in the story of the Gallaudet football team. With a victory on November 9, the Bison won their conference championship and made the Division III playoffs for the first time in team history. It was a win for the Gallaudet University football program, but it felt like something larger. Yes, it was a victory for people who had historically been mocked, dismissed, and marginalized throughout American history; but more importantly, it was a victory that represented the future more than the past. The team was composed of players from the deaf schools of America who had grown up culturally deaf and players from mainstream high schools who had been raised culturally hearing. It was a hopeful note that, if the university was going to open its doors to students who were not yet fluent in American Sign Language, perhaps the results could be as good in the classroom and on the campus as they had just been on the football field.
the only two players who remain from the 2013 championship season are Reds and C.C. (who wears his championship ring before every game), and they sit two rows apart from each other in Room G41. On the Monday afternoon following their first game, a 43-6 loss to Shenandoah University, Coach Chuck, as he's known on campus, walks in, flicks the lights three times to get everyone's attention, and stands in front of his players to recap Saturday's game.
"I have never seen a team so nervous before a game," he says and signs in sim-com. "We just need to relax. Next time, I know you will." He rattles off some of the positives, including the fact that hardly anyone quit. "Last year, that didn't happen. We gave up last year."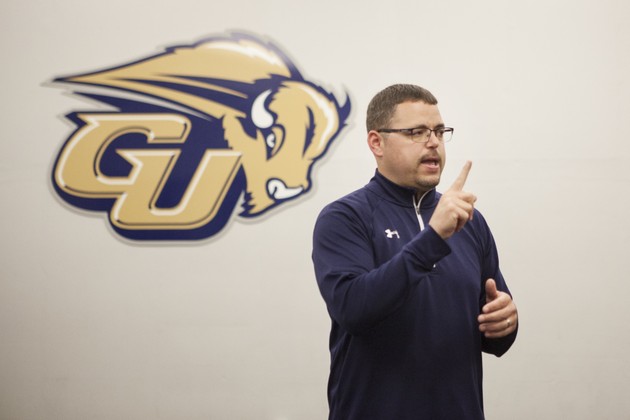 If 2013 marked Gallaudet's apex, then 2015 was its nadir. The season started poorly before it even began. Coach John Davis, who had been the heart of the team and its defensive mastermind, left to take a head-coaching position at a high school in Florida. Then, of the almost 18 freshmen Gallaudet had been counting on to return as sophomores, only five had the grades, temperament, and desire to return. A full 13 players didn't make it back, a fact that crippled the team in terms of talent and number of bodies. The season was even worse. Halfway through, nine players were kicked off for violating team rules, and others were either injured or quit. By the last game, Gallaudet was playing with fewer than 30 players, the majority of whom were college freshmen: 18-year-old boys playing against 22-year-old men. The Bison went 0-9 and were only competitive in one game.
The silver lining in the storm clouds of 2015 was the freshman class—a talented group whose chemistry and cohesion didn't waver during their tumultuous first season. Unlike the previous year, almost everyone returned for 2016, and they were paired with an even more talented freshman class to boot. In the recap of their first game, Coach Chuck makes mention that Timel Benton, who won the starting quarterback position, has just been named the conference's Offensive Freshman of the Week, a harkening back to the glory days of Gallaudet. This season is perhaps the most important season in three years. On a team full of freshmen and sophomores, Coach Chuck needs to reestablish the identity of his college football program. He doesn't need to win the conference, but he needs to demonstrate marked improvement in commitment, effort, and competitiveness, and he needs to develop the young players sitting before him in G41, players who are looking to C.C. and Reds for leadership.
After each game, the Bison award the Hammer to the player with the best hit of the game. Because of his physicality, C.C. usually takes the Hammer. But today, everyone is giving the captain shit because he didn't have a single good hit. "You were a little bit softer than normal," Chuck tells him. C.C. buries his head in his hands, and he responds solely in voice, forgetting to sign. "I just don't understand it," he says in a mixture of anger and exasperation. To make matters worse, Reds wins the Hammer, a smirk on his face as he goes down to retrieve it.
Gallaudet University wasn't always home to mainstream-educated, hard-of-hearing students like C.C. Smith. In fact, for a long time, Gallaudet was hardly home to anybody at all. In 1955, the year William Stokoe arrived, Gallaudet's enrollment was only 254 students. Two years later, Gallaudet achieved accreditation as a university, and enrollment slowly increased. Then, from 1963 to 1965, Rubella broke out in the United States, deafening more than 8,000 newborns. These infants came of college age in the 1980s and pushed Gallaudet's enrollment over 1,200. Deaf consciousness had also grown, fueled both by the recognition of ASL as a language and by the civil-rights movements of the 1960s.
In the school's first 124 years of existence, despite its status as the world's seminal deaf university, deaf education at Gallaudet had been exclusively led by the hearing. By 1988, as Gallaudet sought a new president, many in the deaf community felt Gallaudet was long overdue for a deaf leader. Instead, the Gallaudet Board of Directors chose yet another hearing president, and the Deaf President Now (DPN) movement began. Students closed the campus, and on March 11, 1988, 2,500 protesters marched from Gallaudet's gates to Capitol Hill. Two days later, the hearing president resigned and I. King Jordan, the College of Arts and Sciences dean, was named president. For the first time, the only university for the deaf and hard-of-hearing was led by a deaf man.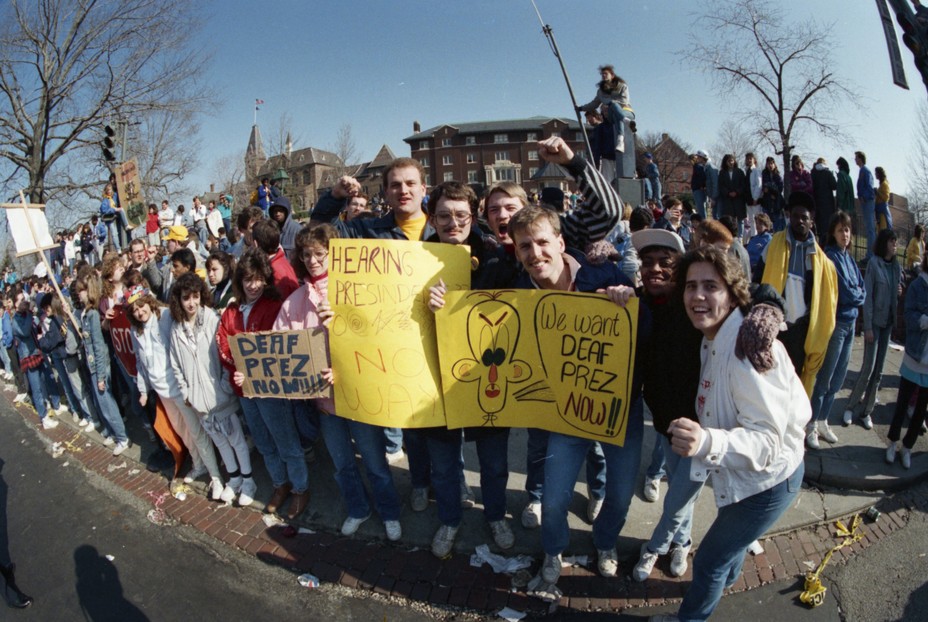 It is hard to overstate the importance of the DPN movement. Not only did the university meet the demands of the students, but Gallaudet hired more deaf faculty and saw a dramatic increase in its endowment. More importantly, DPN ushered disability rights into the nation's consciousness, catalyzing the passage of the 1990 Americans with Disabilities Act. Ironically, at this triumphant moment of deaf rights and deaf power, the seeds of Gallaudet's current struggles were sown. By broadening educational access and opportunities for deaf children, the Americans With Disabilities Act lessened the importance of all-deaf secondary schools and Gallaudet. It was also around this time that cochlear implantation was approved by the U.S. Food and Drug Administration, making it easier than ever for deaf children to hear from an early age and attend mainstream schools.
Enrollment figures at Gallaudet began to drop from a 1991 high of 1,900. And though last year marked a spike in enrollment that placed the undergraduate population at 1,121 students, Gallaudet has failed to hit undergraduate enrollment targets seven of the past 10 years. Everyone on campus—from administrators to faculty to students—recognize that the existential challenge facing Gallaudet is how to attract students and, more broadly, which students to attract. In 2000, hearing students were admitted for the first time. Today, a rising percentage of Gallaudet's students come from mainstream backgrounds, a percentage that likely needs to keep rising in order for the school to survive.
This is not without controversy, especially as it relates to students with cochlear implants, students like Reds. Cochlear implantation is an invasive surgery that places an implant into the cochlea, the spiral within the inner ear that contains the primary organ for hearing. A processor close to the outer ear sends electronic sounds to the cochlear implant, which directly stimulates the hearing nerve. What you think of this surgery depends, in part, on how you view deafness—as an identity trait or a problem to be solved. Many in the Gallaudet community see deafness as an identity trait, and they see American Sign Language as the primary expression of that identity. So do some in the hearing community. One hearing mother of a player on the football team told me she never considered implanting her son because it would be like changing his race. The argument, then, of who is deaf and how this deafness is expressed cuts to the core of language, identity, and biology and has deeply affected the Gallaudet community.
In 2006, a series of protests over another school president erupted on campus. This time, some within the Gallaudet community felt the selection of Jane Fernandes wasn't appropriate because, though she is deaf, she did not grow up using sign language. The protests were not as harmonious as DPN's, and schisms on campus revealed cracks in the cohesiveness of Gallaudet. But the protests were successful; Fernandes's offer to be Gallaudet's first female president was eventually rescinded. It was a reminder of the presence of a powerful and passionate element on Gallaudet's campus and within the deaf community, what people around the school commonly refer to as the Big D contingent: people who see any challenges to the culture and identity of the deaf as a threat. The people who rip cochlear implants off students' heads or slap phones out of students' hands as they speak on them—both of which have happened on campus.
These elements, trends, and challenges reverberate on the football team. I have met mainstream-educated hard-of-hearing players who say they have found their true selves and a true home at Gallaudet. I have met similar players who say they feel like more of an outsider within Gallaudet's gates than outside them. And I have met completely deaf, deaf-school-educated players who are both welcoming to their mainstreamed brothers and also skeptical of their commitment to ASL. But football unites them—in fact, football seems to unite everyone. Nothing celebrates the myriad layers of the deaf community quite like Gallaudet's Homecoming game, a Saturday afternoon that is the largest annual gathering of the deaf and hard-of-hearing anywhere in the world.
Heading into their Homecoming game, the Bison are 1-6, but their record is deceiving. Two of those losses should have been victories, if not for their young offense making ill-timed mistakes. They've only been dominated by one team: Husson College, the conference champions from a year ago. More important than the wins, however, is that the team is forging an identity. Only a couple players have quit and, with the exception of Reds, who is out with a badly sprained ankle, the Bison have been relatively healthy. This means that their freshmen and sophomores are gaining valuable experience playing together, and the team seems to be enjoying each other's company.
Just as noticeable, there is a strong balance between contributions from the completely deaf and those who are hard-of-hearing. On defense, mainstream-educated though predominately deaf sophomore Solomon Worthey has been Gallaudet's best defensive lineman. And on offense, freshman Adam Wermer and Eli Spinosi are both slight, intelligent, and fast slotbacks in Gallaudet's triple-option offense, part of the silent deaf crew from that first day of practice. Adam has dramatic, curly, multicolored dyed hair that sometimes gives him the look of a clown; and coaches are already pegging Eli as possessing that ineffable it quality, the leadership DNA that combines hard work, athleticism, smarts, and fun. If the team is to have success, it must have true balance, leadership, and athletic contributions from players like C.C. and Reds as well as players like Solomon, Adam, and Eli. This is how it was back in 2013.
Coach Chuck walks in to G41, flicks the lights, and begins his Homecoming speech—telling the players this weekend is special, that everyone on campus is here to watch them play. "And it's our opportunity to show them what our future looks like," he says. "We can't change our record right now. But we're a team with potential—skill. We're good. I know it." He tells them that the phrase of the day is "Gold pride." (The team's colors are "buff" and blue, but the buff part is notoriously often replaced by yellow or gold.) He also says that though he's usually not much of a Twitter guy, he sent a tweet out today. "I told the alumnae to bring their dancing shoes," he says, "which means I'm fucking guaranteeing a win today."
Homecoming games are my favorite to cover. Before the game, I walk up to the top of the bleachers and watch as more than 1,000 people mingle in the road behind Hotchkiss Stadium. In addition to the expected booths and festivities that accompany any university's Homecoming, there are booths specific to Gallaudet: Deaftax.com; #WhyIsign for Sorensen Video Relay System; the Virginia Association for the Deaf. The most interesting is perhaps the Student Association of Audiology, which is asking a question on a petition open for signatures: "We think more audiologists should sign. Do you agree?"
For someone like me, a hearing man with no prior exposure to deaf culture, the signing is the most distinctive trait of the deaf community. Though there are more than 1,000 people present, the two primary sounds are intermittent laughter and the consistent beat of early '90s hip-hop coming from one of the booths. It's simultaneously quiet and loud, my ears dulled but my eyes filled with the movement of sign, a language, like all languages, whose beauty comes from its mixture of formality and improvisation. Communicating in ASL is a full-body experience, at least from the chest up—it involves your hands, sure, but facial expressions like eye raises and brow crinkles are just as important. There is fluidity to it, like water, a creative expression akin to jazz. And its beauty is on full display in the silent national anthem, a moment that, no matter how many times I see it, brings me to the verge of tears.
Gallaudet moves the ball well on their opening drive but has a field goal blocked. After stopping Castleton University, their opponent, they get the ball back on their own 21-yard line. The first play of the drive is a 14-yard run by sophomore wide-receiver L.J. Watson, who is the only fully hearing player on the team. L.J.'s parents are deaf and he's fluent in ASL as a result—he also happens to be one of Gallaudet's best players.
After L.J.'s run, Coach Chuck calls standard triple-option plays, an offense he runs at Gallaudet for two reasons: size and time. Given the shallow pool from which Gallaudet recruits, it is rare to find large offensive linemen. The triple option, with its focus on movement and speed, is much more conducive to the athletic offensive linemen who come to Gallaudet. The other focus is holding onto the ball and running as many plays as possible, both to tire out the opposing defense but also to rest Gallaudet's own defense. When run well, watching the triple option is like watching a choreographed ballet, when all the players know their roles and move in sync with one another. This is how the offense looks on this drive. After another long run of 21 yards, the Bison have methodical gains of four, seven, four, three, five, four, and six yards, moving Gallaudet down the field and chewing up the clock. Soon, the first quarter is gone, and Gallaudet has the ball second and goal from the five-yard line. On the first play of the second quarter, the youngest player on the team, 17-year-old Eli Spinosi, gets a pitch from freshman quarterback Timel Benton. He runs to the left, scores a touchdown, and Gallaudet is winning 7-0.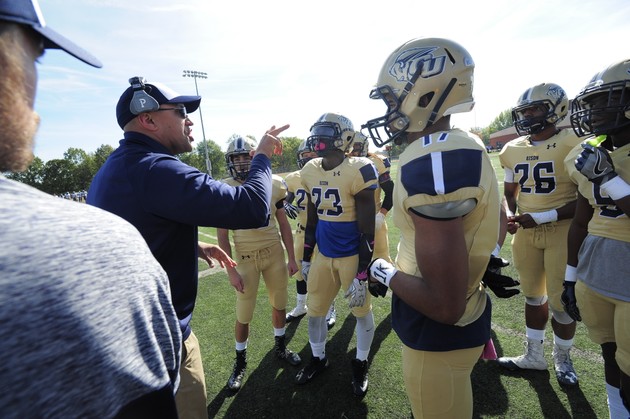 Castleton scores on its next drive, and though both teams threaten to take the lead—Gallaudet's offense can't finish drives, but Gallaudet's defense has made two big interceptions—the score is tied 7-7 at halftime. The mood in G41 is mixed—the defense is feeling good about itself while the offense is feeling a little disappointed it doesn't have more points. Brad Peterson, a sophomore offensive lineman and team leader, goes around the room and tells everyone on offense to pick their heads up, in one case, physically lifting the head of a teammate that has slunk a bit. "We got this," he says and signs, eye black dripping in tracks along his cheeks. "We're moving the ball. Next time, score." On defense, Reds goes up to sophomore Daequan Taylor, who has replaced him in the lineup, and slaps him on the shoulder pads. "You're playing great," he tells him. "I may not have a position when I get back."
Before they leave G41, Coach Chuck gathers them together. "I promise you," he says, "you are good enough to manage the situation. You can today. Today, in front of all these people, who are watching a great football game, today will be the day that you will show. Right now is the time." Then, more slowly, he says, "It is Gold pride. Do it again. Gold pride." He signs demonstrably, and his players follow. Soon a sim-com chant of voice and sign starts. "Gold pride. Gold pride." The chant grows faster and faster, signing and speaking, speaking and signing, "Gold pride. Gold pride. Gold pride …" until Chuck cuts it off. "Bison on three," he yells and signs, and the team rushes out of the locker room.
After a third Gallaudet interception on Castleton's first drive of the second half, the Bison, based largely on two runs by freshman Adam Wermer, the clown-haired player, march close to the goal line. On fourth down from the 10-yard line, Timel finds Adam in the end zone for a touchdown and a 14-7 lead. Castleton, though, comes right back and scores a quick touchdown to tie the score at 14-14. The third quarter ends with Castleton halfway through a 15-play drive that results in a field goal. There is now 11:52 left in the game, and Gallaudet is down by three points.
The weather is gorgeous and the power of the sun has lured hundreds of spectators to the shade of oak trees by the far end zone. Others are leaning against the metal fence that encircles the field because the stadium is sold out. It's a great atmosphere, and the tension of a close game adds to it as Gallaudet drives toward that end of the field. Like it has been all game, Gallaudet feeds the crowd a steady diet of freshmen: Canton Meadows, a short, sturdy, mainstream-educated fullback from Oklahoma; Spencer Maples, a mainstream-educated slotback from Texas; and Alvin Anthony, a slotback from the Texas School for the Deaf. And then, finally, a pitch from Timel—mainstream-educated from South Carolina—to Eli, educated at Gallaudet's Model Secondary School for the Deaf. Eli sneaks into the end zone because of a wonderful block by his friend Adam, a graduate of the California School for the Deaf. Gallaudet has a 21-17 lead, and when the offense comes to the bench, all the alums who have lined the sideline smack the players on the helmets and shake them by the shoulder pads, especially Eli, who has a grin the size and shape of a Cheshire moon on his face.
Coach Chuck faces them. "I told you," he says. "Believe in yourselves. You are great players."
Now the question becomes whether Gallaudet can stop Castleton and preserve their lead. After an exchange of scoreless drives, Castleton gets the ball with 2:20 left in the game. They face a fourth-and-seven, and it looks like Gallaudet might stop them, but two pass plays covering 50 yards sets Castleton up first and goal from the 10-yard line with the clock ticking. Castleton is moving the football in the direction of the Gallaudet fans, and the closer they get to the goal line, the louder, yes, louder, the stadium becomes. Students shake the bleachers. Parents of players (close to 95 percent of deaf children are born to hearing parents) scream and yell. The Gallaudet cheerleaders shake pom-poms and lead faintly audible chants that are better understood in ASL—"We're number one!" The sidelines are crowded with alums, university officials, current coaches of other teams, and photographers. On first-and-goal, Castleton runs for five yards, then there is a loss of one, and Castleton calls timeout with 41 seconds left. The best player ever to emerge from Gallaudet—a defensive back named Tony Tatum who once played Arena Football—is standing near me in the crowd. On third down, after an incomplete pass, I hear him say, "One more down." And it's true—if Gallaudet can stop Castleton from gaining six yards, they will win the football game.
Something is off about the fourth-down play from the start. All of Castleton's players move toward the Gallaudet crowd on the sidelines, and it seems odd that Castleton would send all 22 players on the field toward one constricting direction. But then the wrinkle appears. A 250-pound offensive lineman named Jordan Stone peels off and drifts in the opposite direction from where everyone is running. You can see the play unfold—his openness, the thousands of bits of FieldTurf rubber pellets leading him to the end zone. When the quarterback pivots and throws to him, the play exposes Gallaudet's two main weaknesses, communication and size. On a team composed of hearing players, all the coaches and players would have to do is shout, "Passsss" and indicate that a large man is becoming dangerously open on the other side of the field. But Gallaudet can't do that. There are also very few Gallaudet players, especially on defense, who weigh 250 pounds. Everyone watching can see what is happening, and soon some of the defenders do, too, and when Stone catches the pass on the six-yard line, it becomes a foot race toward the goal line. Stone lumbers and plods, and three athletic, hard-of-hearing, mainstream-educated players, two freshmen and one sophomore, chase after him. There is a big collision and some confusion until the officials signal that Stone has been stopped at the one-foot line. Gallaudet has won.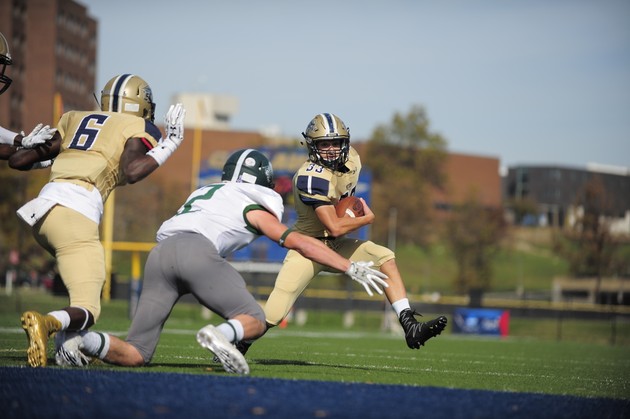 After the game, the team gathers in front of the packed bleachers, and the blue Evans bass drum is wheeled to the center of the crowd. Coach Chuck screams and signs, his voice hoarse but his hands still working, "When we win, we dance!" A former player begins to rhythmically beat the drum, bop, bop, bop-bop-bop, and soon everyone—current students, alumni, and the president of Gallaudet—dance along with the players in the Bison Dance.
A fragile sense of unity accompanies victory.
As a reporter who has been covering Gallaudet for three years—who read the hype in 2013 and witnessed the awful failure of 2015—I find the victory and the glory easy to write and tell. Who doesn't like a story of a deaf college football team that wins? Following my first year covering the Bison, when Gallaudet went 2-7, I had a beer with one of my favorite players, who has since graduated and gone on to graduate school. I told him about my struggles finding a publisher for an article about a losing season, and he got it right away. "Of course," he said. "Who wants to read about a deaf team that fails?" And yet, the real essence of this team is not measured in wins or losses, but in composition. In communication. In a blend of culture and language and identity that smashes together like two football players.
Two weeks after Homecoming, on my way to Room G41, I walk past the equipment room. All the shoulder pads are stacked, the dinged helmets hung from hooks, the Bison decals off. Gallaudet lost its last two games, the final a 31-28 heartbreaker to their biggest rival, the State University of New York, Maritime. Nevertheless, room G41 is packed for the final team meeting of the season. Coach Chuck gives awards for the game. The defensive players of the week include Reds, who had 12 tackles, and C.C., who had 17 tackles and an interception returned for a touchdown. The offense player of the week is Eli. "He's going to be a great player," Chuck says about him. "Next year, two years, three years."
And this is why, though Gallaudet has gone 2-8, this season doesn't feel like a failure. They will miss C.C. and Reds, their leadership and talent, but almost everyone else in the room will be coming back. Hopefully. There is always turnover—players drop out, fail out, can't afford college. "I want to do everything we can to keep all of you here," Chuck says and signs, acknowledging the challenge.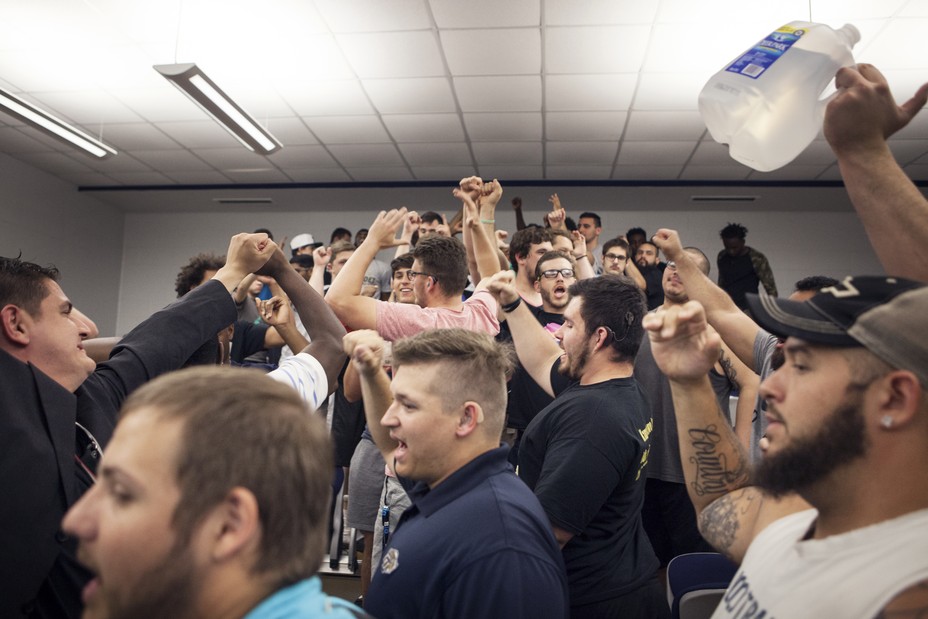 Of course, the biggest hurdle the team faces is still, always, ever since they began recruiting mainstream-educated, hard-of-hearing players who are not fluent in ASL, communication. Chuck has opened the floor up to comments from the players, the first time I've seen him do this in my years covering the team. The first player to come down is an offensive lineman who says that now that football is over, it's important for everyone to keep signing. "We're at a deaf university," he says and signs. It's said in a way that is bordering on a scold, at least that's how it seems to me. Another player clangs down the metal seating. He's a hard-of-hearing, mainstream-educated player who signs and speaks. He must have felt a little of what I did, because he acknowledges the first player's concerns, but then he gets a little defensive. He says that the deaf players pass him at the breakfast table.
"Don't be afraid to talk to us, too," he pleads, his voice trailing off at the same time as his sign.