What Is the Future of College Marketing?
The "typical" American college student is changing. Is Big Data equipped to keep up?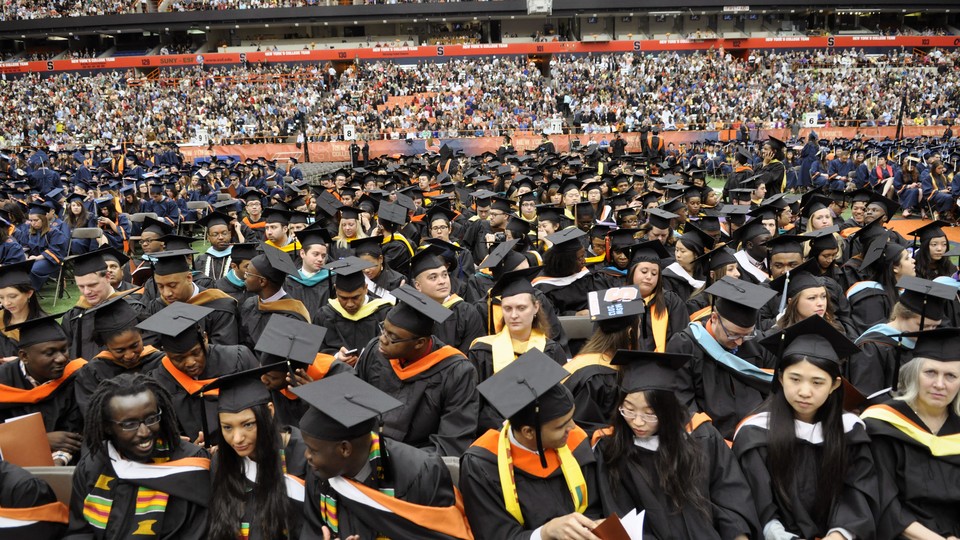 This is the final installment in a three-part series on the role of Big Data in the college-search process. You can read part one on colleges' year-long pursuit of students here and part two on sophisticated student-targeting formulas here.
The world of college admissions is bound by traditions: the calendar of deadlines throughout the fall and spring, the college fairs and campus tours, and the academic measures used to admit students, such as high-school grades and SAT and ACT scores.
If anything has changed, it is the increasing role of technology. It has allowed students to easily and quickly apply online to multiple colleges, as well as take virtual tours of campuses from the comfort of their living rooms. For colleges, technology has been a double-edged sword. While they reach more prospective students than ever before, the deluge of applications that have come as a result has taxed admissions offices and made it difficult to distinguish the serious from the casual applicants.
The newest deployment of technology in admissions has led colleges to shift from demographics to psychographics in recruiting prospective students, giving campuses the ability to better pinpoint applicants who will be the best fit. But the rise of such sophisticated marketing techniques through the use of Big Data has also come in an era when colleges have largely been recruiting students who have driven their growth in the past: affluent, well-prepared, and mostly white high-school graduates.
The United States is now entering a lengthy period of stagnation in the number of high-school graduates, and especially a decline in white students. In 2000, white students made up 70 percent of U.S. high-school graduates, according to data from the Western Interstate Commission for Higher Education. By the early 2030s, they will represent just 53 percent. Students of color are far more likely than their white peers to be low-income or the first in their families to go to college.
The question for the tradition-bound college-admissions industry is whether the strategies that have worked well in the past—mostly buying names of prospective students from the College Board and the ACT to inform marketing decisions—will continue to yield a new generation of students whose parents didn't attend college or lack the financial means and the willingness to travel far to campuses.
"Purchasing names is not the be all and end all to finding a diverse class of students," said Timothy E. Brunold, the dean of admission at the University of Southern California. "It requires more work and meaningful contact with students."
Often that comes through organizations that serve low-income and first-generation high-school students, such as QuestBridge and the Posse Foundation, which identify high-achievers from low-income families, as well as the College Advising Corps, which places recent college graduates in low-income high schools to work as college advisers.
Because most colleges are trying to achieve greater diversity while at the same time improving their academic profile, first-generation and low-income high-school students with top test scores are typically the most sought after when colleges purchase prospect names from the ACT and College Board.
Ivan Alexis Mosqueda fit that profile after he received a near-perfect score on the PSAT his sophomore year at William Monroe High School in Central Virginia. "I started to get flooded with mail and e-mail from colleges," he said. "It was overwhelming. It wasn't useful at all in sorting out the options I had or in making decisions on where to go."
Now a senior, Mosqueda said he received intensive help during the college-search and application process from QuestBridge, from a counselor at his high school from the College Advising Corps, and through a Yale University program for high-achieving students.
Without those advisors to guide him, Mosqueda said he would have been lost in the marketing maelstrom unable to navigate the pathway to college. Instead, he's going to MIT in the fall. Many low-income students aren't as fortunate and "undermatch," meaning that they don't attend—or even apply to—the most selective college that would accept them and where they are more likely to graduate.
One concern of admissions deans is that, as the pool of would-be students able to pay significant shares of the tuition bill shrinks, colleges will increasingly use their marketing prowess to go after high-achieving students whose families have the ability to pay at least some of the tuition bill, leaving low-income students with fewer options.
"Increasing budget pressures will lead some institutions to increase their outreach to wealthier families," said Eric Maguire, the vice president and dean of admission and financial aid at Pennsylvania's Franklin and Marshall College, whose president has gained national attention for recruiting top students regardless of income.
In recent years, efforts to expand access to higher education have focused on making it more affordable. Colleges have added to their financial-aid budgets and offered larger discounts off tuition prices. But simply adding more money to financial aid is not the answer to recruiting more low-income students because those offers usually come too late in the college-search process, typically after the admissions decision. That's why many low-income students never even apply to college, scared off by high tuition prices and a lack of understanding of the financial-aid process.
The demographic changes already underway among the college-going population will require colleges to think differently about not only their financial-aid strategies but also how they recruit students and assess their academic quality, argue Donald R. Hossler, a professor of educational leadership and policy studies at Indiana University, and David H. Kalsbeek, senior vice president for enrollment management and marketing​ at DePaul University in Chicago.
Writing in the Strategic Enrollment Management Quarterly, Hossler and Kalsbeek maintain the admissions strategies of colleges have historically focused "too much on increasing selectivity, optimizing net revenue, promoting the financial aid merit arms race, and the pervasive pursuing of prestige in American higher education"—all tactics that worked against low-income students.
Hossler and Kalsbeek argue that the "inherent trade-offs" colleges have long made between increasing access and improving academic quality have become "increasingly problematic" given the achievement gaps of students that will make up larger numbers of high-school graduates in the decade ahead.
Until this point, colleges have been unwilling to make hard choices about their admissions strategies. "They want it all," Hossler and Kalsbeek wrote—high-achieving students, low-income students, underrepresented minority students, and students from new geographic regions.
Shifting demographics, however, will force colleges to make hard choices: Will they spend their limited dollars on new buildings or financial aid? Do they want to recruit students that might need extra assistance to make it to graduation or if they are willing to take fewer students when they're unable to find enough well-off, high-achieving prospects?
How colleges answer those questions and others will determine if the next generation of students is well served by higher education in the future.